Save a bundle on printing by choosing "compatible," LD brand compatible ink and toner at 4inkjets.com for top brands like HP, Canon, and Epson. For an extra discount, use one of our coupons or promo codes for an extra 10-20% off. Plus, all orders over $50 get free shipping, so stock up and save!
Here are today's best 4inkjets coupons plus why choosing compatible ink saves money.
4inkjets: Best promo codes | Get Best Deal | How to Use Codes |Why choose compatible Ink? | Free Shipping | Bulk Discount
Best 4inkjets Coupons, Discount Codes Now:

---
How to Get the Best Deal at 4inkjets:
Follow these steps to get the best possible deal on ink and toner at 4inkjets.com:
Choose LD brand compatible ink and save up to 50% compared to OEM brands
Spend $50+ to get free shipping on your order (saves $5+!)
Consider buying 3 or more of one product to get even lower bulk pricing
Use our featured discount code to save an extra 10-15%
---
How to use a 4inkjets Discount Code:
Using a coupon for 4inkjets is simple. After adding an item to your cart, click the cart icon to proceed to checkout. On the first screen, you'll see inconspicuous text at the bottom that says, "apply discount code."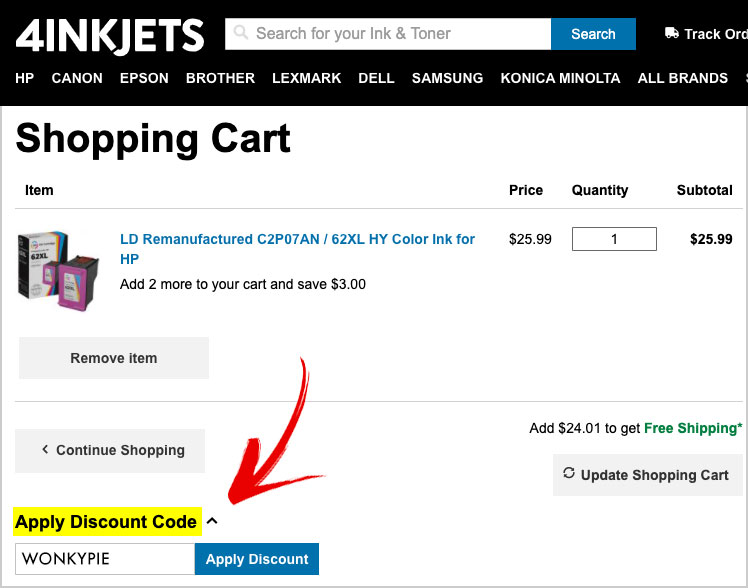 Click that text and a box will appear to enter your promo code. Your discount will be noted under the order subtotal, and you should have a new, lower amount under "total."
---
Why Choose LD "Compatible" Ink?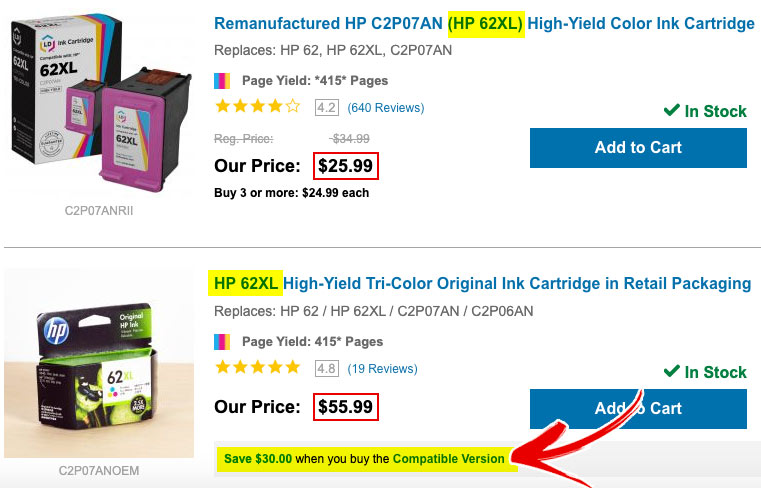 You'll notice a dramatic price difference between 4inkjets' LD brand compatible ink and name brand ink manufactured by brands like HP, Canon, and Epson. In fact, you can save up to 50% by choosing LD, and then get an extra 10-15% with a promo code.
All 4inkjets ink and toner are guaranteed, so if you aren't happy, you can get a full refund.
---
How Free Shipping Works:
You won't need to enter a discount code for free shipping at 4inkjets, as all $50+ orders of OEM or compatible ink and toner automatically ship free!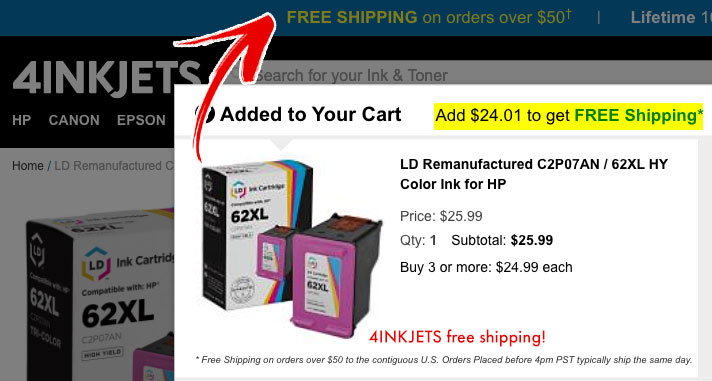 After adding an item to your cart you'll also be notified how much more you need to spend to qualify for free shipping. So, consider adding a second or third ink cartridge to your order if it means it will ship free!
Free shipping no minimum? It's rare to find a code for free delivery on any order at 4inkjets.com outside of Cyber Monday, so most times you need to spend a minimum of $50 to qualify for free shipping.
---
Bulk Orders: It's Cheaper When You Buy 3+
What's true for mayonnaise and soda is also true for printer ink and toner. The more inkjet cartridges you buy, the lower the price per unit. Most times buying 3 or more of any item will get you an additional discount.
Note the message at checkout that tells you how many more of an item you will need to get the bulk discount. (see above)
Tip: Don't buy printer ink that you won't use in the next year or so. Like mayonnaise, printer ink also has an expiration date and will eventually start to dry out.
---
Remember, Always use a coupon or Promo Code!
4inkjets has been mentioned in media outlets like Today (NBC) as one of the best places to buy inexpensive printer ink. They always have a promotional code or two available for an extra 10% discount on your order, and around holidays this jumps to 15% off.
If you're into saving money for your small business or home office, we also have coupons for Vistaprint, Parallels, Turbo Tax, and Quickbooks Online.
Remember, OEM (name brand) ink and toner are excluded from discount codes but do qualify for free delivery. Thanks for stopping by Wonky Pie!