If you're a new customer you've probably seen the promotion for a free welcome kit or free mystery gift with your first order. However, the contents of the sexy welcome kit are indeed mysterious, and nobody talked about the contents.
Well, until now, that is. We placed an order at AdamEve.com just so we could learn what the Adam and Eve free gifts are in 2023.
Here is today's best offer plus how to get free gifts with your order at AdamEve.com.
Adam and Eve: Best Promo | Today's Free Gift? | 10 Free Gifts | Free Welcome Kit | Get Freebies
---
Today's Best Promo Code With a Free Gift:


You can get up to a 50-60% discount and free shipping with today's top coupons for AdamEve.com! Here's how to get the free welcome kit plus what the contents of Eve's pleasure kit are!
---
What Is the Adam and Eve Free Gift in 2023?
What is the Adam and Eve free mystery gift? You'll see that most Adam and Eve promotions include a "free gift" or free "mystery gift." To see what today's free gift is, add one or more items to your cart and your free gift will appear under the contents of your cart like this: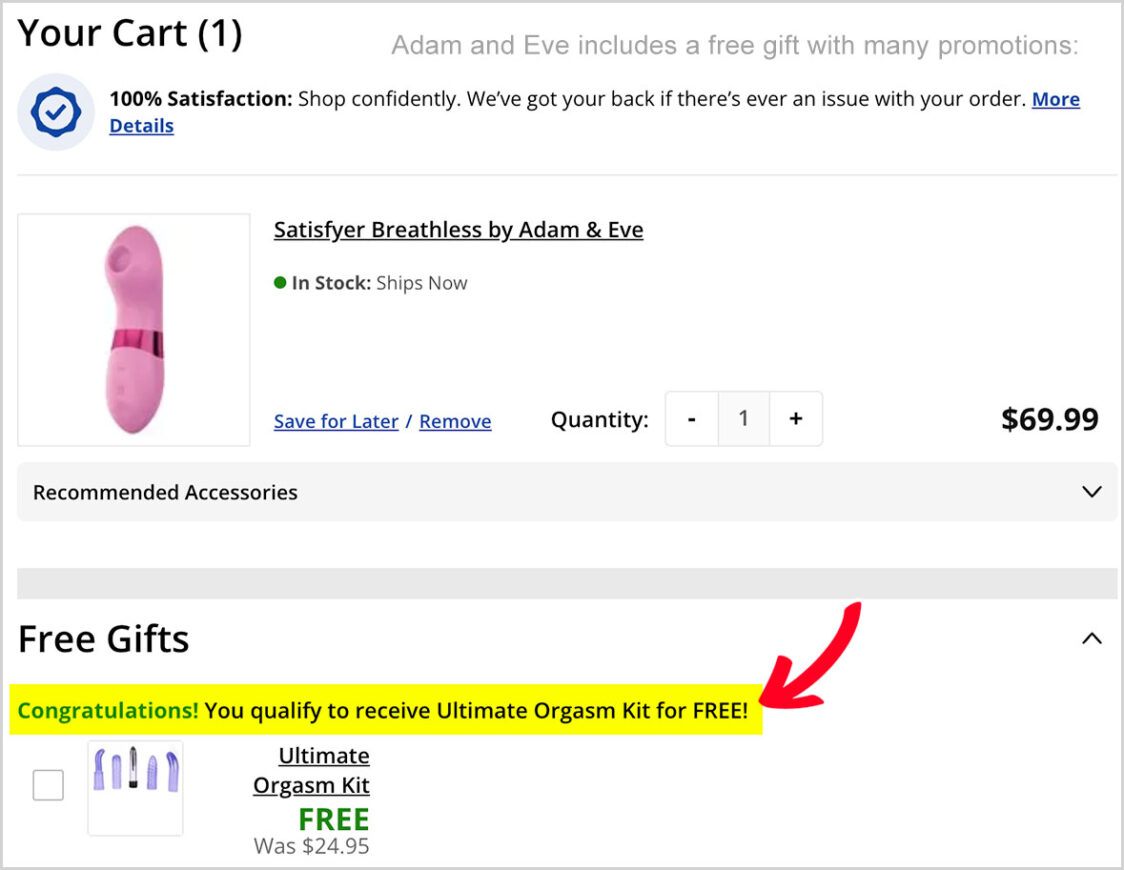 Usually, the free gift is a vibrator, free ultimate orgasm kit, DVDs, or something with about a $20-30 value.
Actually, you'll see promotions that offer up to 10 free gifts.
---
Adam and Eve 10 Free Gifts:
I'm not a big fan of signing up for emails, so my favorite way to get free gifts from Adam and Eve is to just cut out the middleman and use a discount code.
In fact, recent discount codes are better than the "25% off + free gifts" deal as they offer up to a 50% discount plus up to 10 free gifts and free shipping!
Now, take this with a grain of salt because the "10 free gifts" might just be one vibrator with 5 attachments plus 4 DVDs. Yes, it's technically 10 free gifts, but more like 2 good gifts.
Just go to your shopping cart and enter the code to reveal the mystery gifts or welcome kit. These codes change every few days, so click here for today's best codes.
You might also see Adam and Eve promoting a free welcome kit.
---
Adam and Eve Free Welcome Kit in 2023:
Sometimes promotions include a free welcome kit. So, what's actually in this "free welcome kit?"
We were really curious about the welcome kit which they said was a "$50 value." So, we decided to place an order to see what the free gifts are. Here are the contents of our Adam and Eve mystery kit: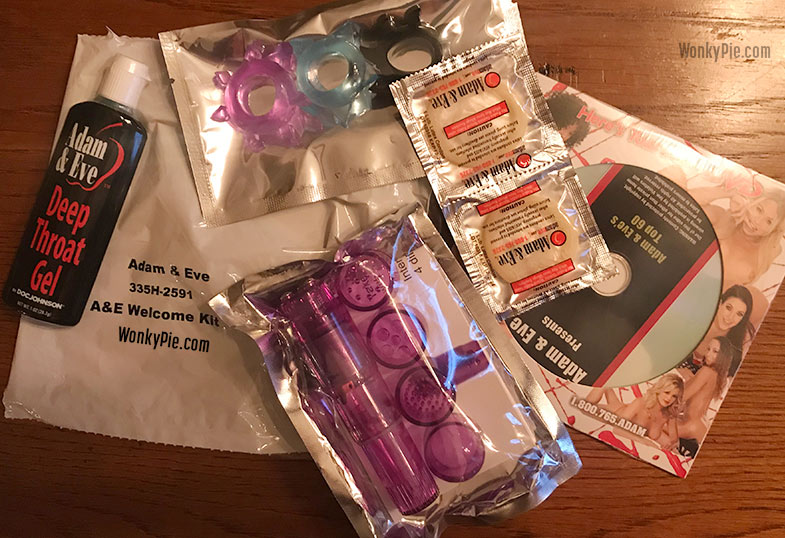 Pocket vibrator + 4 attachments
3 Penis rings (harder longer)
Adult DVD
Deep throat gel (1 oz.)
2 condoms
I would say these free gifts are not quite a $50 value, but very fun freebies, nonetheless. Woo hoo!
---
How To Get Adam & Eve Free Gifts:
You might notice that certain Adam and Eve discount codes and offers include free mystery gifts or a free welcome kit. So, how do you get these free gifts, and what are they?
Here are 3 ways to get free gifts at adameve.com plus the contents of the welcome kit.
1. Enter Your Email for a Free Mystery Gift:
If you are browsing the Adam & Eve website you might get a pop-up window like this offering a free mystery gift: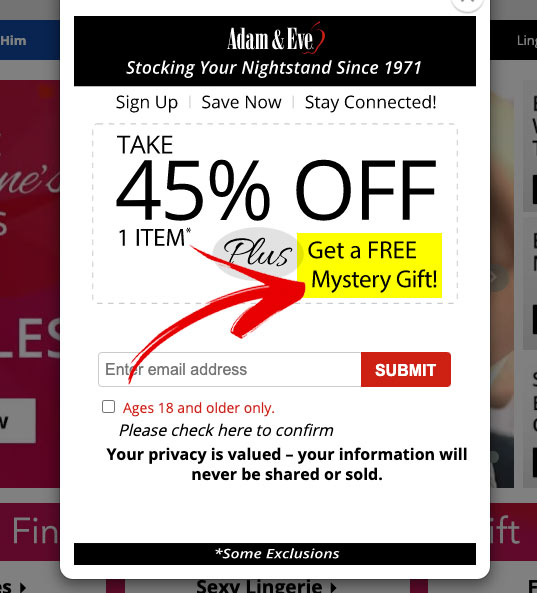 Just enter your email address and click submit, and a special offer code will be emailed to you for a discount plus a free gift. You might also see the same offer at the bottom of their website for a free mystery gift, free toy, or Eve's pleasure kit like this: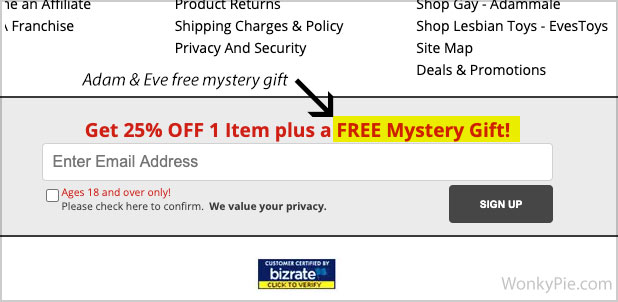 Here's another way to get free gifts with your online order from the adameve.com website.
2. Adam & Eve Spin to Save + Free Gift:
Another way to get up to 10 free gifts is their Spin to Save popup.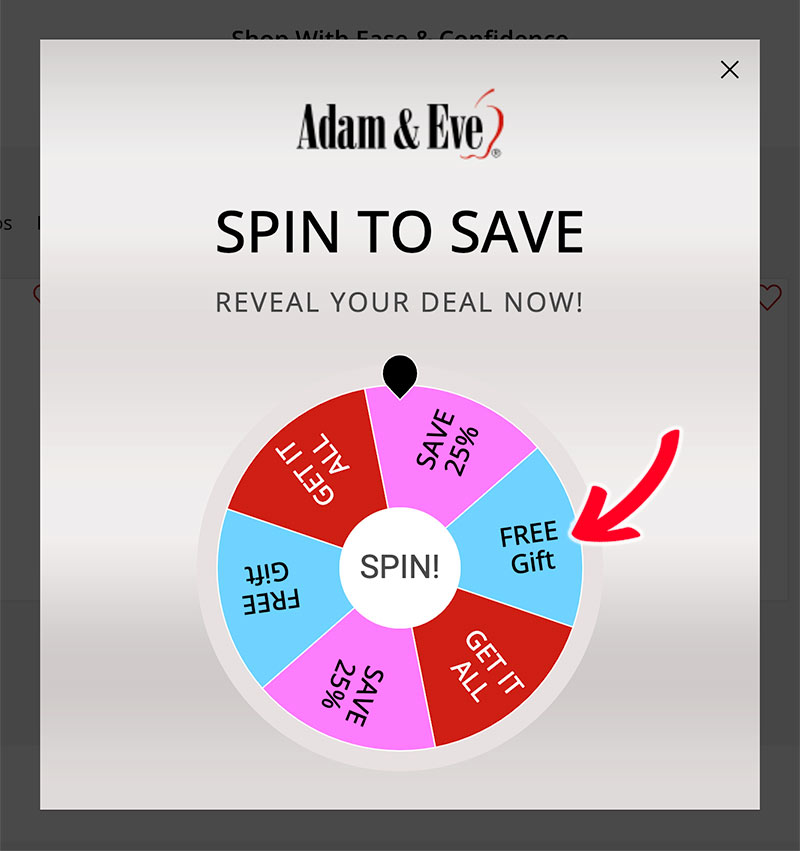 I've tried this method several times and seem to win with "Get it All" each time. (Woo hoo!) You just have to enter your email address to get the discount code.
Tip: The Free Mystery Gift is usually an inexpensive vibrator! Not the best, but a nice little freebie!
3. Many Promo Codes Include a Free Gift:
You'll notice that a lot of promo codes include a discount plus a free gift. Actually, there was recently a code that included 10 free gifts! The best way to get a free gift from Adam and Eve is to find a promo code that includes one or more. Just check your cart on the first page of checkout to see what it is.
---
Conclusion: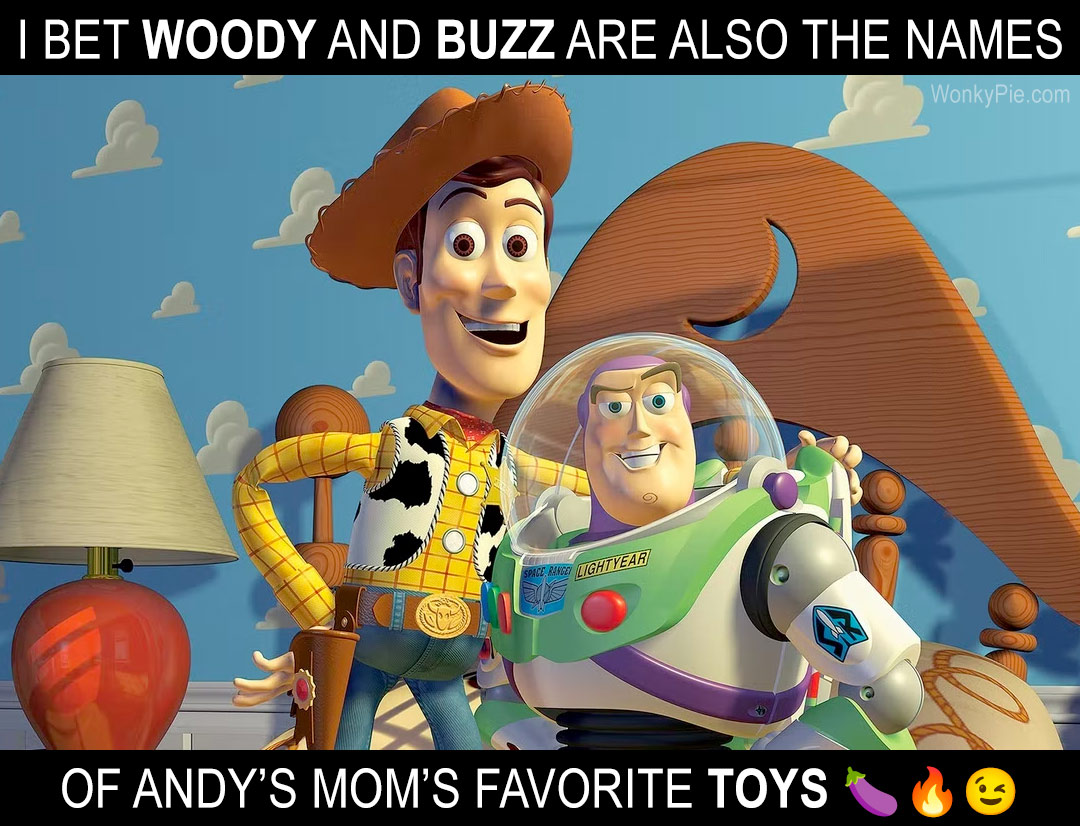 OK, so now you know what comes in the A&E welcome kit. For some reason, a number of people expect 10 free gifts worth $50, but it doesn't quite live up to that hype. Even so, it's fun and free. So, go buy something and have a safe, sexy time!