Barron's is one of the most trusted names in finance. If you're thinking of subscribing, Wonky Pie has a couple of really amazing subscription deals for your consideration. Before choosing a promotion, you'll want to decide how long you'd like to subscribe. If you are only looking for a free trial or short subscription, consider their (almost free!) $1 for one month deal. You can also now add MarketWatch for a small fee with their current offer below.
If you think you'll continue to subscribe for at least a few months, then their 50% off or $52 for 52 weeks promotion is best. (You can cancel at any time) They even have a special subscription deal for students and MarketWatch. Here are the best Barron's subscription deals now:
Barron's: Subscription Deals | Best Deal? | MarketWatch Promo | Student Discount
---
Best Barron's Subscription Deals, Discounts: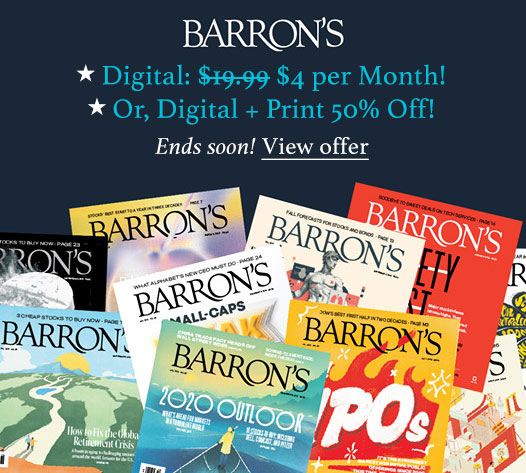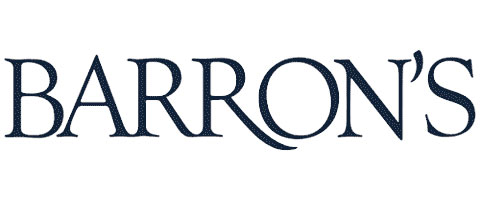 Best Sale: $1/Week!
1.
Featured discount
only
$19.99
$4 per month for Barron's...
Show More
1.
Featured discount
only
$19.99
$4 per month for Barron's Digital. Cancel anytime. Promotional rate for up to 12 months. Digital w/ print optional. Access to Barrons.com + mobile and tablet apps. Apply discount and view pricing:
Show Less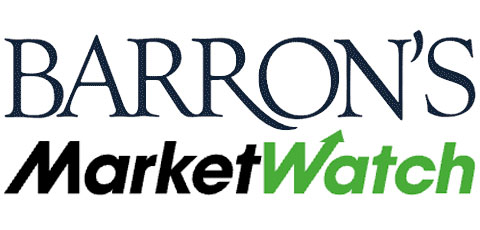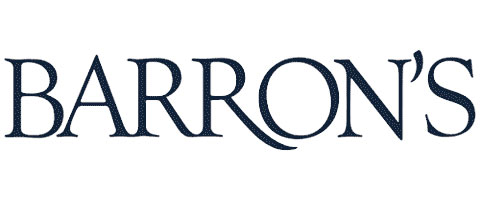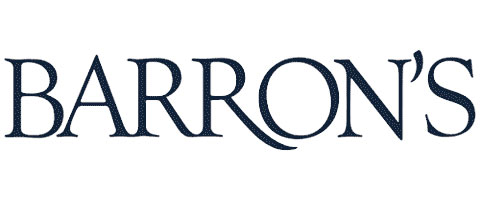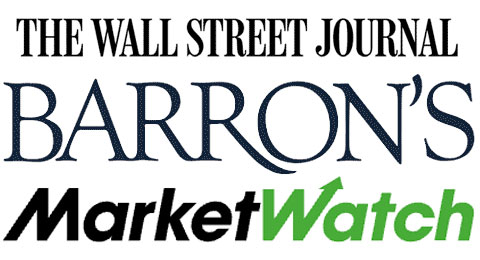 *Exclusive coupon: $15+ Off TurboTax Premier!
---
How to Get the Best Deal:
To get the cheapest subscription to Barron's follow these steps:
Choose Barron's Digital and skip Print delivery
For the best savings choose "$4 per month" or the "2 Years for $100" promotion (if available)
Enter payment information and notice the monthly cost after the promotion ends
These featured deals only cost about $1 per week, saving you 80%!
You can cancel anytime for a prorated refund, so skip the short-term deals like "4 Weeks for $1" which save much less long-term
If you follow the steps above you'll enjoy Barron's online subscription at the cheapest possible price!
---
Barron's + MarketWatch Promotion
Barron's now gives you the chance to add MarketWatch to your subscription at an amazing promotional price: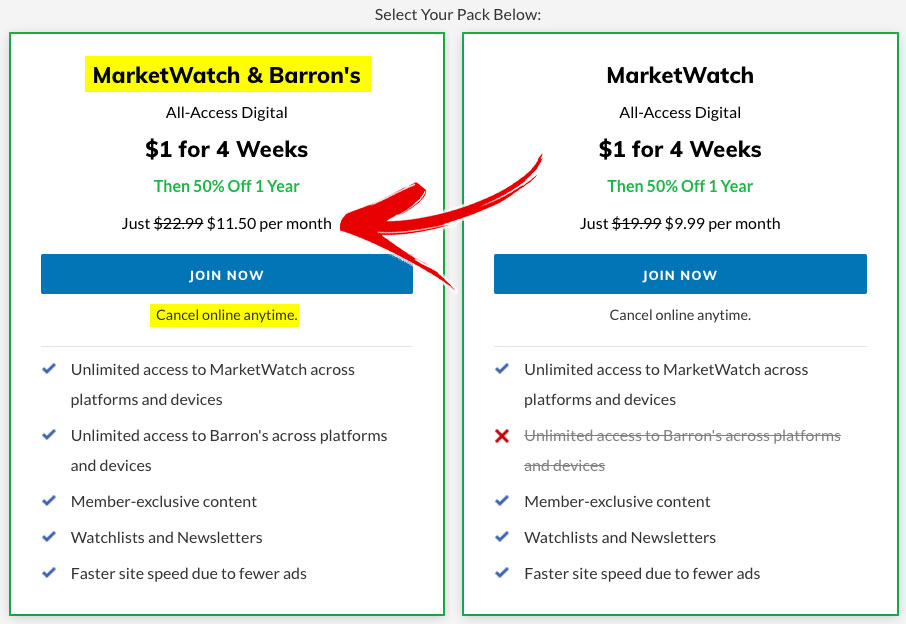 As you can see, the first month costs only $1 and then subsequent months are 50% off for the first year. As with all Barron's subscriptions, you can cancel at any time for a prorated refund.
However, if you don't want to bundle anything with Barron's, then the $52 for 52 weeks deal will save you the most money.
*Related: How the Noom Free Trial Works
---
Barron's Subscription: $52 for 52 Weeks (Digital Only)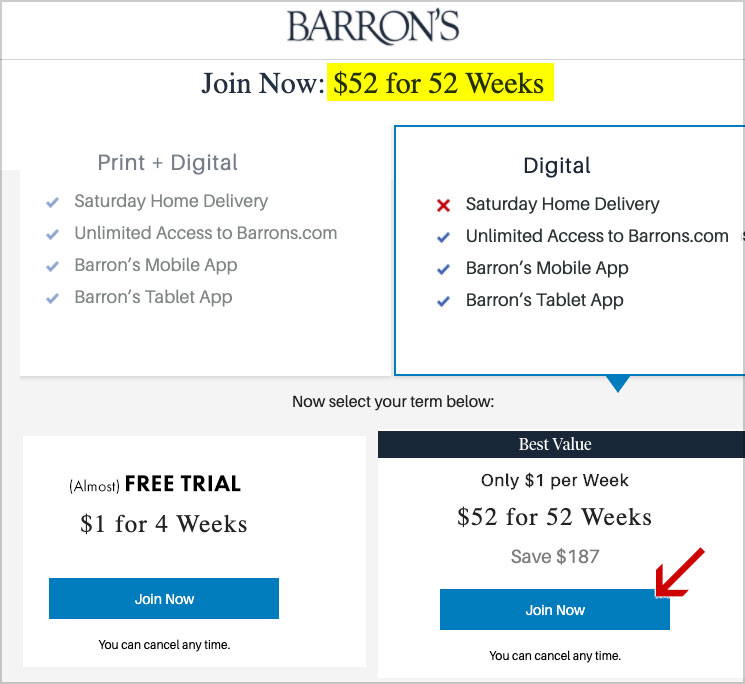 The best deal for a Barron's Digital subscription is either the "2 Years for $100" offer or the $52 promotion, as it saves you $187 off the regular price. It also saves you $119 more than the free trial over the course of 12 months!
If you are serious about your Barron's Digital subscription, go with the $52 offer or WSJ Bundle at signup. However, if you'd like to add Print delivery, then the 50% off promotion is best.
---
Barron's 50% Off Deal (Print Delivery + Digital)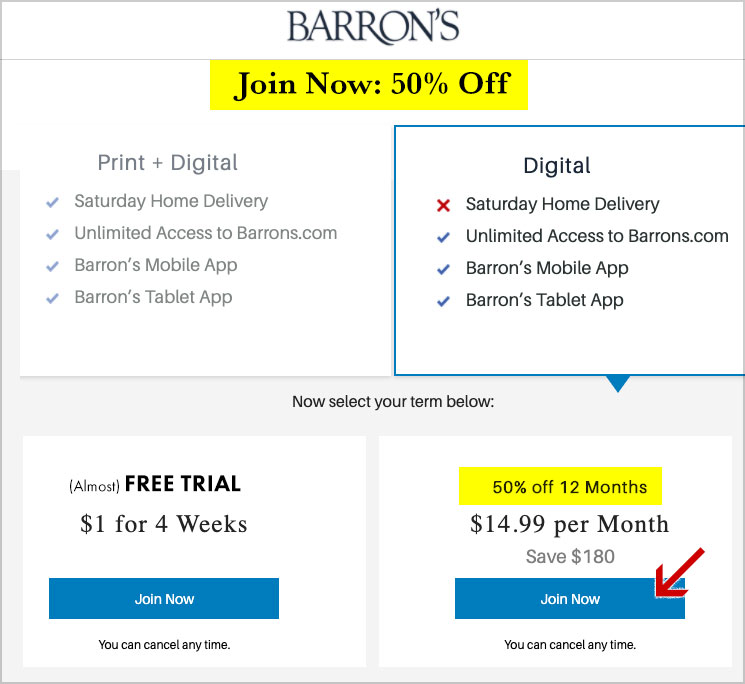 With the Print + Digital subscription, you get all of the features of Digital including unlimited access to Barrons.com plus the Barron's App (Mobile and Tablet). You also get home delivery of Barron's Magazine.
When does Barron's Magazine get delivered? If you have a print subscription, Barron's arrives every Saturday with your regular mail.
The 50% off 12 months promotion will save you the most money long-term!
---
Barron's Student Discount: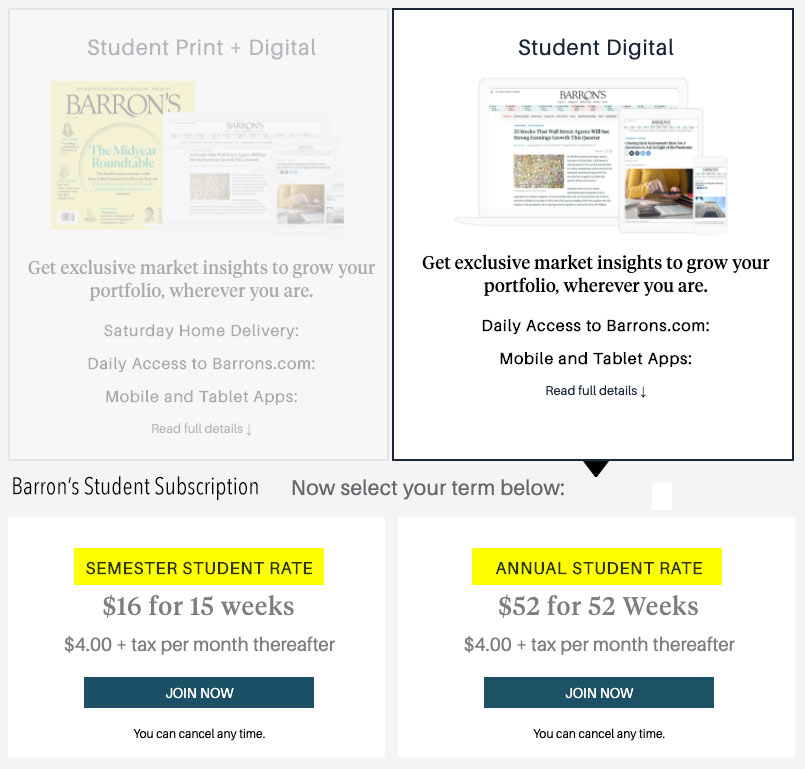 If you are currently enrolled as a student in college, Barron's has a couple of special deals to consider! Subscribe for one semester for $16, or 52 weeks for $52. Or try Digital for free ($1) for one month.
---
Conclusion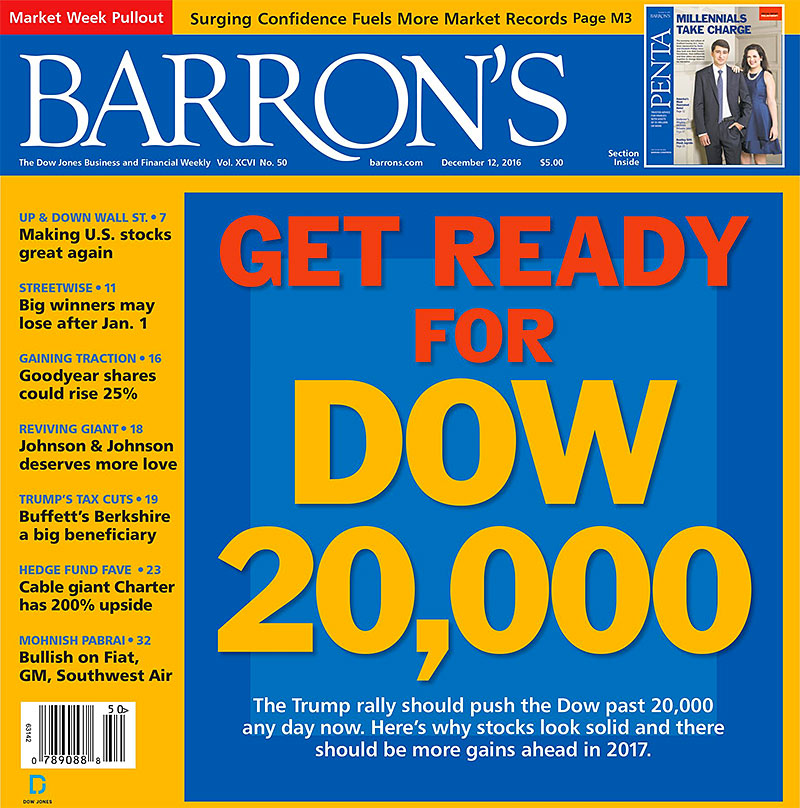 Did you know: Barron's Magazine (Newspaper) was founded in 1921 by Clarence Barron as a companion publication to the Journal and the two soon became the most trusted source of financial news in America.
A lot has changed since then, but Barron's is still one of the most prestigious names in finance, and thousands of investors depend on Barron's insight every day.
*Related: New $15 off coupon for STDCheck.
As you know, time is money, so I'll wrap this up. The best short-term deal for Digital or Print + Digital is their almost free trial, costing as little as $1 for 12 weeks. The best long-term Digital subscription deal is $52 for 52 weeks, and the best long-term Print + Digital deal is 50% off 12 months. You can also add MarketWatch to your Barron's subscription for only $3 per month.
Got it? Thanks for supporting Wonky Pie!