Nutrisystem meals & menus: Like other meal-delivery diets, Nutrisystem is based on the monthly delivery of pre-portioned prepared meals. Because their meals are the foundation of the diet, it's really important to be familiar with the menu. (*You can also get free Nutrisystem food at sign up when you use a promo code!)
Let's take a closer look at Nutrisystem food, including their most-popular meals, a sample menu, and a list of foods including SmartCarbs, PowerFuels, and FlexMeals:

Nutrisystem: Food List | Sample Menu | Grocery List | Smart Carbs List | PowerFuels List | Free Foods | Flex Meals List
---
About Nutrisystem Food: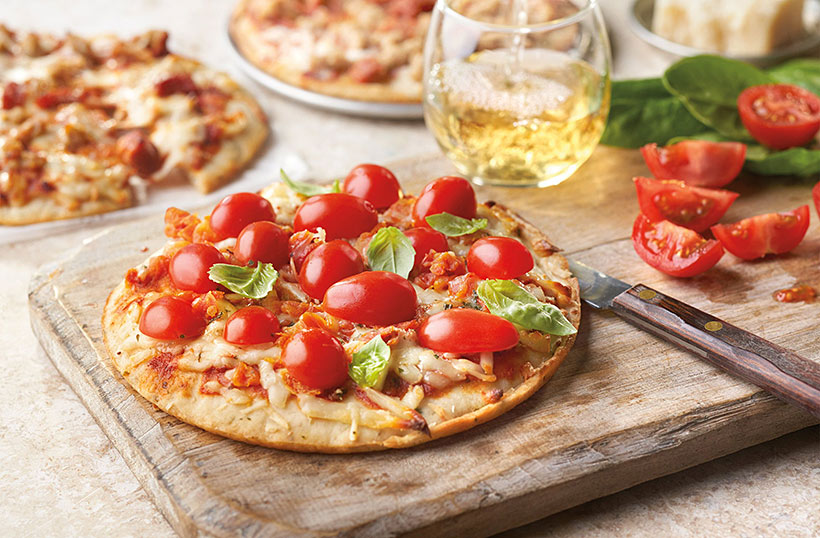 Nutrisystem provides almost all of your (6 daily) meals and snacks each month, which is why it costs more than do-it-yourself diets like Weight Watchers and Noom. In fact they provide your entire menu except supplemental fruits and veggies and several weekly "flex meals" which you prepare yourself or eat out.
Their meals are generally high in protein and fiber and low in carbs which helps to regulate your blood sugar and stop food-cravings. The six meals and snacks add up to between 1200-1500 calories per day for a gradual weight loss of 1-2 pounds per week for both women and men, all for about $10-12 per day.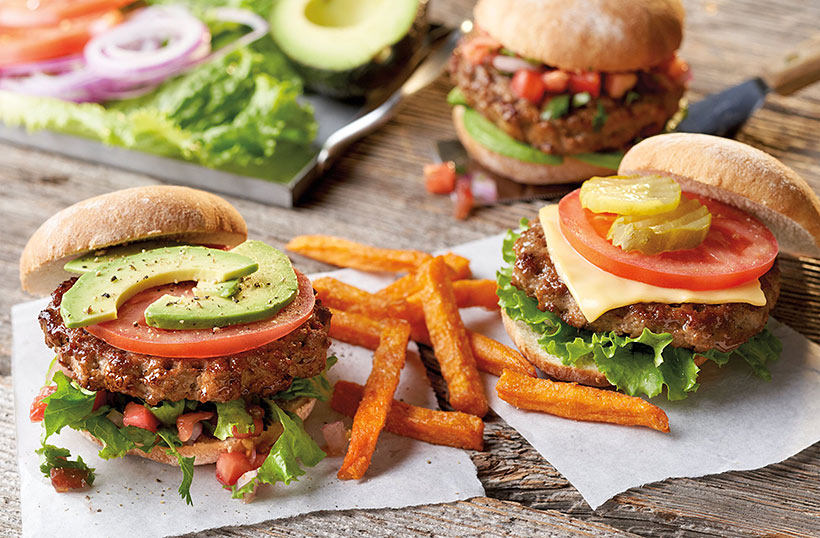 There are 3 meal plan levels including: BASIC, CORE, and Uniquely Yours; the main difference being that you'll pay more for increased variety of food.
Nutrisystem categorizes their meals into four groups: breakfast, lunch, dinner, and snacks. By default, your first month's menu is the pre-selected "Favorites Pack" (top-rated meals & snacks), but the Core (most popular) and Uniquely Yours plans give you the option to substitute meal choices or customize your own menu.
---
Food List: (Nutrisystem Meals)
By default, Nutrisystem chooses your menu with special selections from their food list. You can omit foods from the food list if you have any specific preferences or dietary requirements.
Want to see the food list? Just visit their site and click, "view menu" to get started: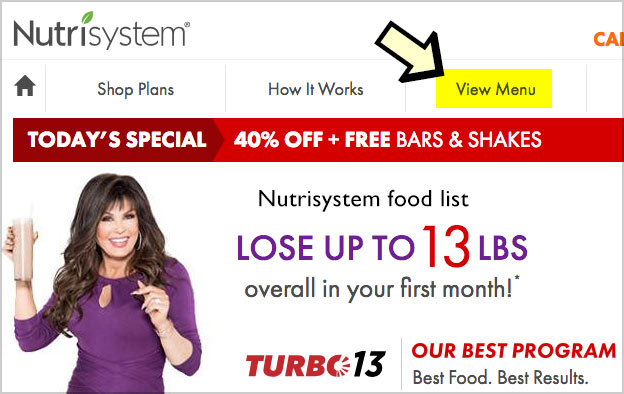 Wondering what Nutrisystem foods are really like? You can always view the menu on nutrisystem.com and sort by most popular.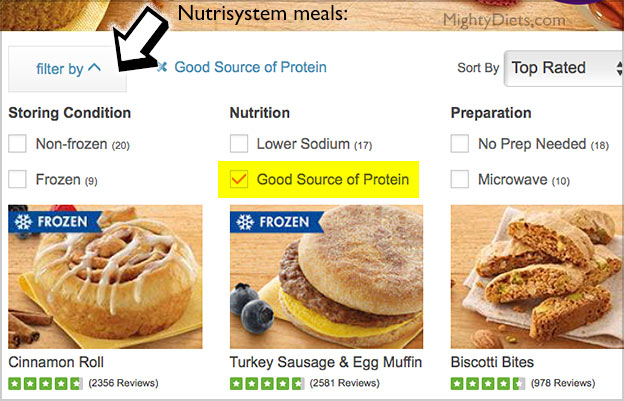 If you're looking to customize your menu, it's easy. Just click "view menu," choose a meal category like "breakfast," and then click "filter by" for sorting options. You'll get a list of all meals which can be filtered by:
Low sodium
High in protein
Frozen / non-frozen
Vegetarian
Food allergies (milk, wheat, etc)
Click on any meal to get more info including customer reviews, nutrition facts, and ingredients. You can learn a lot from the thousands of reviews and ratings for each meal from real customers. While some meals are a big hit, other foods should clearly be avoided! (less than 3 stars)
*Note, there are not many gluten-free meal options
Here are some of their most popular and highest-rated Nutrisystem meals for breakfast, lunch, dinner, snacks & desserts.
• Best BREAKFAST Meals:
There are over 30 breakfast meal options on their food list including muffins, waffles, bars, and oatmeal. Here are Nutrisystem's best-rated breakfast meals: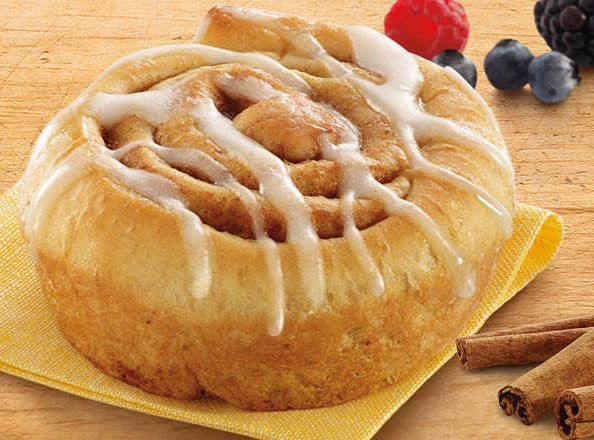 ---
• Best LUNCH Meals:
Fuel up on protein and fiber while skipping all trans fats with these tasty meal options from their lunch food list: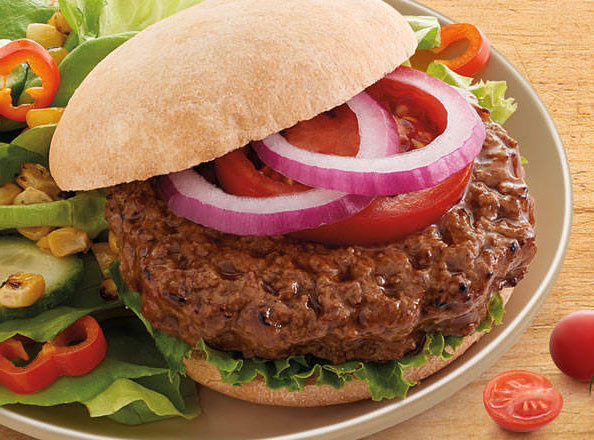 ---
• Best DINNER Meals:
Who says dinner has to taste like you're on a diet? Check out these top-rated dinners like pizza, roasted turkey, stuffed chicken breast, and pasta on Nutrisystem's food list: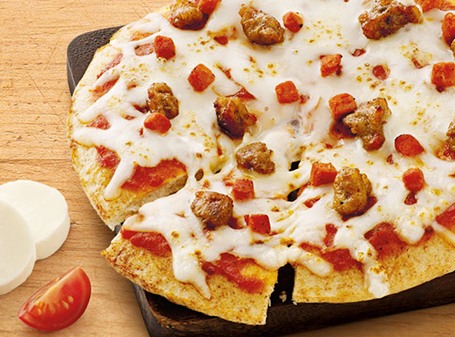 ---
• Best Desserts & Snacks:
Protein bars, cookies, and ice cream are among the most popular snacks and desserts on the food list for customers with a sweet tooth. Fill out the 3 snacks on your daily menu with favorites like: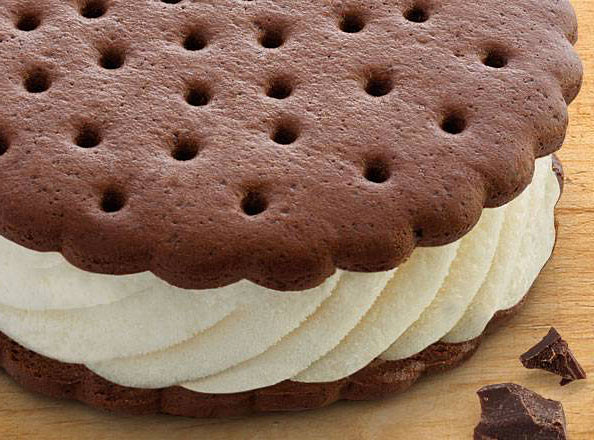 *View snacks and desserts menu
---
Nutrisystem Sample Menu: (7-Days)
Starting week two, you'll eat 6 times per day. While enjoying the meals and snacks that they provide, you'll practice healthy eating habits by combining Nutrisystem foods with grocery items that they call "add-ins."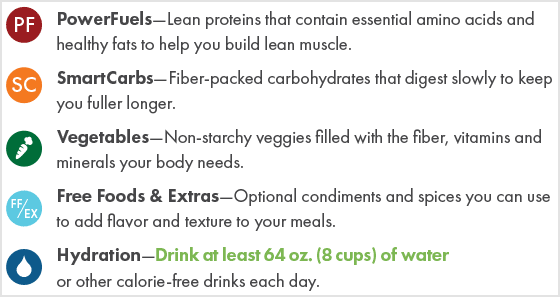 Curious what you'll eat on Nutrisystem? Check out a week of sample menus that include your Nutrisystem® meals, Flex™ meals, and snacks, PowerFuels, SmartCarbs, and veggies:
Here are sample Nutrisystem menus to see what a typical day of meals looks like.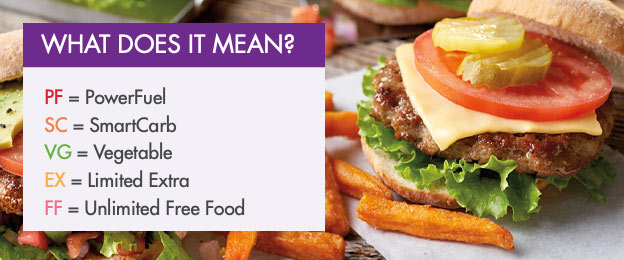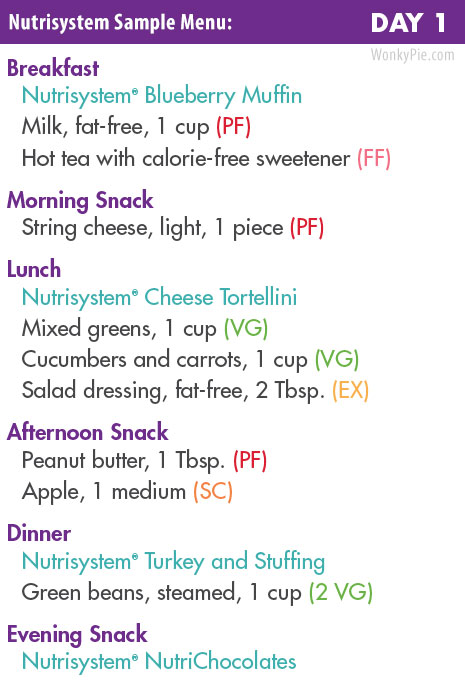 ---
Food List: (Groceries)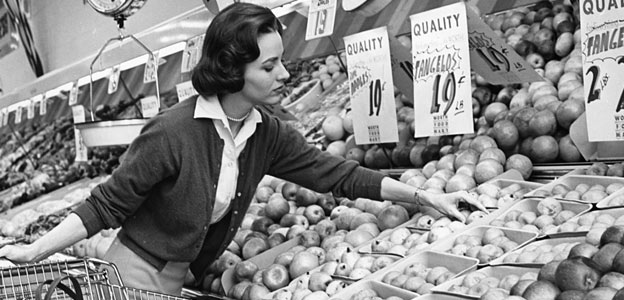 Want to make your shopping list for the grocery store? When you supplement Nutrisystem's prepared meals with food of your own, it's important to know what the approved SmartCarbs, PowerFuels, and vegetables are.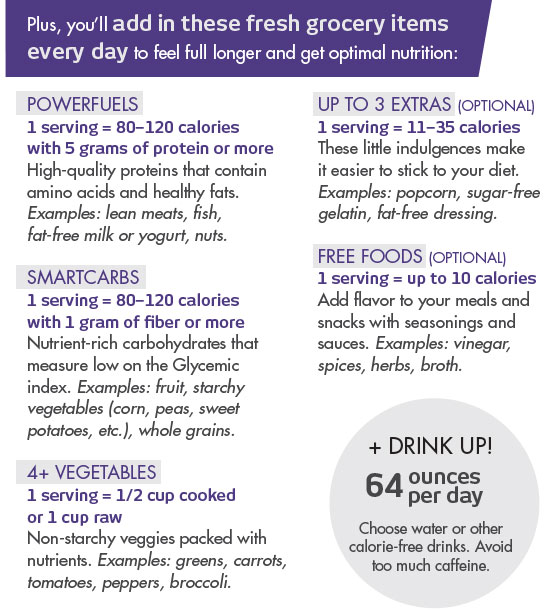 Here's a list of Nutrisystem-approved foods: (printable grocery guide)
---
• SmartCarbs List (Printable):
SmartCarbs are a nutrient-rich group of carbohydrates that are low on the glycemic index. They are digested slower and keep you feeling full longer. One serving of SmartCarbs should contain about 80-120 calories and 1+ gram of fiber:
---
• PowerFuels® List (Printable):
PowerFuels® are high-quality proteins that contain amino acids and healthy fats. These foods also are digested more slowly, keeping you feeling full longer. One serving of PowerFuels contain 80-120 calories and 5+ grams of protein:
---
• Vegetables Food List (Printable):
These are the non-starchy vegetables for your Nutrisystem food list at the grocery store, and you'll have 4+ servings per day. (*1 serving = 1/2 cup cooked, or 1 cup raw)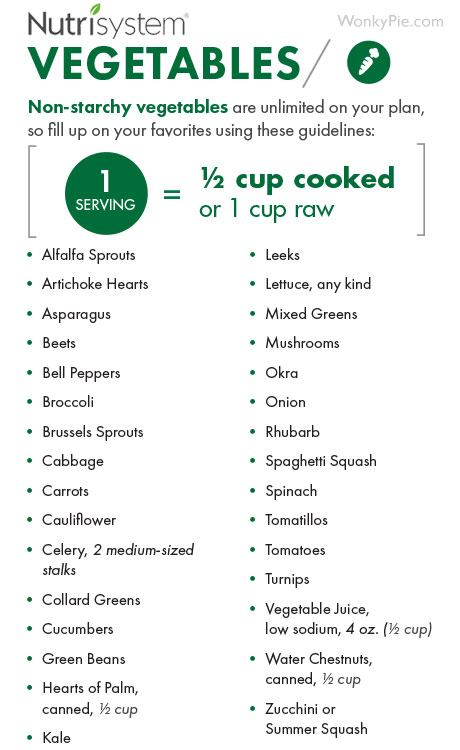 *When possible, choose fresh or frozen vegetables. If canned, choose low-sodium.
• Extras List (Printable):
These additions to the Nutrisystem food list are low-calorie options to spice up your meal plan. Limit these extras to 3 servings per day: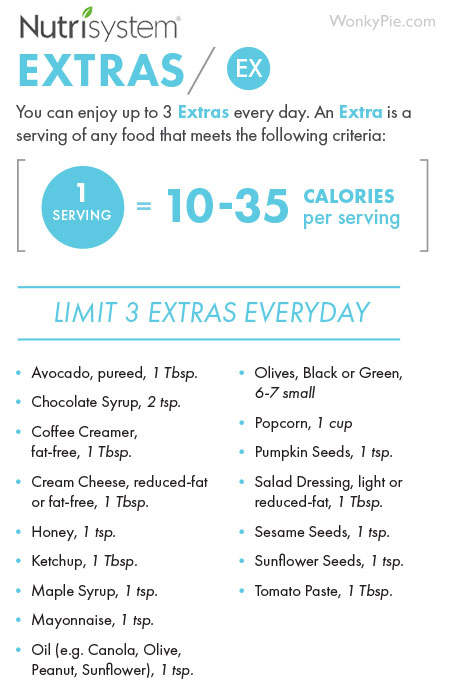 ---
• FREE Foods List (Printable):
These guilt-free condiments, spices, and beverages are Nutrisystem free foods and have < 10 calories per serving.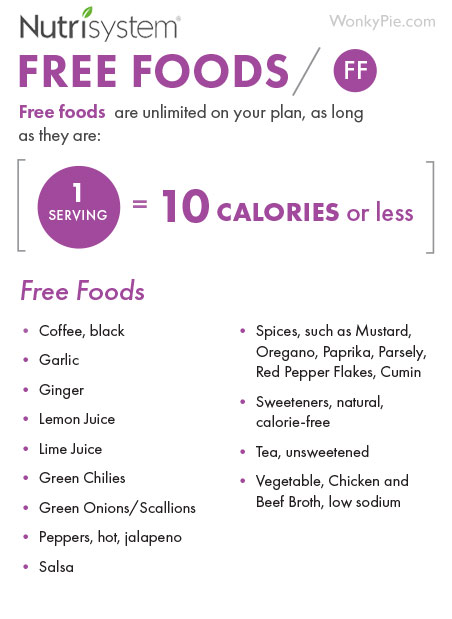 ---
Nutrisystem Food: Nutrition & Ingredients
Nutrisystem puts together a menu that's high in protein and fiber and low in carbs while staying within the FDA's recommendation for sodium. You can see the exact ingredients and nutritional info for every meal within the "View Menu" section of their site: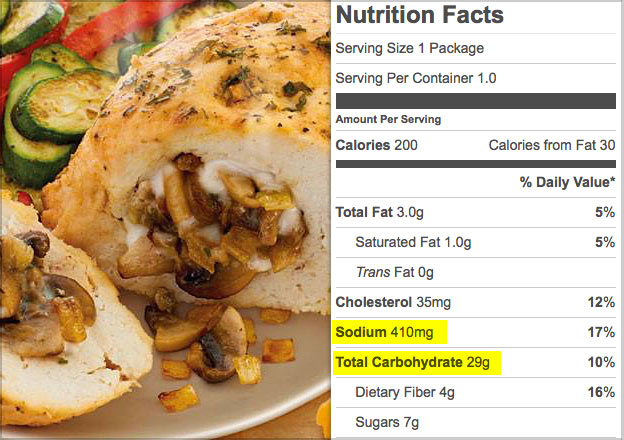 Every day of Nutrisystem meals contains about:
---
Weekly FLEX Meals: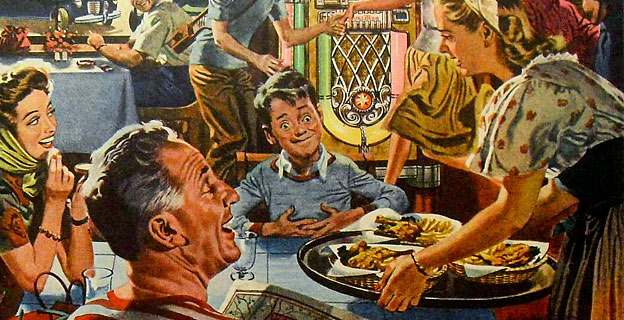 So, what are "flex" meals? Nutrisystem knows the flexibility of enjoying home cooking and restaurant food is a must in a successful weight loss plan. Besides supplementing your daily meals with fresh fruits and vegetables, you'll also choose a flex breakfast, lunch, dinner, and snack every week.
The idea of these meals is to teach you to learn good eating habits and not always be dependent on prepared food. After you reach your goal weight you'll add more food from the grocery store and healthy meals from restaurants.
---
Nutrisystem Recipes: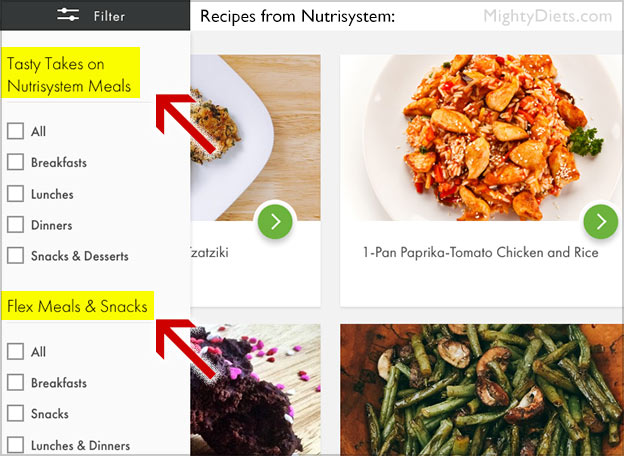 Do You Enjoy Cooking Your Own Meals? If so, Nutrisystem provides hundreds of seasonal recipes for flex meals. Like their prepared meals, you can sort these by meals by breakfast, lunch, dinner, or snacks.
Maybe you just want to add a twist to Nutrisystem's prepared meals?
If that's the case, check out their "Tasty Takes on Nutrisystem Meals" for ideas of how to add more flavor and spice to meals you already have. Customers also call these, "Nutrisystem meal hacks or ideas."
---
Nutrisystem Food: Conclusion
Nutrisystem is a good diet option for women and men who want structure and convenience. This makes the diet a popular choice with busy people but might leave others wanting more freedom with their menu and list of foods.
While Nutrisystem is the most popular meal-delivery diet, you can also consider Factor Meals or Diet-to-Go for meal-delivery alternatives. If you are considering signing up for Nutrisystem, here's their best promotion:
If you enjoy cooking and eating out, then maybe a meal-delivery diet isn't the best option for you. In that case, consider #1 rated Weight Watchers for more of a DIY approach to weight loss based on counting points.
Thanks for stopping by Wonky Pie!