What's the best promo code for Nutrisytem? If you're considering joining the program, it's crucial to get the best deal at signup. The confusing thing is that Nutrisystem will display different prices, depending on which promotion you clicked on.
Really!? Yes, and that means that not only should you care about your first order total, but the renewal rate is even more important! So, what's the best deal and promo code to use?
Glad you asked! We spent a lot of time trying every promo code and promotion out there, and this is the best one to use, as it combines a $30 discount on top of their Nutrisystem40off promotion:
---
Nutrisystem: Best Specials, Promo Codes:
*Please note that the highlighted promo codes for "40% off + $30 off" are the best long-term deals, as they lock in a lower renewal rate. (see below)
---
You Can Stack a Special w/ Promotional Codes!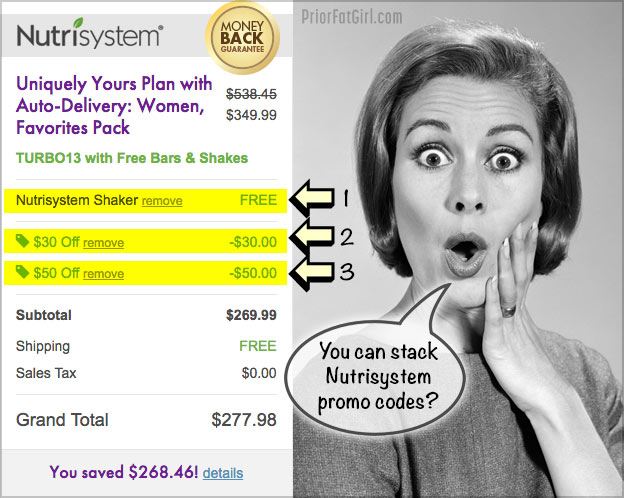 If you are a new customer, you can use more than one promo code! It totally depends on the promotion, (see below) but try more than one coupon code with your order!
As of today, the codes for an extra $30 off and the code for a free shaker are working together with all new customer signup deals!
---
Why "$30 Off" is the Best Promo Code (On Top of Nutrisystem/40off)

Rather than asking you to click on various promotions and enter copious promo codes, we'll show you exactly why you should use the promo code above.
Here's a screen shot of two of the best promo codes. Even though a $100 off code sounds like its better than $30 off, look at why that's not the case:
| | |
| --- | --- |
| Nutrisystem Promo Code: $100 Off: | Nutrisystem Promo Code: 40% + $30 Off: |
| | |
*As you can see, these two promotions look pretty similar, but they aren't. Look at the monthly renewal rate and you'll see that's where the real difference is!
---
Mind the Renewal Rate!
You might find a Nutrisystem promo code that gives you $100 off or more, resulting in a super-low total for your first order. While this looks great on the surface, it's the renewal rate that is more important.
Look at those renewal rates above. Wow, the Nutrisystem40off promotion locks in a much lower renewal rate! Over time that's really significant.
You might be happy with the $100 off promotional code and thinking you got the best deal, but after 6 months you will have paid $100+ more than if you had used the 40% off promotion + the $30 off code! (above)
---
Promo Code Not Working? Some Codes Don't Work w/ All Promotions
Right now there's a promo code for $50 off featured at the top of every big coupon site's Nutrisystem page. Actually, it seems to be the most popular code being used. The only problem is that if you click on their link and use that seemingly juicy code, it's going to sign you up under a promotion with a higher renewal rate!
*Related: Least expensive Way to Sign Up for Nutrisystem
Same thing goes for the $100 off promotion. It looks good the first month, but locks you in at a high renewal rate. Turns out the $20-30 off codes are best when you use them with the 40% off promotion.
---
Why People Are (Mistakenly) Using the $50 Off Code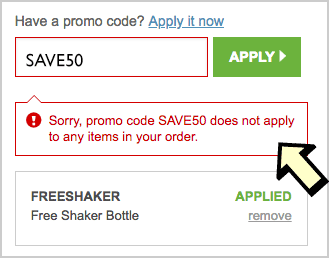 That $50 off code is not valid with the (best!) nutrisystem40off special, so a lot of customers mistakenly turn to other promotions to get that code to work. Unfortunately, they are taking the one-time better monthly price, and agreeing to a renewal rate that costs $25 more per month!
---
Nutrisystem Promo Codes & Special Offers Change (We Update this Page Daily!)
Generally the same promotions and specials are available month to month, but sometimes a new one will popup on the radar and make its way onto coupon sites. We have yet to find a better promo code to use at signup for the best deal, but if we do, we'll post it here. Thanks for reading, and good luck reaching your weight loss goals!