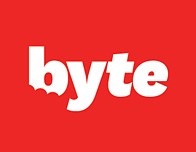 Does Byte take insurance? Yes, but only some healthcare and dental plans cover DIY invisible aligners like Byte. If your dental plan includes qualifying orthodontic coverage it may cover some or even most of the cost of Byte.
You may also be able to use your FSA (flexible spending account) or HSA (health savings account) money plus a coupon towards the cost of Byte.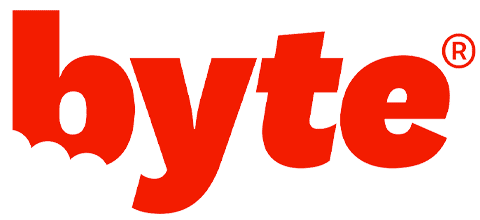 Here's what you should know about Byte and health or dental insurance:
Byte: Insurance Coverage | With Insurance | Without Insurance | FSA & HSA
---
Byte Insurance Coverage & Reimbursement
Byte employs a team of reimbursement specialists to help determine whether your health or dental insurance covers some or even all of your Byte expenses. If you are eligible, their specialists can help you file all of the necessary paperwork.
---
Byte Insurance Company Partners
Byte has a number of featured insurance company partners including:
Anthem
Guardian
Empire Blue Cross Blue Shield
Aetna
Does Delta Dental cover Byte? No, they do not cover Byte or other DIY invisible aligners, and only cover treatment provided by a licensed dental professional.
Cigna: Most Cigna plans do not cover clear aligners including Byte. However, it appears that the Cigna Dental 1500 plan does include orthodontic benefits which may extend to Byte aligners. For more information, you should call them directly for information about your specific policy or ask your HR director.
---
Byte Cost With Insurance?
If your insurance does cover your treatment, Byte will help with your insurance claim so that you get the maximum appropriate reimbursement.
The total amount that your insurance company will cover depends on your specific healthcare or dental plan, but could be significant.
For example, if your insurance company covers half the one-time expense ($950) and you use $500 of FSA dollars, Byte could cost you as little as $445 with insurance: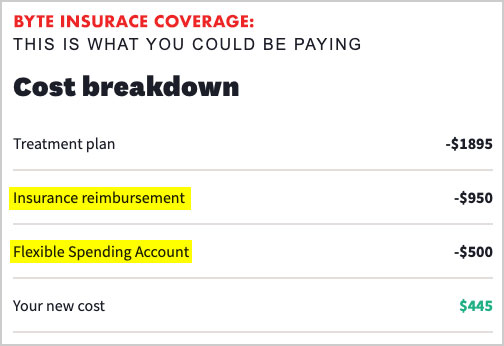 Most people will likely find that insurance does not cover their Byte aligners. Here's how much Byte costs without insurance:
Even if your insurance does not cover Byte, you can save big if you pay up-front instead of financing. Plus, use a coupon to save an extra $100+!
---
Paying for Byte With FSA or HSA:
Byte is a covered expense for almost all Flexible Spending Accounts (FSA) and Health Savings Accounts (HSA). If your FSA or HSA account is tied to a major debit card you can pay using your card. If not, Byte can help you get reimbursed after you pay for your aligners.
The following Byte products are a covered expense with FSA and HSA:
Impression kit
Day or night aligner systems
If you don't have enough money in your FSA account, Byte can split the cost between your FSA and a credit or debit card.
If it's late in the year Byte can also allow you to purchase your impression kit and aligners together so you don't lose your annual FSA dollars. Learn more about paying for Byte with FSA here.
---
Conclusion:
Some insurance companies cover part of the cost of clear braces and aligners. If yours does, Byte can help submit the necessary paperwork to ensure that you get the maximum reimbursement, which can be hundreds of dollars.
Regardless of whether your insurance company covers Byte, you can still save when you use one of our exclusive coupons.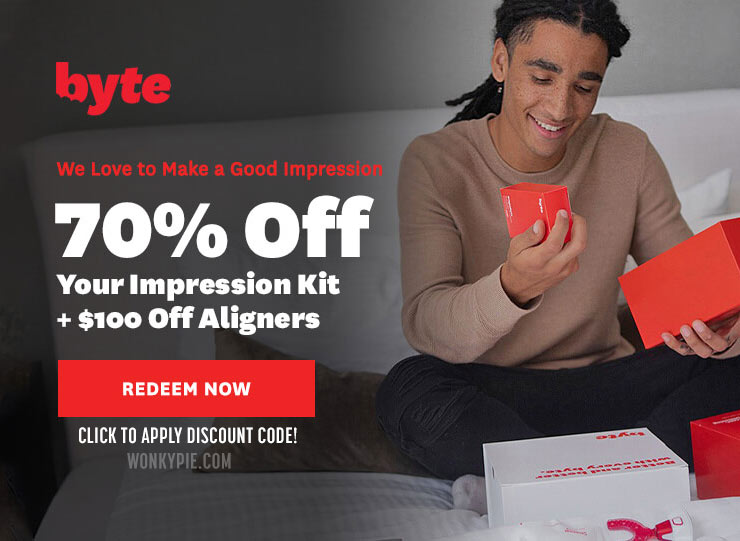 Good luck, and thanks for stopping by Wonky Pie!
*Related: How Much Is WW?