Straightening your teeth from home is a big decision, so you obviously want to go with the best possible company at a fair price.
So, which clear aligners or invisible braces are best to improve your smile? Byte has earned a top spot in the conversation, and its HyperByte® system vibrates to produce faster results for straighter teeth. (You can even just wear the aligners at night if you don't want to wear them at school or work!)
At ByteMe.com they promise, "Comprehensive doctor-directed care and FDA-cleared technology for faster results and a lifetime guarantee." So, does it really work?
You may have seen some of the inspiring before and after pics out there, but now let's look at exactly how Byte works and read both good and bad reviews to see if Byte is really the best clear aligners for you. If it is, check out today's best coupons here for $100+ off!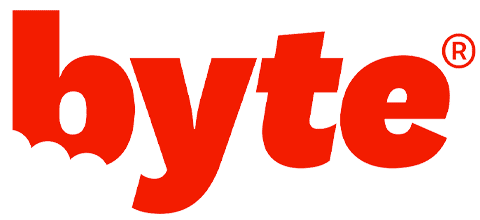 Here's our review of Byte aligners.
---
Byte Aligners: How it Works | Reviews & Ratings | Cost | Does It Work?
How Byte Works: (Real Review)
So, how does Byte actually work? Before looking at Byte customer reviews online, let's take a few minutes to see how the whole process works including impressions and aligners. It's easy to get lost on youtube looking through Byte reviews, so I hope you find this review helpful!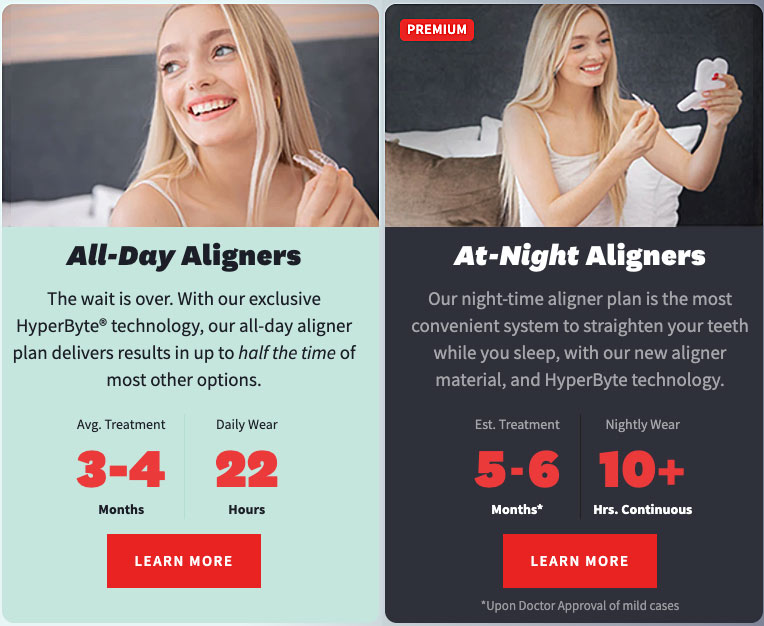 Byte designs your smile to complement your other facial features. So, it's for people who want a better smile and not just straighter teeth. Here's how Byte works:
Answer a few questions about your teeth by taking a 30-second assessment on ByteMe.com to make sure that Byte is a good fit for you.
If so, decide whether you'd prefer to wear your aligners all-day (faster progress) or just at night.
If you decide to sign up, choose whether to pay upfront or monthly (price difference?)
Byte will then rush you an impression kit. Make impressions of your teeth and take a couple of selfies at home.
Send the impressions back in a pre-paid package. If they decide that you aren't a great candidate to continue, Byte will issue a full refund.
Byte's dental specialists will create an interactive 3D model of your teeth so that you can track the straightening progress
Your Byte Aligner Kit will arrive soon with aligners, BrightByte teeth whitener, and HyperByte device
The aligners' HyperByte® technology uses vibration to "help cut your treatment time in half," according to Byte
After completing the process, Byte recommends wearing a retainer to keep your newly-straightened teeth in place
It's all pretty simple actually, and recent advances in 3D printing have improved the precision of invisible aligners from top companies like Byte, Smile Direct, and Candid while lowering the price.
How long does Byte take? Byte All-Day aligners are worn about 22 hours per day and the average treatment time is about 3-4 months. Their At-Night aligners are worn 10+ hours every night and treatment time is longer at about 5-6 months
---
---
Byte Aligners Customer Reviews & Ratings:
OK, so now that we've talked about how Byte works, let's talk about if it really works. The best way to do so is to read honest reviews and verified ratings. You'll find a number of glowing official reviews on YouTube like these:
However, I believe the three best resources for honest Byte reviews are Google Reviews, BBB, and Consumer Affairs.
---
1. Byte Google Reviews:
I like Google Reviews because there are Byte reviews from 3400+ customers and you can sort reviews by categories like "most recent" or "lowest rating." (Yes, it's good to read bad reviews too, because no product is perfect or for everyone!)
Also, unlike most review sites, Google is not getting paid by the companies being reviewed. In other words, companies like Byte can't edit or delete negative reviews.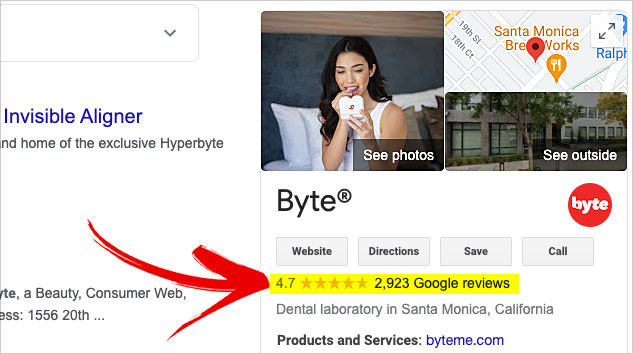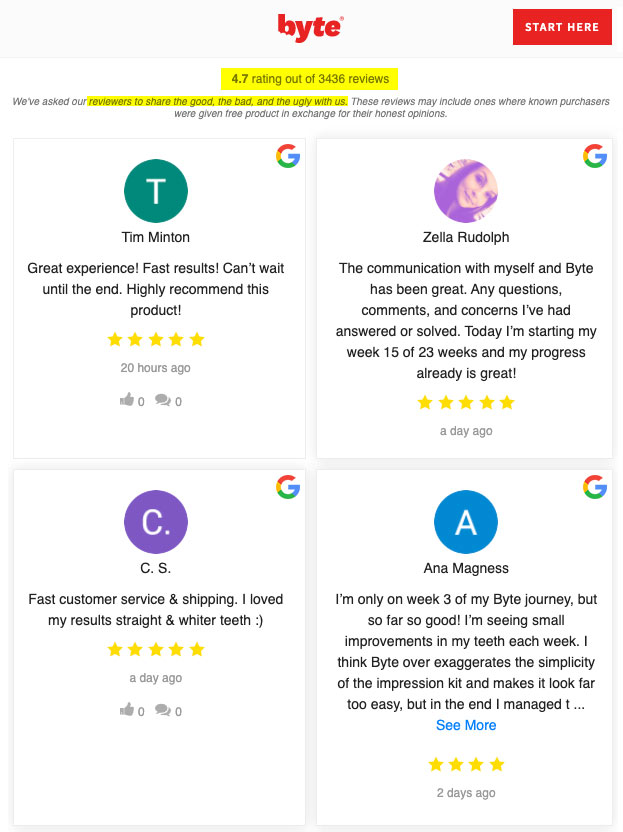 You can find a link to Byte reviews on Google here.
2. Byte Reviews on BBB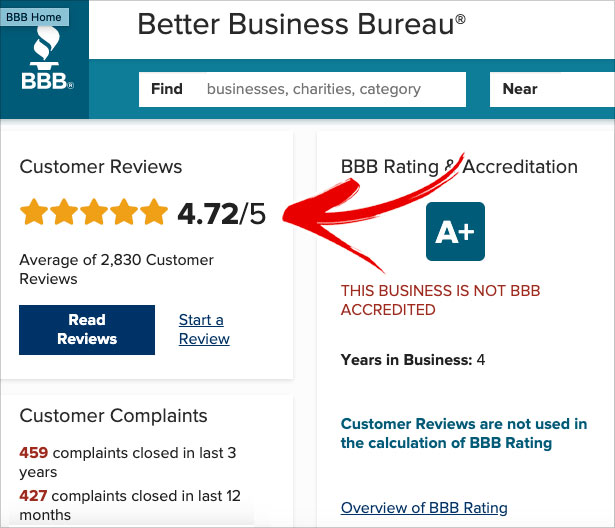 As you can see, BBB Byte reviews are generally very positive, and they get an A+ rating and 4.72 out of 5 stars. However, in the last year, I see that they have resolved hundreds of complaints so not everyone was happy with their experience.
3. Byte Aligners Reviews on Consumer Affairs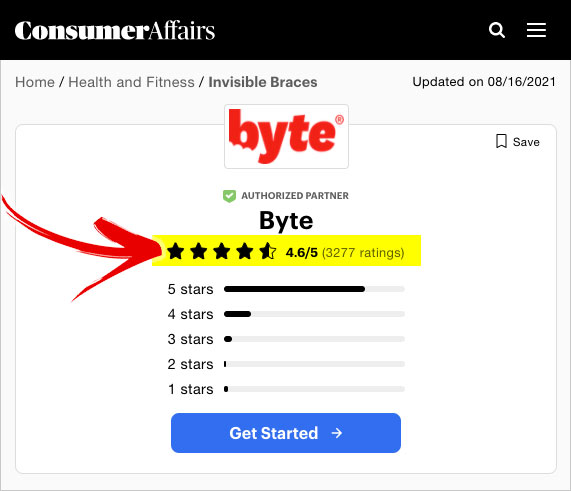 Consumer Affairs also has thousands of ByteMe reviews. As you can see, Byte gets an impressive 4.6 out of 5 stars, and reviews are overwhelmingly positive.
Their site requires contact information to submit a rating so the reviews should be legit. However, I do notice a disclaimer that says Byte is an "Authorized Partner" and that, "ConsumerAffairs is not a government agency and may be compensated by companies displayed."
In other words, Consumer Affairs helps companies present themselves in a positive way by featuring the best reviews and allowing Byte to respond to bad reviews in the hope that they improve their rating.
There's nothing wrong with doing so, but it is worth mentioning.
---
Byte App Reviews & Ratings:
If you want to know what thousands of Byte users think of the program and app, check out Byte reviews and ratings on the App Store: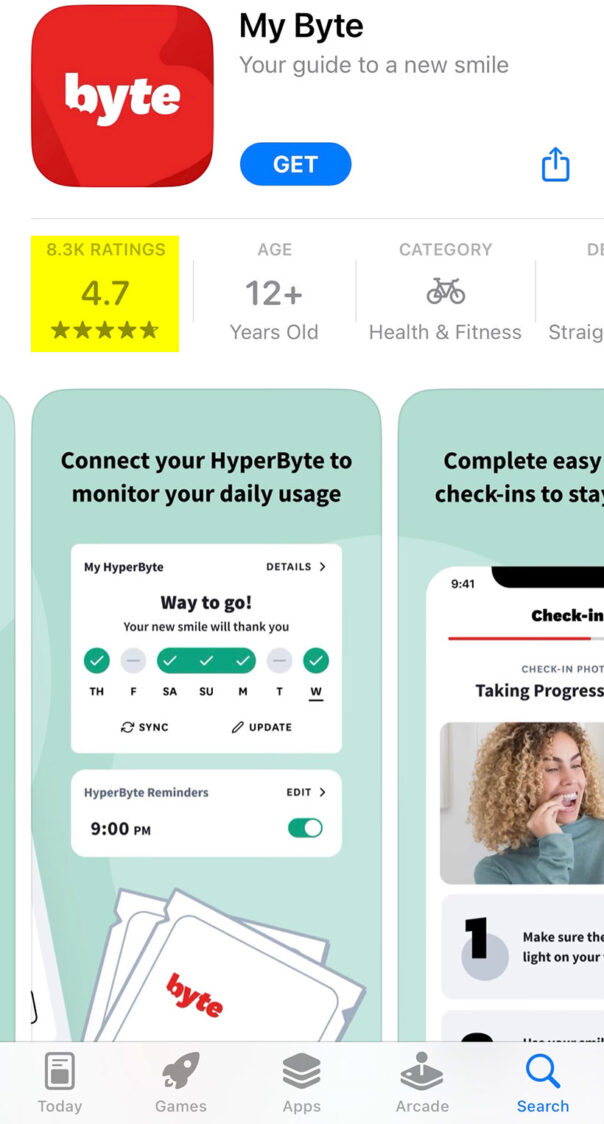 As you can see, Byte is rated very highly!
---
Does Byte Really Work?
To answer the question of whether Byte works, let's look at the average rating from thousands of combined reviews on Google, BBB, and Consumer Affairs. Byte gets a collective average rating of 4.7 out of 5 stars inferring that it does work well for most people.
However, people have different dental issues including overbites, underbites, gap teeth, and crowding. My understanding is that Byte is more likely to work for people with minor or moderate orthodontic issues.
Byte Complaints? Most negative reviews seem to come from people with significant dental or orthodontic issues. If you have significant alignment issues I would recommend talking to a dentist or orthodontist before proceeding with Byte or any other at-home clear aligners or invisible braces because you would probably benefit from in-person supervision.
I hope our review of Byte helps with your decision of whether to choose ByteMe clear aligners to straighten your teeth at home. If you do, we have a list of today's best Byte coupons here.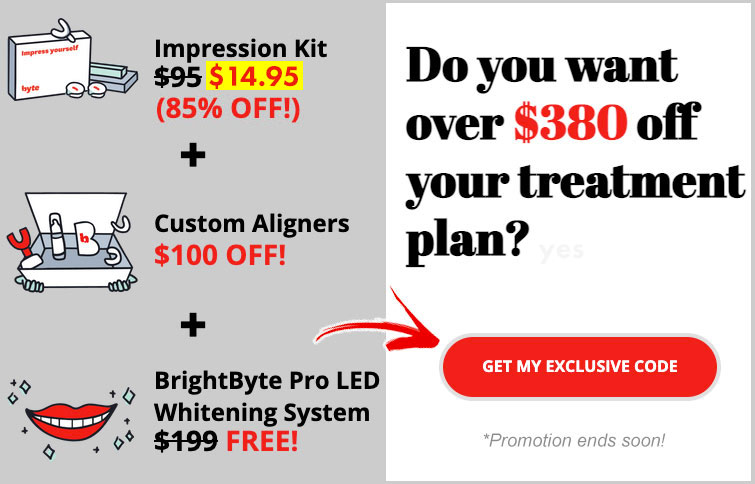 Thanks for stopping by Wonky Pie!