Did you know that having straight teeth can make you happier? It's true, and people with a nice smile also make more money.
So, how do you get a better smile without spending a fortune at the orthodontist? Byte™ is one of the leading names in clear aligners, helping to straighten your teeth at half the cost of seeing a dentist or orthodontist.
However, Byte isn't for everyone. While it might be great for MINOR issues, (like a gap or a little crowding) people more than moderately jacked-up teeth should probably see a doctor. First, check ByteMe.com to see if you're a good candidate, then do your research and read honest reviews. (If you are interested, we have a coupon code for $100+ off!)
Here's how Byte works plus what we learned from reading a lot of good and bad reviews.
Byte: How it works | Customer Reviews | Does Byte Work? | Pricing
---
How Byte Works:

Here's what they say on ByteMe.com: So, what makes Byte so magical? Actually it isn't magic at all it's science; smile science to be exact. Byte designs your clear aligners so that your teeth will complement your other already beautiful features. It's for people who want a better smile, not just straighter teeth. Here's how it works.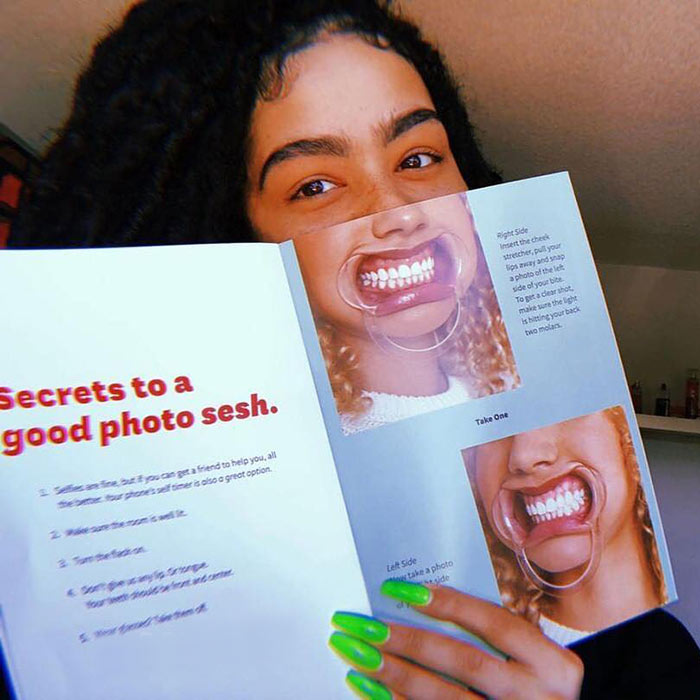 Just take a few selfies of your teeth and submit an application on ByteMe.com to see if Byte is right for you. Most people get a green light in a few hours, and not weeks like some direct-to-consumer teeth aligners. If you are a good candidate, Byte will send you an impression kit.
Then, you send it back and their in-house dental specialists create molds of your teeth and an interactive 3d model for you to track your progress. Before you know it your aligners arrive in the mail and you can get started straightening out that smile. Byte also offers a concierge service to answer all your questions; all while your smile perfects itself in half the time.
How, you ask? That's where the vibrator comes in no not that kind of vibrator though it does bring about desired results faster than usual. it's called the hyper bite and it uses gentle vibrations to get you faster better results the aligner kit also comes with a teeth whitening and breath freshening system for a smile that tastes as good as it looks; all for $1895 $1795 or less than $100 per month with the payment plan. So, does Byte really work? Let's look at reviews to decide.
---
Byte Customer Reviews: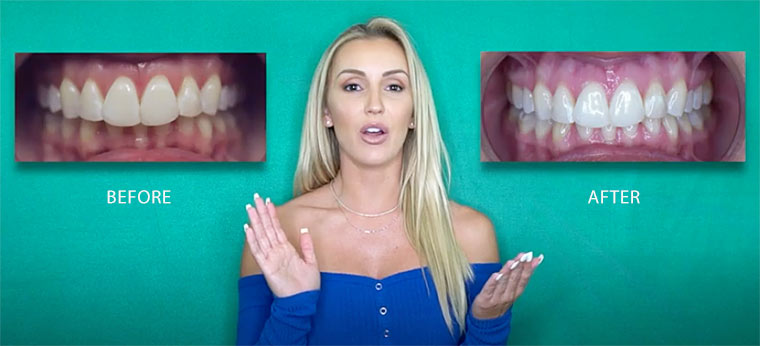 Clear aligners are not for everyone, and everyone who orders Byte isn't always happy with their experience. For that reason, I like to find both good and bad reviews for products like Byte before buying. In that spirit, let's start with a helpful positive review from the Instagram model and singer, Amanda Paris.
As you can imagine, first impressions are really important, especially if you are in front of the camera online or in your profession. So, she was very excited to fix her overbite with Byte. Here's her review of Byte:
OK, so she had a positive experience! Check out how Byte fixed her overbite in 15 weeks! (See more before and after pics) Here's another helpful Byte review that starts with a week-3 update. It's a good way to see a real customer's experience and results at week 3:
---
More Good reviews:
Byte is happy to provide testimonials on their site from customers who were happy with their results:
"Byte uses Hyperbyte which is a game-changer! Faster, straighter teeth for a fraction of the price. Not to mention I received whitening foam that I didn't even realize came with the kit. Byte is AWESOME! Thank you."

Cali, Byte customer review on BBB.org
That's great, but let's be realistic: Byte isn't the best option for every situation. Let's talk about why sometimes Byte doesn't work and people write bad reviews.
---
Byte Bad Reviews: (BBB, Consumer Affairs)
OK, so you can find glowing reviews for any popular product online, but sometimes you can learn more from negative reviews. So, for a good source of honest reviews, I like to look at two sources: BBB and Consumer Affairs.
The Byte page on BBB (Better Business Bureau) shows that they have an "A+" rating, even with 20+ customer complaints.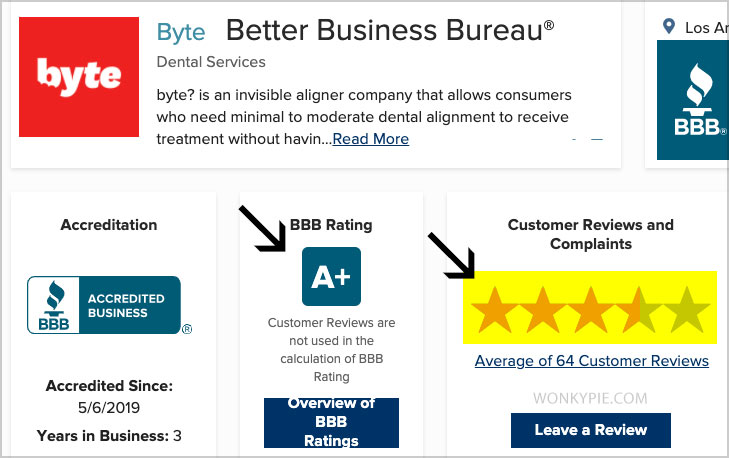 "The aligners have done nothing for me. I have been wearing week 15 aligners for well over a month now. I'm so disappointed and so angry that I've wasted so much money on a service that did not live up to the promise. I really just want my money back!"

Jenny A., Byte customer
However, I notice that many of these complaints in negative reviews are now marked as, "resolved," so I have to assume that Byte either refunded the customer's money or fixed the problem. Even so, I found it helpful to scroll through the customer complaints to see why they had a bad experience. You can sort to view bad reviews (Keep in mind that few people go onto BBB to write a positive review, ha ha!)
Next, I recommend that you read Byte customer reviews on Consumer Affairs.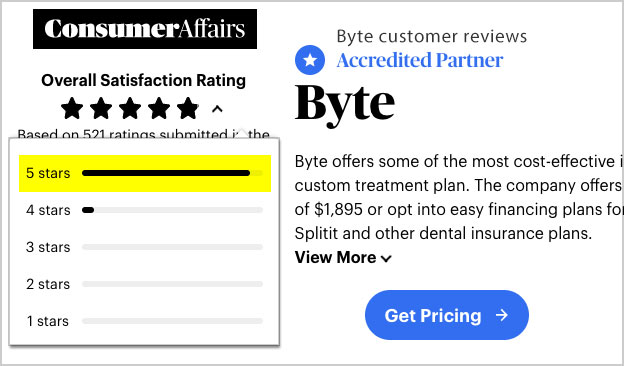 Once again, you can get a good idea of what's good and bad by reading honest reviews!
---
Does Byte Really Work?
Although the short answer is, "yes, most of the time," let's dig a little deeper. I've read through scores of Byte reviews online, and a number of them are negative. While that's partly because people buying a product like Byte are more likely to write a bad review when they are not satisfied, it's still important to learn from them.
So, it seems that the biggest problem with all direct to consumer orthodontics is the lack of in-person contact with a doctor. In other words, they rely on your photos and impressions to understand your teeth and create aligners.
This reminds me of the recent problems and challenges that doctors and patients face with telemedicine. While most of the time seeing your doctor over Zoom or FaceTime is good enough, the doctor is limited in effectiveness by not being with you in person.
So, if you have minor issues with teeth alignment or just a gap in your front teeth you'd like to fix, then Byte is more likely to work for you. If you have more than moderate alignment and spacing issues, I would not recommend any direct-to-consumer teeth aligners, retainers, or braces.
To address this "gap" in service, remote aligner service SmileDirectClub offers in-person visits at one of their 50+ "Smile Shops." However, most locations are in cities, and many people don't live near one!
Byte success rate? Based on ratings and reviews, I'd estimate Byte's success rate to be about 75%. Not bad, but with thousands of people using Byte, that's a lot of potential bad reviews!
---
FAQs:
Do Byte clear aligners work?
Byte is best for people with MINOR issues like a gap or minor crowding / spacing issues.
How do customers rate Byte? 😬
Byte has an A+ rating with BBB and 3.5+ stars with Consumer Affairs. However, reading bad reviews and complaints is still helpful!
What's the best coupon for Byte?
If you pay upfront you can use their promo code for a free impression kit + $100 off
---
Conclusion:
While most reviews for Byte clear aligners are good, do your research before signing up. That's because Byte might not be right for people with significantly misaligned teeth or other dental issues.
However, if you determine that Byte looks like a good option for you, the biggest plus is that it's less than half the price of going to the dentist! If you do consider Byte, check out our exclusive discount codes here. Thanks for stopping by Wonky Pie!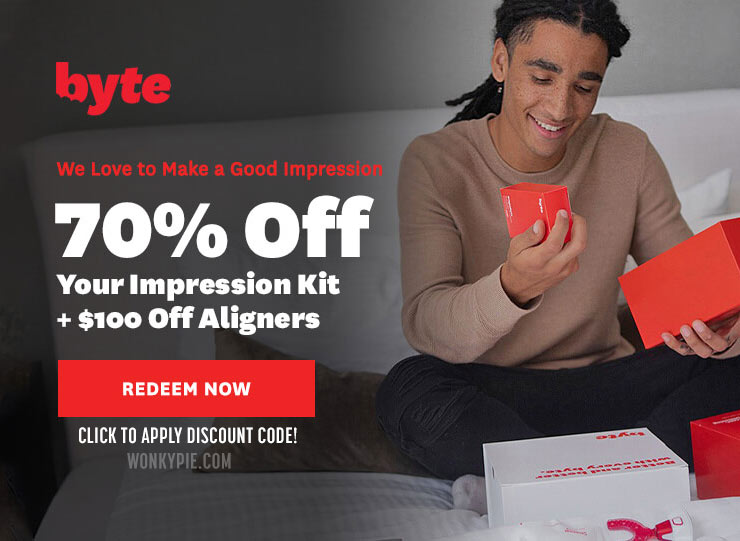 More coupons: Noom 14-day free trial | WW: 50% Off!
More reviews: Vistaprint masks | Nutrisystem | South Beach Diet | Noom