Easy recipe for champagne jello shots: This year, if you are hosting a New Year's Eve get-together, I highly recommend that you bring back the jello shots of your youth with these fun champagne jello shots. However, instead of being chock-full of booze and juice, keep it classy with a decent bottle of champagne or sparkling wine.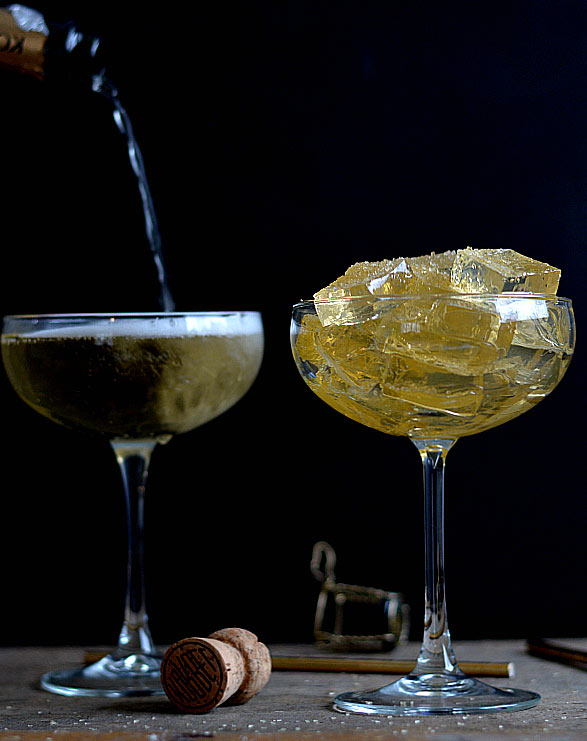 These jello shots are not only festive, and pretty to look at. They will get you to that buzz quickly. But be careful… because, just like those jello shots you did as a 21-year-old kid, if not careful… you can overdo it with these easily. OK, here's the recipe:
Champagne Jello Shots Recipe:
Champagne Jello Shots
Champagne jello shots with vodka for New Years Eve
Ingredients
3

cups

dry champagne

1/2

cup

simple syrup

1/4

fresh lime

optional

1/2

cup

vodka

4

packages

powdered gelatin

unflavored
Instructions
In a mixing bowl combine simple syrup, vodka, lime juice (squeezed), and gelatin together, mix with a fork unit the gelatin has softened, and you are left with a jelly.

In a sauce pan bring champagne to a low boil. (Careful it foams over quickly.)

Remove from heat, and add it to the gelatin mixture.  Set aside and let it cool for about 10 minutes.

Line a 9×13 baking dish with plastic wrap.

Pour gelatin mixture into the pan, and chill for 4 hours, or overnight.

Cut into squares, sprinkle with sparkling sugar and serve.
Notes
Fun recipe for champagne jello shots. While it doesn't have to be only on New Year's Eve, I can't think of a better time to serve them! 
How to make simple syrup: Simple syrup is just 1 part water to 1 part sugar. Combine in a medium saucepan and heat to a boil while stirring until sugar is dissolved! In this recipe, I also add a couple of squeezes of lime.
---
How to Make Champagne Jello Shots Video:
Found this video that shows you how to make champagne jello shots. It's a similar recipe to ours, so worth watching!
---
Champagne Jello Shots: Fun For New Year's Eve or Any Celebration!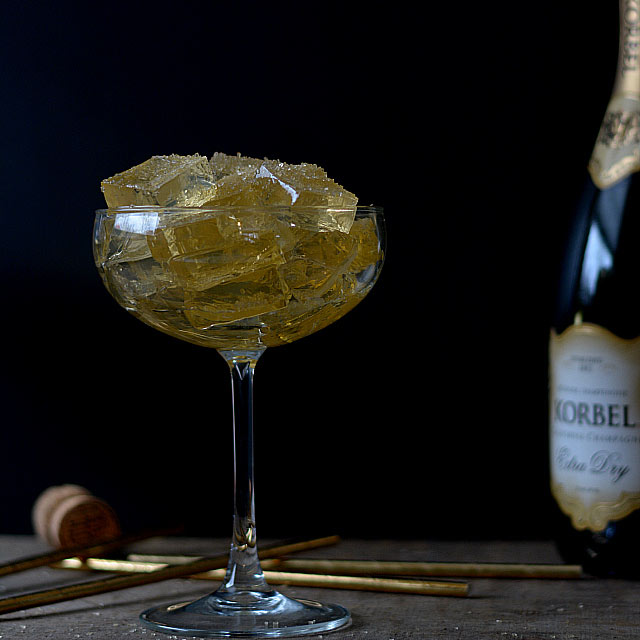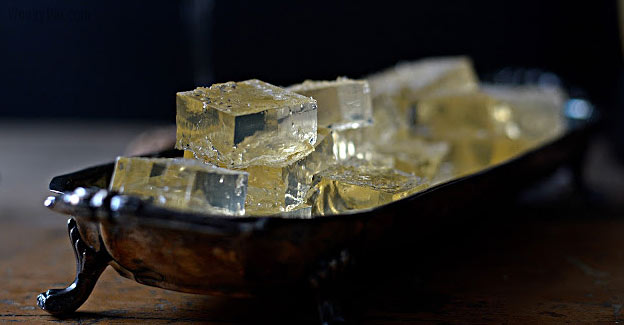 While the obvious time to serve these champagne jello shots is on New Year's Eve, you shouldn't limit yourself to one possible night a year for these fun shooters.
*Related: Try Noom Free for 14 Days!
In fact, I think champagne jello shots are a brilliant way to celebrate just about anything. While a bottle of champagne is fun, this is a great way to serve champagne without all the champagne flutes and worrying about it going flat.
Like we said, just keep a tab on how many of these champagne jello shots you have, as they do have a good amount of alcohol + sugar which can sneak up on you and even lead to a hangover! If you want to make these less buzzy, you can always halve the amount of vodka.
Making a New Year's Resolution? We have exclusive coupons for some great diets like WW, and Nutrisystem.