Readers Digest Diet Reviews: Readers Digest is a great, honest resource for reviews on just about everything including diets. Readers Digest asked their readers to rate the most popular commercial diets, and here's how they faired:
Consumer Reports Diet Ratings: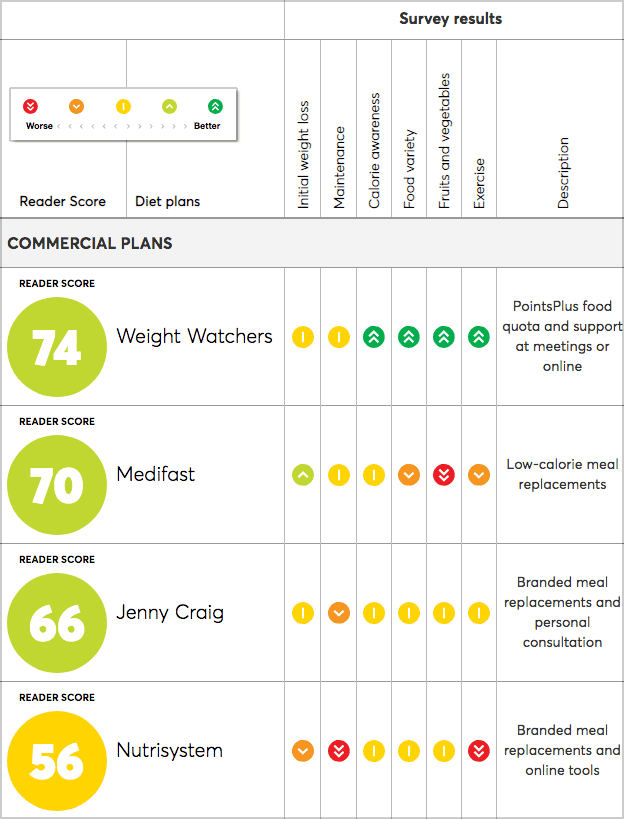 Commercial Diet Ratings – Our Take:
So, it's no surprise that Weight Watchers takes the top spot in a poll of Consumer Reports' readers, but the other ratings have me a bit confused. I can't find any other credible sources that rate Medifast so highly, and Nutrisystem so poorly.
Because of the inconsistencies with other credible diet reviews online, I have to think that maybe this is a small sampling of users.
In any event, you can lean more about these diets below:
Weight Watchers: reviews, coupons
Medifast: reviews, coupons
Jenny Craig: reviews, coupons
Are the Consumer Reports Ratings Fair?
You can read more about these diets at ConsumerReports.com, but unfortunately you have to be a member. For most areas Consumer Reports is a wellspring of valuable reviews, but not so much with diets.
Personally, I think their diet ratings & reviews are a little off, but let us know what you think below!
*New: Nutrisystem Review: 12 Tips Before Joining | weight loss / finding motivation webmd