Diet To Go is a popular meal delivery diet offering chef-prepared, ready-to-eat meals delivered to your door. They have several menus to choose from including diabetes and keto options. So, exactly how much does it cost, and is it worth it? Here is how much you can expect to pay, and how to save with a $100 coupon:
---
Diet-to-Go Pricing:
The cost of Diet to Go depends on several options including plan choice, gender, days of meals per week (5 or 7), and the number of meals per day (2 or 3). Depending on your choices, Diet to Go will cost between $121.99 and 204.59 per week (that's $9.74-13.36 per meal) plus a $19.98 shipping fee.
Here's more about Diet to Go plan options that ultimately determine the cost: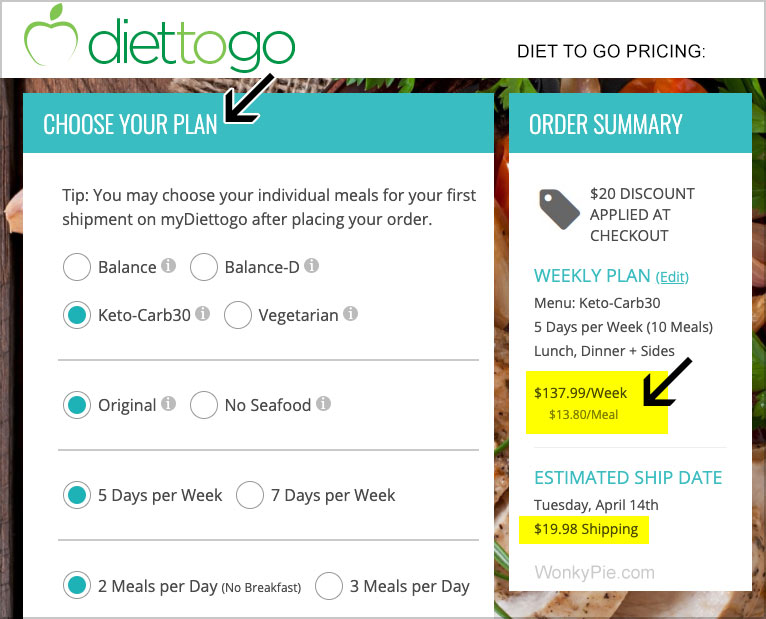 Plan choice: In addition to their regular "Balance" plan, DietToGo offers several other options including diabetes, keto, and vegetarian plans
Your Gender: Choose either Diet to Go for Women or men. Men's plans include more food, providing 1600 calorie per day compared to 1200 for women
Day per week: Choose either 5 or 7 days of meals per week.
Meals per day: All plans include lunch and dinner, with the option to add breakfast. Choosing more meals increases the cost but reduces the price per meal.
Tip: Based on those weekly prices, DietToGo costs $488-818 per month plus shipping. That may be more than many people are comfortable budgeting for a meal-delivery diet!
---
Is Diet to Go Worth the Cost?
The cost of just about every meal delivery service falls between $8-14 per meal. With an average cost per meal of about $12, you could say that Diet-to-Go is relatively expensive.
Of course, if you asked them they would point out that their meals are made from high-quality ingredients that are more expensive. Reviews also indicate that the taste of their food is generally rated higher than a less expensive competitor like Nutrisystem (cost?) Medifast (cost?) or South Beach Diet (cost?).
Diet to Go is cheaper than Jenny Craig, but about the same cost as BistroMD (cost?), which seems to be of similar quality and price.
Tip: Diet-to-Go meals are complete, and unlike a number of their competitors, they don't require that you to buy supplemental groceries. This can add a deceptive significant expense to those seemingly "cheaper" meal-delivery diets.
So, is it worth it? DietToGo is relatively expensive but has superior ratings for the taste and quality of their food. In fact, they were rated as the best tasting diet plan by epicurious.
In determining whether it's worth the extra cost, ask yourself whether you are willing to pay more for better food. Also, be sure to use a coupon which can drop the price significantly.
---
How to Save on the Cost:
If you are thinking of joining Diet-to-Go, use a coupon! We recommend the one for $100 off, as it gives you $20 off your first 5 orders.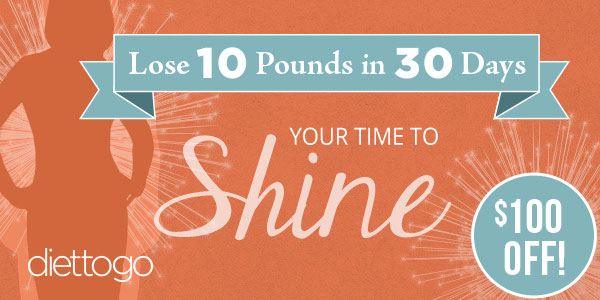 During that time you can decide whether to stay with them long-term or not and save a lot of money in the process.
---
Conclusion:
With a cost of about $500 or more per month, think of Diet-to-Go as the "Cadillac" of meal-delivery diets. While most people are happy driving a 5-year old Toyota, others are willing to pay more for a little extra quality.
If you like to cook, then perhaps consider meal-delivery kits that deliver fresh ingredients so that you can make meals on your own. We currently have exclusive discounts for hot, plant-based Purple Carrot (cost, coupons) as well as Home Chef (cost, coupons).
Thanks for stopping by Wonky Pie!
*Related: How Much is Smile Direct Club, and What Does Noom Cost?