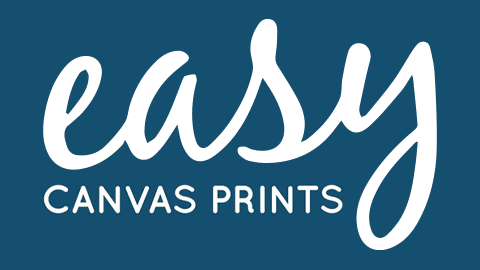 Easy Canvas Prints of Austin, Texas, has taken the web by storm, racking up hundreds of thousands of followers on social media. Owned by Vistaprint (coupons here), they offer gorgeous, high-quality canvas prints in 11×14, 16×20, 18×24, and 24×36 at cheap prices. However, don't ever pay retail for their canvas prints and optional framing.
Every month EasyCanvasPrints.com announces a featured offer available for up to a 93% discount. Most of the time you don't even need a promotional code, as the savings are applied as soon as you click an offer and go to their site.
However, by using a promo code you might get free shipping, rush shipping, and a better deal than their featured sale. Here are today's best coupons:
Easy Canvas Prints: Best Coupons | Free Shipping |Best Deal? |Using Codes | Free 11×14
*Note: The "promo code" field doesn't seem to be appearing at checkout today, but if you click the featured offer it applies the code automatically!
Best Coupons, Sales, Promo Codes, & Free Shipping:

*Our featured coupon includes a free "shipping upgrade" to RUSH shipping speed!
---
How to Get the Best Deal!
There's always a sale the "best" promo code to use depends on your specific order, so compare 2+ at checkout to see which saves more and/or ships faster. (Some codes include RUSH shipping) Follow these steps to get the best deal at Easy Canvas Prints:
Click today's featured promotion and visit EasyCanvasPrints.com
Choose a featured canvas size, denoted with "93% off" or "Best deal for the size"
Decline optional premium hanging options
Click, "Have a promo code" and enter code (if not applied)
Enter a second promo code like our free shipping code and compare the savings
Use the code that saves more!
If you follow the steps above you'll get the best possible deal on your order at EasyCanvasPrints.com. Now, let's talk more about free shipping codes, and whether they offer the best savings.
---
About Free Shipping Codes:
Does Easy Canvas Prints offer free shipping? Yes, but a free shipping code doesn't always save you the most money. That's because when you get free shipping, the canvas prices go up! Here's proof: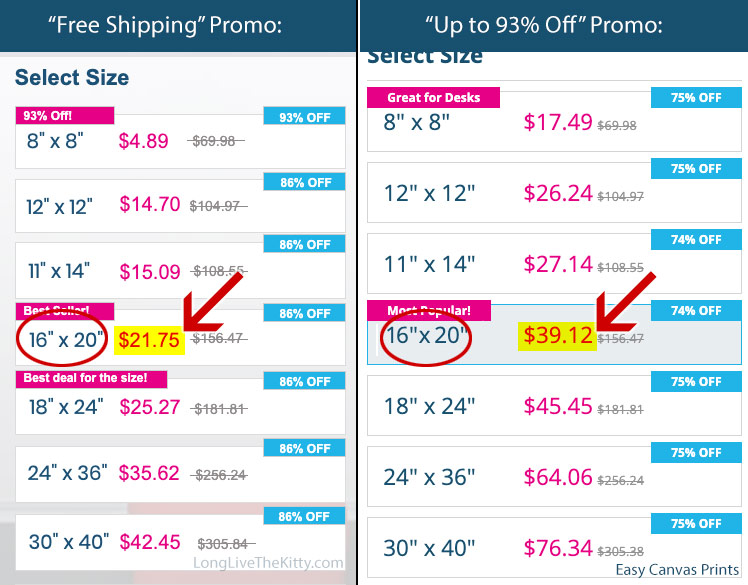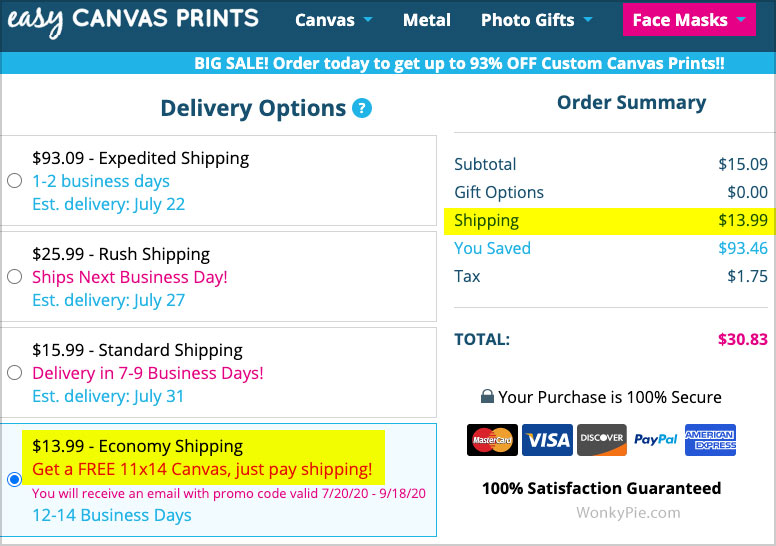 You see, the free shipping codes usually apply a smaller discount to the actual canvas prices. In this case, the same 16×20″ canvas cost $17 more when using the free delivery code. Since shipping cost $12, that means the free shipping code saved less than the "93% off" sale.
However, on my next order, I used a code for "50-80% off + free shipping" and it saved me $7 more than the featured promotion.
Tip: if a free shipping code is available, compare the savings against at least one other promo code at checkout!
*Need canvas design inspiration? Check out their idea gallery here.
---
How Easy Canvas Prints Coupons Work: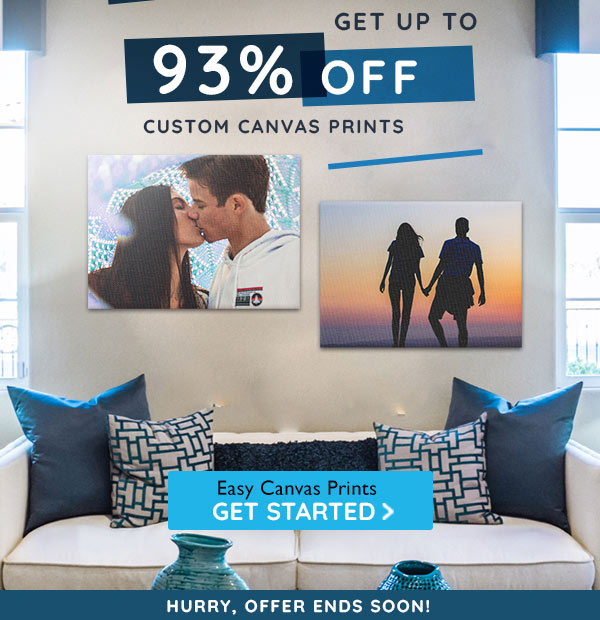 The best Easy Canvas Prints discounts usually come from an advertised sale, and the discount is applied simply by clicking a promotional link or banner. However, it can be a little confusing, as sometimes it's not clear that a coupon has been applied.
For example, when you click our featured offer above, you'll be taken to a page on Easy Canvas where the new, discounted pricing will be applied. You'll be asked to select a canvas size, and you'll see an inconspicuous message stating, "Promo Code Applied!" like this: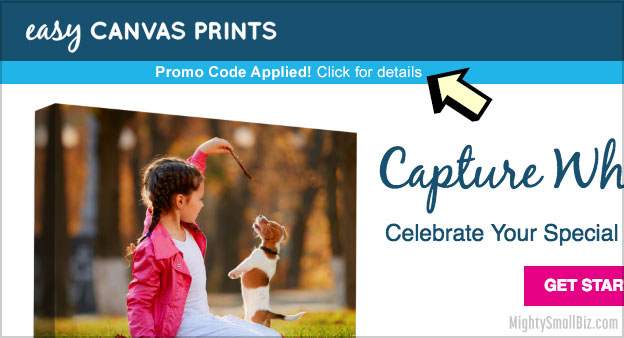 You'll also notice that the regular prices are all crossed out, and the new, discounted prices are shown like this:
That's it! Simple, right?
We actually placed an order with EasyCanvas Prints and posted our review here!
Also, if you have found or been issued a promo code, let's talk about how to use it.
---
How to Use Easy Canvas Promo Codes:
Where do I enter a promotion code? As mentioned, most of the best discounts and coupons for Easy Canvas Prints don't require entering a promotion code. In fact, you may notice that entering a promo code may actually raise the price of your order!
In any event, if you do have one promotional code, here's where to enter it: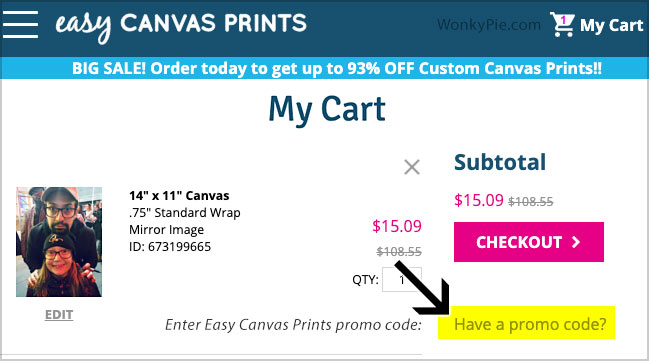 Design your canvas, then click the shopping cart to view your subtotal
Scroll down and you'll see a text link that says, "Have a promo code?" (see below)
A text field will open to enter a code
If the code is valid, the discount itemized under the subtotal
Enjoy your savings!
Tip: Can't find where to enter a code? If you already entered your billing info, just click on "edit cart" and you'll see the field to enter a promo code!
---
Free 11×14 Canvas!?
As you can see, choosing Economy shipping at checkout also qualifies you for a free 11×14″ canvas with your next order. After choosing Economy Shipping and placing your order, you'll get an email with a promo code like this: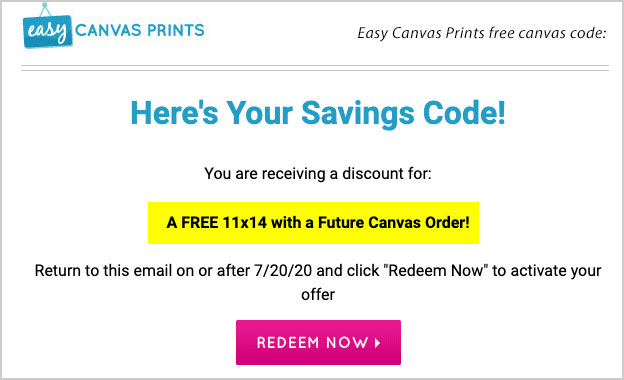 Just click to redeem, and the promo code will be applied when you arrive at EasyCanvasPrints.com like this: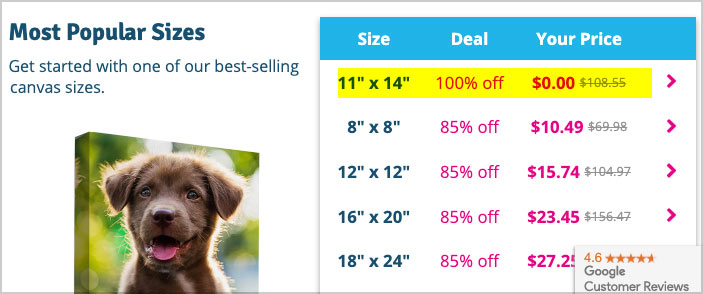 Wow, that's pretty sweet! Obviously, you can't get free shipping with the free canvas promo, but it's still a great deal! In fact, it's the only sale better than 93% off! Get started
---
Flash Sales: Up to 93% Off!
Easy Canvas also has the occasional "Flash Sale", especially around holidays. Check their Facebook page for savings of up to 93% on canvas!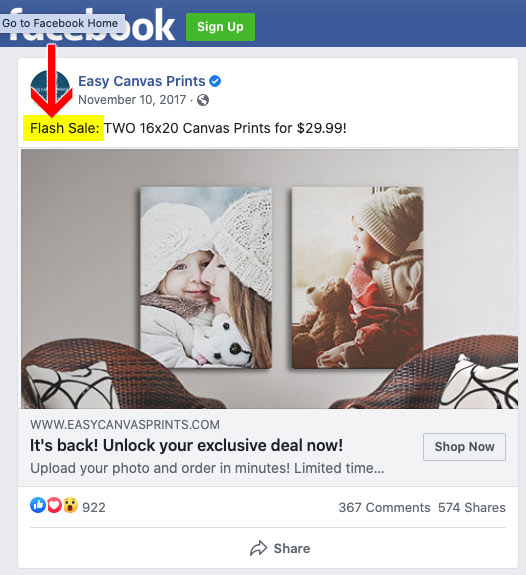 *Related Coupons: Vistaprint masks | Snapfish Free Delivery Code | WSJ Print Deal
---
You can also check out more canvas promotions here. Thanks for stopping by Wonky Pie!
Related: Tips for printing photos on canvas – photographytalk.com