If you are placing an order at Fanatics.com, you should know the shipping fees and shipping times.
Can you wait for standard shipping or do you need your items sooner? Free shipping is sent at standard speed but expedited shipping methods obviously cost more. Know Fanatics shipping time so you don't overpay for shipping unless you need to!
Here's their featured coupon (view all) plus the latest Fanatics shipping info:
Fanatics shipping: Delivery Time | Shipping Cost | Where from? | Carriers | Canada | International | Order Tracking
---
Fanatics Shipping time:
How long will it take for your Fanatics order to arrive? That depends on both the processing and shipping time. Most items take one day to process and say, "in stock and will ship within one business day" above the item price: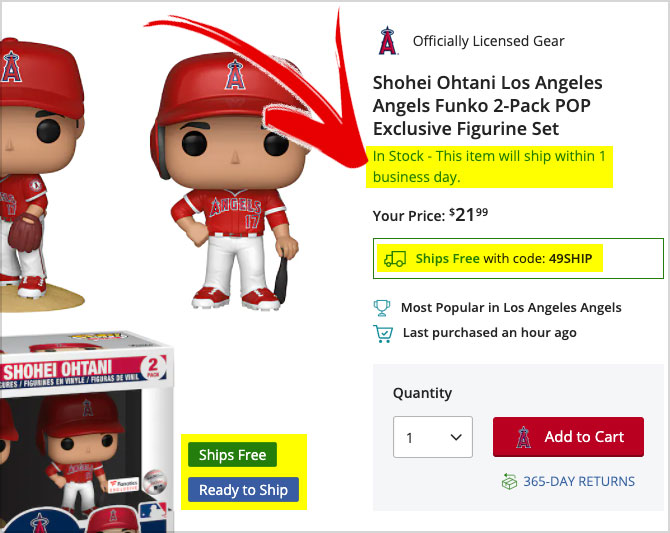 Just add the processing time to the shipping time to estimate when your order will arrive.
Here are Fanatics shipping times and options:
Standard: 3-7 business days
Expedited: 3 business days
Rush: 2 business days
Next business day
Next business day by noon
Canada: 5-10 business days
For Fanatics international shipping times click here.
Why does Fanatics take so long to ship? Most Fanatics orders are processed in the warehouse and mailed within one day but some items can take longer. Add that processing time to the shipping time and your order may take up to 10 business days to arrive! If you need your item(s) sooner, consider choosing expedited shipping or paying to join ShopRunner for free 2-day shipping with a $59 minimum order.
---
Fanatics Shipping Cost:
By default, all items are shipped with Standard shipping unless you choose an expedited method. Here is how much Fanatics shipping costs:
| | 1 Item | 2+ Items |
| --- | --- | --- |
| Standard shipping: | $4.99 | $7.99 |
| 3 Business Day: | $13.99 | $19.00 |
| 2 Business Day: | $14.99 | $21.95 |
| Next Business Day: | $24.95 | $27.95 |
| Next Business Day By Noon: | $29.95 | $32.95 |
| Canada: | $12.95* | $12.95* |
| United Kingdom: | $29.95 | $29.95 |
*Canada: Additional 25% fee for duties and taxes charged at checkout
*Buying more than one of the same items does not increase the shipping cost.
---
Where Does Fanatics Ship From?
Fanatics has shipping centers in Las Vegas, NV; Jacksonville, FL; Frazeysburg, OH; and Aberdeen, MD; and they will ship your order from the nearest facility to your address for the fastest delivery.
---
Who Does Fanatics Use for Shipping?
Fanatics uses UPS, LaserShip, DHL, International Bridge, and OSM Worldwide for shipping, and they will choose the best method for your order based on geography, speed, and pricing.
---
Does Fanatics Ship to Canada?
Yes, they do but delivery takes 5-10 days and up to 26.5% is charged for fees and duties at checkout depending on the size of your order. Source
---
International Shipping:
Does Fanatics ship internationally? Yes, in addition to Canada, Fanatics also ships to the UK, Australia, New Zealand, Mexico, Japan, Singapore, and 27 countries in the European Union. International orders don't qualify for free shipping and are charged a VAT rate or other fees and duties based on country. Learn more at fanatics.com
---
Order Tracking:
If you have an account at fanatics.com it's easy to track your order. You can also track your order if you checked out as a guest. Here's how:
How to track your Fanatics order (through your account):
Sign in to your account at fanatics.com
Under "Order History" click "View/Track Orders"
You should see a list of orders including the order number, purchase date, and order status
Click on order status for the latest shipping information and delivery status
Track guest order shipping: If you don't have a Fanatics account and placed your order with guest checkout you can still track your through their Track My Order form.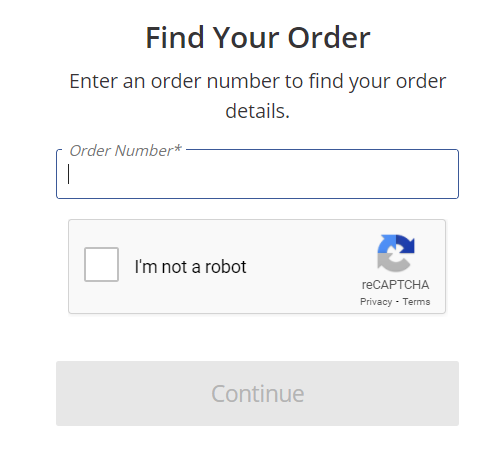 *Related: How Is Chewy Shipping Time So Fast?