HelloFresh is one of the most popular and highest-rated meal kits in America. Known for its menu variety and flexibility, HelloFresh has become a top choice for college students.
In fact, HelloFresh does a lot of advertising to college coeds and even has a student discount through UNiDAYS. So, if you are a student, teacher, undergraduate, postgraduate, or educator, is the HelloFresh student discount the best promotion for you to sign up with? Maybe. Let's compare:
Let's take a look at today's best signup deals and how the HelloFresh student discount works to determine which coupon will save you the most money.
HelloFresh student discount: Best coupons | How it works | Teacher Discount | Not working? | Shipping to a dorm | More student discounts
---
Today's Best HelloFresh Coupons for Students to Consider:
Whether you are a college student or just a student of life, you can use one of these featured coupons:
As you can see, our featured deal should actually save you more than the student discount over the first 5 boxes. However, over time the HelloFresh student discount will save you more. Here's more about how the student discount works.
Top HelloFresh Student Discounts Now:
Get 20% off your first 4 boxes with code IVYLEAGUE20
Get 60% off your first Hello Fresh order with code: GSG70
Students get 15% off every box for 1 year with code HELLOSTUDENTS (exp.)
---
Which HelloFresh Promotion is Best for Students?
Just because you qualify for the student discount doesn't mean it's the best promotion for your order. In deciding which HelloFresh coupon to use consider:
The HelloFresh student discount: 55% off your first box + 15% off every box for a year
Our featured promo code gets you up to 60% off + 20% off your next 4 boxes
It looks like our promo code is better short term (5 boxes or fewer), but the student discount will save you more long term.
---
The HelloFresh Student Discount Through UNiDAYS:
HelloFresh offers special discounts to groups including students, the armed forces, and healthcare workers. While the initial discount is the same or less than that offered to the public, the student discount locks in 15% off every box for up to 52 weeks.
Here's how to get the HelloFresh Student Discount:
Choose a plan at hellofresh.com and add it to your cart
Click the student discount offer here
Create an account or log in at myunidays.com
Verify your status as an eligible student
Click back to hellofresh.com to apply the student discount
After verification, the student discount will remain in your HelloFresh account "under account settings" for one year.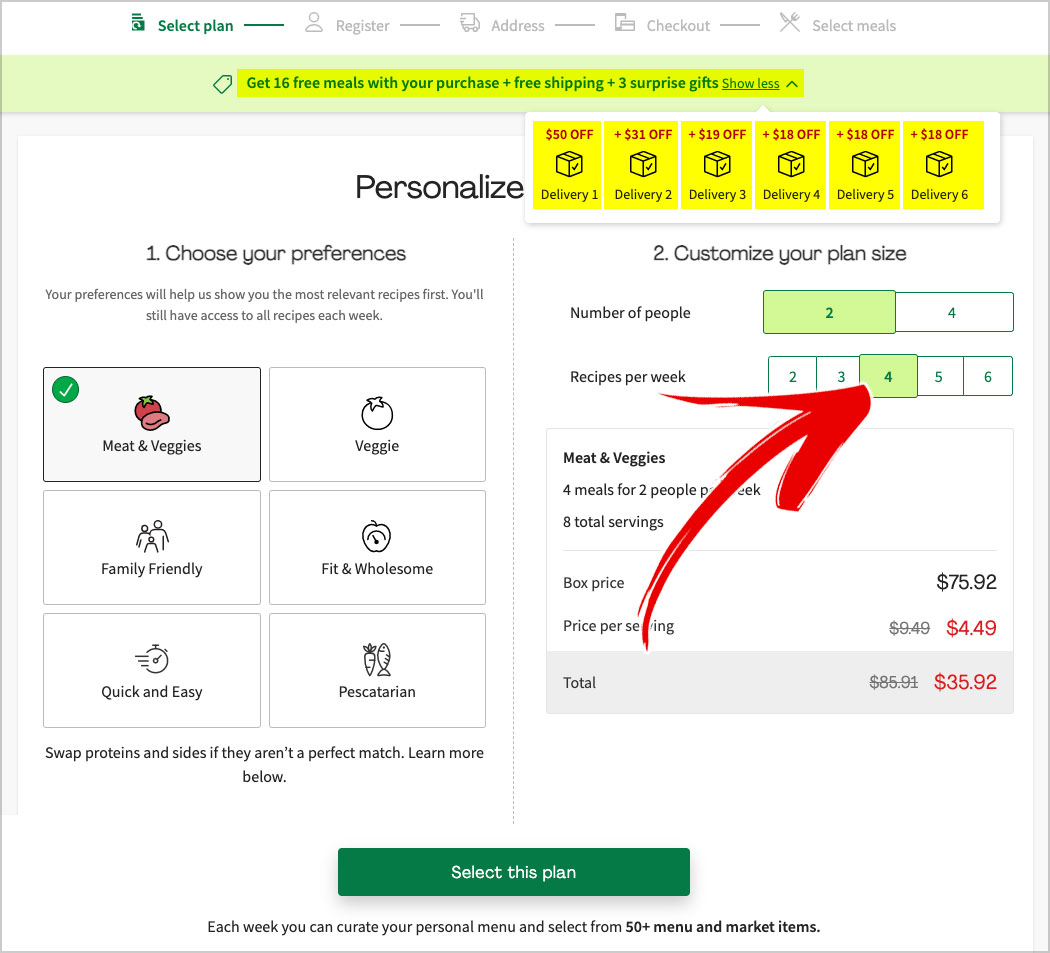 Is the student discount best? The featured promotion for the public may save you more than the student discount for the first 5 boxes. However, students get a 15% discount for up to one year. The best signup deal depends on how long you plan to keep your subscription.
---
Hello Fresh Teacher Discount?
Does HelloFresh have a discount for teachers or educators? Currently Hello Fresh is not offering a special discount to teachers. However, as a teacher, you can use their featured promo code for up to a 60% discount on your first box plus 20% off the next four boxes. We have today's best codes for teachers listed here.
---
HelloFresh Student Discount Not Working?
A number of people report that the student discount does not work for them. This is either because UNiDAYS has determined that you are not eligible, or because of an issue with the HelloFresh website or app.
If the student discount is not working for you, HelloFresh recommends:
Some discounts are only for new accounts
Make sure you enter the promo code with no spaces (where?)
Verify your status as an enrolled student with UNiDAYS
Try clearing your browser cache if the cookie is not applied at hellofresh.com
If the student discount is still not working, you can contact HelloFresh support via chat here or call them at (646) 846-3663
Both students and teachers can also use our one of our coupons for the public here that requires no verification.
---
Who Is Eligible for the Student Discount?
To qualify for the HelloFresh student discount you'll need to create an account with UNiDAYS and verify your status as a student actively enrolled in classes at an accredited college or university with a .edu email address.
As long as you are enrolled when you sign up, the HelloFresh student discount will last for one year, even if you graduate or drop out of school because of a (stolen?) million-dollar idea like Mark Zuckerberg or a music deal like Alicia Keys.
---
Why Is HelloFresh Popular With College Students?
HelloFresh is the self-described "world's most popular meal kit" for a reason. The same qualities that make them popular with the general public have made them the most popular meal kit with students.
Here's why students like HelloFresh:
Menu variety and taste: I think everyone can agree that these are the most important factors when choosing a meal kit or meal delivery service, and HelloFresh consistently ranks near the top of both categories
Flexibility: Order when you want or pause whenever you don't want delivery. This makes a lot of sense for busy students who might not want Hello Fresh box during Spring Break, finals, or times that don't work for your schedule
Alternative to grocery shopping and cafeteria food: Has the thrill of "all you can eat" food at the cafeteria worn off? Or, maybe you don't have time to plan dinners every night or go grocery shopping.
Student Discount Price: HelloFresh is more expensive than Ramen but offers high-quality fresh ingredients at a reasonable price, especially after applying the student discount
*Featured wellness coupons and deals: Byte $200 off, Try Noom Free, Factor 75 Meals, Adam and Eve 50% Off
---
Does HelloFresh Ship to College / University Dorms?
Yes, through their partnership with Sodexo HelloFresh can ship to dorms or on-campus housing at over 300 US colleges and universities.
Tip: If you really love HelloFresh, they may offer internships and jobs for recent graduates. Some colleges even may advertise positions on their websites.
---
More Student Discounts:
We have a number of other great discounts for college students and teachers, and many of them, including Factor75 Meals, don't require verification. Here are some of our favorite student discounts now:
---
Enjoy College! It's a Jungle Out There:
I hope you are able to really take advantage of all the independence, education, and excitement of college! I really wish I had understood how special these college years are while I was in college.
Did I mention my knee now makes a clicking sound when I walk down the stairs, and my wife yells at me for leaving plates on the counter because they attract ants? Not that I didn't have fun getting a colonoscopy and paying my taxes last week, but that's another story.
Anyway, I hope we were able to get you the best deal possible on a HelloFresh subscription! Sometimes the college discount is best, but definitely compare it against their featured promotions and see which is best for your needs.
Thanks for visiting Wonky Pie!