Does Noom cost money? Noom is a popular weight loss app based on achieving sustainable, long-term weight loss through personal coaching and behavioral psychology. Because of the personal attention, support, and myriad resources, Noom does cost money.
It's also hard to find Noom pricing on their website, which is essentially just a minimalist quiz followed by a 14-day trial offer. So, how much is Noom? That depends on your billing cycle and how long you stay with the program. Here's what you should know about the cost of Noom.
---
Noom Pricing + Average Cost Per Month:
Noom starts most users with an auto-renewing 4-month subscription for $169 which means that Noom costs $42.25 per month after the initial trial period ends. However, the length of your billing cycle may change based on your weight loss goals.
Those who wish to lose more weight may be offered a longer initial subscription of 5-6 months. Although longer billing cycles are initially more expensive, the average cost per month is much lower.

Here's the current price of a Noom subscription in 2023 plus the average monthly cost:
Monthly billing: $70 per month
2-month plan: $129 ($64.50/month)
3-month plan: $159 ($53/month)
4-month plan: $169 ($42.25/month)
5-month plan: $174 ($34.80/month)
6-month plan: $179 ($29.83/month)
7-month plan: $184 ($26.29/month)
8-month plan: $189 ($23.63/month)
9-month plan: $195 ($21.67/month)
10-month plan: $199 ($19.90/month)
11-month plan: $205 ($18.64/month)
12-month plan (Annual billing) $209 ($17.42/month)
*All plans auto-renew at the same rate unless you cancel before the end of the billing cycle
How much does Noom cost for 6 months? You can join Noom with a 6-month plan for $179 when you pay upfront. However, most people join with the 4-month plan, making the average cost of the first 6 months $253.50.
As you can see, the cost per month drops significantly with longer-duration plans. This becomes even more dramatic when we look at the cost per year of each plan.
Does Noom have a family plan? Sorry, but Noom does not have a special plan or discount for couples, partners, or families.
---
Noom Cost Per Year:
How much does Noom cost for a year? The cost for Noom for one year varies significantly from $209-840 depending on which plan (billing cycle) you choose. Noom is much cheaper on an average monthly basis when you join for longer upfront.
Because most people choose a 4-month plan, one year of Noom usually costs $507. However, if you choose the 6-month plan the annual cost of Noom drops to $358. For those who choose to pay for one year upfront, the cost of a year of Noom drops to only $208.
Why is the Noom annual plan so cheap? Most people don't plan to stay on a diet long-term, so few people commit to an entire year. In fact, the average person gives up on their New Year's resolution to lose weight after only about a month!
For that reason, you can argue that it doesn't make sense to pay for an entire year of Noom upfront, even if it only costs a few dollars more than a 6-month subscription.
---
Is Noom Worth It?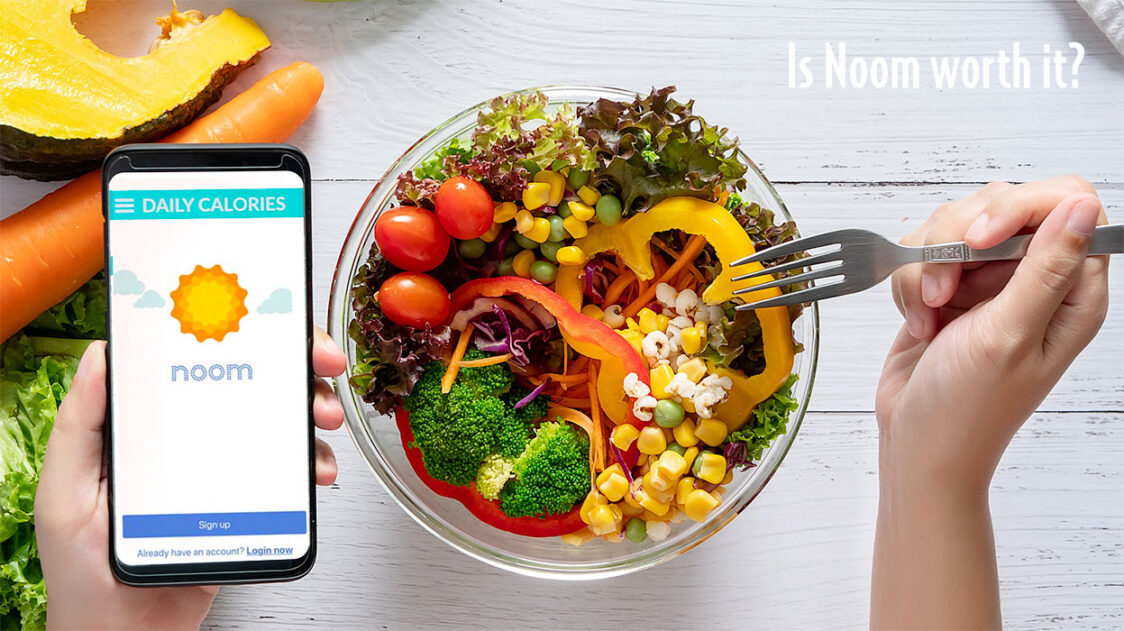 The value of any diet or wellness plan is relative to the user. In other words, there is no guarantee that you will be happy with Noom, meet your weight loss goals, and conclude that it is a great investment.
So, to determine whether Noom is really worth it, let's look at what you get for your money compared to a free alternative:
Coaching: Noom believes that personal coaching is a crucial ingredient in the recipe for successful weight loss. Noom pays hundreds of trained wellness professionals to provide this one-on-one attention making coaching a significant part of the cost of Noom
Support groups: DIY diets are tough, but connecting with others who have similar wellness goals provides motivation and support
Tracking tools: Noom provides user-friendly and sophisticated tracking tools for diet and exercise to help you chart your weight loss journey
Education: Noom provides daily bite-sized lessons plus personal courses and in-app resources to create positive behavioral change and the wisdom to make healthy choices for a lifetime
Resources: Color-coded recipes and food lists are just some of the resources always available on the app
Why is Noom so expensive? They say that "time is money," and most of the cost of Noom is due to the 1-on-1 attention from paid personal coaches.
It's hard to get motivated when you try to reach a wellness goal by yourself, and studies suggest that weight loss increases with the help of a human coach.
That's also why a lot of people appreciate the support and structure of a gym membership or personal training instead of going it alone with a treadmill in the basement.
I think of the cost of Noom in the same way. Personally, I benefit from support, structure, and motivation when trying to reach a goal. I'd rather pay more for something that is of greater value than get something worthless for free or at a cheaper price.
Because everyone is different, maybe the better question is, is Noom worth it to you?
If you think it's worth a shot, get started on the free assessment and 14-day trial here.
Idea: If you like the idea of Noom but don't want to pay for personal coaching, consider WW instead. It's less expensive but is a similar app-based diet
Thanks for stopping by Wonky Pie!