Signing up for Nutrisystem is relatively expensive because it includes most of the food you'll be eating while on the diet. This includes the delivery of nutritionally balanced pre-packaged meals and snacks to your door every month. However, not everyone pays the same price to be on the diet.
That's because Nutrisystem has 3 different plans for men and women including Basic, Uniquely Yours, and Uniquely Yours Max, plus a partner plan for couples.
How much is Nutrisystem? The cost of Nutrisystem depends on your gender, weight loss plan, and how many months you choose to pay upfront. By paying for 2+ months at signup, you'll lock in a lower monthly rate for the life of your subscription.
Here's what you should know about the cost of Nutrisystem.
Nutrisystem cost: Women | Men | Partner Plan | Best Price | Worth It?
---
Nutrisystem Pricing:

How much is Nutrisystem? The exact price you pay for Nutrisystem depends on how many months you pay for at signup. By paying for 2-3 months upfront, you'll save about $1 per day for the life of your membership which adds up.
Here is the current pricing for Nutrisystem auto-delivery when you unlock the 50% off sale and pay for two months upfront: show me (Updated for 2023)
• Nutrisystem for WOMEN Cost:
BASIC: $8.64/day, $52.93/week, $229.35/month
UNIQUELY YOURS: $10.59/day, $72.69/week, $314.99/month
UNIQUELY YOURS max+: $11.89/day, $81.92/week, $354.99/month
Quick 9 Plan: $12.09/day, $156.81 per bi-weekly shipment
• Nutrisystem for MEN Cost:
BASIC: $10.11/day, $62.41/week, $270.44/month
UNIQUELY YOURS: $11.73/day, $72.90/week, $315.90/month
UNIQUELY YOURS max+: $13.35/day, $83.39/week, $361.36/month
• Nutrisystem PARTNER Plan Cost (Per Person):
Partner Plan: $11.16/day, $69.22/week, $299.99/month
*The cost of the Nutrisystem Partner plan is simply the average cost of two Uniquely Yours plans for a couple.
Nutrisystem also offers a Diabetes version of the Basic, Uniquely Yours, and Uniquely Yours Max+ plans for both women and men at the same price per month.
Cost per year? After you unlock the 50% off promotion, the Uniquely Yours Plan for women costs $3708 for a full 12 months. That sounds expensive but it might be a lot less than you're already spending on food each year!
---
Nutrisystem Best Price Per Month:
Basic may be the least expensive Nutrisystem plan, but doesn't include frozen food and is not rated highly. There's a better way to save money on Nutrisystem.
You can get the best deal by paying for 2-3 months upfront when you join any Nutrisystem plan. This not only gives you a lower price on your initial purchase but also locks in that low rate for the life of your subscription.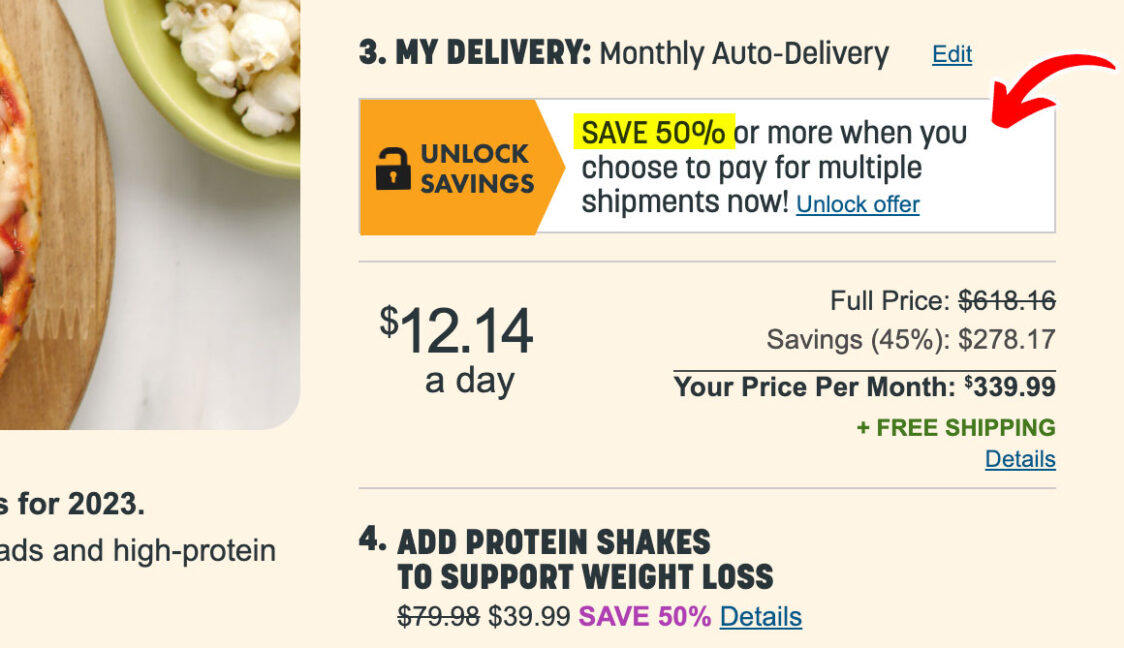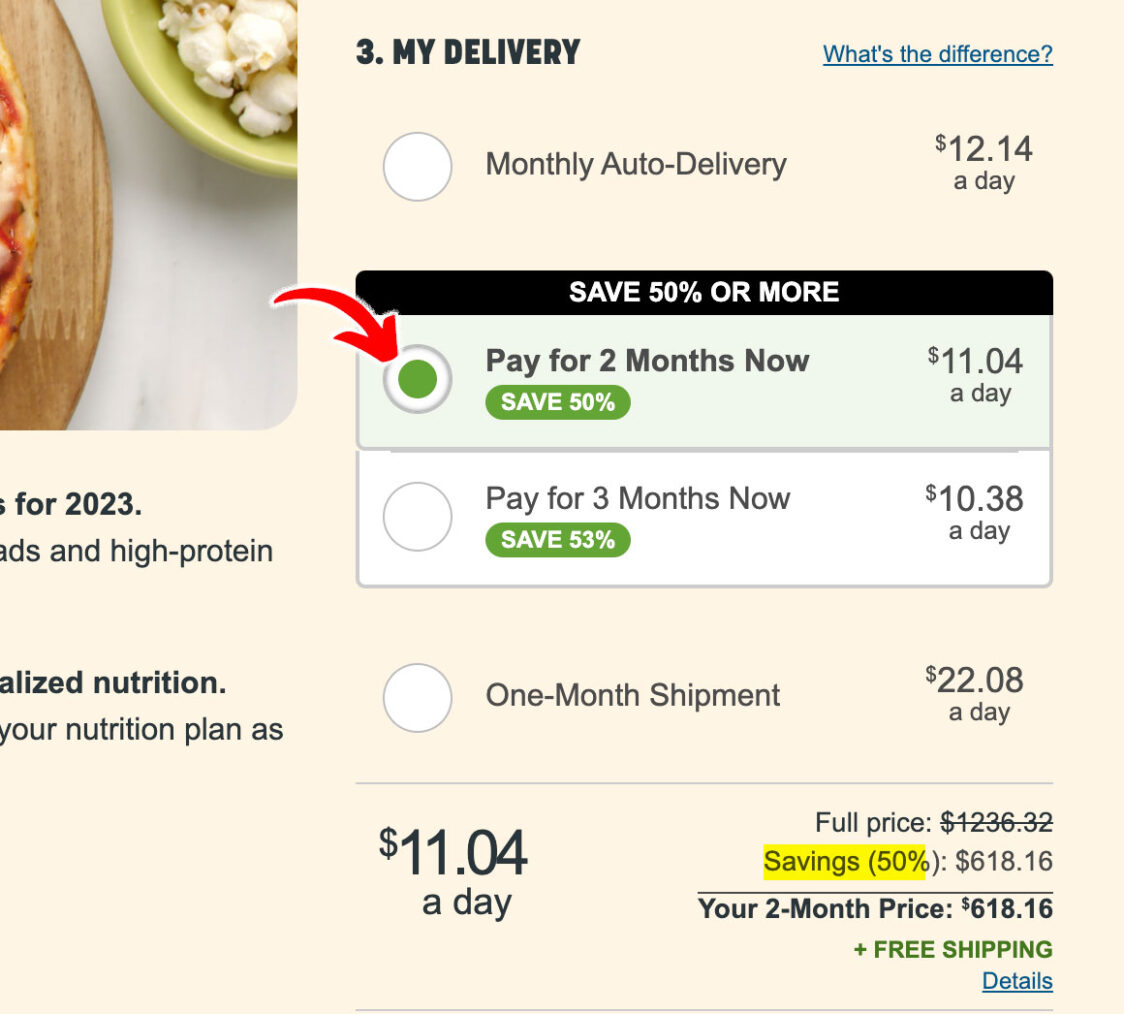 Here's how to get the lowest monthly rate for Nutrisystem:
Click, "Plans & Pricing" on the top menu and select a plan
Click "Unlock Savings" under "My Delivery"
Choose "Pay for 3 months Now"
The price per day and month will decrease in your order subtotal and will auto-renew at the same lower rate!
Paying for 2+ months upfront when you join can save you more than $300 for the life of your subscription! You can save even more when you use a discount code at signup.
---
Total cost of Nutrisystem + How To Save:
Remember that you'll have to buy some groceries including fresh fruits and vegetables each week plus DIY "Flex Meals" to supplement the Nutrisystem food. While this doesn't add to the actual cost of Nutrisystem, you should account for supplemental food when estimating your monthly food budget.
We've already explained how to get the best Nutrisystem price per month, but you can also save a lot of money by cooking your own Flex meals at home instead of eating out. In fact, eating out at a restaurant can cost five times more than cooking your own meals!
Another way to keep the cost of Nutrisystem down is to not add any of the optional extra vitamins and shakes offered during the signup process. You can find similar shakes, bars, and vitamins at a lower cost at your local pharmacy or Costco.
---
Is Nutrisystem Worth It?
Adding a $300+ monthly fee to your credit card is a big decision, even if it does replace a lot of the food that you're currently buying. So, before you sign up, it's good to decide whether Nutrisystem is really worth the expense.
So, what do you get for your money when you join Nutrisystem? Most of the cost of the diet is the pre-packaged food delivered to your door every 4-6 weeks.
These nutritionally balanced pre-portioned "heat and eat" meals are relatively inexpensive, averaging only a few dollars each. You'll be given a personalized plan and track your progress on the Numi app to know exactly what to eat and when.
While on the program you can expect to lose about 1-2 pounds per week. (source)
With Nutrisystem, you pay for convenience as they handle the planning, preparation, and portioning of most of your meals each month. You wouldn't mistake these ready-to-eat meals for gourmet takeout or mom's home cooking, but they are very convenient.
They say that "time is money," making Nutrisystem a popular weight loss program for busy people and those who don't like to cook.
No single diet is best for everyone, so to determine whether Nutrisystem is worth it, imagine whether Nutrisystem is compatible with your unique personality and lifestyle.
When it comes to losing weight do you value convenience and structure above menu variety and taste?
Have you already tried cheaper or free DIY diets like WW and Noom without success?
If so, then it may be worth trying Nutrisystem!