There are a lot of fly-by-night printing companies out there. In fact, I've been duped more than once by shady companies advertising on legitimate sites like Google Ads and YouTube.
If you are looking to print your treasured photos on canvas, the last thing you should worry about is whether the company will deliver. When I recently saw an Easy Canvas Prints ad for 93% off, I was immediately skeptical.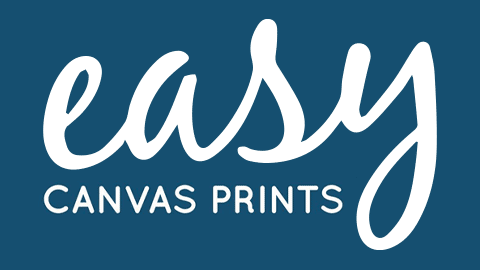 93% Off Sale
4. The 93% off sale does not include free shipping. Get promo code:
4. The 93% off sale does not include free shipping. Get promo code:
Show Less
How could a company possibly offer a 93% discount which would ensure that they lose money on the deal? I decided to do some research into Easy Canvas Prints' history and reputation to see if they were for real.
Here are the top 7 reasons why Easy Canvas is legit:
Is Easy Canvas Prints legit? History | Social Media | Verified reviews | Reddit | 93% off? | BBB
---
1. Easy Canvas Has a Legitimate History:
Most legitimate companies have years of experience and numerous employees. Easy Canvas Prints was founded in 2009 in Austin, Texas. It started as a small venture with a big vision: to make it simple for people to transform their photos into beautiful canvas prints. Over the years, the company has grown to 100+ employees, earning a reputation for quality and affordability.
They've recently been bought by VistaPrint, and have expanded their product line to include various canvas sizes, custom framing, and other personalized decor options.
Since its start, Easy Canvas Prints has printed over 13 million canvas prints. Today, Easy Canvas Prints still helps folks turn cherished memories into stunning wall art, making it a go-to choice for those looking to add a personal touch to their spaces. They also have a large, passionate following on Facebook.
---
2. Easy Canvas Has a Legit Facebook Rating:
While social media does have a lot of problems, it's still a good way to learn about the reputation of a business or brand. For instance, Facebook gives brands the ability to be verified plus the option to allow customer reviews on their FB page.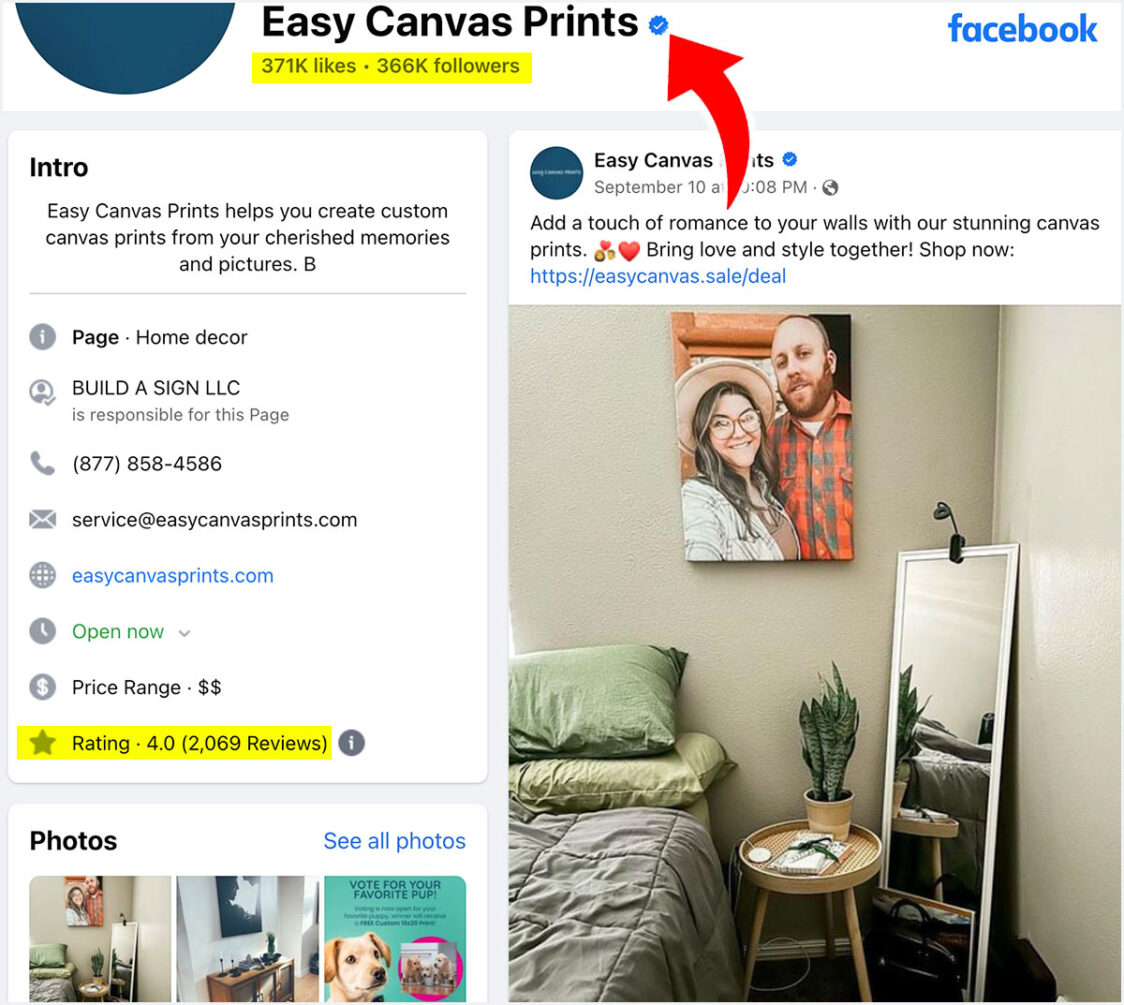 Easy Canvas Prints has over 366k followers on Facebook which bolsters their legitimacy. They also have a 4/5 rating from over 2k reviews from Facebook users. If you are checking out Easy Canvas on Facebook, look for the blue checkmark on their verified account.
Another place to read reviews is on their actual site.
---
3. Real, Verified "Customer Stories" on EasyCanvasPrints.com: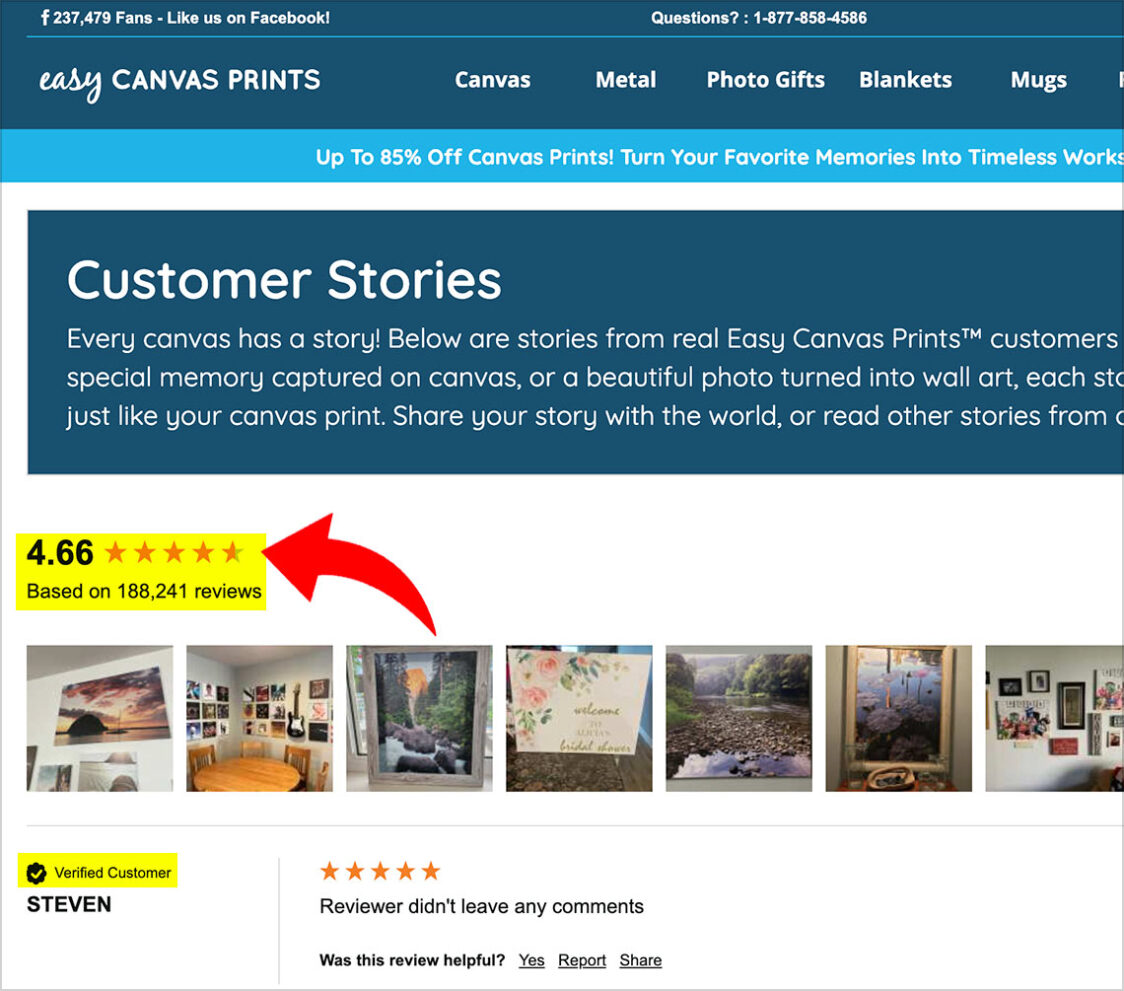 Any customer who has placed an order with Easy Canvas Prints can log in and leave a review on easycanvasprints.com. Over the years over 180k people have left a review with an average rating of 4.6/5. While it's possible for a brand to write fake reviews, the 10+ year history of good and bad reviews on reputable websites infers that most are legit.
Tip: Want to know if news is real? Look it up on snopes.com
Another site worth visiting when checking the legitimacy of any brand is The Better Business Bureau.
---
4. Is Easy Canvas Legit On Reddit?
I'm usually skeptical of Reddit because a lot of the posts include clickbait or self-serving promotion. However, it's also a good place for important conversations like whether Easy Canvas Prints is legit.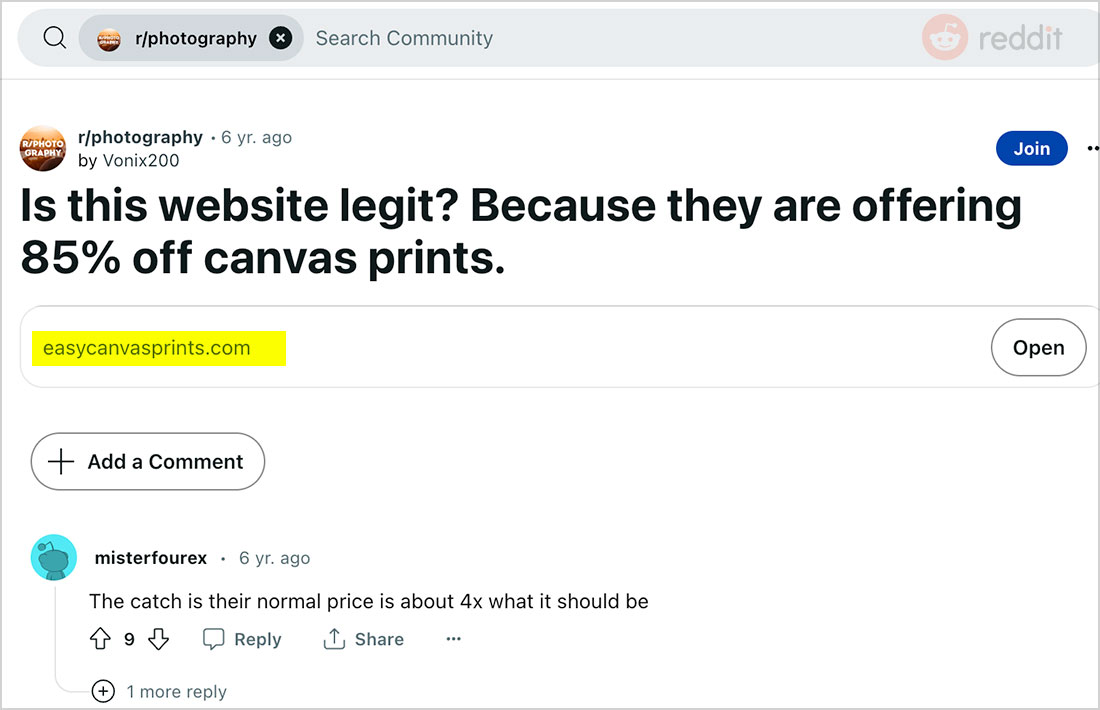 In this case, the most-liked comments on Reddit seem to give fair criticism of Easy Canvas Prints, concluding that they are a legitimate site with quality printing but inflated retail pricing. That conclusion is in line with our own thoughts on their unbelievable flash sales including 93% off.
---
5. Is The Easy Canvas 93% Off Sale for Real?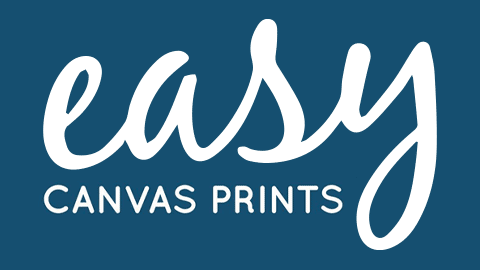 93% Off Sale
4. The 93% off sale does not include free shipping. Get promo code:
4. The 93% off sale does not include free shipping. Get promo code:
Show Less
I'd say that no company can realistically offer a 90%+ discount and make a profit. In this case, an unbelievable discount is possible because both the "retail" price and shipping fees are inflated significantly to make the steep discount possible.
While you end up getting a good deal, know that shipping fees are salty and no one in their right mind would pay the full price. For this reason, I'd conclude that while the 93% discount is exaggerated, the final discounted price is very fair and the quality is great.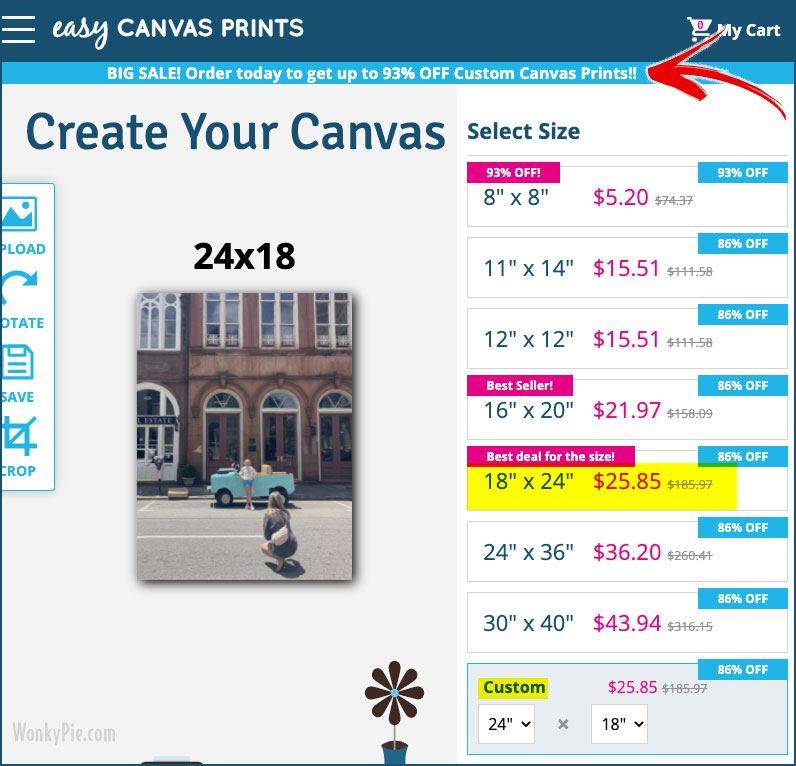 *Related: Can you really get 33% off from VistaPrint, 3 free months WW, or $40 off from Advance Auto?
---
6. "C" Rating on Better Business Bureau:
Most people who write a review on BBB are there to complain, so you have to take potentially low ratings with a grain of salt. That's the case with Easy Canvas Print's "C" rating on BBB, but I'm encouraged by the fact that they respond to every complaint and offer a solution or credit.
Keep in mind that sites like Easy Canvas Prints leave the design process up to the customer, so they might not be fairly blamed for many issues including the erroneous use of low-resolution or blurry images.
While BBB infers that Easy Canvas Prints is definitely a legitimate business, it's still worth reading the complaints.
---
7. I Used Easy Canvas & They Are Bona Fied!
"Mama says that he's bona fide!"
I have actually placed several orders with Easy Canvas Prints over the years, and have been very happy with every one of them. The color is sharp, and the quality is top-notch. You can save even more money when you use a coupon, and the order turnaround including shipping is about a week.
So, I'm happy to tell you that Easy Canvas Prints is a legitimate U.S.-based company that is recognized as one of the top places to print your photos on canvas.
Hopefully, your suspicions and worries about EasyCanvasPrints.com have been mollified, and you feel more comfortable using them to design and print a canvas.
Thanks for stopping by Wonky Pie!