Nutrisystem (reviews) describes their menu as, "the food you love, made healthier." That's because they reinvent popular foods like burgers and pizzas and make them healthier, and nutritionally balanced with high-quality ingredients.
These prepared, pre-portioned meals are designed to put you in fat-burning mode for healthy, sustainable weight loss.
But, is Nutrisystem really a healthy diet plan?
While the term, "healthy," can be relative, let's look at the nutritional content of Nutrisystem food as well as ratings from health experts to decide.
Here's today's best deal plus we'll decide if Nutrisystem is healthy.
Nutrisystem: Daily Nutrition | Calories | Carbs | Sodium | Health Rating | Nutrition Facts
Best Sign Up Deal Now:

Is Nutrisystem really healthy? Let's look at the nutrition, calories, carbs, and sodium content to decide.
---
1. Nutrisystem Daily Nutrition:
On their website, Nutrisystem claims to provide:
The right nutrient balance to fuel your body and promote health
High in lean protein from a variety of sources like lean meats, poultry, eggs, fish, and low-fat dairy
High fiber foods keep you feeling full, longer, and promotes healthy bowels. (That's a great dinner party conversation topic!)
Include nutrient-dense carbs (low-glycemic) like whole grains, fruits, and vegetables
Low in saturated fat with no artificial flavors or sweeteners
OK, but does it really deliver? In deciding whether Nutrisystem is healthy, let's compare the nutrition in their food to FDA daily recommendations:
| | FDA Recommended: | Nutrisystem: |
| --- | --- | --- |
| Calories: | 1800 | 1200-1500 |
| Carbs (% kcal): | 45-65% (225-325g) | 50% (150-190g) |
| Protein: | 46g | 50-55g |
| Fiber: | 25g | 30g |
| Sodium: | 2300 mg* | 2100-2200 mg |
| Total Fat (% kcal): | 20-35% | 25-30% |
| Sat. Fat (% kcal): | <10% (10g) | 8-9% (6-9g) |
Source: FDA dietary 2019 guidelines for women age 31-50
*Based on FDA recommendations for sodium intake (source)
**Nutrisystem nutrition info source
As you can see, Nutrisystem meets or exceeds most of the FDA's daily recommendations for macro nutrients including calories, protein, fiber, carbs, and sodium content.
The program is also a lot healthier than the average American's diet, which is low in vegetables and protein but high in sugar, fat, and sodium. (source)
---
2. Calories:
How many calories per day? The first week of Nutrisystem is a body reboot designed for fast weight loss. During that initial week, you'll cut calories to about 1000 per day.
For the rest of the program, the daily caloric intake is approximately 1200 calories for women, and 1500 calories for men.
You can also check the calories for each specific Nutrisystem food online and customize your menu, if needed.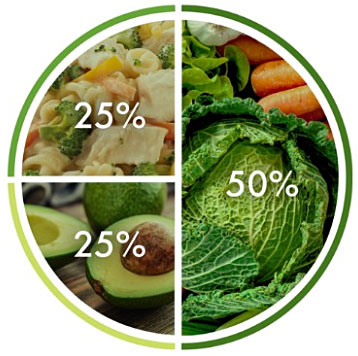 Nutrisystem plans provide about 50% of their calories from low-glycemic carbohydrates (aka, "good carbs"). The remainder of calories are approximately 25% from protein, and 20-25% from fat. (source)
---
3. Carbs:
Speaking of carbs, how many carbs does Nutrisystem have?
Well, let's do the math: Both carbohydrates & protein provide 4 calories per gram, while fat provides 9 calories per gram. (source)
Nutrisystem estimates that 50% of your calories come from good carbs each day.
So, because you are consuming 1200-1500 calories per day on Nutrisystem, that is equal to about 150-190 grams of carbohydrates per day.
The Dietary Guidelines for Americans recommends that you consume ≤ 150 grams of carbohydrates per day for weight loss. (source)
You can also see how many carbs are in each Nutrisystem food by looking at the nutrition facts.
---
3. Sodium Content:
All Nutrisystem plans meet or are below the FDA's recommended intake of < 2300 mg of sodium per day.
Nutrisystem's daily sodium content is also much lower than that in the average American's diet, which currently exceeds 3400 mg per day. You can also customize your menu with selections from their low-sodium menu.
Excessive sodium intake increases a person's risk for high blood pressure, which may lead to heart disease and stroke.
---
4. Experts' Health Rating:
So, what do health experts think of Nutrisystem? U.S. News asked a group of health and diet experts to rate Nutrisystem in several areas, and they rated relatively well for, "healthy":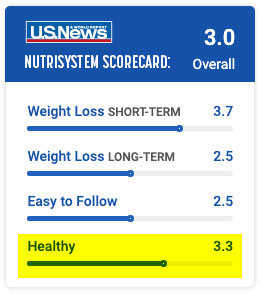 If you are interested in drilling down deeper on health and nutrition, you can also view the nutrition facts for each product. Here's how:
---
5. Food Nutrition Facts:
Are Nutrisystem meals healthy? You can see nutrition facts for all Nutrisystem foods foods on their website. Here's how:
Just click, "View Menu" at the top, and choose between: breakfast, lunch, dinner, and snacks.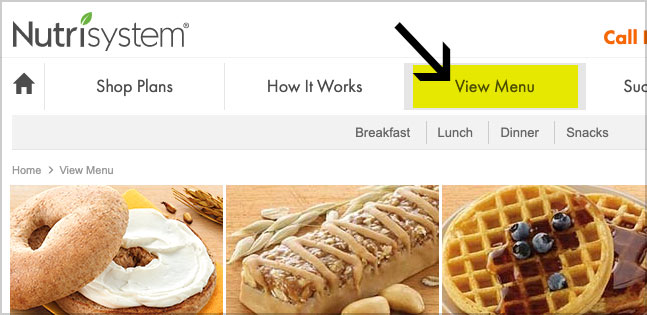 Then, sort foods and click on any one to see details, ingredients, and nutrition facts: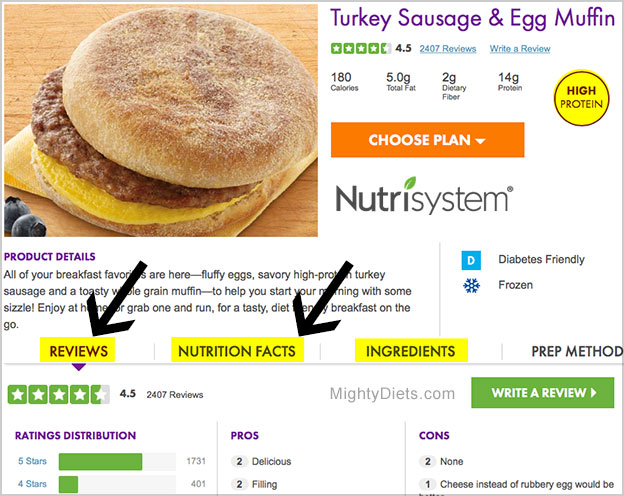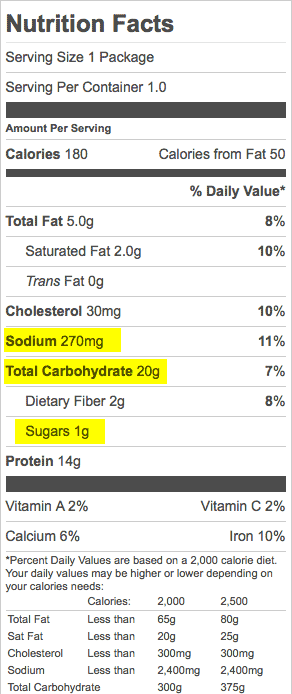 As you can see, nutrition labels display the specific amount of: Calories, fat, cholesterol, sodium, carbs, sugars, and protein, plus some vitamins and minerals. (Percent Daily Values are based on a 2,000 calorie diet. Your daily values may be higher or lower depending on your calories needs.)
If you wish to reduce the amount of sodium or carbs in your diet, consider making food substitutions to make your menu healthier for your needs.
Tip: If you are have Type 2 Diabetes or have been diagnosed as pre-diabetic, consider Nutrisystem D, which is lower in sodium and sugar
All Nutrisystem plans allow for menu customization except their "Basic Plan," so you can easily menu items if you'd like.
*Related: Does Nutrisystem cause gas?
---
Can Nutrisystem Be Bad for You?
The foundation of Nutrisystem is the monthly delivery of their pre-portioned, prepared meals. Packaged foods of any kind are often thought to be unhealthy, as they are commonly refined and notoriously high in sodium.
While Nutrisystem meals are relatively low in sodium and saturated fats, they may not meet the needs of special diets. If you have been instructed to follow a low-sodium diet (1500 mg daily), you can contact a Nutrisystem Weight Loss Counselor to customize your program.
Nutrisystem also requires that you supplement their packaged meals with groceries like fresh fruits and vegetables, lean meats, whole grains, and dairy. (Which you should also account for in the total cost of the diet!)
So, in that respect, Nutrisystem meals alone are not enough to be considered a healthy diet. You'll need to follow their recommendations for healthy supplemental food to make your diet complete. This includes:
Lean, fresh meats and fish (not fatty cuts of meat or fish from Asian farms)
Low fat dairy items including low-fat milk, yogurt, and cheese
Fresh (not canned) fruits and vegetables
Don't buy foods with trans fats, high fructose corn syrup, and refined grains
Limit alcohol consumption
More tips for healthy eating here!
So, in order for Nutrisystem to be a complete, healthy diet, you'll have to still make smart choices at the grocery store!
*Related: 50 Unhealthiest Foods at the Supermarket – rd.com
---
Conclusion:
The World Health Organization defines "healthy" as,
"Health is a state of complete physical, mental and social well-being and not merely the absence of disease or infirmity."
OK, but there's no single definition of what makes something "healthy," except to say that it "promotes health" and "is good for you."
Under that broad definition of what "healthy" is, plus expert ratings, and a comparison to FDA daily recommendations for nutrition, we can conclude that, yes, Nutrisystem is healthy.
However, your doctor may advise you to eat special foods to improve your health, such as those that are high in fiber, or low in sugar or sodium. In that case you'd have a more specific definition of "eating healthy" which may require menu substitutions, or a different, more flexible diet, like WW or Noom.
If you are considering joining Nutrisystem, read honest reviews, and then check out their best signup promotion:
Thanks for stopping by Wonky Pie!
Last Updated on May 26, 2023 by kevin