If you're thinking about joining Weight Watchers (WW) but want to try the program before paying or making a commitment of up to 6 months, consider the Weight Watchers free trial.
The WW free trial gives you the chance to try the full-featured WW Core Plan free for 30 days with access to digital resources including the app-based WW point system, tracking tools, healthy recipes, plus support and motivation from the WW community.
Here's what you should know about the Weight Watchers free trial offer.
Is WW Free | WW Free Trial | Free WW Meeting | WW Canada Free | Cancel Free Trial
---
Is WeightWatchers Free?
Weight Watchers membership is not free and there is no free or lite version of the app. WW has two paid plans, Core and Premium, that are billed monthly at the regular rate after any initial promotion ends.
The popular WW Core Plan is the cheapest way to follow the program and includes all online features plus the app. The WW Premium Plan includes in-person workshops (meetings) and coaching for those who prefer to have additional support and guidance.
You'll find the best savings with the featured WW promotion here, but if you don't want to commit to 3-6 months, then consider trying the program free with the Weight Watchers free trial.
---
1. Weight Watchers 30-Day Free Trial: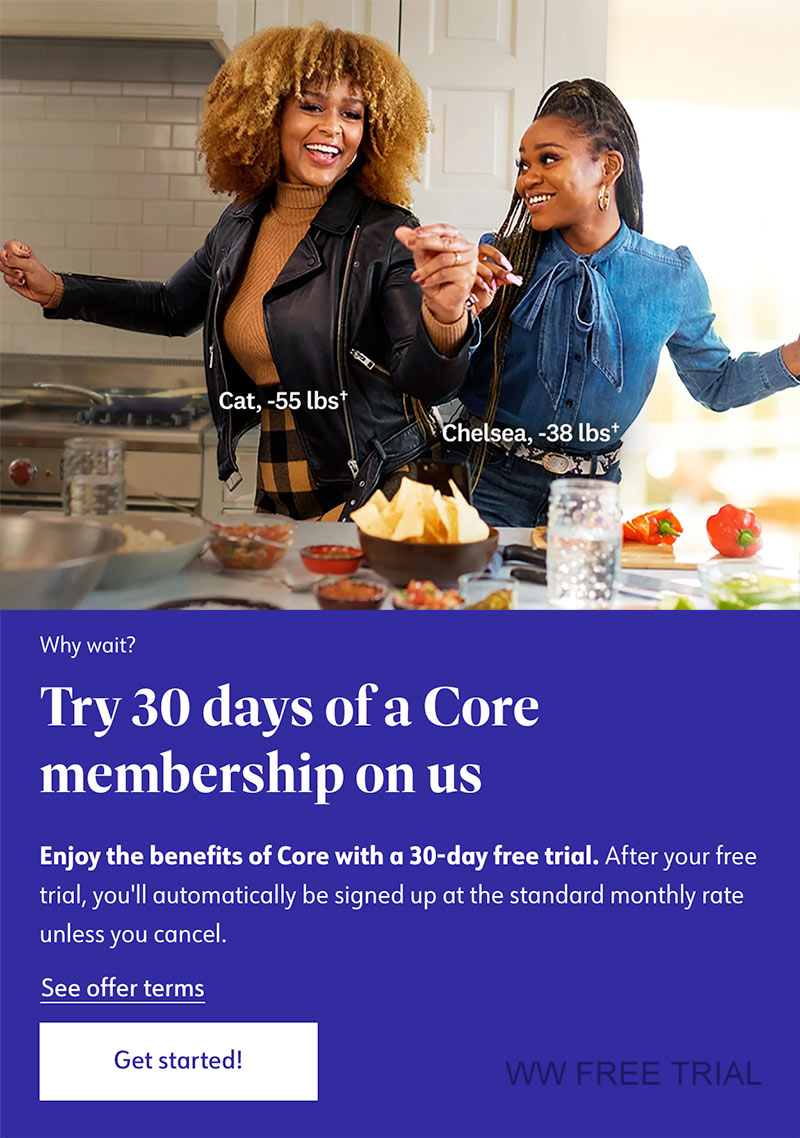 WW 30-Day Free Trial – Try WW Core (Digital / Online) Plan free
---
How the WeightWatchers Free Trial Works:
Once you sign up for the WW free trial you'll hit the ground running and jump into the amazing online community. After the WW 30-day trial ends you'll automatically be signed up for WW membership at the standard monthly rate.
Tip: The free trial doesn't usually give you the best savings when joining WW. If you believe you are likely to stay with WW for more than a couple of months, then their 3 or 6-month savings plan will likely save you a lot more money.
---
2. Weight Watchers Free Trial Meeting (Workshop)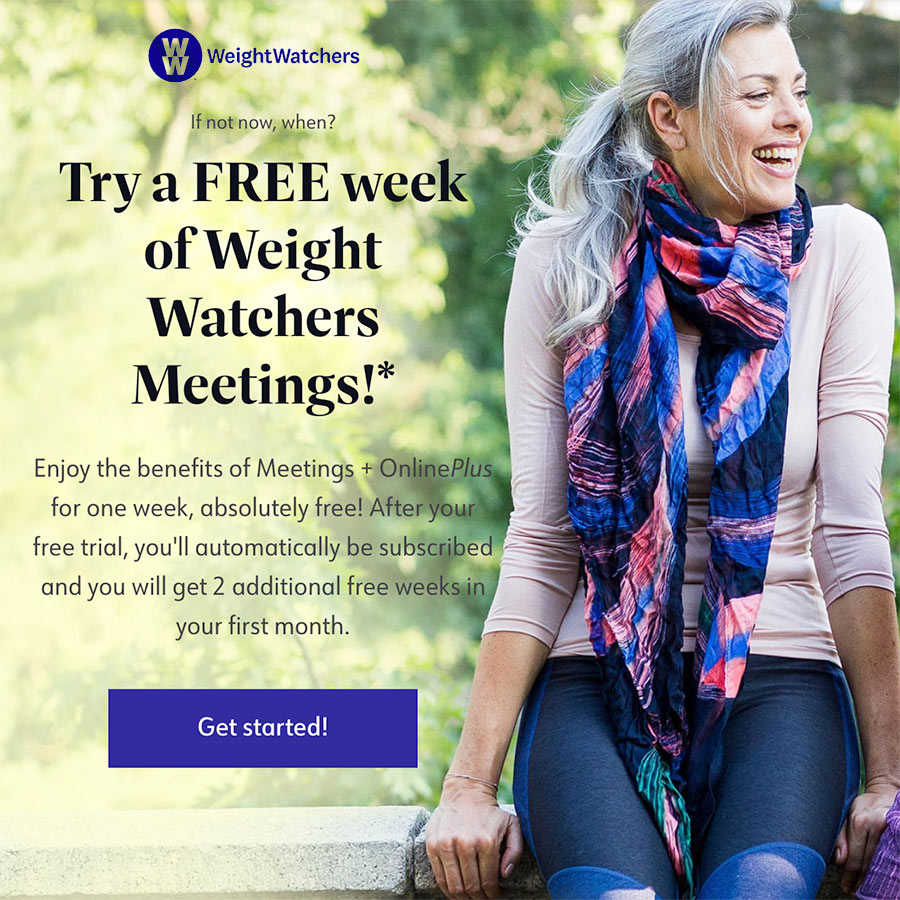 Are you interested in trying a Weight Watchers meeting for free? Weight Watchers also offers a 7-day free trial of Digital + Workshop, which includes the chance to try a WW Workshop (aka "meeting).
The WW Workshop free trial instantly gives you access to everything included in a WW Digital membership as well as the chance to experience an actual workshop.
How the free meeting works: When you signup for the free trial, you'll choose which location and time you prefer for your free meeting. When you arrive, you'll meet the WW team for that location and have a private wellness check-in before the meeting starts.
This will help WW better understand your specific situation and weight loss goals. After the meeting, you'll be able to use the remainder of your 7-day free trial to decide whether to continue with your membership.
Not a fan of the meeting location or the group that you tried? You can change locations or times at any time. Just do so through the app or online.
You can check availability for a free WW meeting here
---
3. Better Than the WW Free Trial?
The WeightWatchers free trial will give you 14 or 30 days of WW Core Plan for free, saving you $23+.
However, if you feel you'll stay with Weight Watchers after the free trial, you'll probably get bigger savings with their featured membership for up to a 50% discount or 3 free months for a total savings of up to $90 or more:
---
4. WW Canada Free Trial:
Canadian residents also have the chance to try Weight Watchers for free with the WW Canada free trial. However, this promotion is not always running, so click below for availability:
WW free trial promotion not currently running in Canada? You can check the featured promotion for weightwatchers.ca here.
---
4. How to Cancel the WW Free Trial:
If WW isn't your bag, just cancel the free trial before the 30-day trial period ends. This means you must cancel before midnight (Eastern Standard Time) of the 30th day of your free trial to avoid being billed.
Cancel your WW free trial here.
*Want to try a different highly-rated weight loss app for free? Check out our exclusive Noom 14-day free trial here (Hot!)
---
Conclusion:
Weight Watchers is not free, but you can try it for 30 days at no cost with the WW free trial. However, there is a price for fear of commitment, as the free trial offer doesn't save you as much as their featured offers with a 3-month minimum commitment.
Thanks for stopping by Wonky Pie!