If you are thinking about starting any diet, it can be motivational to see the success of others. In that spirit, we've compiled a number of before and after photos showing the weight loss and transformation of women and men who used Jenny Craig (coupons) and their Rapid Results program. (cost?)
Here are some of our favorite Jenny Craig before-and-after pics plus weight loss results and success stories.
*Results may vary. Typical weight loss on the Rapid Results program is 11.6 pounds in the first four weeks and 1-2 pounds per week thereafter.
---
1. Before & After Jenny Craig: Kathryn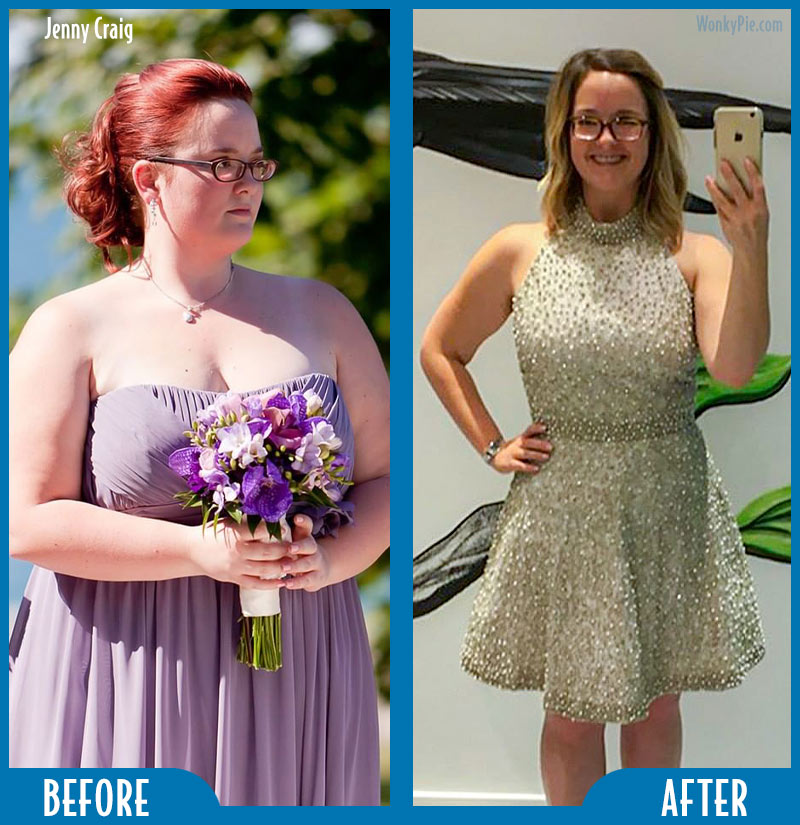 Sometimes all you need is a little push. After joining Jenny Craig, Kathryn found confidence in herself and felt like she could do the impossible. We're so proud of her and all of #TeamJennyCraig!
"I dedicated myself to trusting the process and following the plan. I was amazed at what I discovered about nutrition and my body. I learned what it meant to have full servings of fruits and veggies, and how to control my portions without feeling hungry. I steadily lost 80 pounds in my first year! ME! I always felt this was possible for other people, but not for me. That was a lie. I am no longer hiding in my body. I want more from life and I want to be seen. I gained the confidence to face the impossible everywhere in my life."
---
2. Sheilla Lost 16 Pounds w/ Jenny Craig: Her Success Story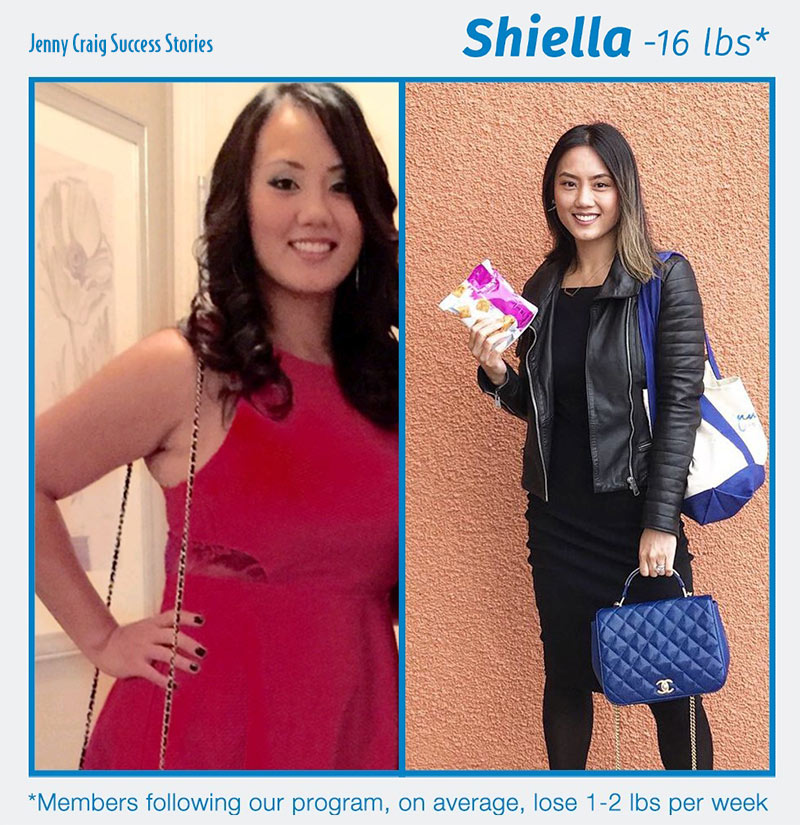 Shiella felt like everyone warned her about pregnancy and labor, but not all the ways her body would change even after the baby. She couldn't believe it was her looking back in the mirror.
Thanks to Jenny Craig, she had 2 kids in 2 years and is now in better shape than ever!
---
3. Erin Lost 20 Pounds On Jenny Craig: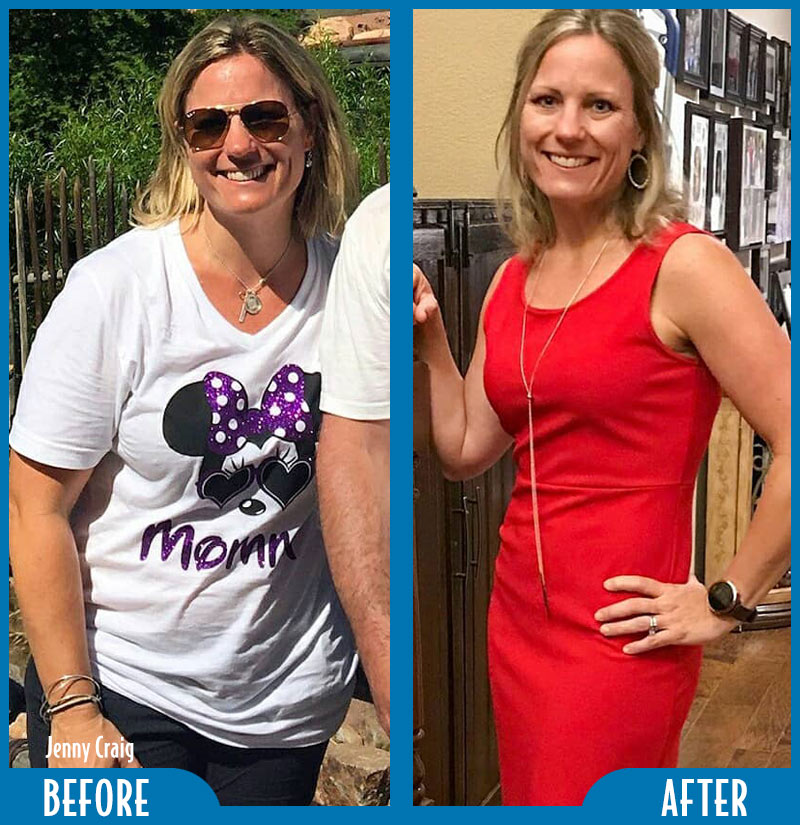 For years, she felt that she was healthy but "big-boned." However, after gaining 20 lbs. in the course of a year, she knew it was time to make some adjustments. Her friend Jean encouraged her to look into Jenny Craig, after herself having success on the program. The two started the program together and found great success!
Now, Erin is feeling more confident, happy, and can confidently say she is healthy!
---
4. Michelle Before & After Jenny Craig: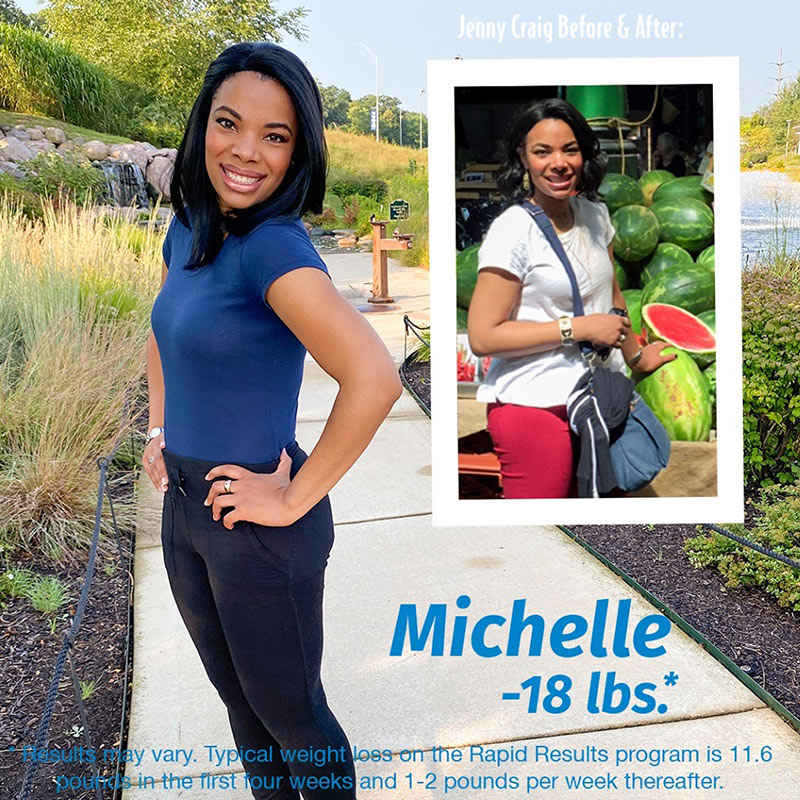 Michelle has a very close bond with her sister, but after gaining some weight, things changed. "As my weight increased, some people no longer saw us as identical twins. I became known as the 'chubby twin' or 'the twin with the round face.' It hurt, and I felt like I was losing part of what made up our special bond. I became self-conscious and it affected the closeness I'd always felt with my now-thinner sister."
Michelle decided it was time for a change and lost 18 lbs.* on Jenny Craig Rapid Results. "Weight loss gave me more energy to go out and experience new things and it feels amazing."
*Related: Jenny Craig vs. Nutrisystem
---
5. Jenny Craig for Men: Mike Lost 80 Lbs.!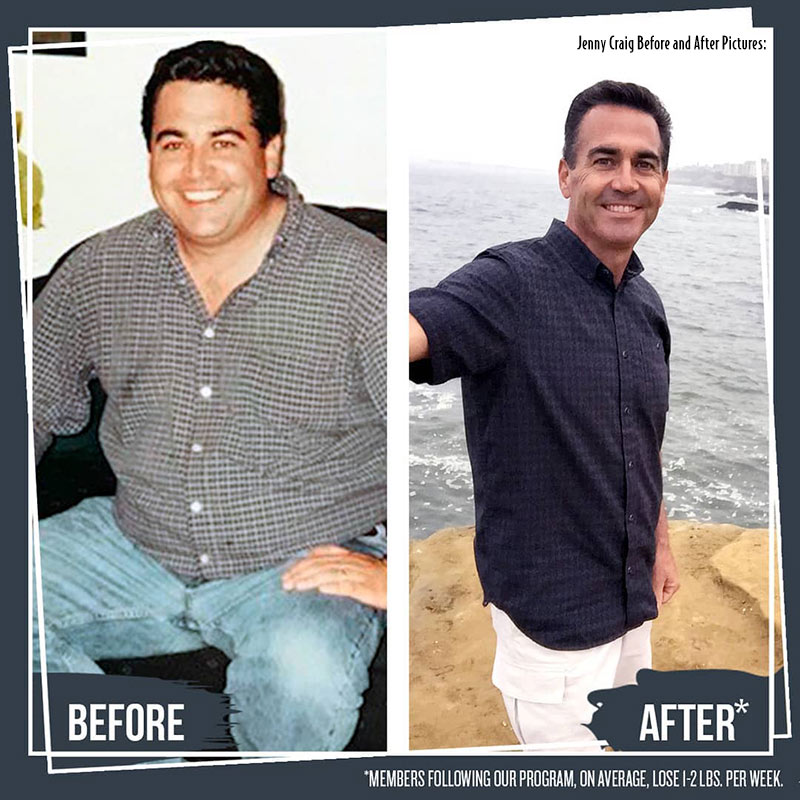 Mike lost 80 lbs. on the Jenny Craig program. After trying multiple plans, programs, and even weight loss pills, nothing seemed to work for him. The pre-packaged meals and convenience of the planned menu was perfect for his busy lifestyle.
---
6. Hope's Weight Loss Transformation Pics: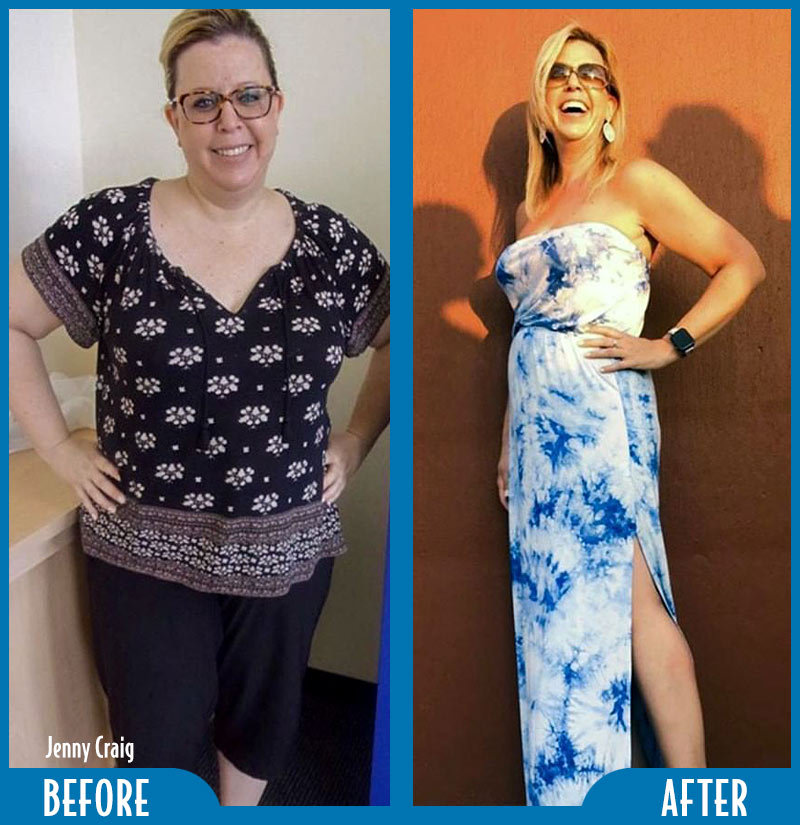 Hope is just one of the amazing Jenny Craig members that inspire us daily. With the help of her consultant, Briana, she feels like she got her life back on track and found love for herself again. Life can't wait to make positive changes in your life. What are you waiting for?
"Because of Jenny Craig, I feel better about myself. I feel healthier, my clothes fit better, and I have more confidence."
*Related: Best Jenny Craig Promo Code Now?
---
7. Before & After: Erin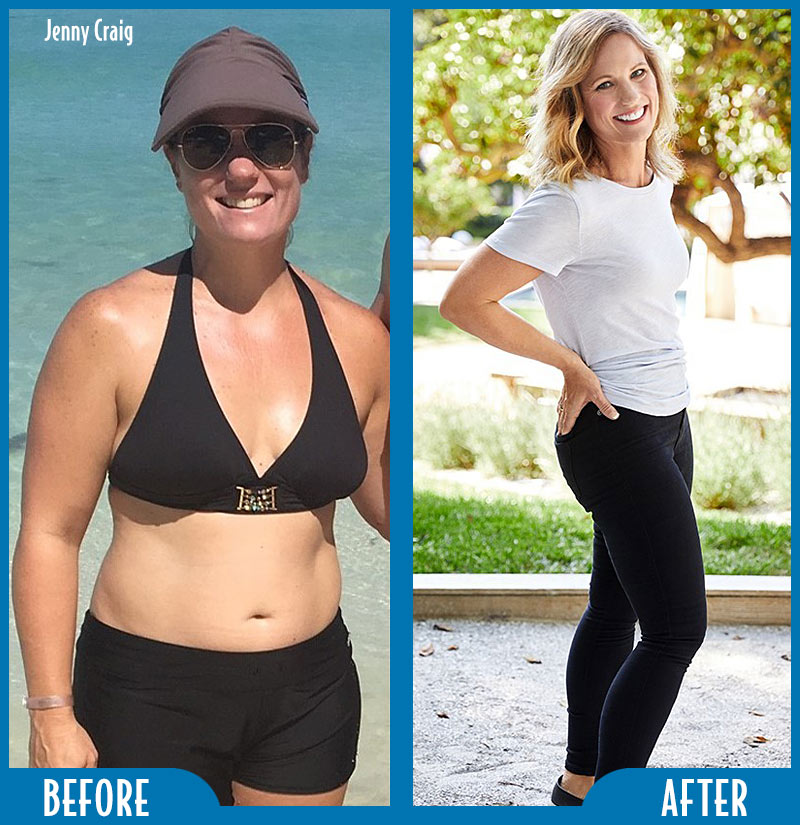 "I have the confidence to wear a two-piece bathing suit or a sleeveless top! I have energy to take our new puppy for a run without pain in my knees or joints. Doing active things with my kids in the evening, like taking a family bike ride, is what I look forward to instead of just focusing on what's for dinner (or dessert)."
---
8. Jenny Craig Before & After: Jennifer
"I felt so good in every dress I tried!"
Jennifer lost 55 lbs. with the Jenny Craig program and looked incredible on her wedding day!
---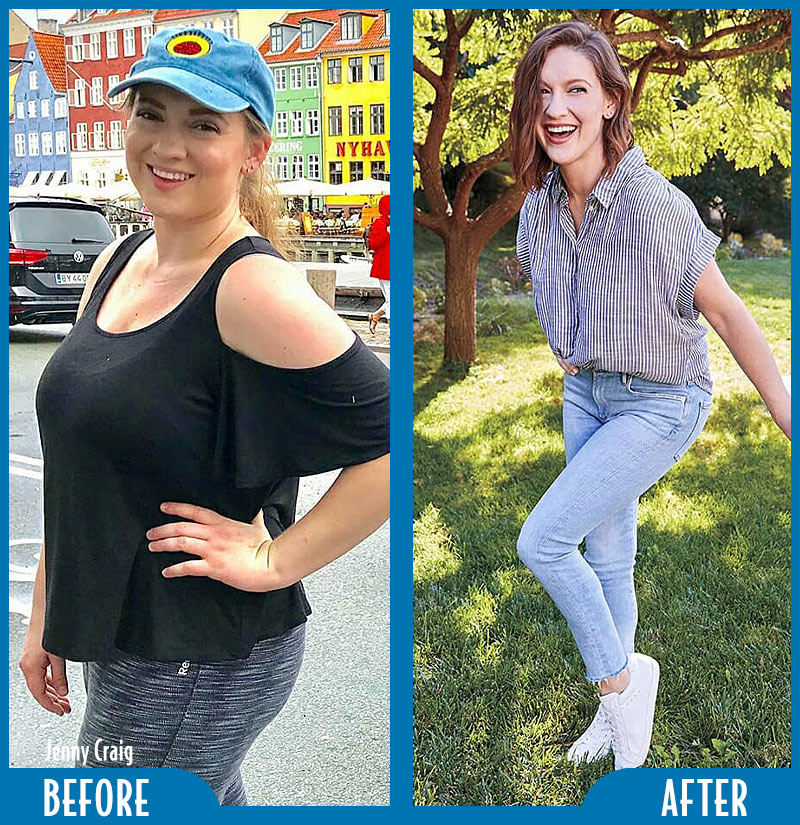 After a toxic relationship where her needs and health came second, she joined Jenny Craig to start a new chapter of self-love and care. In a year, she lost 55 lbs. and rediscovered herself through the process. Now, she's working in production, got engaged to the love of her life, and is getting ready to buy her first home! We talk a lot about changing your life through your health but talk about a complete transformation. We're so proud of Jennifer and can't wait to see what she does next!
---
9. Keri's Success Story
With 3 kids under 5, Jenny Craig made it easy to lose weight as a busy Mom living life.
---
10. Jenny Craig Results: Jan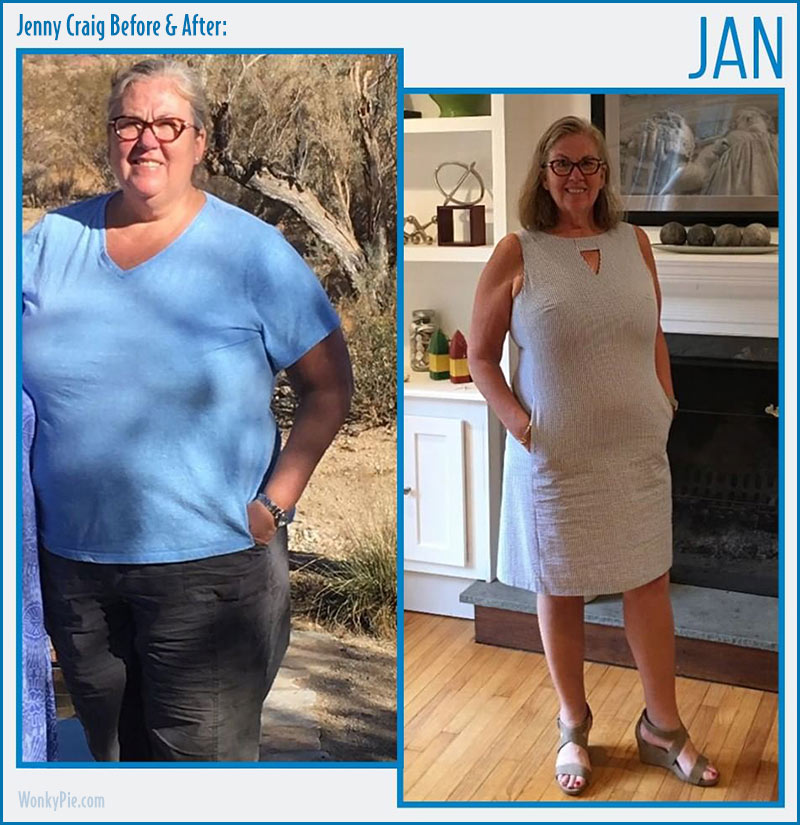 They say a picture is worth a thousand words, but Jan could only think of one word when looking at pictures from her Thanksgiving trip – unrecognizable. She decided to call Jenny Craig, and with the help and motivation of her coach and family, Jan has lost 85 pounds!
"I know it sounds cliché to say that Jenny Craig has saved my life – but it truly has!"
---
11. Jenny Craig Results: Jennifer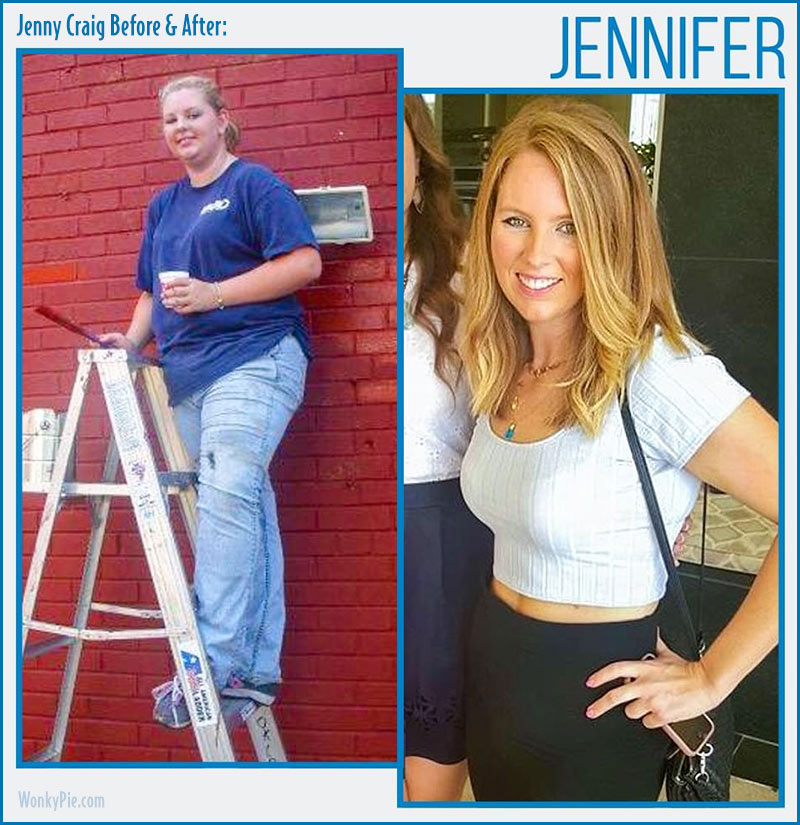 Jennifer decided to make a change when her weight topped off at 222 lbs. She turned to Jenny Craig and the rest was history! Now, she's down 55 lbs* and living her best life! .
"I can fit into the clothes I like. I love having the energy to live the life I want! My consultant encourages and challenges me every week. Am I being active? Am I happy? It's not just about the scale – it's about how I feel, which makes me feel important."
---
12. Jenny Craig Weight Loss Results: Nancy: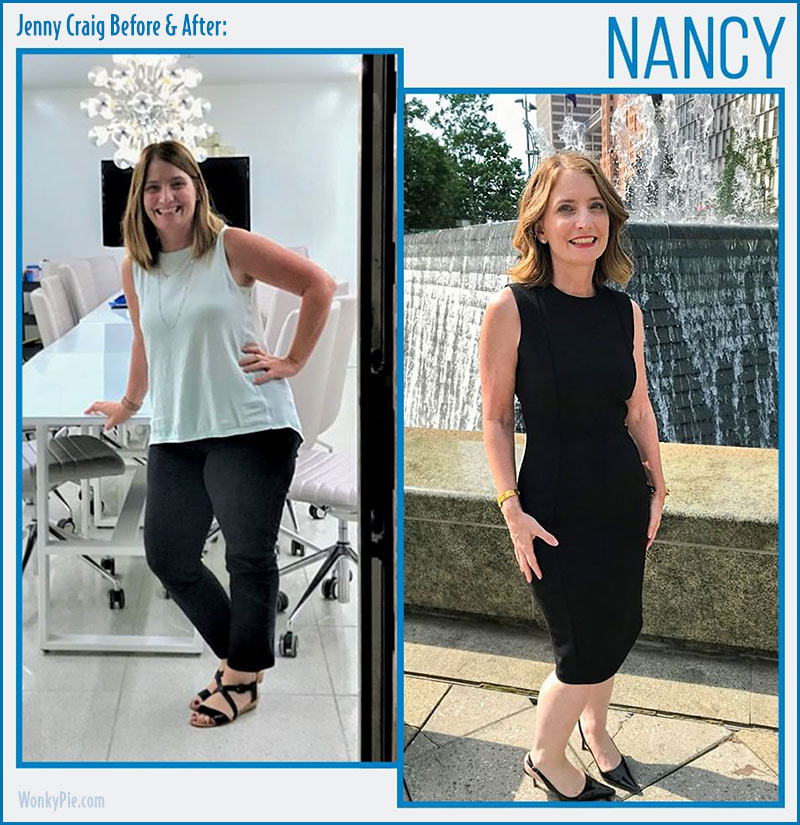 Nancy lost 20 lbs.* on Jenny Craig and feels amazing! She credits her success to the amazing support of her coach and the ease of the program. #TeamJennyCraig
"I am grateful to have this resource available to me. I know that whatever kind of week I've had, I will feel nothing but encouragement and support. Everyone wants to know how I did it – I am proud to say, Jenny Craig!"
---
13. Before & After Pics: Maria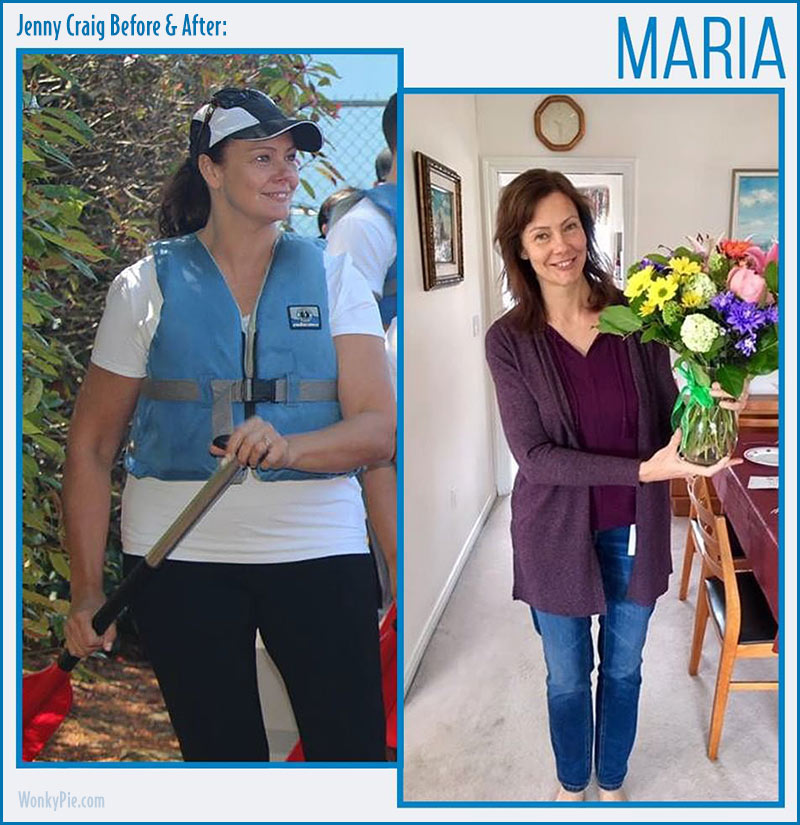 Maria was overweight and seemed to always believe she was in a kayak. However, with the help of Jenny Craig Rapid Results she reached her goal weight and traded in her imaginary kayak for real flowers.
---
14. Kristen Lost 70 Pounds! Before & After Pictures: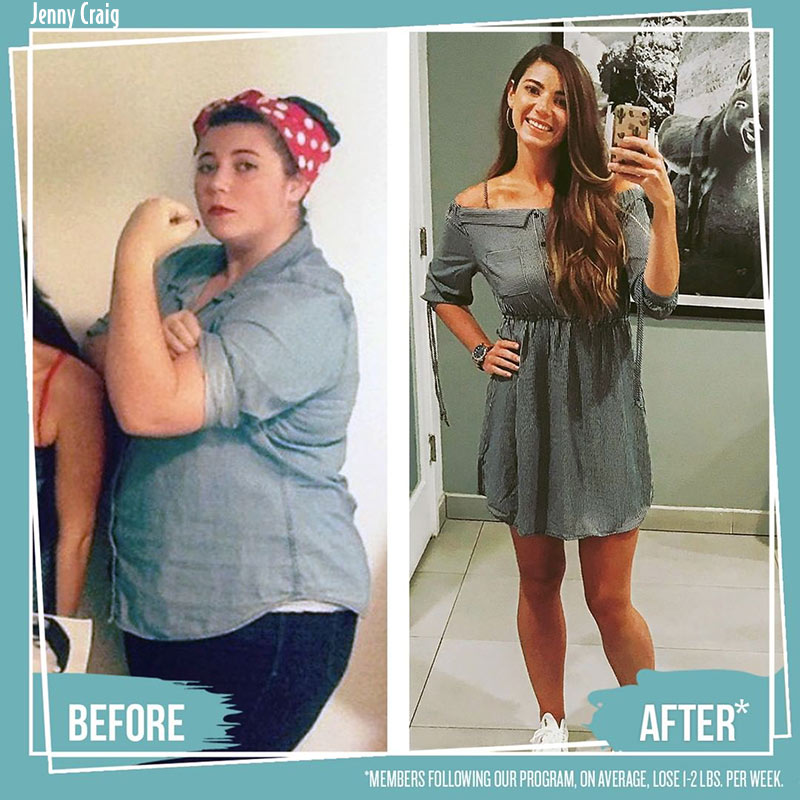 Kristen lost…wait for it…133 lbs! She said she used food to comfort herself instead of tackling what was going on. After leaving her cheating boyfriend, moving out, and getting a new job, she finally felt she was able to focus on herself and her goals.
"I say yes to things now. I'm more outgoing! I think weight loss isn't just physical or mental – it's a whole spectrum of your life." – Kristen M.
*Related: New Jenny Craig Coupons Are Here!
---
15. Jenny Craig Results: Heather Lost 80 Pounds!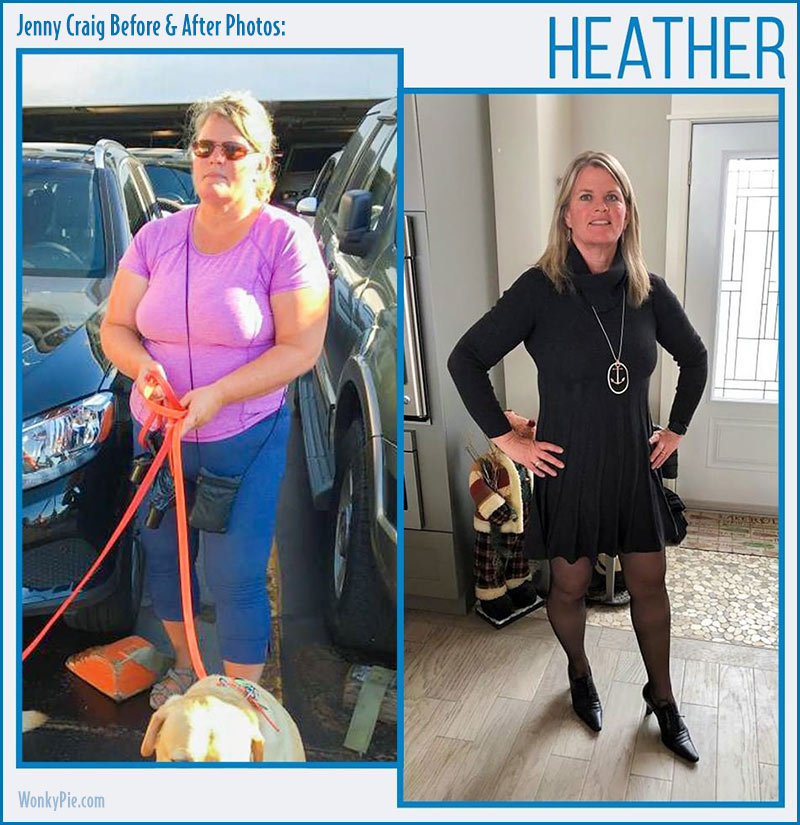 Heather lost 80 lbs* on the program and has loved the support she received from her coach. "My weekly phone calls with my coach were a primary source of motivation, support, and guidance. She holds me accountable in a very supportive manner, and I look forward to our weekly chats."
---
16. Jenny Craig Before & After Pictures: Donna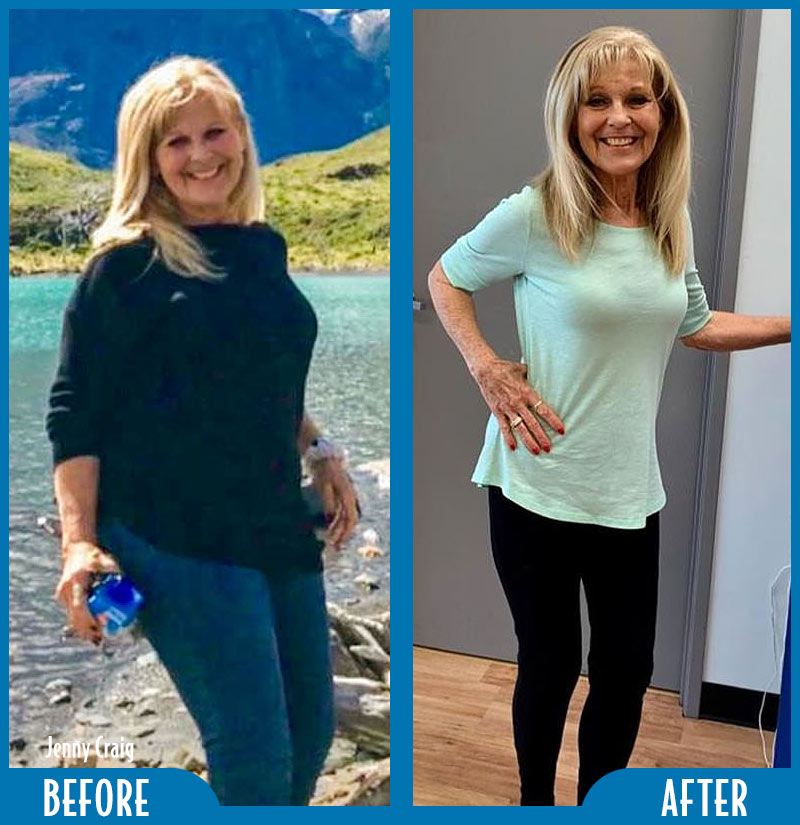 "My counselors' tips and encouragement were a tremendous help to get me to my goal! I'm now living proof that just because I'm an older woman, I don't have to lose my shape or be overweight. I feel fantastic and I thank my counselors and Jenny Craig for my success!" Thank you, Donna, for always inspiring others to do better.
*Related: WW Before & After Pics
---
17. Dee Dee Lost 30 Pounds w/ Jenny Craig: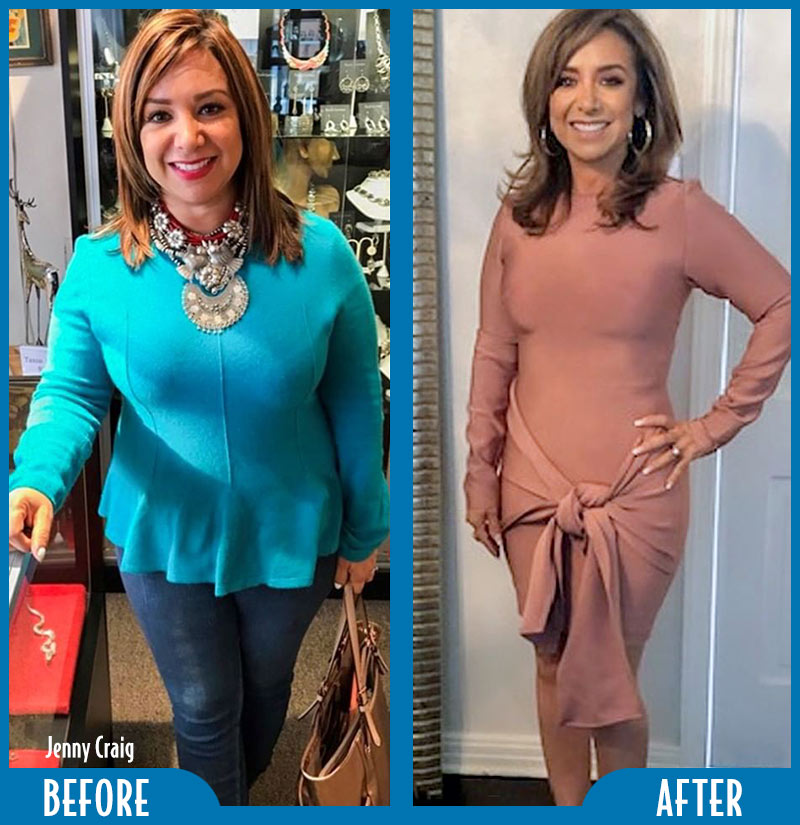 Dee Dee knew it was time to make a change after seeing a photo of herself and her son. She couldn't recognize the person in the photo and felt like she had "lost herself". She joined Jenny Craig and made a full commitment to the Rapid Results program.
Even with her frequent travel for work, often bringing her 3-year-old son along, she stayed on plan. She loved the convenience of knowing exactly what to eat and being able to stop into the local Jenny Craig centers whenever she needed more food. Now, she's down 30 lbs. and is feeling healthier than ever!
---
18. Before & After: Charlene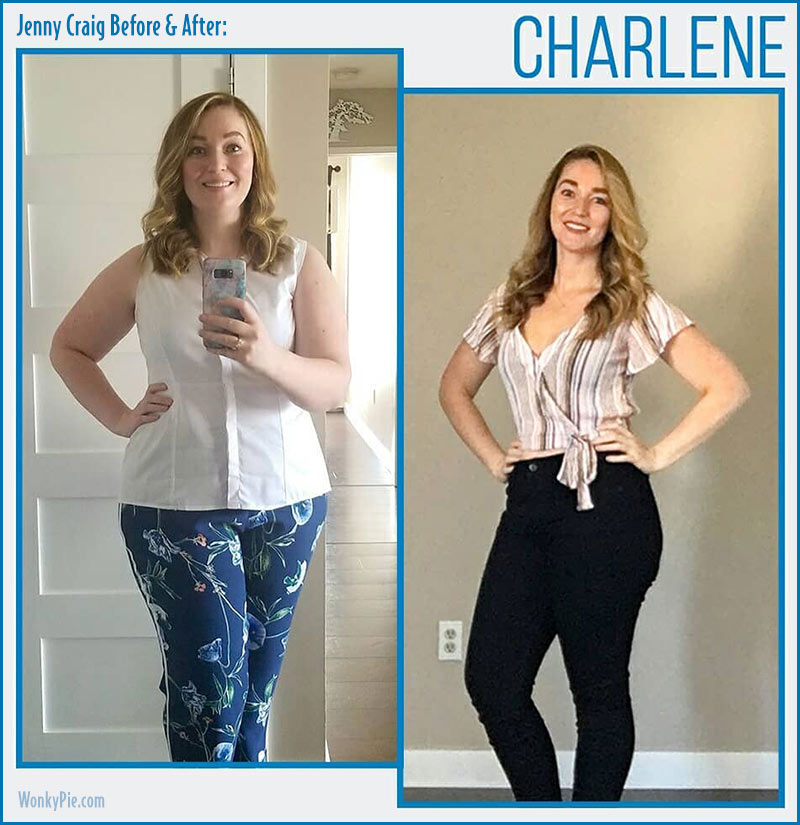 Charlene was ready for change. After only being able to focus on how uncomfortable she felt at her friend's wedding, she decided to call Jenny for some help. Now, she's down 60 lbs* and feeling amazing!
"Something had to change, and I was the only person that could make it happen. I chose Jenny because I knew I needed someone in my corner, through this journey, that wouldn't let me self-sabotage. Having a weekly sit down with someone who asked direct questions and wanted direct answers was exactly what I needed. Someone who did not dance around excuses, and was always there to remind me of how far I have come. I had the strength to stick to my goals, and the courage to ask for help… Just knowing you are working towards a goal can shatter past misconceptions on what you can truly achieve."
---
19. Jenny Craig (w/ Rapid Results) Before & After: Sheryl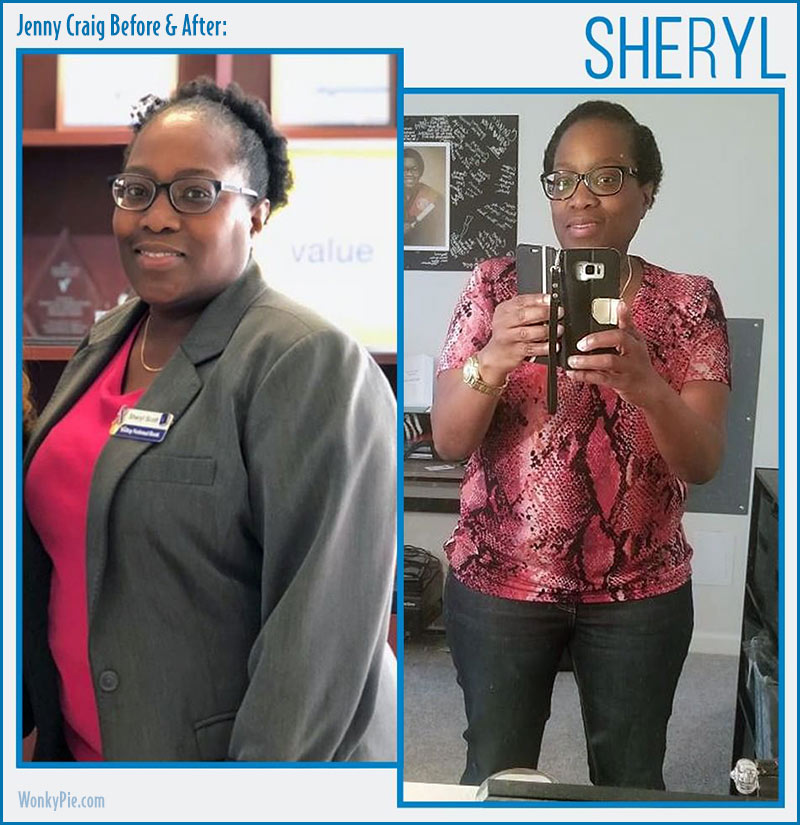 "I carry and lift things I could not do before, I keep up with my granddaughter, and do more fun activities with her. I look good and feel good, thanks to Jenny." Sheryl lost 50 pounds on the Jenny Craig program, starting with Rapid Results, and we couldn't be more excited for her!
*Related: Jenny Craig vs. WW
---
20. Before & After: Caitlyn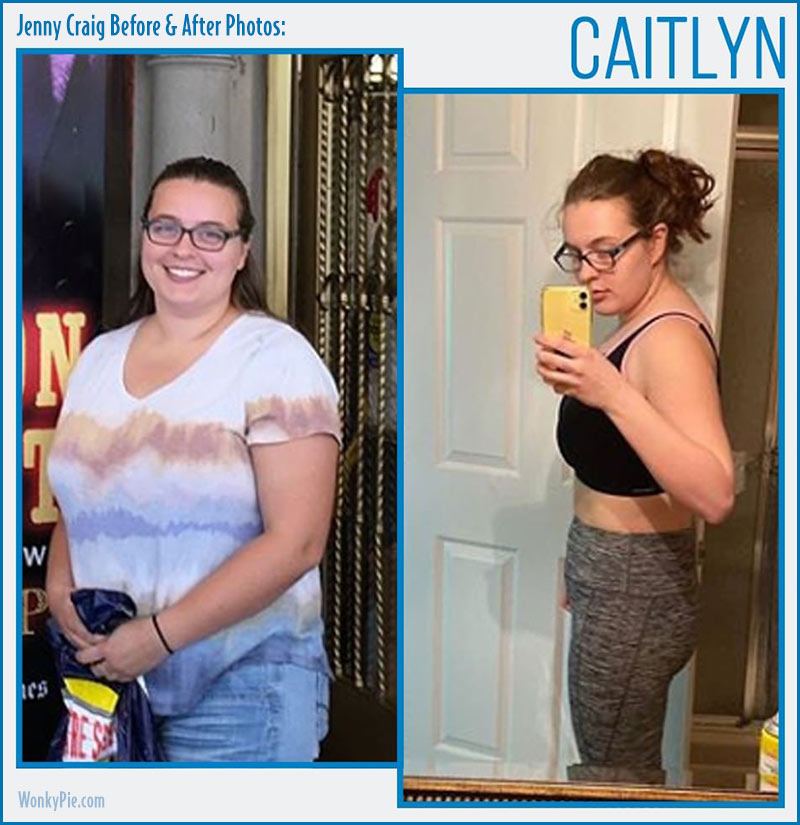 "I am SO happy I changed my lifestyle and if you want to know how I did it, I'm happy to tell you! Dreams don't work unless you do so let's get going."
*Related: Nutrisystem Before & After Pictures
---
21. Before & After: Audrey Lost 42 Lbs.!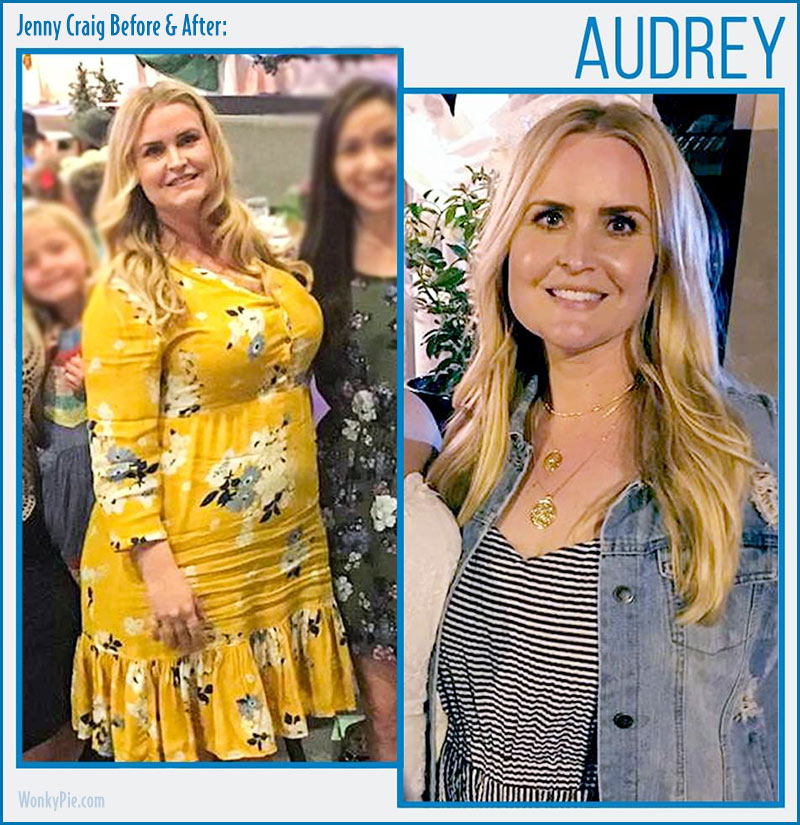 Audrey had great success on the Jenny Craig program before, but the weight came back after having her second child. She decided to get control of her life back and join Jenny Craig again. So far, Audrey has lost 42 lbs. on her weight loss journey!
"I am happier and healthier both physically and emotionally."
*Related: Noom Coach: 14-Days Free!
---
22. Serenity's Jenny Craig Results: Lost 27 Pounds!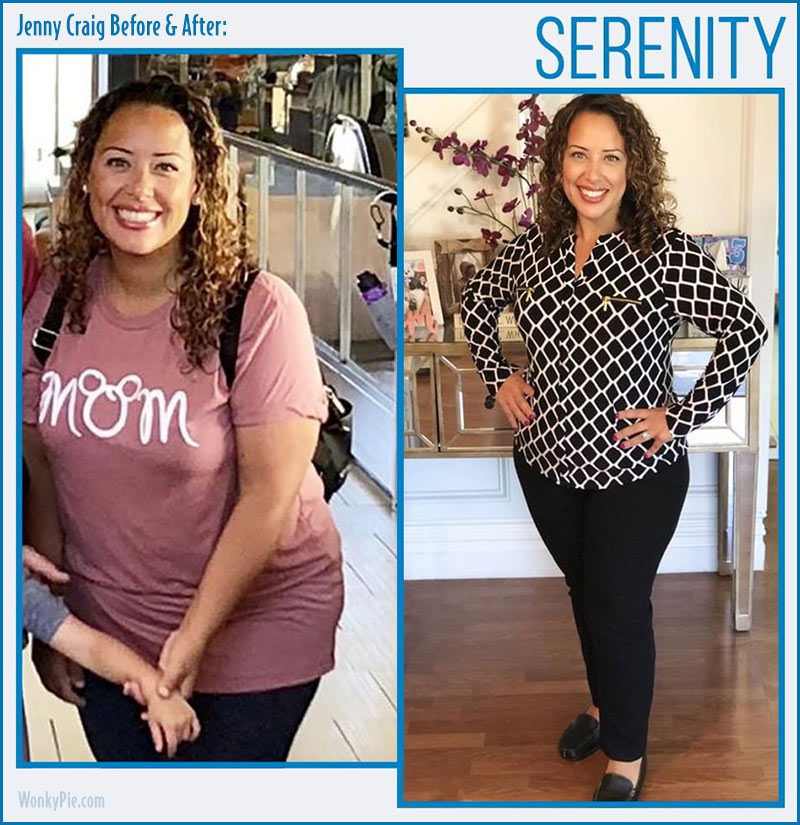 "I feel great! I set realistic expectations for myself to lose at a steady healthy pace. I'm keeping up with my little ones and able to run around with them more than ever." Staying healthy is more important now than ever before. We are so proud of our member, Serenity for reaching her goal of losing 27 pounds.
---
23. Before & After Photos: Christine Lost 23 Pounds!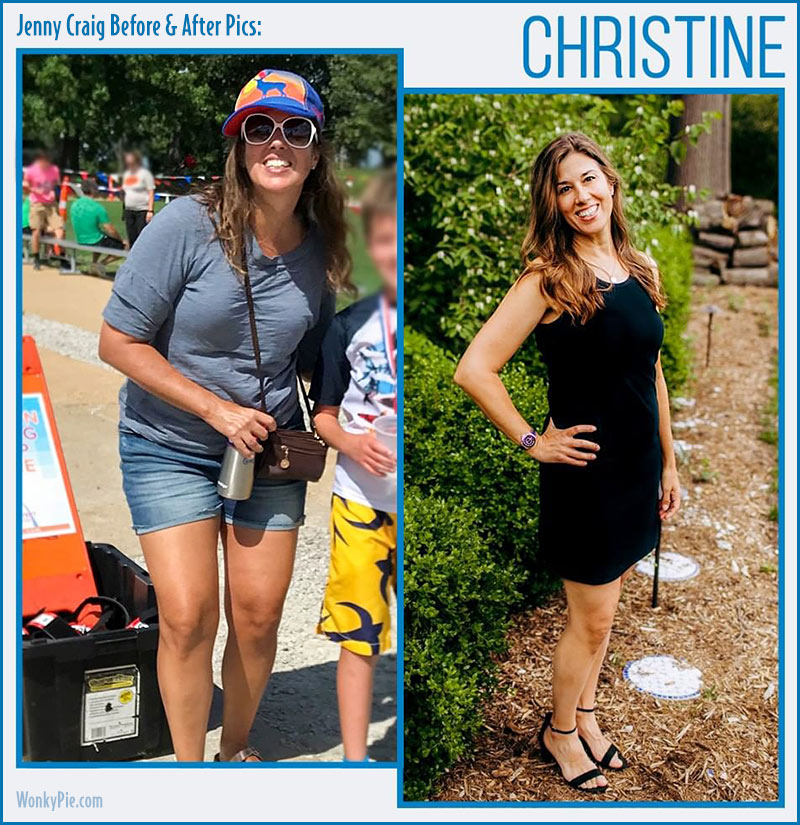 Fearless at 50! After surviving a devastating accident that destroyed Christine's family home, she set out to make health a priority in her life. With the help of her coach, Sarah, she started to celebrate non-scale victories, and reached her weight loss goal of 23 lbs. Christine recently celebrated a milestone birthday and is going into the next phase of her life with confidence!
*Related: Noom Before & After Pics
---
24. Kristine Lost 45 Pounds: Success!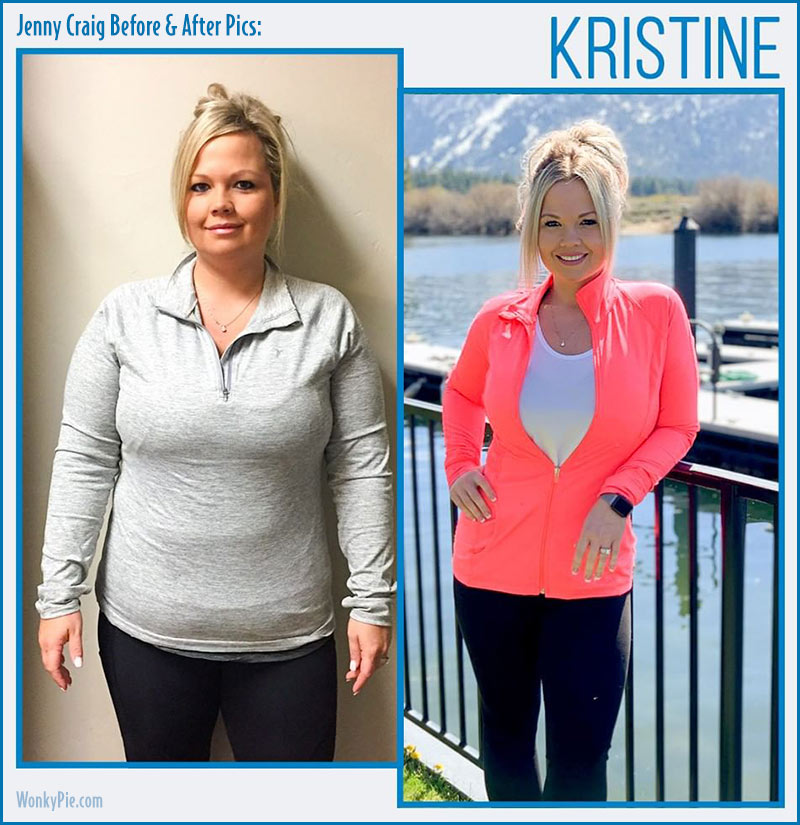 Kristine was tired of feeling unhappy and feeling like she didn't want to leave the house. She set a goal to lose 45 lbs.* before her 6th wedding anniversary, and not only reached it, but got to her goal weight three weeks early!
"My appearance has changed drastically, and I look forward to picking out my clothes to wear each day. Although the best improvement since losing weight has been how much energy I have. Now, I can play with my kids for hours and not feel tired. It works!"
---
25. Jenny Craig Before & After: Amanda Lost 40 Pounds!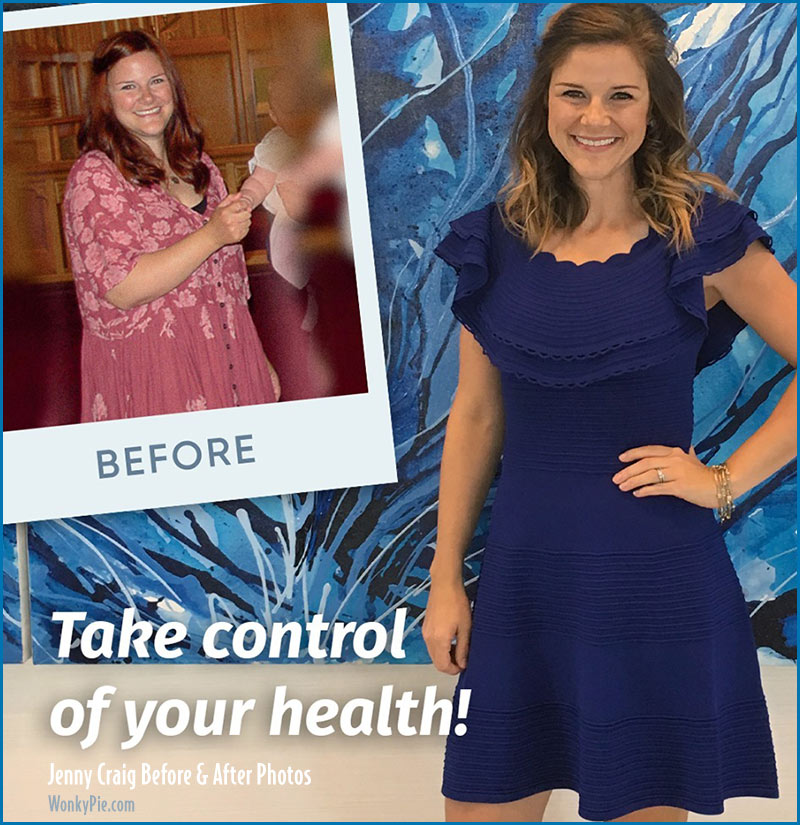 ---
26. Before & After Jenny Craig: Stacy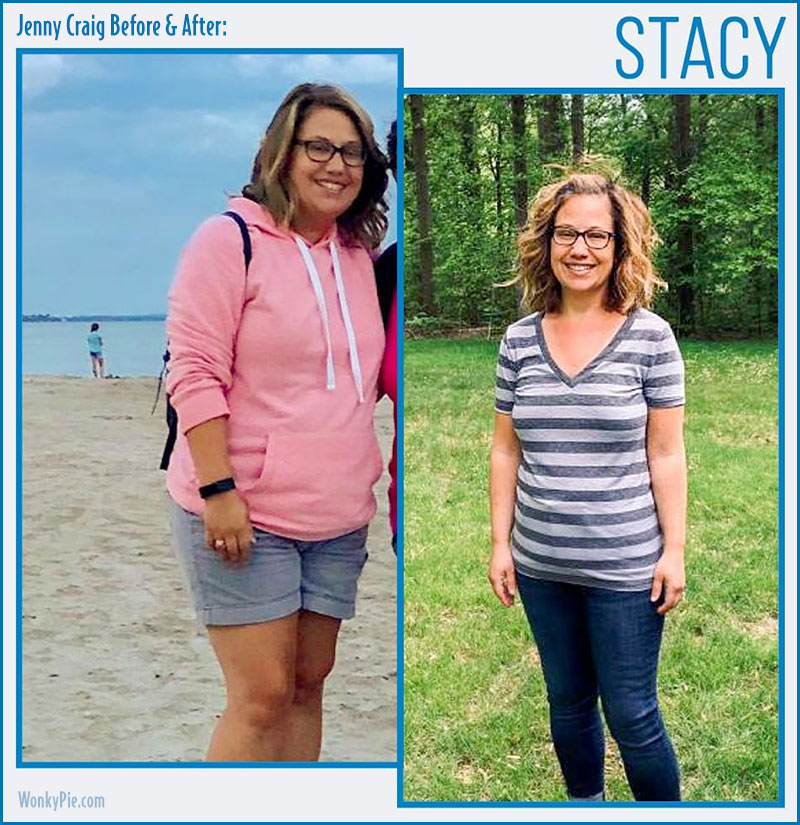 Stacy was in a rut and tired of trying diet plans only to fall off the wagon a few weeks later. Despite going through a move, home renovations, and some medical issues, with Jenny Craig she found a program she could stick with.
---
27. Before & After: Suzanne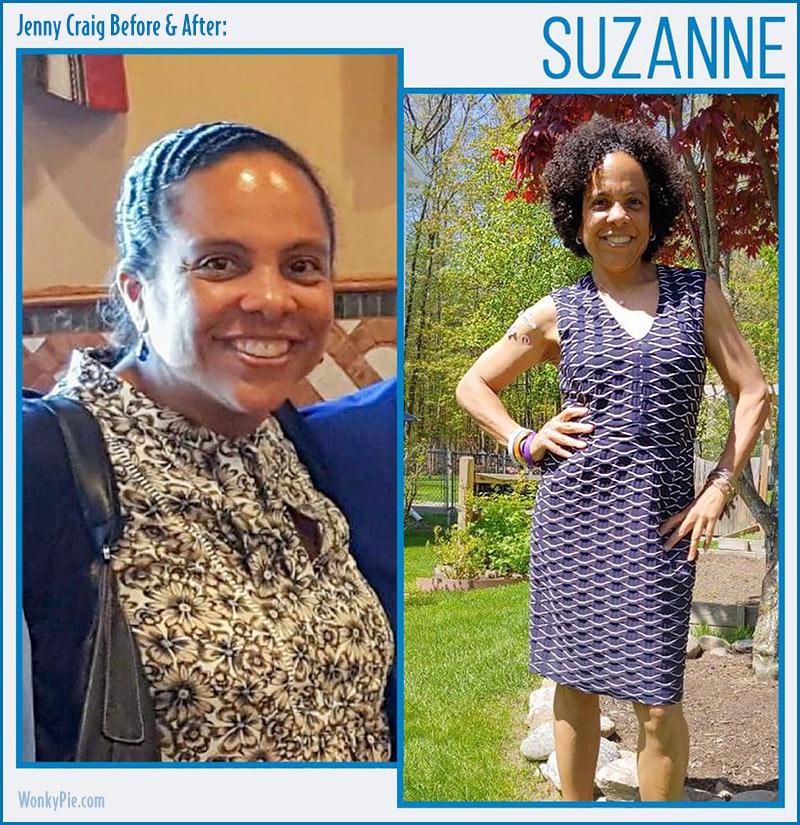 After a tough year, Suzanne decided to do something for herself and her health. After joining Jenny Craig, she's down 15 lbs. and has a new positive outlook!
"Having kept off 15 pounds has been a lot of work, but the choice to munch on carrots instead of chips has been positively affirmed each time I look in the mirror or hear a compliment from a friend. My health has improved and I feel lighter on my feet! I have learned to be an active leader in my weight loss journey. If I go up a pound or cheat, my coach reminds me that this is real life and it's okay."
---
28. Jenny Craig Before & After: Christy
Christy lost 65 lbs* on the program and has changed her life in so many ways. We're so proud of her success!
"I feel FANTASTIC! I'm able to go on hikes without getting winded, move around the tennis court quicker, and do high-intensity interval workouts with my 17-year-old daughter. For the first time in my life, clothes shopping is truly enjoyable!"
---
29. Jenny Craig for Men: Rodney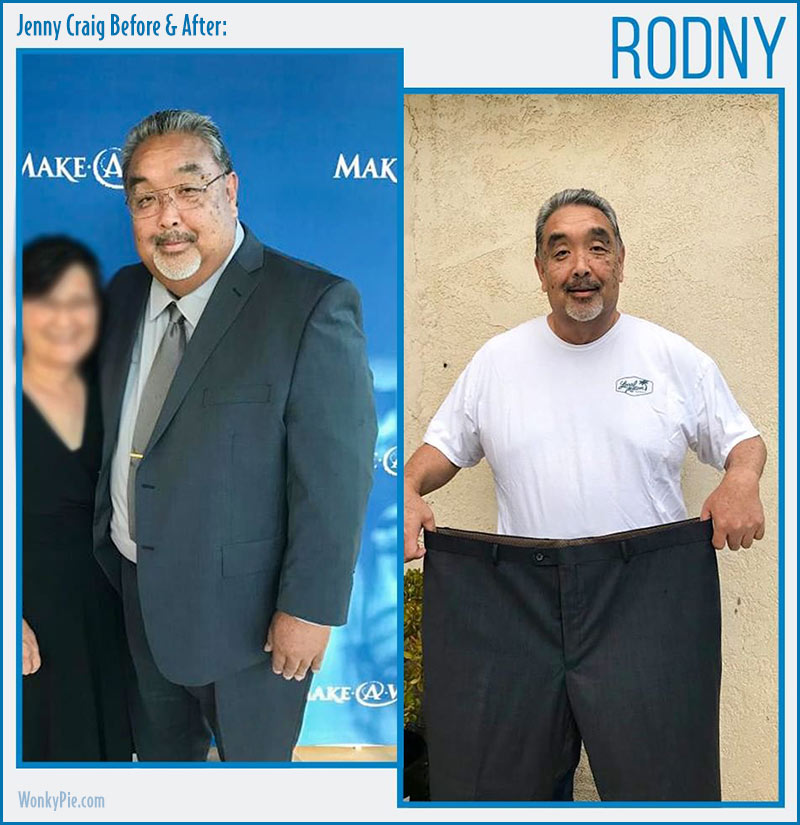 Rodny dropped from a size 42 pants to a 34, no longer needs a sleep apnea machine, was able to stop taking insulin for diabetes, and is able to move around comfortably! We couldn't be more excited for him and his weight loss goals.
---
30. Jenny Craig Success Story: Melissa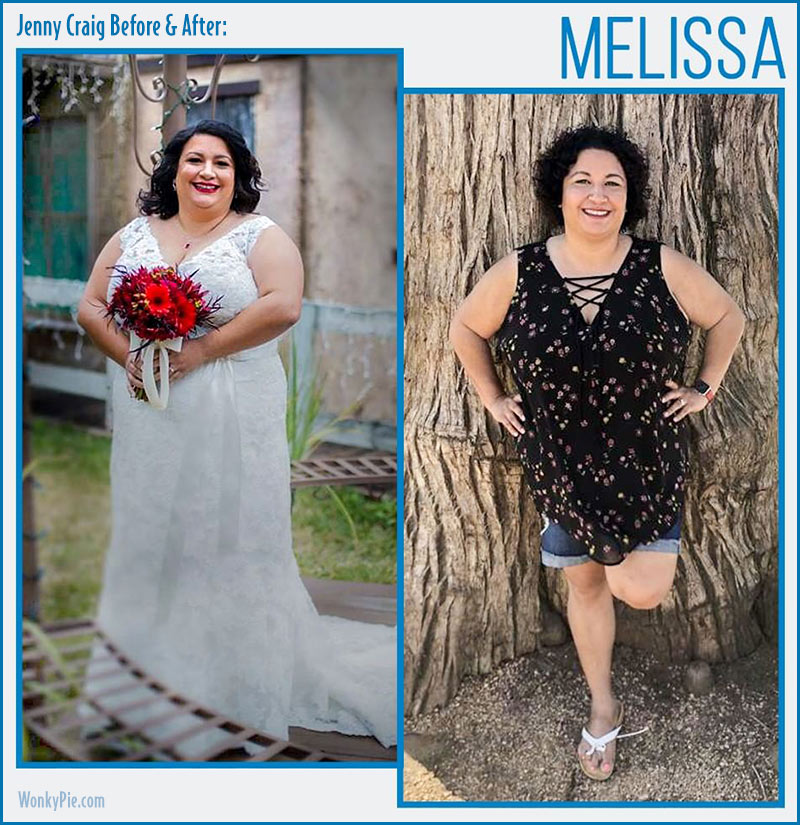 After feeling disappointed once she saw her bridal portraits, Melissa knew she wanted to make a change. She turned to Jenny Craig and has lost 21 lbs! She hopes to someday re-take bridal pictures when she feels confident and healthy in her body. We're so proud of #TeamJennyCraig and can't wait to see what Melissa does next!
---
31. Nikki's Weight Loss Transformation: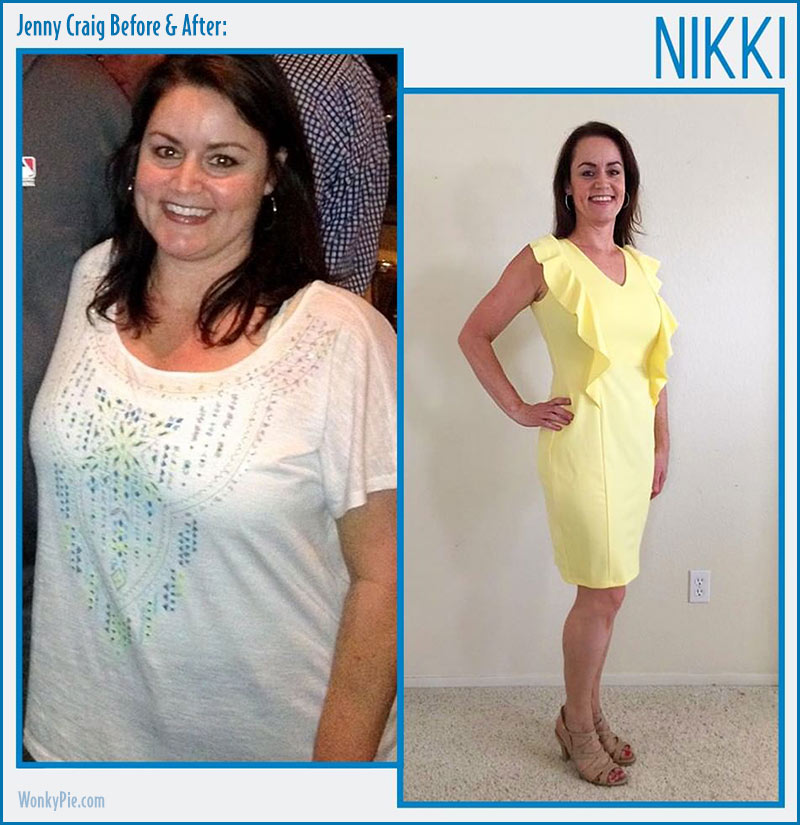 "My life has changed in so many positive ways. I'm no longer afraid to go to the doctor in fear of stepping on the scale. I don't dread the summer anymore because I'm not afraid to go on vacation and worry about what I will wear. My husband tells me all the time how proud he is of me."
"I'm so grateful and thankful for Jenny Craig and my coach/friend, Lori. She sends me off ready to conquer the next week. She motivates me, listens to me, makes me feel good about myself, and encourages me to keep doing what I'm doing. She makes sure I'm prepared for the next week and confident I can handle my obstacles"
---
32. Jenny Craig for Men Before & After: Sam
"I was feeling uncomfortable in my own skin and lacking energy and self-esteem… Jenny Craig taught me the skills I needed to keep the weight off and maintain a healthy lifestyle. I lost 32 pounds on Jenny Craig."
"Now that I have reached my goal weight, I look forward to riding. For a long time I shied away from getting out there because I was embarrassed by the way I looked, but now I look forward to sporting my favorite cycling kit and going for that ride, or to the gym. I no longer lack confidence or self-esteem. Now I look forward to getting out there and enjoying life!" Read Sam's Jenny Craig success story here
---
33. Rachel Lost 30 Pounds on Jenny Craig: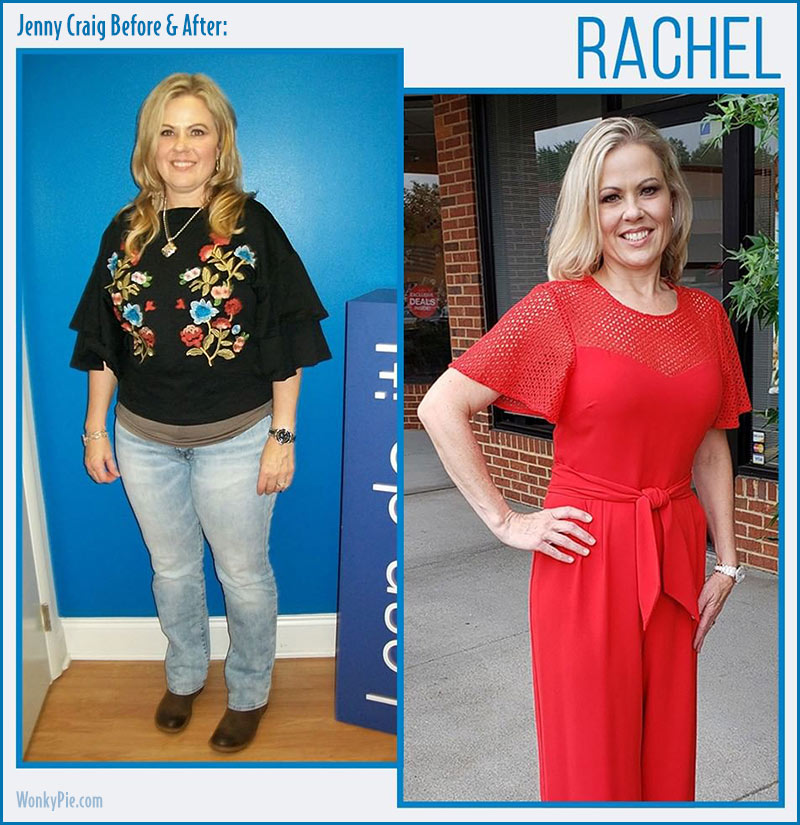 Rachel, lost 30 lbs. on Jenny Craig and we are loving her confidence! What changes have you noticed since you began your health journey?
---
34. Karen's Before & After Photos: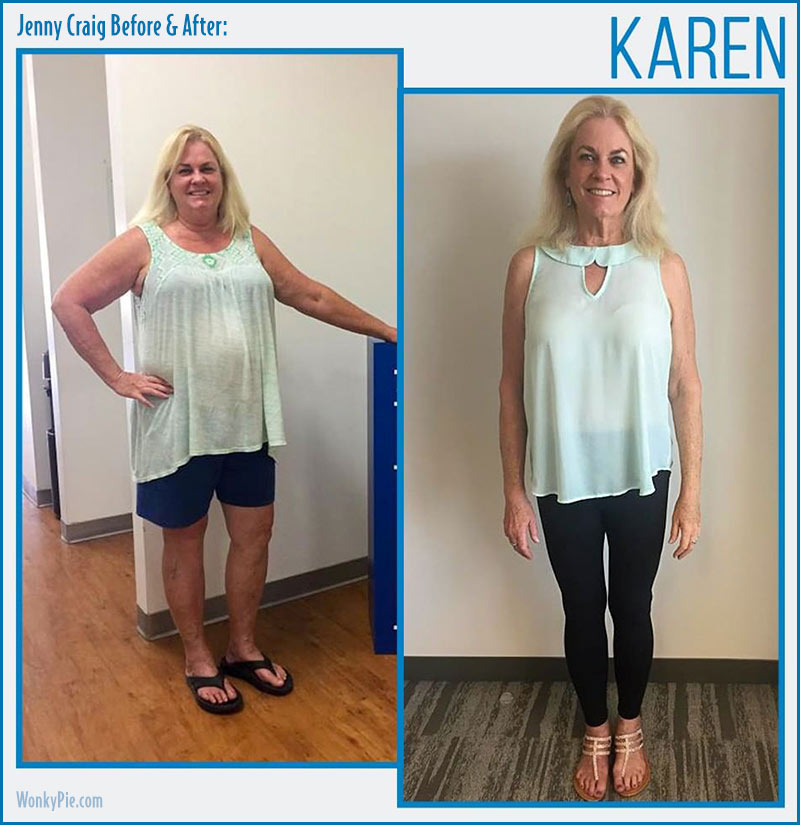 Healthy eating doesn't have to be rocket science!
Take it from #TeamJennyCraig member, Karen: "This diet is a delicious no-brainer. The only thing I have to think about is what veggies to buy to go with that week's food menu. JC does the planning and most preparation."
---
35. Jenny Craig Results: Elizabeth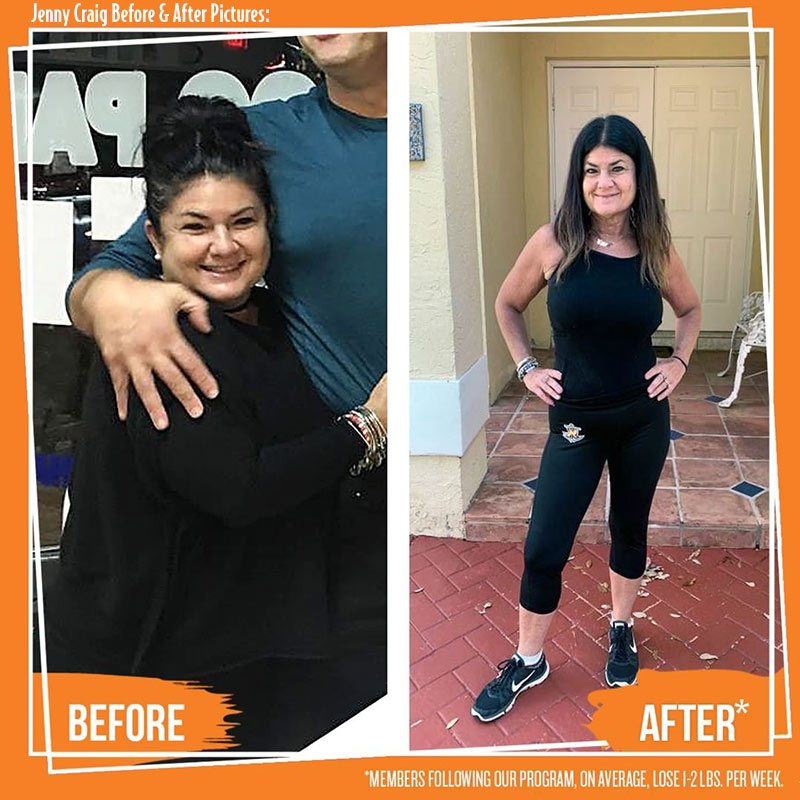 "Joining Jenny Craig has been the best decision I have ever made. My weight loss journey has given me so much more than just weight loss, but a lifestyle change. Going to the gym has become a part of my everyday routine, I enjoy getting up in the morning and feel so much more energized than I did before I started to lose weight. All my friends, family, and especially my Jenny Craig consultants have been so supportive and encouraging by recognizing my hard work and insisting that I continue to accomplish my goals."
---
Conclusion:
Thousands of people reach their weight loss goals every year with Jenny Craig. So, is Jenny the best program to reach your goals? Maybe. No single weight loss program or diet is best for everyone, so do your research and imagine if Jenny Craig will work with your unique lifestyle and personality.
If you think it might, we have a great promotion going on now for 10% off their plans. Plus, be sure to use a coupon for up to an extra $20 off at signup!