Jenny Craig has been a popular diet with personal coaching for years. However, you used to have to buy the food separately from the membership cost, so the pricing wasn't obvious.
Thankfully Jenny Craig (coupons) has streamlined their program into 3 new plan options that start with Rapid Results and include food for $12.99-22.49 per day. The Complete Plan adds personal coaching and snacks but is the most expensive of the 3 plans. Here's what you get with each plan and how much it costs with their current promotion for up to 10% off.
---
Jenny Craig Cost?
When you go to the "Pricing" section of JennyCraig.com you'll see plan options with only the price per day. Here's the cost per day, week, and month with their new promotional pricing: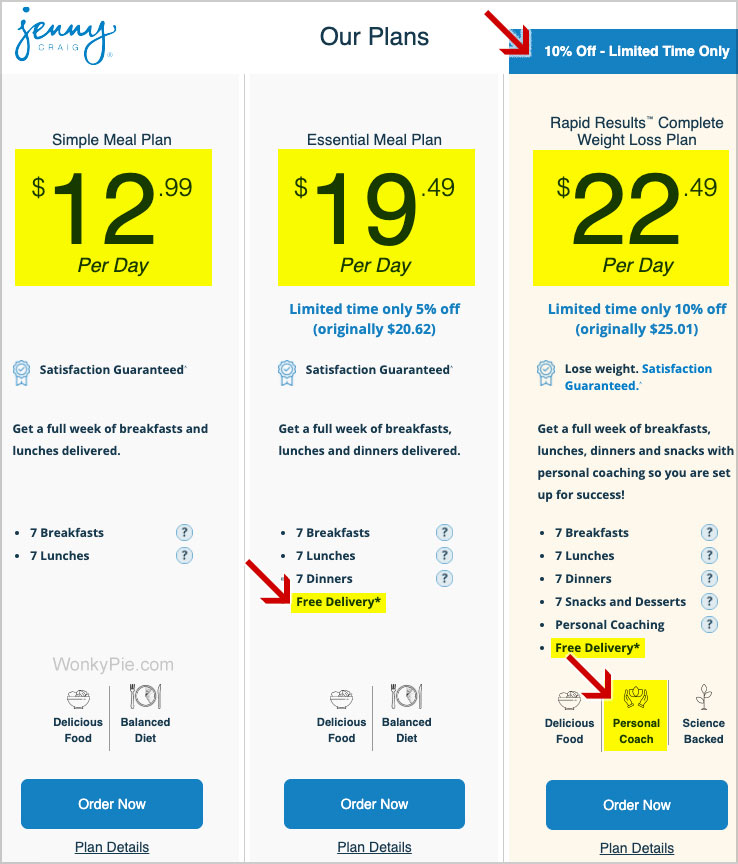 Jenny Craig PRICING Per Day, Week, Month, Year:
| | Per Day | Per Week | Per Month |
| --- | --- | --- | --- |
| SIMPLE: | $12.99 | $90.96* | $394.16 |
| ESSENTIAL: | $19.49 | $136.43 | $591.20 |
| COMPLETE: | $22.49 | $156.29 | $677.26 |
Since you eat 5 Jenny Craig meals and snacks per day on the Complete Weight Loss Plan, the cost averages out to about $4-6 per meal.
How much is a year of Jenny Craig? If you were to stay on Jenny Craig for a full 12-months, the cost would be $4741-8209 for the entire year! Of course, Jenny Craig replaces most of the food you are spending money on now, so it's not fair to say this is an "additional" expense for your annual budget.
Save up to an extra $20 when you use a promo code GIFT20!
How much does Shipping Cost? Delivery is free on all plans except Simple which costs $5.99 per week for shipping. However, if you choose to pay for 2 weeks of the Simple Plan at once shipping is free.
---
A la carte food cost:
You can also add additional snacks and desserts at checkout for a cost of about $16 per box: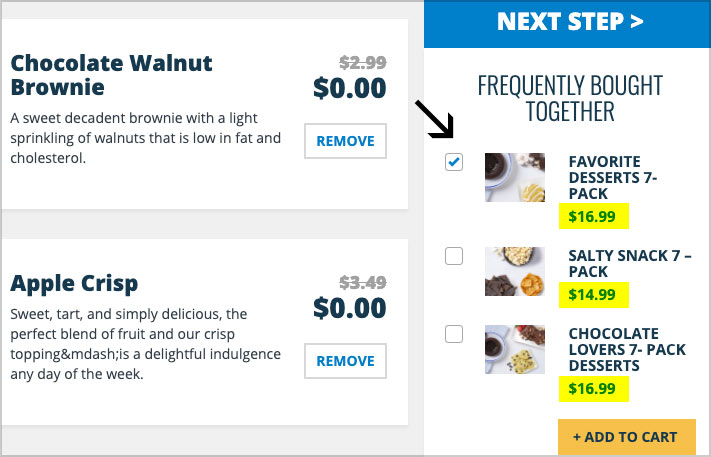 ---
Add the Cost of Groceries:
If you choose the Complete plan, most all of your weekly meals and snacks are included. However, in estimating the total cost of being on Jenny Craig, don't forget to add the cost of some groceries including fresh fruit and veggies. There is no exact cost of how much supplemental food costs, but I would estimate the expense to be at least $5 per day depending on what you choose to buy.
---
FAQs:
How much does Jenny Craig cost per week? 🤔
There are 3 plan options costing $13 to $21.26 per day. View pricing
Is there a coupon for Jenny Craig?
Yes, new customers can usually save $20 with coupon code GIFT20!
Is Jenny Craig expensive?
It depends on your budget. Compare an entire day of Jenny Craig's healthy meals and snacks to just one restaurant meal – you get so much more! Also, the food is highly-rated and the Complete Weight Loss Plan included personal coaching which is a valuable addition.
---
Is Jenny Craig Worth It?
When it comes to meal delivery diets, Jenny Craig is generally more expensive than other programs. In fact, their Complete Plan (with coaching) cost significantly more than the entry-level plans from South Beach Diet, Medifast, and Nutrisystem.
However, the food is rated very highly (#2 commercial diet according to U.S. News) and data has shown coaching to greatly improve weight loss results. So, I would say that Jenny Craig is expensive, but consider it the Cadillac of meal delivery. It's just a better program than the economy meal delivery diet plans that cost much less, and the optional personal coaching is a valuable asset.
So, I would say the Jenny Craig program is worth it if it's in your budget and fits your lifestyle. If you're thinking of joining, you can learn more about the program and see Jenny Craig's featured promotion here!
Cheaper Diet than Jenny Craig? One way to avoid the big monthly expense of meal-delivery diets like Jenny Craig, South Beach Diet, and Nutrisystem is to use an app-based diet. If you are looking for a top-rated inexpensive DIY diet (that doesn't include food) I highly recommend Noom Coach and WW (Weight Watchers)!
Thanks for stopping by Wonky Pie!