Let's look at a quick comparison of Jenny Craig versus keto and then learn more about both diets to decide which one is best.
---
Keto in a Nutshell:
(Actually, only nuts that are low in carbs, like pecans, are allowed with keto!) So what exactly is the ketogenic or, "keto" diet? Keto is a high-fat, moderate protein, and very low carb diet. However, many doctors and dieticians balk at how keto drastically restricts ALL carbs including the good ones in fruits, vegetables, and whole grains.
When the keto diet is followed strictly and done right, the body goes into ketosis. This means the body switches from burning carbs to burning fat for energy which can lead to dramatic initial weight loss. However, keto is consistently rated poorly by health experts in spite of the often exciting short-term weight loss results.
"Without the right guidance, it can be easy for someone to overeat foods, like red meat and full-fat cheese, that are easy to find in the keto diet," – Dr. B. Rodriquez.
Learn more about keto here.
---
About the Jenny Craig Diet:
Jenny Craig isn't about just eating the food to lose weight. It's about learning healthy habits. You're going to get healthy pre-portioned food delivered weekly, but you're also going to get a weight loss coach who will meet with you every week and guide you through the program.
You can learn about Jenny Craig's Rapid Results program and 3 plan options here. If you're interested, save big with a promo code!
---
Keto Diet Compared to Jenny Craig
So, how does Keto compare to Jenny Craig? It's possible to lose weight with both keto and Jenny Craig, but keto is an unguided diet with strict requirements that may be challenging to maintain long term. In fact, a lot of people on keto report fast initial weight loss, but keeping that weight off long-term is the biggest challenge.
Think of trying to do keto at less than full commitment as trying to be a little bit mormon or half pregnant. In other words, it's probably not going to work!
In contrast, Jenny Craig is a guided plan with personalized support, and the meals are balanced. Why does that matter? Well, studies indicate that you can lose up to three times more weight with support versus dieting on your own.
Everyone's weight-loss journey is different so it's important to choose a plan that works for you. If you are the type of laser-focused person who gets up at sunrise to run 3 miles and has color-coded the food in your refrigerator, then maybe keto will work for your initial weight loss.
If you are like most people you need support and enjoy the convenience of meal planning and tracking then you'll be better off with a more structured program.
*Related: Keto vs. South Beach Diet
---
Carbs: Keto vs. Jenny Craig
There are not a lot of similarities between Jenny Craig and Keto, but you could generally say that both diets limit carbs to varying degrees. However, Jenny Craig will tell you that "carbs are not the enemy," and good carbs should be part of your diet.
On the other hand, keto sees carbs as a black-and-white issue. Keto believes that like clowns and hitchhikers, all carbs are to be avoided.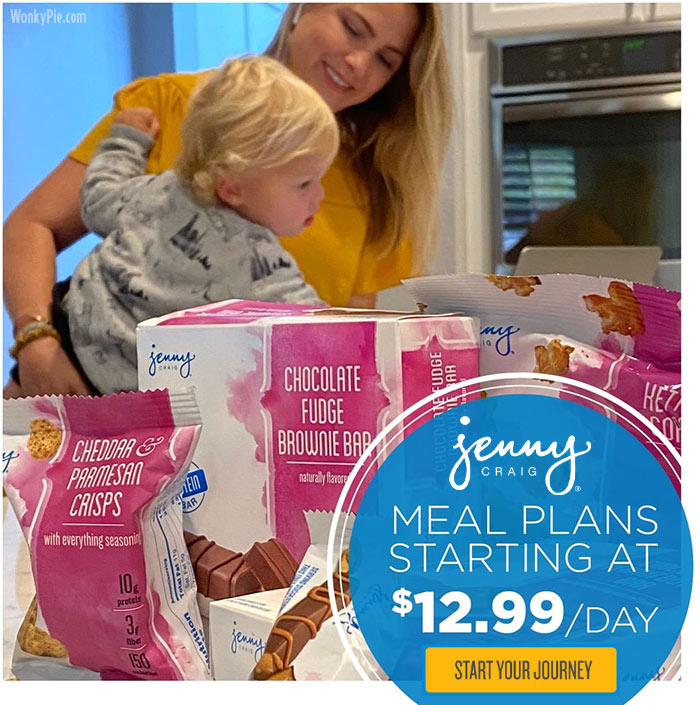 While Jenny Craig could be considered "lower-carb," it is not truly "low-carb" and does not restrict carbs nearly as much as keto which is limited to only 20-50 carbs per day. That's about as many carbs as a plain bagel!
---
Jenny Craig vs. Keto: Weight Loss?
It's tough to compare keto and Jenny Craig directly on weight loss. That's because while most people follow Jenny Craig in a similar way, there are myriad interpretations of the keto diet. Some people restrict carbs to as few as 20 per day and eat bacon while others might eat more avocados and cauliflower.
So, having said that, Jenny Craig says that you can lose up to 16 pounds in the first month with their lower-carb Rapid Results program, and 1-2 pounds per month thereafter.
I've seen many testimonials for keto claiming a first month's weight loss of over 20 pounds, but once again, this weight loss is unsupervised and often unsustainable. After losing motivation most people who follow keto end up gaining the weight back.
---
One Jenny Craig & Keto Similarity? Structure!
OK, I'll add that while keto is not a good diet, it does have one very good quality: structure. An unhealthy diet is also usually an unstructured diet.
Both keto and Jenny Craig are both built on a structured eating plan which puts order to your eating. In other words, most people really don't know what they have consumed in an average day. When followed strictly, both keto and Jenny Craig put order to your eating. So, which is a better diet?
*Related: Keto vs. Noom: Which is Better?
---
Keto or Jenny Craig: Which Is Better?
No credible doctor or dietician will tell you that keto is better than Jenny Craig. On paper, keto is just not healthy or sustainable, and there are even a number of side-effects like "keto flu" that often come with such an extreme diet.
Jenny Craig provides healthy, lower-carb meals every week along with a personal coach (Complete Plan) who helps keep you motivated and on track with your weight loss progress.
In the battle of Jenny Craig vs. Keto, Jenny wins a unanimous decision from the judges!
However, while we can say that Jenny Craig is much healthier than keto, that doesn't mean that it's the best diet for unique needs and weight loss goals. To learn more about Jenny Craig you can view their plans here. (On sale now!)
*Related: Keto Diet vs. WW
---
Jenny Craig or Keto Alternatives?
You probably realize that keto is not a healthy diet long-term, and may have read some success stories about Jenny Craig customers. However, you also may find that Jenny Craig sounds great but the price is too high? If so, there are a few other meal-delivery diets or wellness apps with coaching to consider. Here are some of our favorites, plus coupons for new members: