How much does the Medifast diet cost? One of the most important considerations when starting any diet is the price tag.
Signing up for a meal delivery program, like Medifast, can be especially intimidating because it's a significant monthly expense. Plus, you also have to account for the weekly cost of fresh groceries for your "lean and green" meals.
So how much does it really cost to be on this diet? Let's look at expenses, coupons, and then decide whether it's expensive, or a good investment for your health.
---
How Much Does Medifast Cost?
To determine the cost of Medifast, you'll want to decide between the following ways of being on Medifast program:
Auto-Delivery: Most people who join Medifast elect to enroll in their "Medifast Advantage" auto-delivery program, as it's cheaper and more convenient. Food costs are included in your monthly fees and reflected in the daily and monthly cost estimates in the chart above
A la carte orders: You can also choose to buy 14 or 30-day kits and food a la carte from their site from the order now tab like this:
Medifast 30-Day Kits: If you don't wish to enroll in Advantage auto-delivery, you can buy Medifast one month at a time at a higher cost
Oh, and don't forget to add the cost of fresh groceries for your 1-2 daily Lean and Green" meals. Here's how much the plans cost:
---
• Medifast Plan Cost (Auto-Delivery):
The most popular and cost-effective way to follow the Medifast program is to enroll in their Advantage auto-delivery program. Medifast has two plan options: Go!™ and Achieve. The Medifast Achieve plan costs slightly more as it is more flexible and includes an extra meal each day.
Here's the cost of Medifast Go!™ per meal, day, week, and month: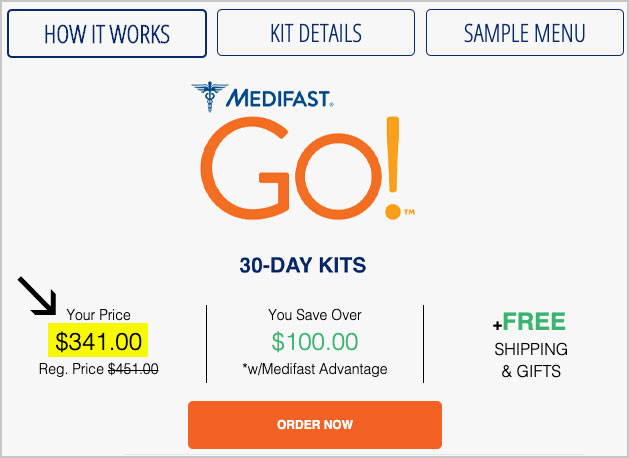 First month (promotion): $451 $341
Per month: $406*
Per Week: $94
Per Day: $13.70
Per Meal: $2.70 (average)
*Prices include an ongoing 10% discount for being enrolled in the Medifast Advantage™ auto-delivery
The first month of Medifast costs the least, as there is always a promotion available for new customers. After you enroll in the Medifast Advantage (auto-delivery) program, you'll receive rewards including free shipping + 10% rewards from your purchase applied to the price of your next shipment.

---
• A la Carte Meals:
You also can buy food a la carte at any time from the "shop" tab on Medifast1.com. This food includes Medifast Meals (bars, shakes, etc) and lean & Green meals: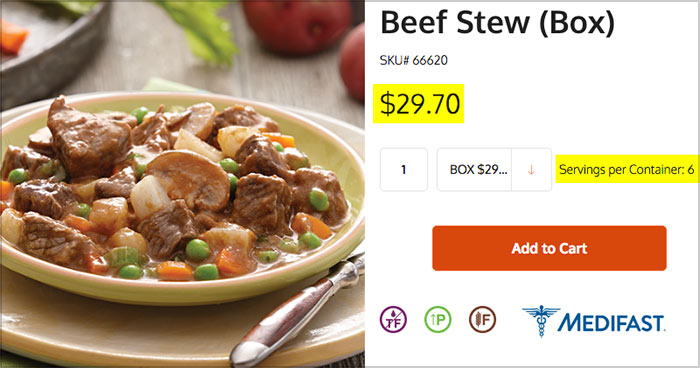 As you can see, the premium meals cost about $5 each.
---
• Medifast 30-Day Kits:
If you want to try Medifast for a month without committing to Advantage monthly auto-delivery, you can buy 30-day Medifast kits. You'll also find these under the "shop" tab: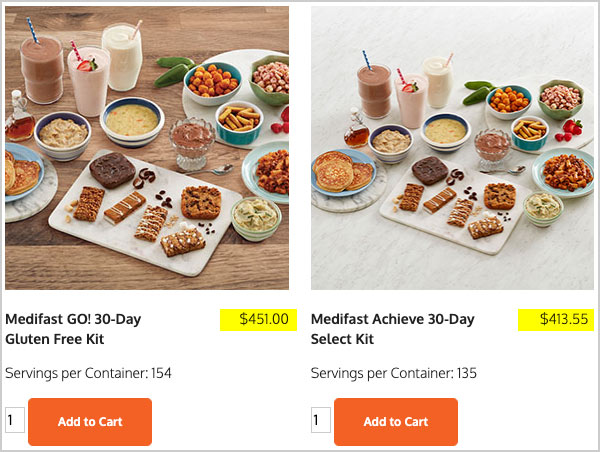 30-day kits are available for Go!, Achieve, Go! Gluten-Free, and Achieve Complete. 30-day kit pricing varies from $412-478 each.
---
Is Medifast Expensive?
Initially, we questioned whether a meal-delivery diet like Medifast is truly "expensive," or if it has the potential to actually save you money each month.
If you're a busy person, travel frequently, or are among the 50% of Americans who say they "hate to cook," you probably find yourself eating a lot of restaurant food. You also may not realize just how expensive that habit is.
Here's an infographic to compare the cost of Medifast versus a day on the road: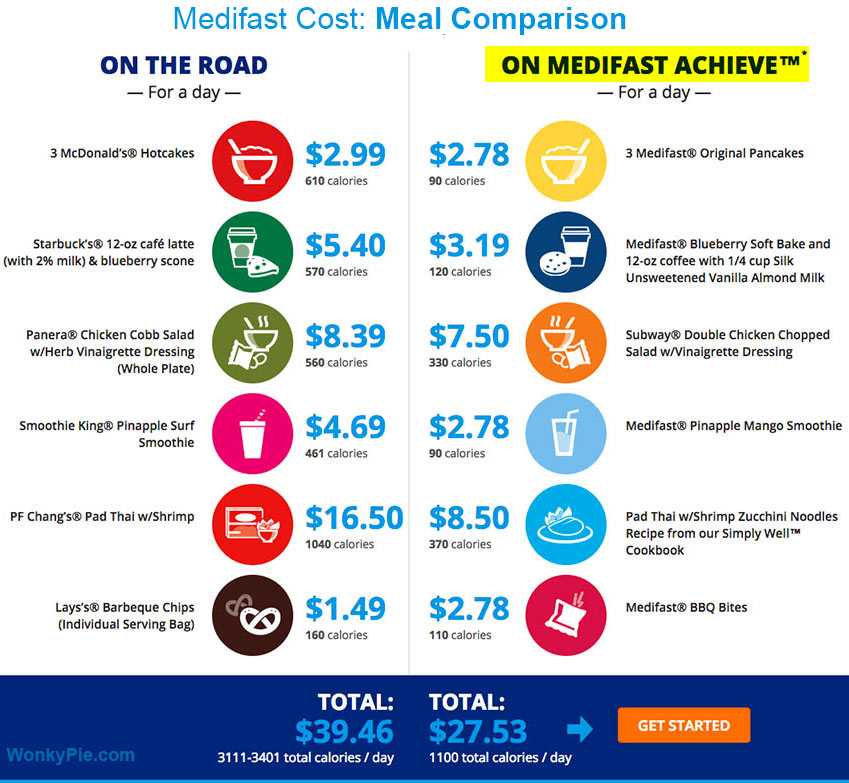 So, as you can see, it's expensive to eat out. It can also be expensive and time-consuming to cook, which is why meal delivery is increasing in popularity.
Tip: Whether or not Medifast is "expensive" can be best determined relative to what you are currently spending on food per month.
---
Add the Cost of Groceries:
They say that the average family spends about $330 each month on groceries, and an average of $225 each month at restaurants. When you are on Medifast, these numbers should drop dramatically, but you should still account for some spending at the grocery store. You'll need to provide at least one "lean and green" meal per day, depending on which plan you choose:
With the "GO!" plan you only need to provide 1 "lean and green" meal
The "ACHIEVE" plans require 2 lean and green meals per day
This means that if you are on the ACHIEVE plan you might spend more on groceries each month than the Go! plan.
In estimating the total cost of being on the Medifast diet, I would add in an extra $8-10 per day expense for grocery store food to account for the lean and green meal(s).
So, adding in groceries would bring the total "all-in" cost of Medifast and food to about $25 per day.
---
Putting the Cost of Medifast in Perspective:
There's no denying that a $400 monthly charge on your credit card is significant, but remember that Medifast replaces most of the food you are currently buying.
As far as meal delivery diets go, Medifast is a little on the expensive side, as it's more expensive than Nutrisystem (cost, coupons) and South Beach Diet (cost, coupons), but cheaper than BistroMD and Jenny Craig.
Consider that popular DIY diets like Weight Watchers (cost?) and Noom (cost?) may only cost $20 per month for membership, they don't include any food. These diets could be more expensive than meal-delivery diets because of the expense of buying or preparing 3+ meals per day.
Do you currently spend money on alcohol? Medifast discourages drinking alcohol, so that could be a significant daily and monthly saving as well.
Also, consider that a smoking habit costs about $6 per day, and a cup of coffee at Starbucks can cost $4 or more! That makes the $13+ per day cost of Medifast look like a pretty good investment for your health.
* Another good potential investment is the $3 a day cost of owning a cat, which can be highly rewarding!
Tip: Medifast also has a program called, "Optavia," which is essentially the Medifast program plus a personal coach. This program costs more than Medifast!
---
How to Lower the Cost:
There are two easy ways to save when joining Medifast:
Enroll in the Medifast Advantage auto-delivery program which includes a 10% discount and free shipping on every order
Use a coupon for a 30% discount on your first order, or up to $35 off a single purchase
Skip buying their "lean and green" meals a la carte, and make your own or buy frozen diet entrees at the grocery store
Every week there are promotional codes and offers available towards your first month of Medifast, or a discount towards a minimum purchase of food.
Click to see today's featured promotions, or check out all Medifast specials here.

Want to learn more about Medifast? We wrote a review of Medifast here. If you've already tried it, let us know what you think of the cost by leaving a comment below: