Weight loss with Noom Coach: Thinking of joining Noom? If so it's important to do your homework. Besides reading reviews, researching cost, and weighing the free trial, it helps to learn whether users are meeting their weight loss goals.
Is Noom a good weight loss program? Noom has been absolutely surging in popularity, and a lot of people have found success using their app. In fact, a lot of women and me are happy to record video testimonials with weight loss results and transformations.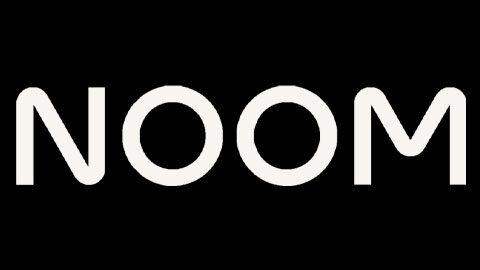 These pics and videos are scattered on Instagram and the web, and it can be time-consuming to find them. So, we compiled our favorite Noom before and afters here:
Before and After Losing 20 Pounds w/ Noom Coach:
---
Magdelena's Transformation: Lost 20+ Pounds of Baby-Weight With Noom!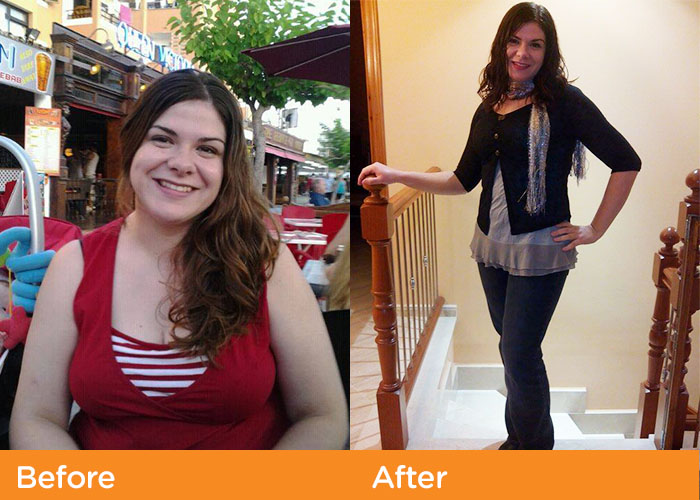 Baby weight can be really hard to lose, and for Magdelena, simply joining the gym didn't get her anywhere. However, after taking a chance on Noom, she soon was shocked to see how many calories she was eating a day. Noom helped her learn a healthier lifestyle, and soon convinced her husband to join Noom as well. Currently, she's lost over 20 pounds and is halfway to reaching her weight loss goals. Wow, look at that pic after just a few months of Noom Coach!
---
Before and After 20+ Pound Weight Loss w/ Noom
Before and After Photos: Jackie Looks Hot! (90 days on Noom)
---
43 Pound Weight Loss With Noom:
---
Noom Before and After: Brandy Lost 100 Pounds!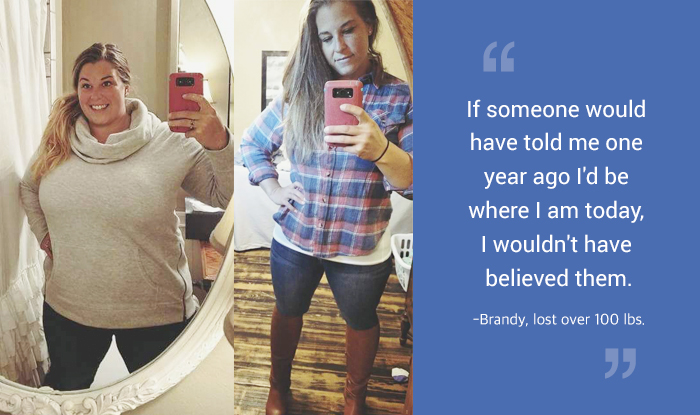 "If someone had told me one year ago I'd be where I am today, I wouldn't have believed them." A number of free weight loss apps didn't work for Brandy, and diets like Nutrisystem were unappealing. However, things seemed to click for her with Noom.
In just one year Brandy was able to lose 100 pounds with a lot of hard work, consistency, and determination. She credits her supportive group of peers on Noom as well as the advice, support, and accountability from her coach. Wow, congratulations, and keep up the good work!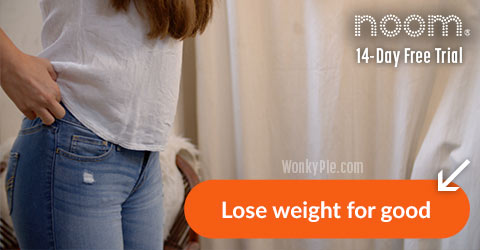 *Check out today's Noom coupons to save 25-80%! (if available)
---
Before & After Pics: Maddie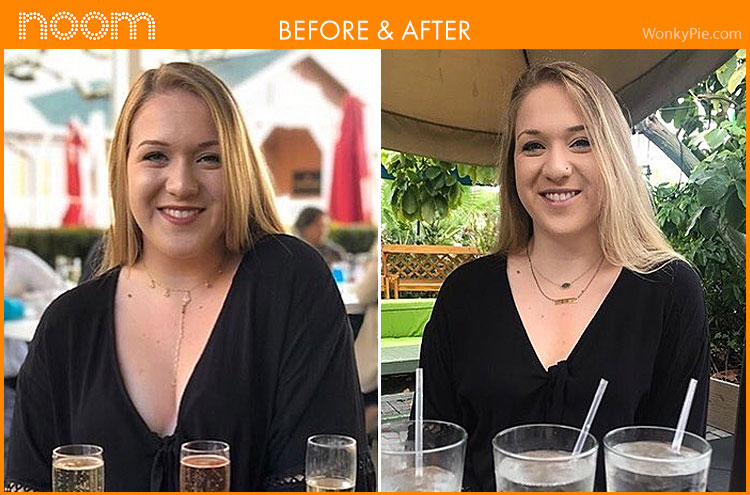 "I am so thankful to Noom for giving me myself back— it retaught me my unique qualities I love and reminded me how special of a human I can be when I am not living in a fog of not being "good enough" for myself. I finally feel like I am worthy, not to the rest of the world- but to myself." ??
Hmmm… Maybe switching from champagne to water helped? Ha, ha! great job.
---
40+ Year-Old Mom Uses Yoga, Noom for 1 Year: Success Story
---
Noom Coach: Before and After Pics of Jennie After Losing 20 Pounds: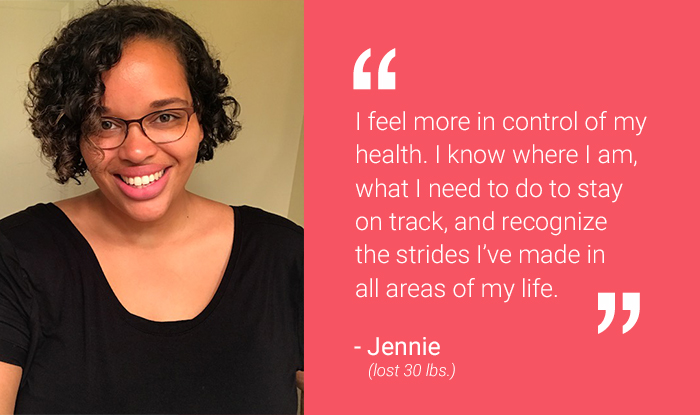 Jennie was on the fence about starting a diet, and after seeing ads for Noom's free trial, she finally took the plunge. Her Noom coach created a plan for her, and she was on her way to living a healthier lifestyle.
Of course, losing 30 pounds was just one of the positive benefits of making healthier choices. With weight loss and healthier eating comes increased energy and self-confidence, too. With structure and tracking on the Noom app, she had a plan, and each day moved a little closer to her health and weight loss goals. Nice work!
---
Noom Couple: Steve & Ann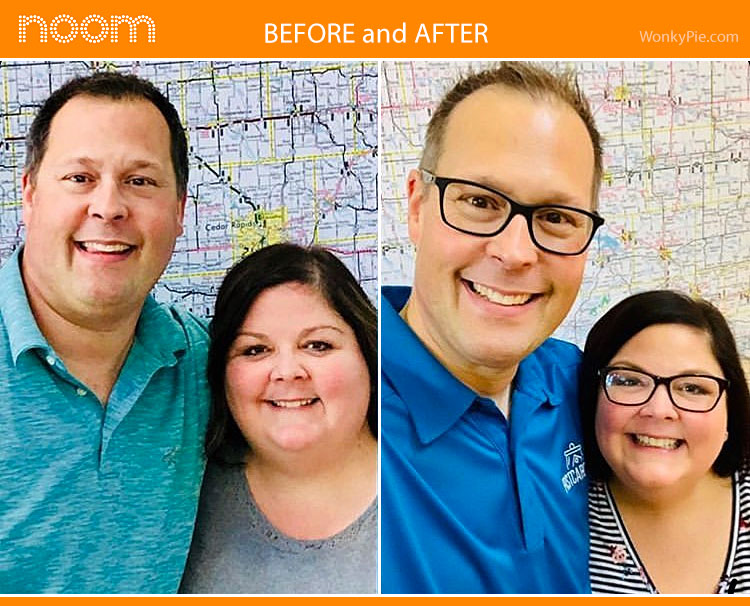 Steve & Ann decided to get healthy for themselves, for each other, and for their future together. Small changes every day. Never sacrificing what they love. Learning how to find a way to make their goals fit into their life of travel and adventure. Finding a healthy balance. ?
Hey, did they both lose some eyesight while on Noom? Ha, ha!
---
Before Noom, and After: Cathy's Success Story
Maria After Losing 40 Pounds With Noom Coach
Ben Before and After Noom: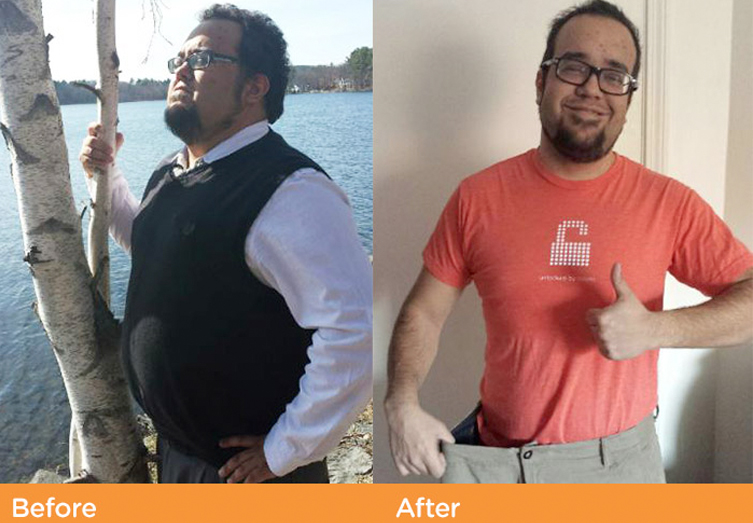 Did we mention that Noom Coach is just as effective for men?
---
Sarah Before and After Losing 50 Pounds With Noom:
---
Robin: Noom Before and After Photos: 20-Pound Weight Loss!
Before & After Weight Loss Pics:
*Related: Transformation Tuesday: South Beach Diet Before & After Photos
Amilia's Results: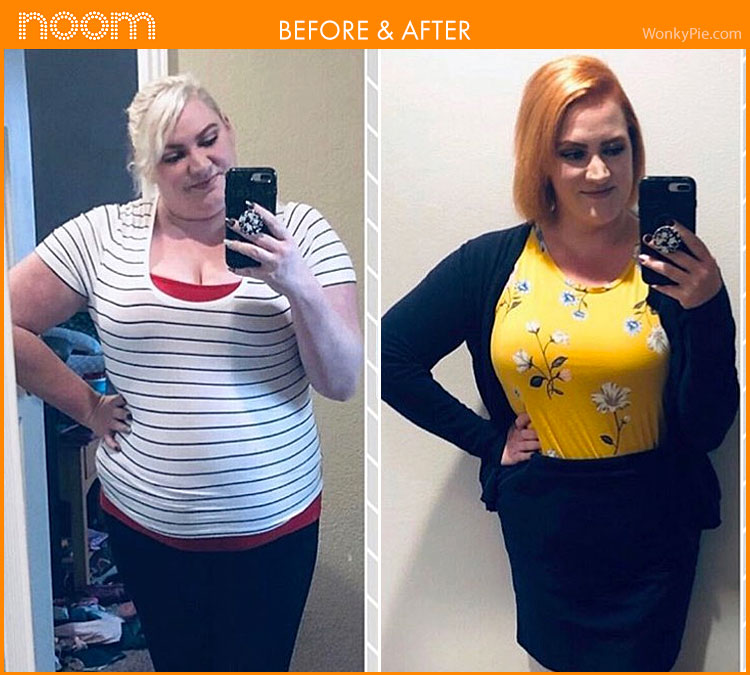 ---
Before and After Weight Loss Pics: He Looks Like a "Noom Man!"
---
Antes y Después: Weight w/ Noom (In Spanish!):
More transformations: Before and after photos for Smile Direct Club and Byte Aligners!
---
*Related: 21 Nutrisystem before and after pics
Before & After: A Whole Noom World!
---
---
Noom After and Before (That's Confusing!):
---
While Transformation Photos Are Inspiring…
Finding the right weight loss program is an important decision, as a diet has to work for you. (not the other way around) Noom has been called, "WW for Millennials" because it is a simple, app-based program that requires tracking and doesn't restrict any foods. (*If you are considering WW, we have coupons here!)
However, Noom takes weight loss a step further by incorporating a personal coach who is like a sherpa on your weight loss journey.
If you think it might be a good fit for your personality, check it out below with a free online evaluation:
Thanks for stopping by Wonky Pie! If you have posted before and after pics from your Noom weight loss, please send us a link!