Noom has taken the diet and wellness industry by storm in recent years. Their focus on coaching and behavioral psychology has been a huge success in promoting long-term weight loss and has caused brands like WW (deals) to change their approach just to keep up.
However, not everyone is happy with their Noom experience. In fact, if you read through Noom reviews on the Better Business Bureau (BBB) website at bbb.org you'll see that Noom has a surprisingly low 2 out of 5 customer rating.
Do just a little digging and quickly see that there's one common complaint that has more than 2,000 former Noom subscribers fuming.
If you are thinking of joining Noom, read on so that you can understand why customers complain and avoid the same problem.
Noom: Top Complaint | BBB Reviews | How to Cancel
---
Noom #1 Complaint: Cancelling a Trial or Subscription!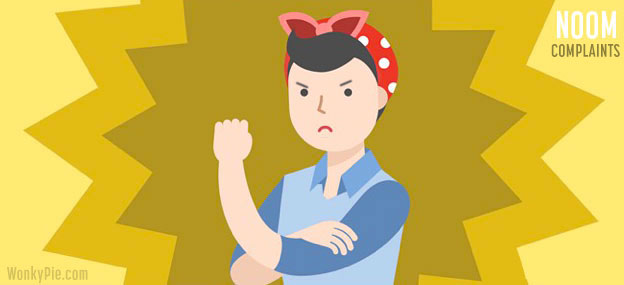 The good news about Noom is that people generally love the app, but let's talk about the top complaint: canceling the trial.
To understand why so many customers complain on review sites like BBB.org, let's first talk about how Noom works. It all starts with a 90-second free evaluation. You've probably seen ads like this online: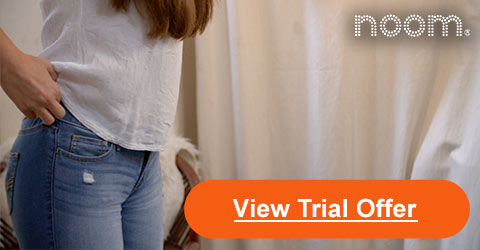 Noom asks a number of questions to better understand you and your goals, and at the conclusion of the evaluation you are offered a 7-14 day trial that is either free or $1.
Sounds great, right?
It probably is unless you don't understand how Noom bills you and their cancellation policy. Here's the not-so-fine print at signup: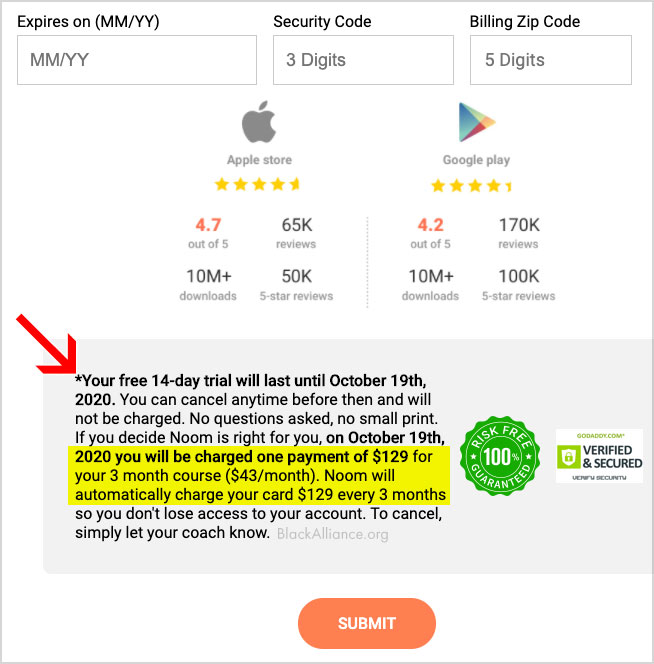 As you can see, you'll be charged the moment the trial period ends. You'll then be automatically charged the same amount every 3-5 months indefinitely until you cancel. (depending on your billing settings)
That doesn't seem very deceptive but Noom reviews on BBB use words like "fraudulent," "unethical," and "dishonest" to describe the company's billing practices.
Some of these scathing BBB reviews said they were expecting a monthly $20-40 charge but were instead billed $150+ at once for several months.
In my own signup experience the pricing was clear to me, so let's see why customers have complaints about the cancellation.
---
Why the Bad Noom Reviews w/ BBB?
On the BBB website, they note a "high volume of complaints" against Noom. So, what is everyone complaining about?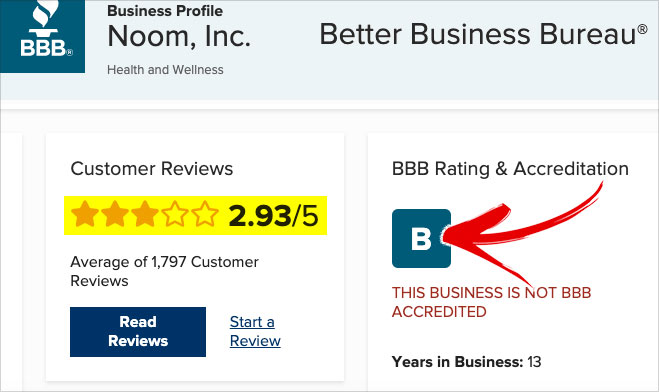 After doing some research, it's obvious that most people complain about Noom's cancellation policy. Why? It appears that something must have changed in mid-2020 with how Noom processes cancellation requests.
KXAN reports: "between August 16, 2019, and August 18, 2020, BBB received 1,213 consumer complaints regarding Noom, representing a significant uptick in complaint volume over previous years."
In fact, those customer complaints led to a class-action lawsuit that alleged "deceptive and illegal" automatic billing that made Noom very difficult to cancel.
Noom BBB Rating? Noom carried a lowly "D" rating on BBB at the height of these complaints with an average customer rating of 2/5. However, their BBB rating was recently upgraded to a "A," presumably after many of the complaints were resolved.
So, why do customers have difficulty canceling Noom? Let's see how they responded to these complaints.
---
Noom Responds to BBB Reviews / Complaints
Besides complaining about Noom in their negative BBB reviews, a number of people also filed complaints on a local level, including to the local news channel KWCH 12 in Kansas.
After receiving several complaints about Noom they launched their own investigation. KWCH contacted Noom and asked them to address the customer complaints. Noom responded by saying:
Our policy is to provide full cancellation of service at any point
We offer a 2-week trial so people can try Noom before they buy
Noomers can cancel one of 4 ways: by asking their coach, using the app, on the website, or by contacting support
Noom CEO and co-founder Saeju Jeong also released the following statement:
"While the complaints on BBB represent less than 0.03% of the millions of customers who have signed up with Noom in the last 3 years, we take each one very seriously. Our top priority is to always ensure our customers have the best possible experience with Noom. This holds true no matter where they are in the program – including if Noom is not the right fit for them at any point along their journey."
We checked the math, and it does look like Noom has about 45 million users as of 2021. That doesn't mean that 2,000+ complaints aren't a problem, but that's a lot of people who don't complain.
It's also worth noting that it seems Noom responds to almost every complaint on BBB in an attempt to resolve the issue.
From what I can tell, the best thing to do is to fully understand both the billing and the cancellation policy before starting the trial.
Here's how cancellation works.
---
How to Cancel a Noom Subscription: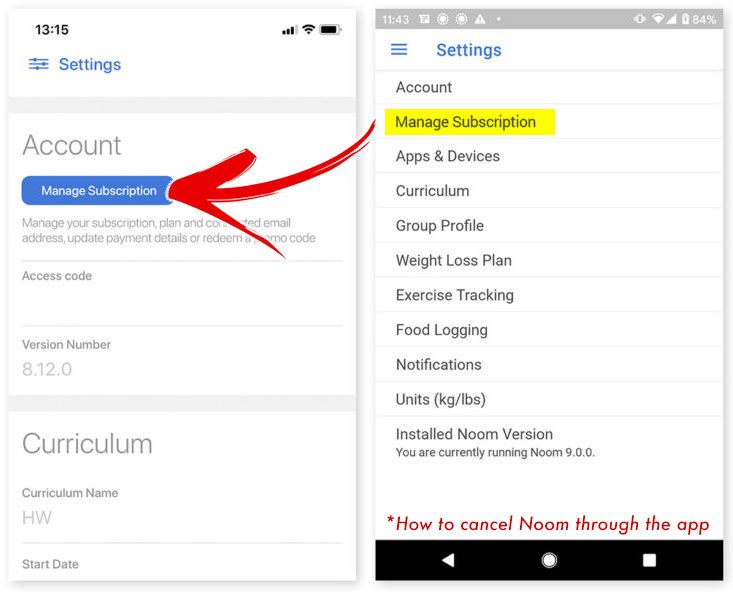 There are 4 ways to cancel Noom:
Send your coach a message through the app saying, "Please cancel my Noom subscription"
Noom app: Under the Settings section select "Manage Subscription" and then "Cancel Noom Account"
Noom website: Login to the subscription portal at Noom.com and select "Cancel Subscription"
Email support at programsupport@noom.zendesk.com
*Note: You can't cancel your Noom subscription by phone.
After reading BBB reviews and complaints I have to think that not all methods of canceling Noom are equally effective. In fact, I would not rely solely on a Noom coach to handle the cancellation.
Tip: I recommend canceling Noom at least 24 hours before the end of the trial or billing cycle using two methods. Use the app or website to cancel, and also send a cancellation email to programsupport@noom.zendesk.com and CC yourself on it for proof of cancellation.
Also, note that simply deleting the Noom app does not cancel your trial or subscription!
Clearly, thousands of intelligent people have issues canceling their trial, so please know the cancellation policy and follow the tip above to avoid being the next Noom complaint on BBB.org!
---
BBB Says Complaints Are, "Not Just for Noom"
These issues apparently aren't limited to just Noom, as the Better Business Bureau receives a plethora of complaints about deceptive cancellations related to free trials.
BBB spokesperson Denise Groene said, "What we found is a significant amount of people have a hard time canceling a (any) free trial once they have subscribed to one."
Because of the numerous complaints related to free trials, BBB recommends that you start any free trial with caution and fully understand the terms and conditions before proceeding.
In fact, I would be cautious about starting any free trial or subscription unless you have the intent to continue long-term. It's not worth the risk of missing the cancellation deadline and being unexpectedly billed, and refunds are difficult to get.
*Related: What Does "Noom" Mean? and can you signup for $19?
Conclusion:
Personally, I had a great experience with Noom and am happy to recommend the program! However, you don't have to read through many Noom reviews and ratings on BBB.org to see that most Noom complaints are due to issues with cancellation.
Miss the deadline and you could owe $150 for your first 3-5 months and getting a refund can be difficult.
"Knowledge is power," as they say, so before starting a Noom trial or subscription know exactly how to cancel and set a reminder on your phone 24 hours before the trial or subscription cancellation deadline.
If Noom sounds like a good option to reach your weight loss and wellness goals, I wish you the best of luck! You can start with the free evaluation here.
Thanks for visiting Wonky Pie!
---