Have you tried to find pricing information on Noom.com? You probably weren't successful, as Noom requires that you signup with your email address before they reveal their cost and monthly fees.
How much is Noom? After the 14-day FREE trial ends, the cost varies between $17-59 per month depending on how many months you initially sign up for. Paying month-to-month will cost you $59 per month, most people choose the 4-months for $129 option which works out to $32.25 per month. (Can$43.85 per month in Canada)
Here are 3 things women and men should know about the cost of Noom.
Noom Cost: Signup Fee | Monthly Price | Food expense| Worth it?
---
1. Sign Up Fee:
Signing up for Noom starts with a free evaluation on noom.com. Upon completion, you'll be presented with an offer to start a 7-14 day trial. They usually ask you to, "pay what you think is fair," but we have an exclusive offer that waives the fee!
*Update 2020: Can you waive the signup fee? Yes! A small number of wellness blogs have access to a 14-day FREE trial this month. Sweet! (the free evaluation ends in a free trial offer)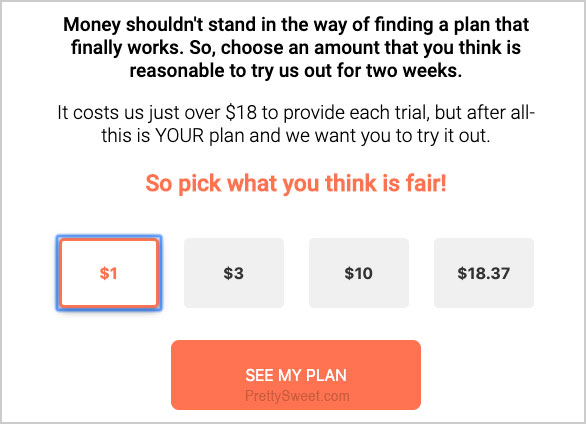 Obviously everyone chooses to pay $1 to join! (Why pay more?) After you choose the $1 price option, click, "see my plan," and Noom will send you an email with a link to get started. Click the link, and you'll be taken to a checkout screen like this: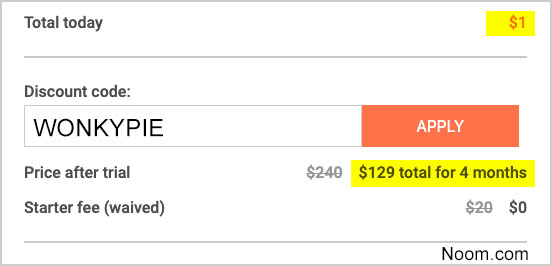 While you'll initially join at no cost, (if you use our exclusive offer) you'll be billed after the 14-day trial period ends. Here's more about that:
---
2. Cost Per Month:
Thinking of sticking with Noom after the trial ends? Here's how subscription pricing works for their diet plan: (updated for 2020)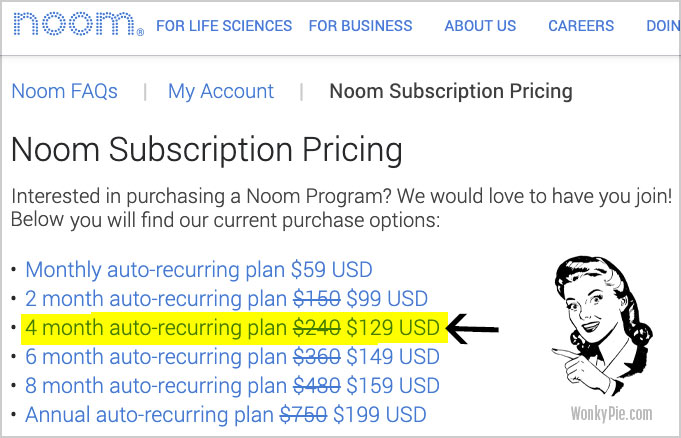 Noom is free for the first 14 days. If you choose to continue after the trial period, you will automatically be billed $129 for the first four months on the 15th day. You will then be billed $129 every four months thereafter until you cancel. However, if you prefer less of a commitment, you can elect to pay monthly at $59 per month.
For their popular quarterly billing option, the cost of Noom breaks down to:
$1.10 per day
$7.70 per week
$32.25 per month
$387 per year
If you wish to cancel Noom, do so before the next 4-month billing period begins, or your credit card will be billed on the first day of the next period.
---
3. Food Expense: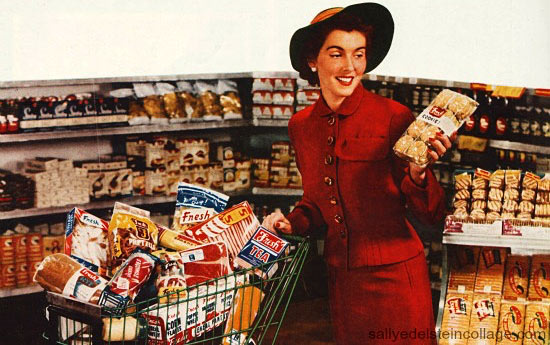 Because Noom does not provide you with food, the main expense of the diet plan is in the food you choose to buy. This food mostly consists of groceries, but you should also account for occasional dining out if you're estimating a monthly food budget.
The average household spends about $6600 per year on groceries. Because there is an average of 2.5 people per household, we can estimate that food expenses to be at least $2700 per person per year or $225 per month. (source)
However, this figure varies significantly per person and household. In fact, those who eat most of their meals at restaurants might spend close to that figure each week! So, if you're estimating how much it will cost you to be on the Noom diet plan, you'll want to first understand how much you are already spending on food each month.
Noom asks you to make healthy food choices like fresh fruits and vegetables and whole grains which can cost more. However, this expense can be more than offset by reducing guilty pleasures like frequent dining out, sweet snacks, and alcoholic beverages.
Consider that a single premium coffee drink or glass of wine can cost $6+, and you'll probably see the potential to spend less on food and beverages every month!
---
Is Noom Worth the Cost?
So, is Noom really worth it? Data shows us that most people don't achieve their weight loss goals without a plan that includes structure, motivation, and accountability.
In deciding whether Noom is worth the investment of $32+ per month (USA), first think about the value of personal coaching and support. These are real professionals, and they are there to guide you through your weight loss journey one small step at a time.
Even if your coach only dedicates an hour or two each month to support you, that's a significant value. That personal support can be the difference between success and failure for most people, so it seems to be a good investment.
However, If you are part of the minority who enjoys "going it alone," you can consider highly-rated WW which also costs less.
If you do believe that Noom's coaching and support add significant value, then I recommend that you run it by your doctor and give Noom a shot. You can look for a discount code, or start with their free evaluation and 14-day free trial.
---
FAQs
How much is Noom per month? 🤔
The most popular payment option is to be billed $129 every 4 months. This averages the price to $32.25 per month
Can you waive the signup fee?
Yes, some wellness blogs, including ours, have access to a 14-day free trial which waives the signup fee!
What's the cheapest way to join?
Choosing annual billing (pre-pay for 12 months) drops the cost to $16.58 per month after the trial period.
If you do try Noom out, good luck, and thanks for stopping by WonkyPie!
*Related: WW (Weight Watchers) Cost | Nutrisystem Cost | South Beach Diet Cost | Medifast cost