If you're considering the Noom Free Trial, you've probably wondered what percentage of users actually successfully lose weight long term using the wellness app. In other words, does Noom actually work?
Success rates for diets aren't easy to find, as there are a lot of variables involved like gender, lifestyle, personality, and diet. However, we did our homework and found a comprehensive study of Noom from a well-respected source with a published success rate and average weight loss.
---
Noom Success Rate:
In 2016 Nature.com published the results of a 2-year study of Noom Coach. The study included 35,921 participants and investigated the effectiveness of the Noom app on weight loss in overweight and obese women and men.
Noom success rate? The study found that 77.9% of participants were successful in losing weight using Noom.
Here is a chart showing the distribution of weight loss among Noom app users: (percent of body weight)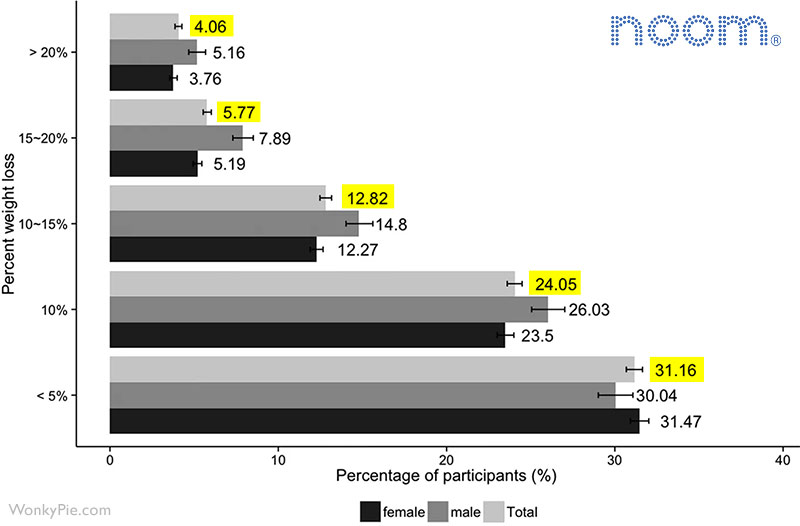 Breakdown of weight loss in 77.9% Success Rate:
31.16% of people lost < 5%
24.05% of people lost 10%
12.82% of people lost 10-15%
5.77% of people lost 15-20%
4.06% of people lost > 20%
As you can see, men generally lost more weight with Noom, likely due to starting at a higher weight and BMI. Even more important than total weight loss is that the study showed that weight loss with Noom is usually sustainable.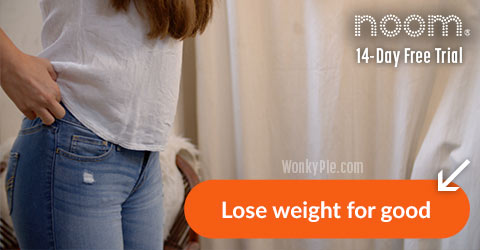 ---
Noom Weight Loss: (No Yo-Yo!)
The study compared Noom to a traditional restrictive diet in which the participants were asked to simply reduce calories. While the restrictive diet was successful in achieving short term weight loss, the participants were likely to gain the weight back after several months; a common practice known as, "yo-yo dieting."
Here is a chart comparing weight loss results from a restrictive diet compared to Noom: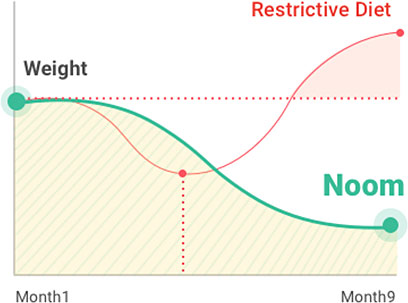 "in the present study, we demonstrated significant weight reduction in a majority of app users, and found out that the most critical factor in determining either successful weight reduction or the yo-yo effect was the input frequencies of diet, weight, and exercise.

This finding highlights the importance of recording and managing factors associated with one's daily lifestyle, which is consistent with the well-known classical concept that regular and frequent self-monitoring of weight, physical activity and calories from diet is a key factor leading to successful weight loss."
The study also found that the most important factor for successful weight loss with Noom was "dinner input frequency." This means that those who used the app to consistently track their meals (especially dinners) were most likely to successfully lose weight.
---
Conclusion of Noom Study: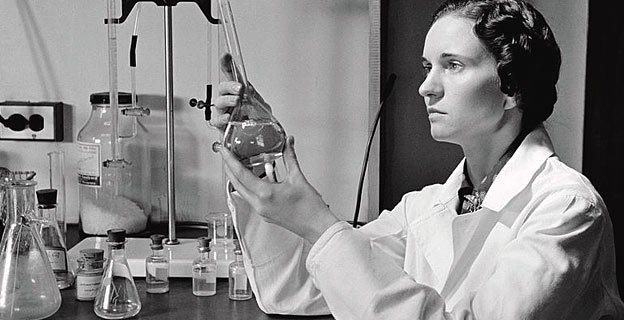 Studying a diet for long-term weight loss is inherently difficult. There are a number of variables involved in participants' lifestyles and eating habits, and comparisons to a control group are difficult.
This specific study noted that:
"Most of the previous studies on apps were usually limited by high attrition rates; those assigned to an app user group were not likely to continue to use the app if their weight reduction was not satisfactory during the early study period."
However, the study also concluded that SmartPhone apps such as Noom and WW are a superior way to follow a weight loss or wellness plan due to their ubiquity and convenience:
"Apps enable better adherence than do paper diaries, (source) making smartphone apps an appealing alternative for cognitive and behavioral treatment on obesity and overweight, which would be able to overcome some of the limitations of classical weight-loss programs"
Also, diets that impose restrictions seem to falter long-term as users begin to have cravings for foods that are off-limits. Noom does not have restrictions but aims to educate users with a list of foods color-coded for calorie density. The Noom study itself is a bit of a slog to read through, but you can read it in its entirety here.
---
More Noom Studies:
Most Noom studies do not publish a success rate. Here are a number of them from respected sources:
The Most Popular Smartphone Apps for Weight Loss: A Quality Assessment – JMIR Mhealth Uhealth, 2015 View
Adherence as a predictor of weight loss in a commonly used smartphone application – Obesity Research & Clinical Practice, 2016 View
Weight loss efficacy of a novel mobile Diabetes Prevention Program delivery platform with human coaching: British Medical Journal, 2016 View
Successful weight reduction and maintenance by using a smartphone application in those overweight and obesity
More published studies posted on Noom.com
---
Will Noom Actually Work for You?
While this comprehensive study of Noom users is a helpful tool, remember that no study can predict whether a diet or wellness program like Noom will work for you. That's because everyone has different personalities, health, lifestyles, and weight loss goals. So, while it's encouraging to see that the study concluded with a high success rate for Noom, you should consider reviews, testimonials, and cost and then ask, "will Noom work for me?"
If you are interested in trying Noom, they offer a free 14-day trial: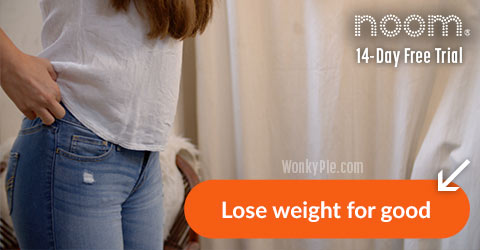 Thanks for stopping by Wonky Pie!
*Related: We have Coupons for Noom, WW (Weight Watchers), and Nutrisystem!