Weight Watchers has been a heavyweight (or, maybe "lightweight?") champion in the commercial diet space since the 1960s. However, all champions must defend their title from hungry challengers looking to make a name for themselves.
While WW has fought off most of these adversaries to retain their "Best Weight Loss" title, a young contender, Noom, now threatens to end the seasoned champion's reign.
Both of these weight loss programs are highly rated and popular with users. That's probably because they aren't restrictive, and neither program promises a quick fix for weight loss.
So, if you find yourself on this page, you're probably trying to decide between joining WW (Weight Watchers Reimagined) or Noom. Which diet is better for your lifestyle and weight loss goals? Let's compare Noom and Weight Watchers head-to-head to decide! (Ding, ding, ding!)
Noom vs. WW: Food & Tracking | Support | Behavioral Change | Compare Cost | Ratings | Which is Better?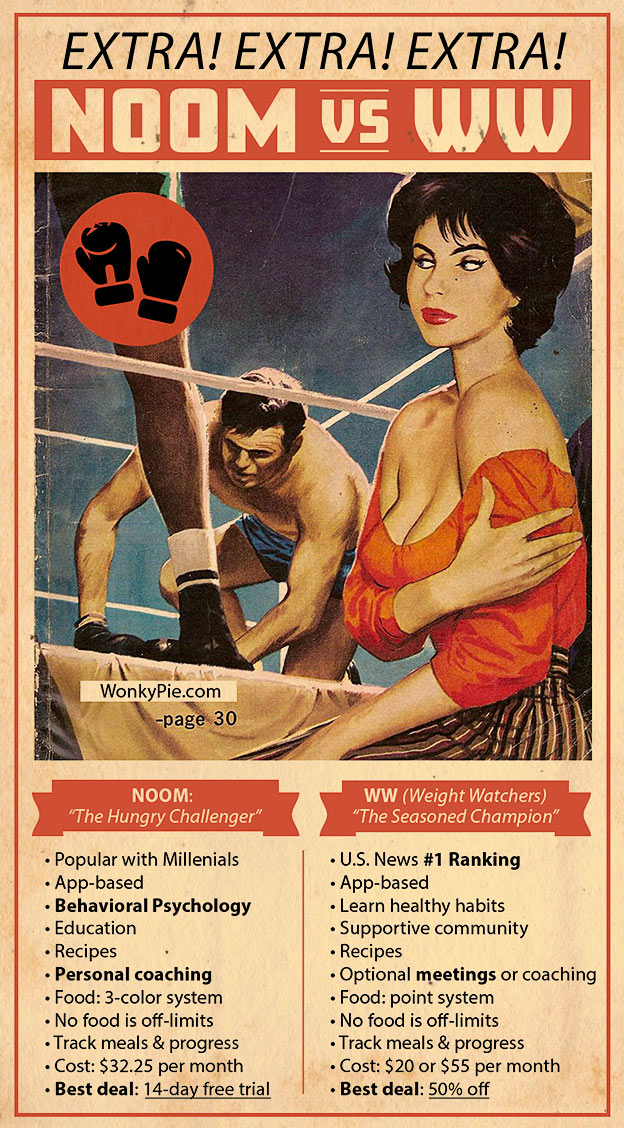 *Noom free trial | WW (Weight Watchers) 50% Off
---
About WW (Weight Watchers)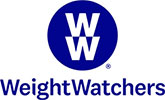 WW (Weight Watchers Reimagined) has seen countless fad diets come and go over the decades. While others have chased fast weight loss results by eating like cavemen or babies, Weight Watchers has stuck to their simple weight loss program based on counting points for sustainable weight loss.
WW's current program is called, "myWW+" (review) which replaces the former "FreeStyle" program. WW says that with myWW+ you can, "Eat what you love and still lose weight," because no foods are forbidden. With MyWW+, you're given a budget of "Smart Points" to spend each day on food. Healthy foods are "cheap," while unhealthy foods will cost you a lot more points.
You'll track all of your meals on their app, which also has a supportive community of people called, "Connect," as well as thousands of healthy recipes and resources. They also offer optional meetings (WW Workshops) and Personal Coaching for more support and accountability.
While Weight Watchers has changed and evolved over the years, but the mission of their program has remained the same: encouraging healthy eating habits that result in sustainable weight loss, and last a lifetime.

However, the times, they are a changin' in the diet industry, and now wellness is all the rage. In fact, Weight Watchers recently changed their name to "WW" to move from being a "diet" to a "wellness program."
*Fun Fact: By shortening their name to "WW", Weight Watchers doubled the number of syllables!
Does this mean that WW is no longer your best weight loss option? Let's look at the leader of these new, young challengers, Noom, to decide:
---
About Noom

Noom has been called, "Weight Watchers for Millennials," but don't call it a "diet," as it's actually more than just that. To Noom, weight loss is really just a positive side-effect of living a healthier lifestyle. That's why they greet visitors to their website with the message, "Stop dieting, get lifelong results."
Apparently they are onto something because they were one of the most-searched-for diets according to Google last year. So, what makes Noom so special and effective?
Noom recognizes that most diets fail long-term because they don't address why you are overweight, or attempt to teach meaningful behavioral change.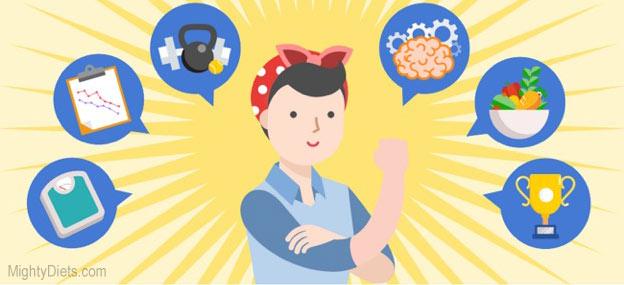 Noom's program was developed by behavioral psychologists who recognize this crucial psychological component of weight loss. Noom helps you identify and break through the barriers that have kept you from reaching your weight loss goals in the past. They know that sustainable weight loss involves much more than just changing the food that you eat.
Example: a person looking to drop 20 pounds on the Keto diet by cutting carbs might succeed short-term, but will likely gain the weight back because they never really learned anything about food or themselves while on the diet!
Research says that when you go it alone on a DIY diet, you're likely to fail. That's why Noom customizes their program to your needs and makes personal coaching and group support (from humans!) key components of their program.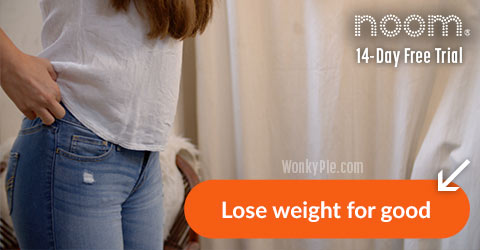 *Learn more about Noom in our review. (We tried it!)
So, which one of these two app-based weight loss programs is best for you? That really depends on your unique personality and weight loss goals. Here's a comparison of Noom versus Weight Watchers in 5 key areas:
---
1. Noom vs. WW: Food & Tracking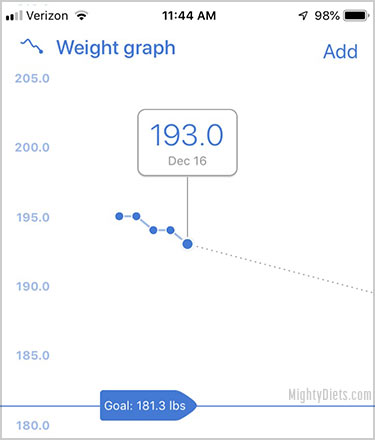 Many diets fail because they are too restricting, but both Weight Watchers and Noom can boast that no foods are forbidden on their program. They also don't simply count calories as a way to value food.
Consider that a piece of cake and a bowl of blueberries have a similar number of calories, and you'll understand why calories can differ greatly. The goal of both programs is to educate you on making healthy choices by making you understand what you are eating. Here's how:
WW (Weight Watchers) accomplishes this with a point system. Every food is assigned a point value, and you are assigned to a Green, Blue, or Purple plan and given a budget of points to spend each day. In fact, with myWW+ (and FreeStyle) there are 200+ zero-point foods that are "free" under the new point system. This means that you can eat healthy foods like seafood, eggs, and veggies without spending any of your points. By understanding the "cost" of food, you'll learn which ones are good choices for your budget.
Noom assigns all foods a color value based mostly on calorie density: green is good, red is bad, and yellow is in-between. Essentially, less-dense foods are healthier and make you feel full faster. To illustrate this point, consider grapes and raisins. One cup of grapes has only 65 calories, while a cup of (dense) raisins has about 500 calories! You can guess which one is a healthier snack choice!
Tip: Currently there are a number of great WW recipe blogs out there, as well as point lists and point calculators for quick reference. Noom is still young, and doesn't have as many online resources and bloggers yet.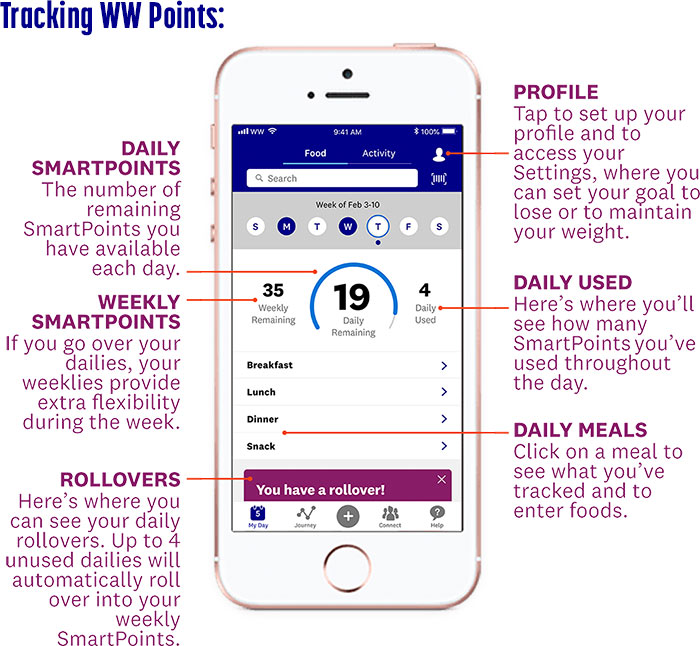 Both WW (Weight Watchers) and Noom ask you to track your meals each day on their easy-to-use apps, and they calculate your points, calories, and progress in real-time. Users who diligently track their meals each day are more likely to reach their weight loss goals.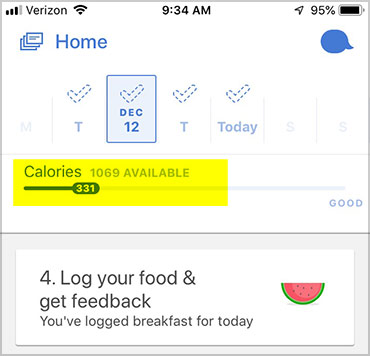 Both Noom and WW are great for tracking food and progress, so this round is a draw!
Scorecard: WW: 1, Noom: 1
---
2. Noom Vs. WW: Support & Accountability
Studies have proved that "going it alone" is really difficult, and often ends in failure. Support and accountability are crucial components for sustainable weight loss, and both WW and Noom value them highly:
WW (Weight Watchers) has a vibrant community of users called, "WW Connect," that you can easily access through the app. This is great for making connections with people who are going through the same challenges and struggles that you are. It's also a great place to share weight loss progress, photos, recipes, and more. For more support, consider adding meetings (WW Workshops) for an additional cost. These meetings have been shown to greatly increase the success rate, but don't work for many people's schedules. You can also consider Personal Coaching for personalized support and guidance, but it still seems like WW is refining their coaching option.
Noom no longer offers a free version because they believe personal coaching and social support are crucial to the success of their program. Your trained personal coach will check in with you frequently to make sure you stay on track. They are a great resource if you are having issues or questions, and act as a sherpa on your weight loss journey.
While Weight Watchers revolutionized weight loss decades ago, but Noom seems to be the one disrupting the status quo these days. Their ability to offer all users personal coaching (from 1000+ real humans) and support from nutritionists and psychologists at a fair price has other big names in the industry scrambling to play catch-up!
While WW meetings greatly increase success rates, Noom coaching puts personal support and guidance in the palm of your hand. Point Noom.
Scorecard: WW:1, Noom:2
*Related: WW vs. Keto, Which Diet is (Much!) Better?
---
3. Noom vs. Weight Watchers: Behavioral Change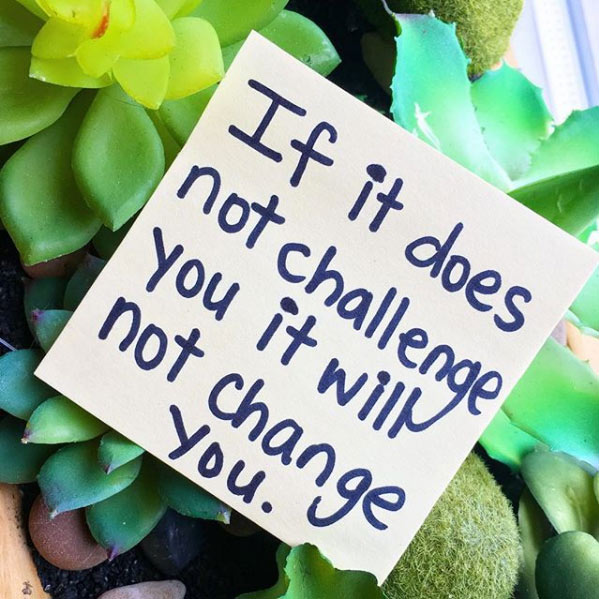 Noom and WW know that behavioral change is a key component in sustainable weight loss. It's also a significant reason why diets like South Beach Diet, Nutrisystem, and even Keto struggle with long-term weight loss results. Sure, you can drop 20 pounds quickly with other diets, but what's the long-term plan?
If you lost that weight by cutting all carbs, taking diet pills, or eating bacon instead of veggies, you may as well put the welcome-mat out for those lost pounds, because they're coming back soon!
While both WW and Noom tout the importance of behavioral change for sustainable weight loss, this is an area where Noom really excels:
WW (Weight Watchers) uses their point system to promote healthy eating without restrictions, which can cause cravings. By following the point system and tracking foods, you should better understand the value of foods, and your daily points budget keeps you on track. Even after quitting WW, your superior understanding of food should keep you making healthier food choices.
Noom believes that losing weight is largely psychological. Their program works to identify and address the barriers that may be keeping you from losing weight long-term. They also ask you to believe that you can reach the small, attainable goals that they set for you. Meeting these small goals is motivational, and leads you along a path to your larger goals. A better understanding of food and increased confidence creates positive behavioral change that results in a healthier lifestyle. Oh, and weight loss, of course!
As we mentioned, Noom was designed by behavioral psychologists. Their focus on the important psychological component of obesity and weight loss has led to a revolution in the entire diet wellness industry. They also nudge you towards their many educational offerings which help you learn more about food and wellness.
If you believe that weight loss requires true behavioral change, then Noom is the winner in this round.
Scorecard: WW: 1, Noom: 3
---
4. Noom or WW: Better Weight Loss Results?
Both Noom and WW have been shown to be effective for weight loss. Thousands of user reviews online and in the App Store confirm that a large majority of users successfully lose weight on these programs.
The goal of both Noom and WW is to lose a sustainable 1-2 pounds per week on the way to your weight loss goal. Both diets consider long-term weight loss the most important measure of success, so don't look for them to throw wild punches (like the fad diets) for fast weight-loss.
If you are looking to compare success rates, also consider these studies:
A recent Noom study concluded that 78% of users lost weight using the app, with an even higher success rate for those who tracked meals regularly
Studies show that WW is 8 times more effective for eight loss than a DIY approach, and 3 times more effective than professionally delivered weight loss programs
While Noom seems to always be trending on social media, consider that WW (Weight Watchers) is consistently rated as the "Best Weight Loss Diet" by U.S. News, and has a track-record of 50+ years of success. When it comes to which diet is better for weight loss, WW edges out Noom on the judges scorecard.
Scorecard: WW: 2, Noom: 3
---
5. WW vs. Noom: Cost?
Most people who sign up for WW choose their Digital plan, which costs only $20 per month. This is cheaper than Noom, which costs about $35 per month. But, wait!
It's important to note that WW Digital (Online) does not include any personal coaching or meetings, and that extra support and guidance may be the difference between long-term success and failure. WW plans that do include this additional support actually cost more than Noom, at about $50+ per month.
In conclusion, Weight Watchers (WW) online-only is cheaper than Noom if you choose online-only" (Digital). However, most people don't do well with DIY diets. So, when we make the better comparison of WW with Personal Coaching versus Noom, surprisingly Noom costs less!
We should also consider that most of the cost of being on any diet is in the food you choose to buy. Because the average adult spends $300+ per month on food, the $15 monthly difference of Noom vs. WW with coaching isn't very significant.
That means when it comes to the cost of Noom and WW, it's a draw:
Scorecard: WW: 3, Noom: 4
---
6. Noom vs. Weight Watchers Ratings:
It's a bit hard to compare expert ratings for Noom and WW because a lot of them don't rate Noom, who is still pretty new on the scene. For example, U.S. news recently declared WW the best weight loss diet, but Noom was not evaluated.
Perhaps the best way to compare the two app-based weight loss programs is to look at their ratings on the App Store: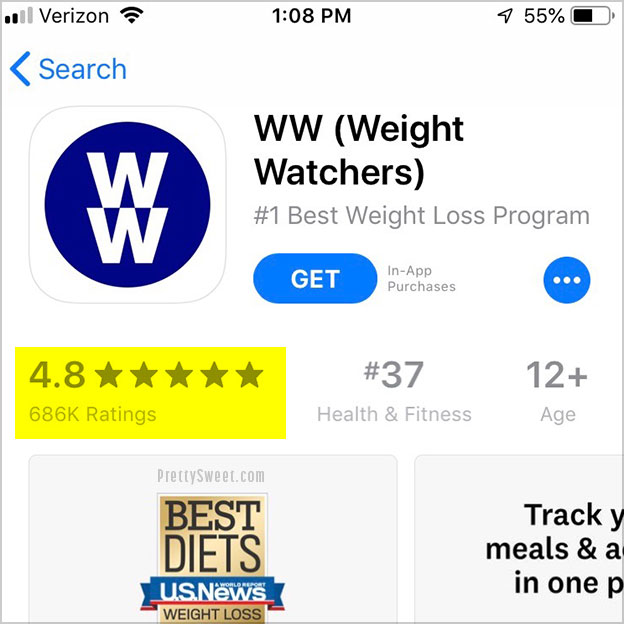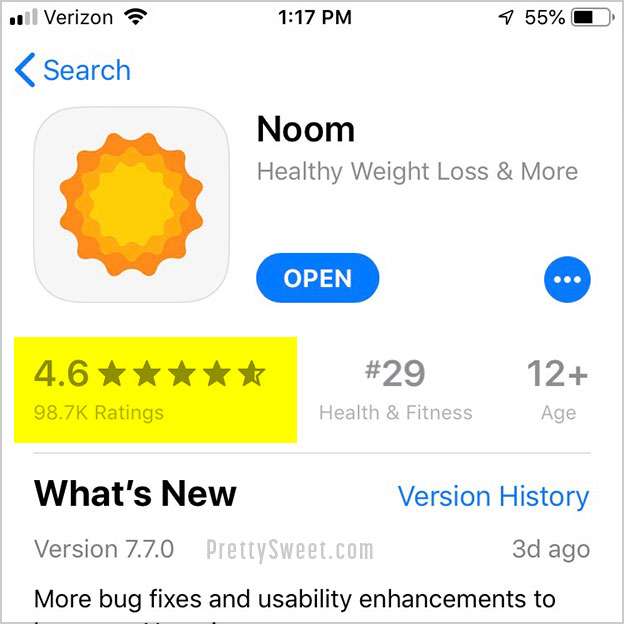 As you can see, both apps are very highly rated based on the average user ratings from tens of thousands of customer reviews. However, WW does score slightly higher with a 4.8 rating versus Noom's 4.6.
That means the round narrowly goes to WW.
Scorecard: WW: 4, Noom: 4
*Related: Noom vs Keto: Why Noom is Better!
---
Ding, Ding, Ding… It's a Draw!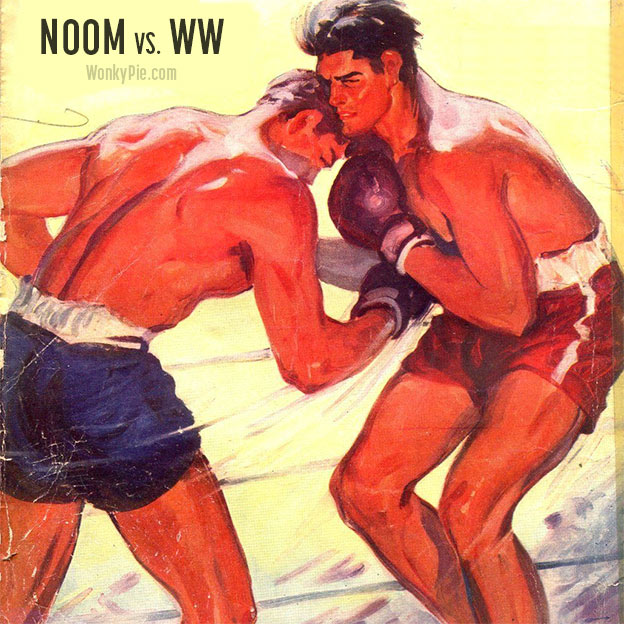 We looked forward to trying out both WW (Weight Watchers) and Noom to write this article. That's because it's a comparison of two of the best weight loss programs that you can choose between. While no single diet or wellness app will work for everyone, WW and Noom are both rated highly, and we're happy to recommend both of them.
Even so, you may prefer one over the other depending on your unique personality and weight loss goals. In comparing WW and Noom, consider the following:
Noom's focus on the psychological component of weight loss is nothing less than revolutionary, and their success has changed the diet wellness industry
Weight Watchers offers a DIY plan that may work well for independent spirits, plus meetings for those who do better with face-to-face communication and support
Noom employs over 1000 professionals including trained coaches, nutritionists, dietitians, and psychologists to offer members personal support
Noom and Weight Watchers have no menu restrictions, but regular unhealthy choices are discouraged and will limit your progress.
The Weight Watchers and Noom apps are both simple to use for tracking and access to resources like recipes, progress charts, and support.
Both Weight Watchers and Noom take a holistic approach to weight loss, preferring to focus on overall wellness than a race to lose weight quickly
As you can see, there are good arguments for both WW and Noom, so we can't declare an outright winner. However, we can say that Noom seems to click better with the Millennial generation, and those who value the personal guidance of a coach on their wellness journey.
Of course, WW has been a favorite diet for decades. Also, if you're among the thousands of men and women will value local human interaction, there's no substitute for WW's option to meet in person at WW Workshops.
Tip: If you do consider joining WW or Noom, be sure to get the best price by using our exclusive coupons:
If you have tried both WW and Noom, please let us know by telling us which you think worked better comment below.
Thanks for stopping by Wonky Pie!