Basic is Nutrisystem's least-expensive plan option, but it also rated the lowest in customer reviews compared to their other, more expensive plans like Uniquely Yours. That's basically because the Basic Plan has a limited menu that does not include frozen meals.
So, while the Nutrisystem Basic plan might fit your budget, is it the best plan for your weight loss goals and lifestyle?

Here's what the Basic Plan includes plus what customers say in reviews.
Basic Plan: About | Meals | Reviews | Coupons
---
Basic Plan Features: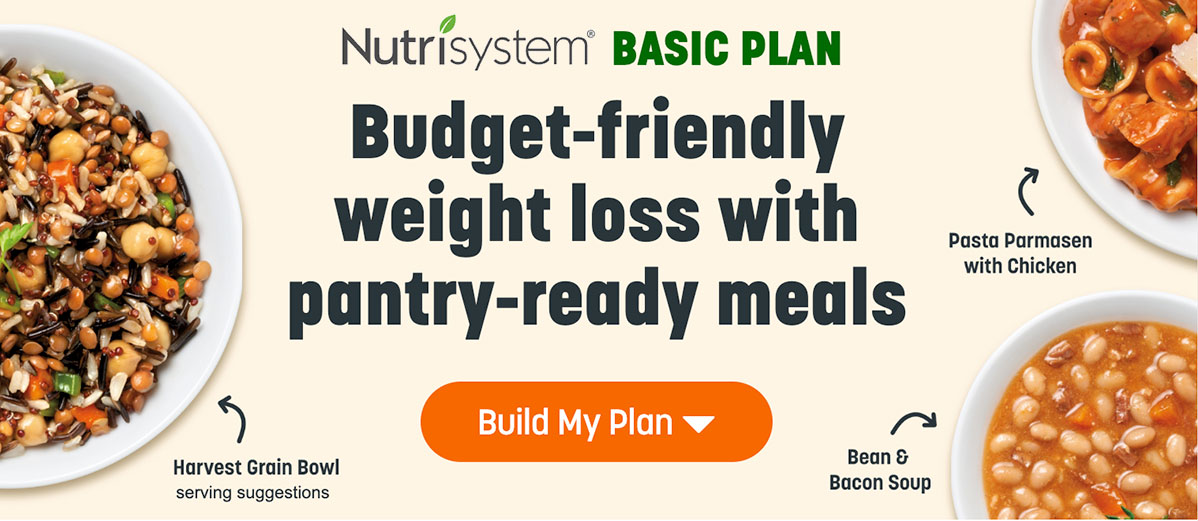 Pre-packaged meals: The Nutrisystem Basic Plan includes pre-packaged meals that are portion-controlled and designed to help individuals lose weight. These meals are delivered right to your doorstep, making it easy and convenient to stick to your weight loss goals.
Customizable meal plans: While the pre-packaged meals are a core feature of the Nutrisystem Basic Plan, customers can also customize their meal plans to suit their tastes and preferences. This includes the ability to swap out meals or add your own healthy snacks.
Online tools and resources: Nutrisystem provides a range of online tools and resources to help support your weight loss journey. This includes a mobile app called, Numi, to track meals and exercise, a weight loss tracker, and access to a community of other Nutrisystem customers.
Limited menu options: The Nutrisystem Basic Plan offers about 100 total menu items to choose from, including diabetic-friendly options. This limited variety may reduce the chance that you'll stick to the program long-term.
A structured approach to weight loss: The Nutrisystem Basic Plan provides women and men a structured approach to weight loss, eliminating the need for meal planning and preparation central to diets like WW and Noom. This can be particularly beneficial for individuals with busy schedules or those who struggle with portion control.
Now, let's look at the most important consideration when considering the Nutrisystem Basic Plan, which is the meals and menu.
---
Nutrisystem Basic Plan Meals, Menu: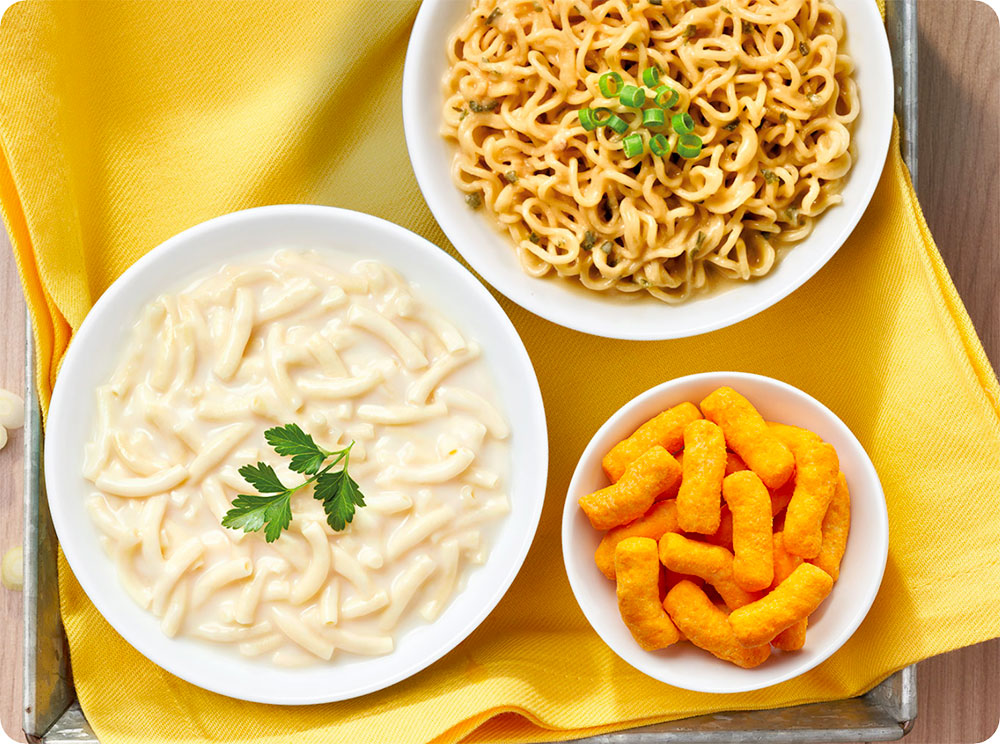 The Basic Plan includes most of your weekly meals consisting of pre-packaged meals and snacks. You'll also need to add your own healthy groceries plus meals 2 days a week.
Nutrisystem describes the Basic Plan as, "Budget-friendly weight loss with pantry-ready meals." That means with the Basic Plan you get no frozen meals, and all the meals and snacks included are "ready-to-go" foods.
Here's how Nutrisystem describes these ready-to-go meals:
"Pantry-perfect meals and snacks are our non-frozen menu items. They're prepared and packaged using a "soft-canning" method, which seals in nutrition and flavor. That way, you get fresh-tasting foods that don't require refrigeration, and are ready to go whenever you are!"

Nutrisystem.com
The Nutrisystem Basic menu includes meals such as:
White cheddar mac and cheese
Ravioli with meat sauce
Classic tuna salad
Santa Fe-style chicken
Hearty beef stew
Lots of snacks
Tip: In looking at the Nutrisystem dinner menu, you'll notice that the 10 top-rated meals are frozen, and not included in Basic.
Yikes! While all plans include ready-to-go meals, we can deduce from reviews and ratings that customers prefer the inclusion of frozen meals. It's important to know that the absence of frozen foods is the biggest negative aspect of the Basic plan.
*Related: Nutrisystem for $199?
---
Nutrisystem Basic Reviews:
Nutrisystem has thousands of verified customer reviews on their site here. This is a helpful way to read specifically what customers like and dislike about the program. However, the reviews are not sortable by plan, so it's hard to tell which plan the review and rating apply to.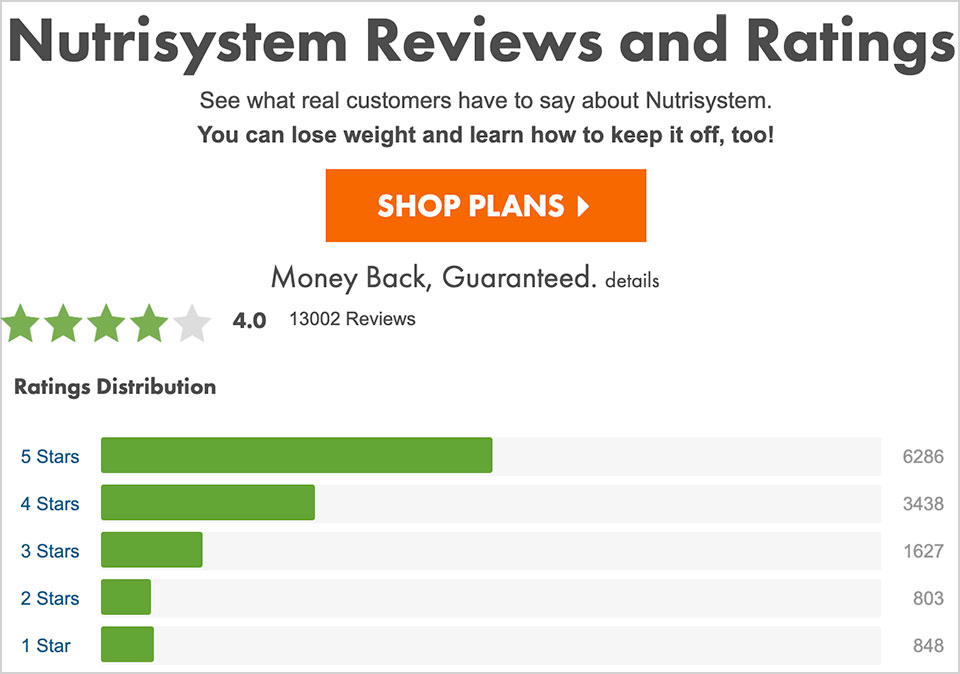 Even so, we can infer that a lot of the bad reviews and complaints about the food and limited menu are directed to the Basic Plan, which has historically been their lowest-rated plan.
You'll also notice that on Nutrisystem's menu, the highest-rated foods are frozen, and therefore not included in the Basic Plan. Example: https://www.nutrisystem.com/menu/lunch
---
Conclusion: Basically, Basic Is Kind of Bad
Overall, the Nutrisystem Basic Plan is a structured weight loss program that provides pre-packaged, portion-controlled meals and snacks to help individuals achieve their weight loss goals. Basic offers a range of "ready-to-go" meal options, customizable meal plans, and access to online tools and resources. However, Basic may not be suitable for everyone due to its cost and limited menu options.
Think of Nutrisystem as a 3-day trip to Disneyland. Choosing the best hotel and VIP tour is going to be expensive, but you'll be close to the park and comfortable in your room. Essentially you're paying more to increase the odds that you have a great experience.
If the Uniquely Yours max+ plan is the Hampton Inn, then The Basic Plan is that cheap hotel down the road with fluorescent lighting, a room-view of the parking lot, and people arguing in foreign languages.
Personally, the lack of frozen foods bothers me, so I would not recommend Basic. Instead, I'd consider spending the $2 or so more per day to really give the Nutrisystem program a chance.
Tip: If you're into saving money, consider using a coupon and paying for 2 months upfront to get lower monthly pricing.

Thanks for reading our Nutrisystem Basic review, and if you have a review of the plan, drop us a line in the comments below.
Thanks for visiting Wonky Pie!