Favorite Nutrisystem diet before and after photos: When you are thinking of starting a diet, it can be inspiring to see before and after pictures of people who have met their weight loss goals.
Well, you're in luck because we've put together some great before and after photos of men and women who have lost significant weight with Nutrisystem. (Read review)
I encourage you to not only look at the pics but also read their comments, as weight loss is just part of a larger transformation. The biggest benefits of living a healthier lifestyle include increased self-confidence, more energy, and overall enjoyment of life.
"When I let go of who I am, I become what I might be." – Lao Tzu
Here are some of our favorite Nutrisystem before and after pics: with a few motivational quotes thrown in. (If you're thinking of joining, be sure to check out today's best coupons here!)
---
Rachel Before and After Nutrisystem: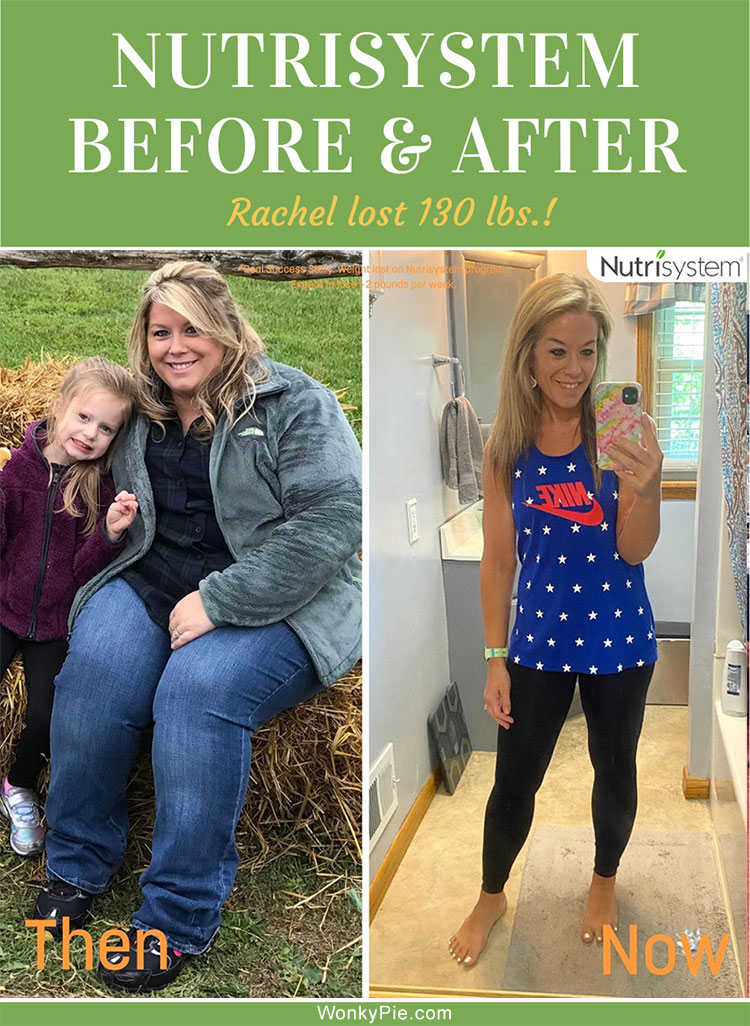 Rachel S. lost 130 pounds with Nutrisystem and won their "Real Success Story" contest in 2022. You also might recognize her, as she was featured on the homepage of Nutrisystem.com: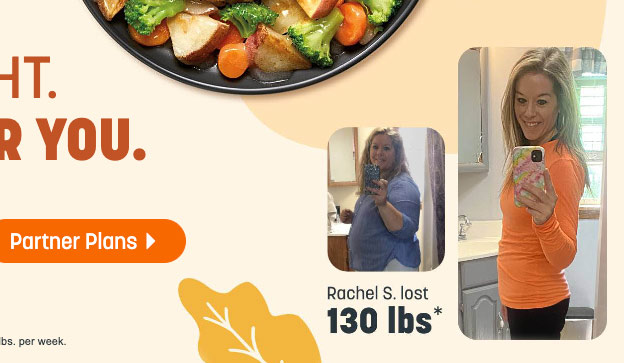 ---
Before & After: Tara Lost 30 Pounds w/ Nutrisystem!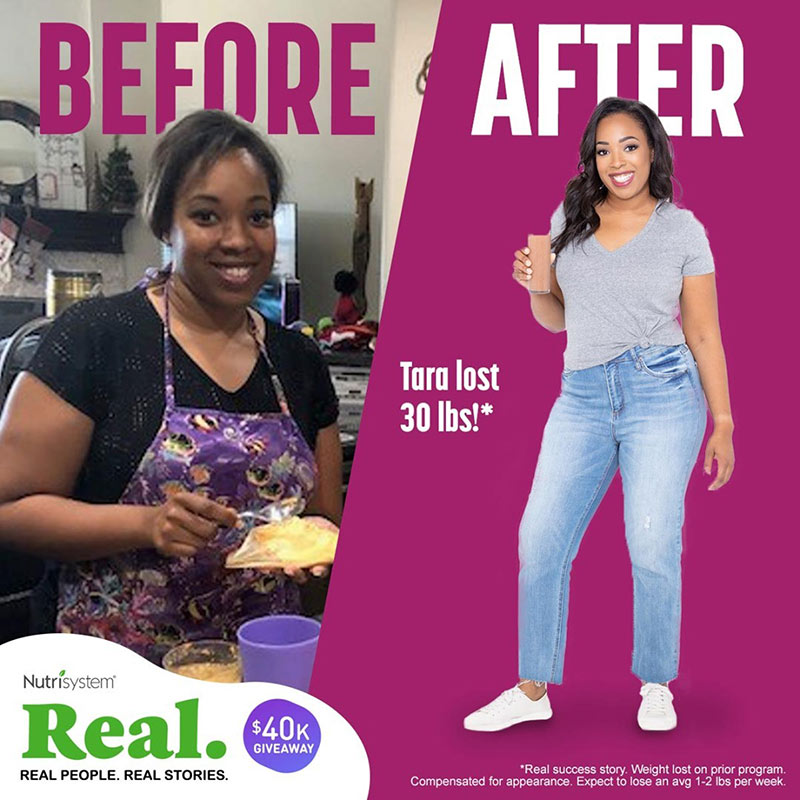 ---
Lisa Lost 100+ Pounds!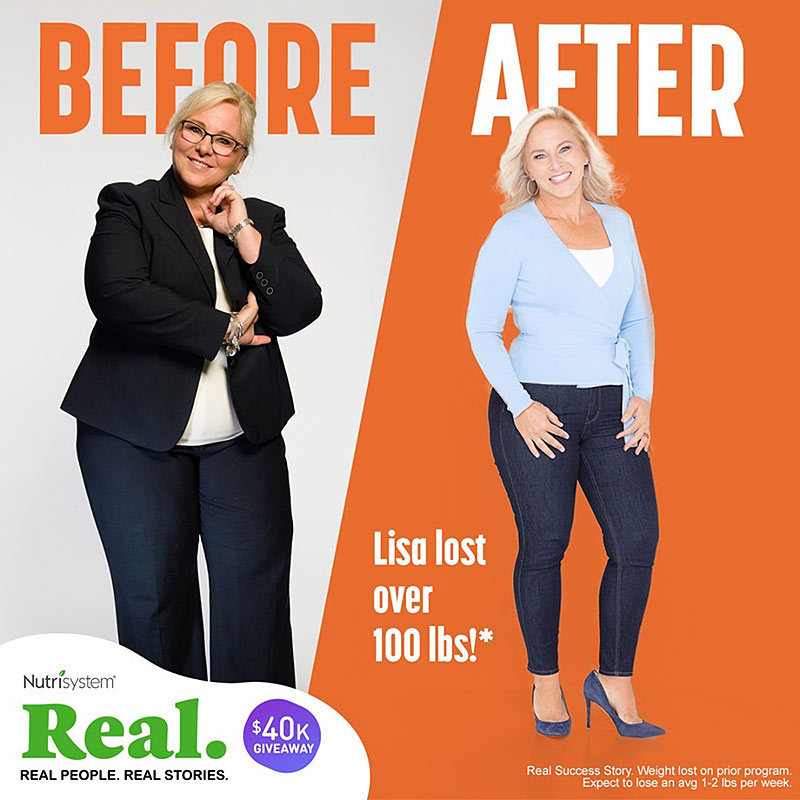 ---
Audrey Lost 50 lbs w/ Nutrisystem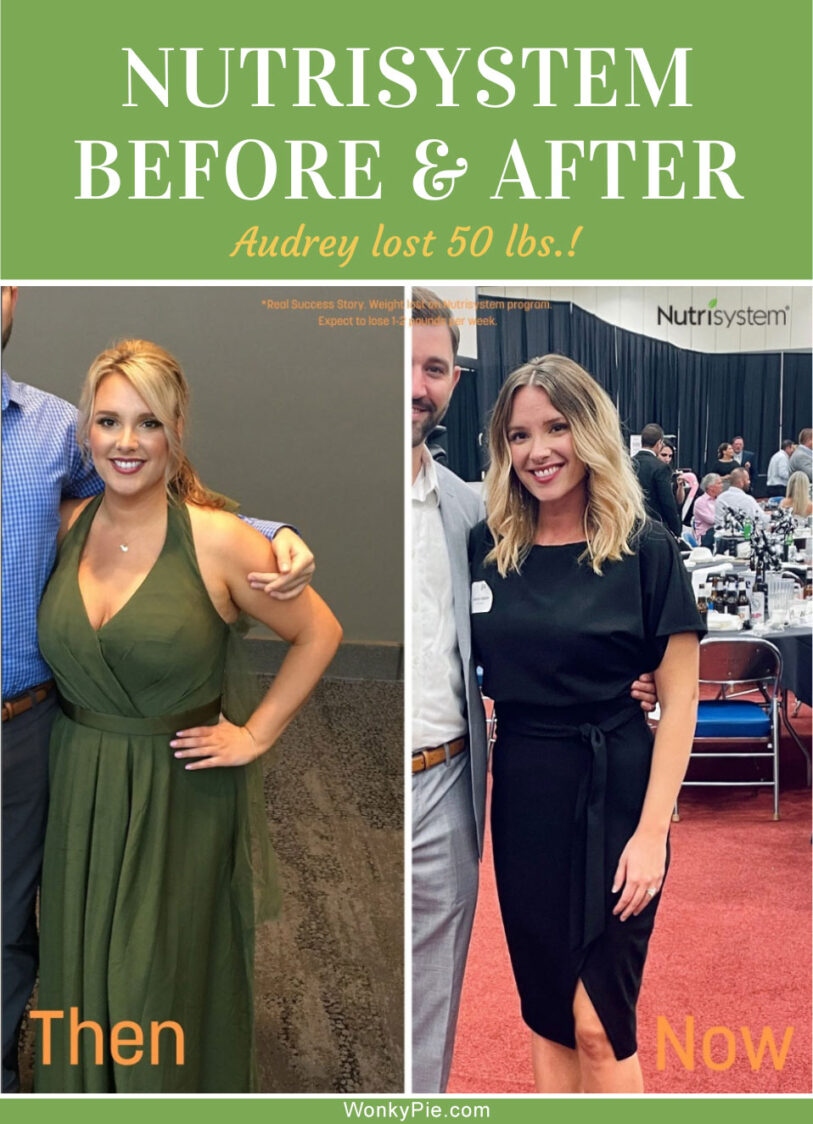 "I no longer felt comfortable in my own skin. I felt awkward and ashamed to leave the house. I was engaged at the time and I decided I didn't want to feel ashamed on my wedding day. I decided to give Nutrisystem a try to prep for my wedding and it completely changed my relationship with food. I absolutely have seen a change in myself.
I have confidence that I didn't even know was possible. I'm happier and healthier than ever and I now enjoy eating healthy and staying active." – Audrey, Nutrisystem Real Success Story Contest winner
---
Kari Lost 48 Pounds w/ Nutrisystem!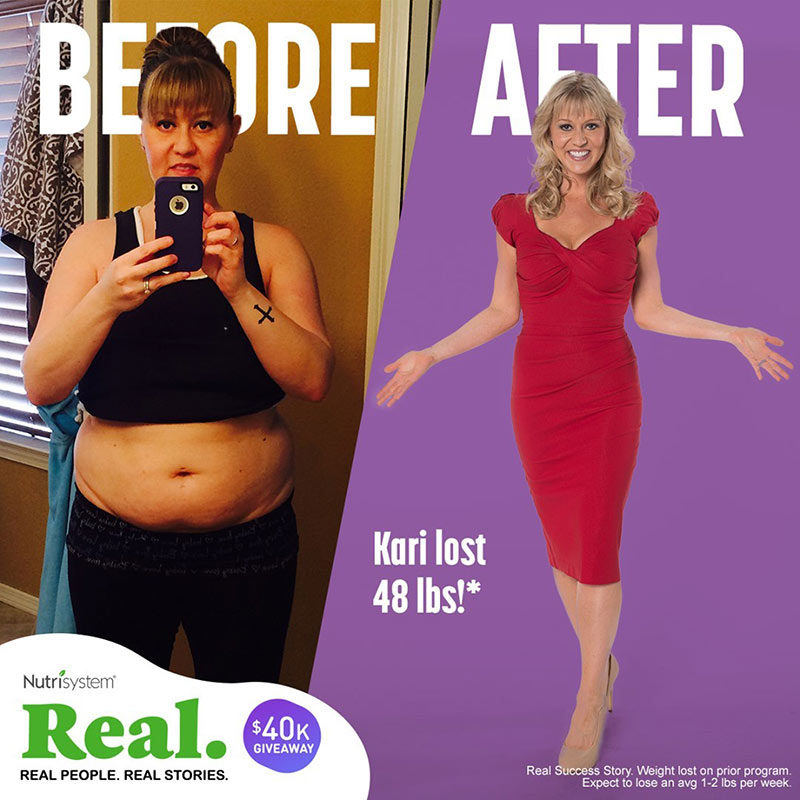 When it comes to losing weight after pregnancy, there's usually more to the story than lowering a number on the scale. For this mother, her story is much more; it's about taking what life throws at you and courageously making a positive change.
It's amazing to see weight loss results like Kari's, as she looks like a whole new person with a lot more self-confidence after Nutrisystem!
---
Ashley Lost 100+ Pounds With Nutrisystem!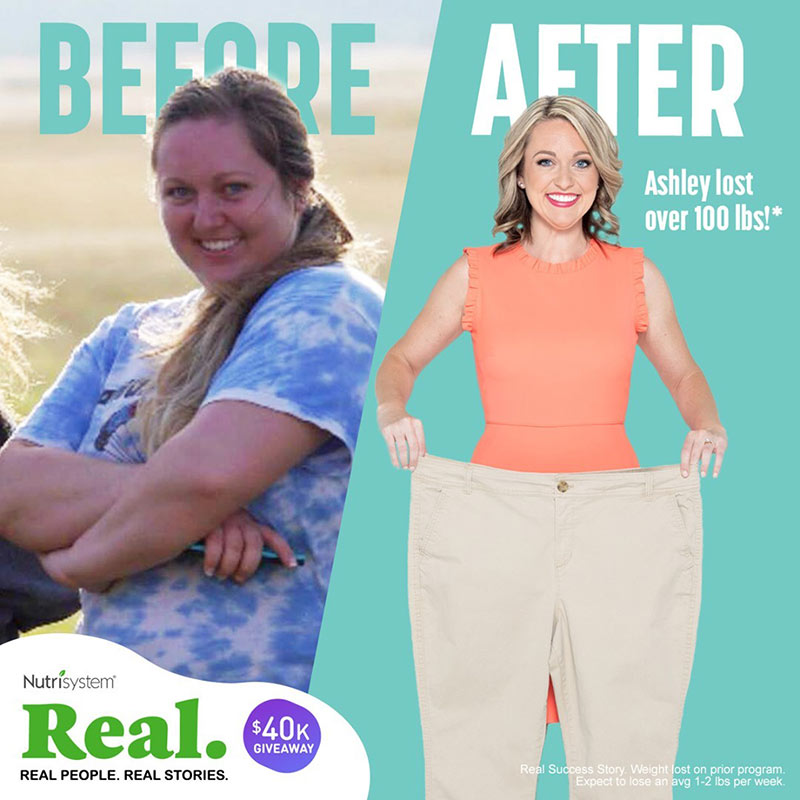 Ashley is losing weight and gaining confidence with Nutrisystem. We call that a #TransformationTuesday win!
---
Nutrisystem Before & After: Laura
---
Before & After: Marshall Lost 75 Pounds w/ Nutrisystem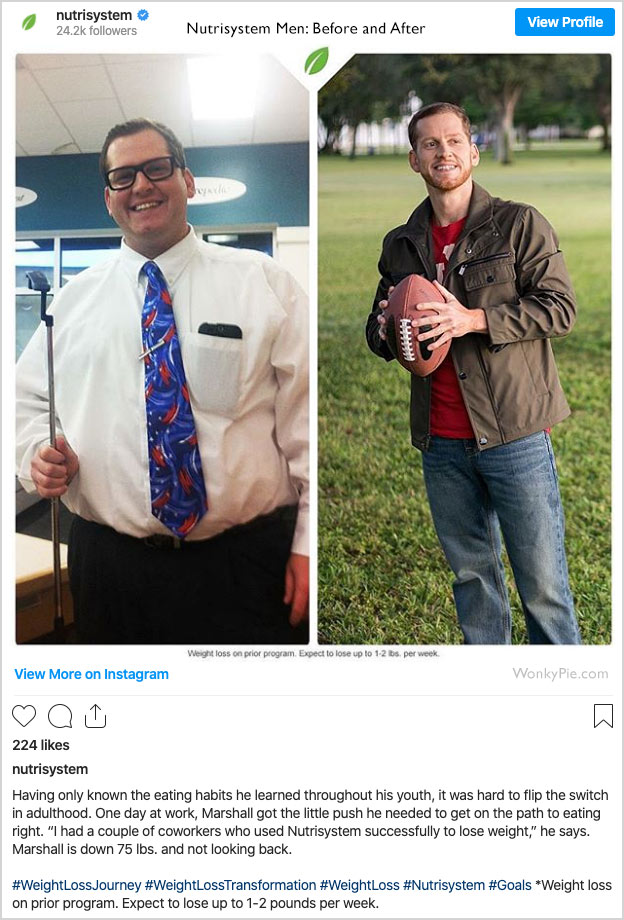 "There is no better feeling than realizing you just did today what you could not do yesterday."
---
Alexis Lost 100+ Pounds!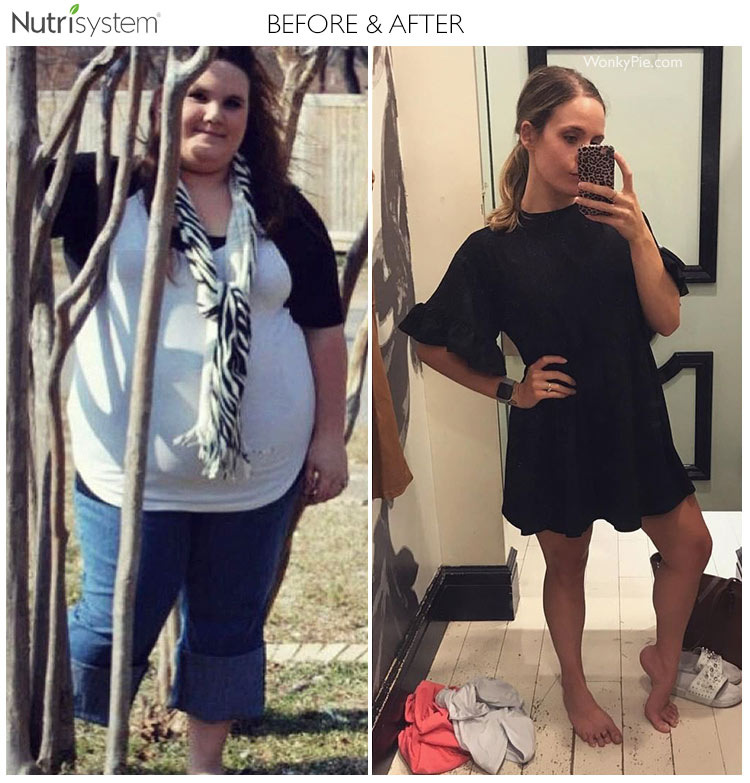 It's hard to believe that's even the same person! Alexis Freed not only looks a lot healthier, she also looks a lot happier after losing over 100 pounds with Nutrisystem!
---
Before and After Losing 30+ Pounds on Nutrisystem for 6 Months: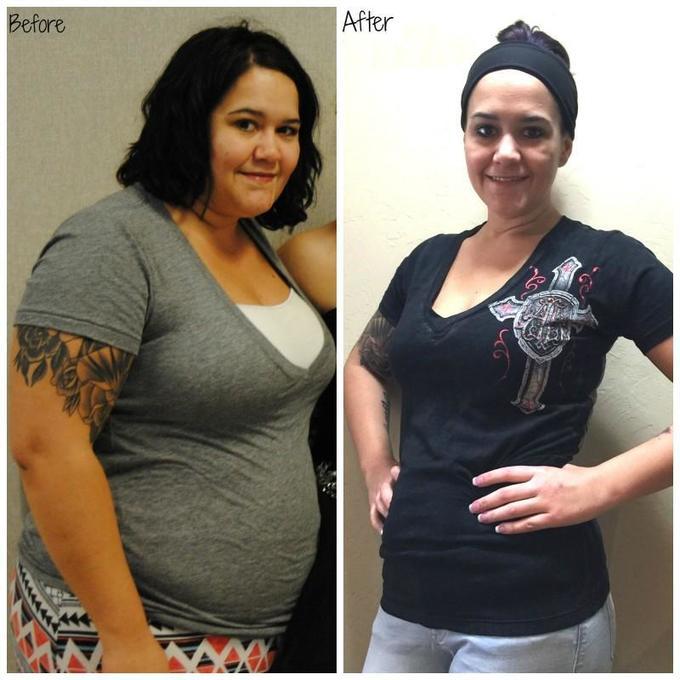 Losing 30+ pounds is more than just "weight loss." It's about better physical and mental health and the increased self-esteem and energy that comes with it!
---
Nutrisystem Before & After: Kimberly
Meet Kimberly, one of the weight loss champions who won the $40,000 NutriStar Giveaway!
The summer after she graduated college, Kimberly realized how much her weight had changed since high school along with other factors in her life. Wanting to lose weight, Kimberly noticed her coworker succeeding with Nutrisystem and decided to give the program a try herself. Cooking the right types of foods was a struggle for Kimberly throughout her life, but with the convenience of Nutrisystem's meals and snacks being provided for her, her success was inevitable.
"I didn't just gain the freshman 15 in college. It was more like the freshman, sophomore, junior and senior 15. Once I entered the real world after graduation, I knew I needed to make a change. Thanks to Nutrisystem, I have lost almost half my weight and the best part is, I never needed to worry about cooking as my meals were provided for me!"
---
Nutrisystem Transformation: Amanda Says "I'm Worth This"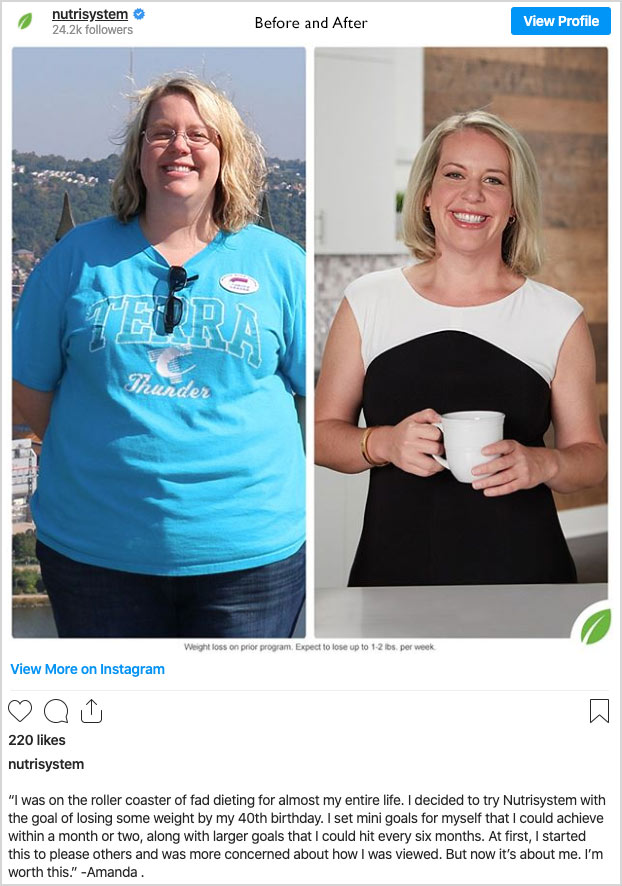 "You don't become what you want, you become what you believe." – Oprah
---
Nutrisystem Before & Afters: Mei
Mei struggled with her weight, yo-yo dieting throughout the years in an effort to get it under control. But she reached her breaking point when the scale tipped over 200 pounds. After one month on Nutrisystem, she was excited to see results. "That was all the encouragement I needed to keep going," she says. And the plan made it easy for her to stay the course. "As a dentist, I work long hours and often don't have the time or energy to cook," she admits. But with Nutrisystem, she could bring meals to work or come home to a dinner that's ready in minutes
---
Before & After: Morgan Follows Nutrisystem to Lose Baby Weight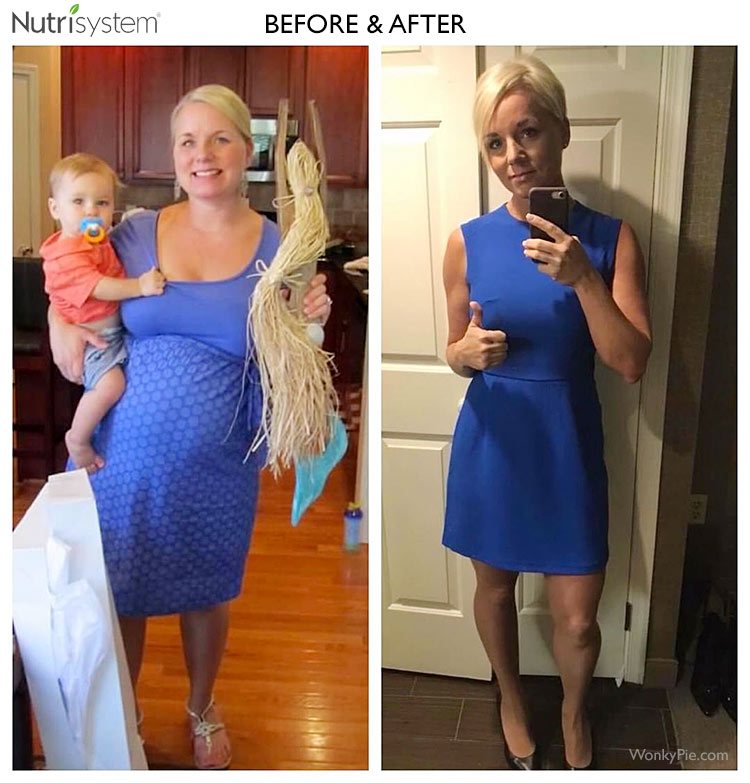 ---
Christina Lost 32 Pounds!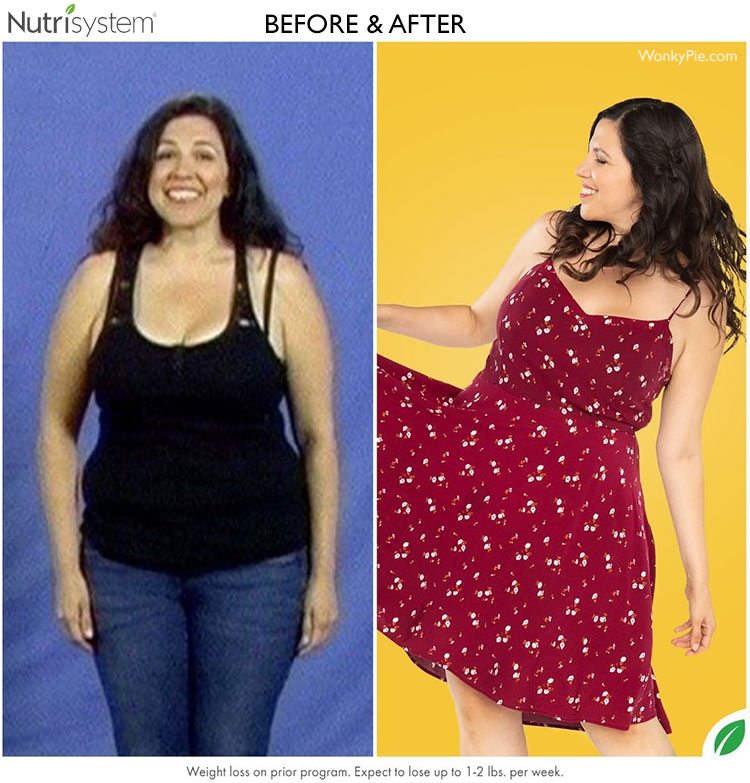 *Related: Smile Direct Club Results: 45 Before & After Photos
---
Before & After Nutrisystem for Men: Johnathan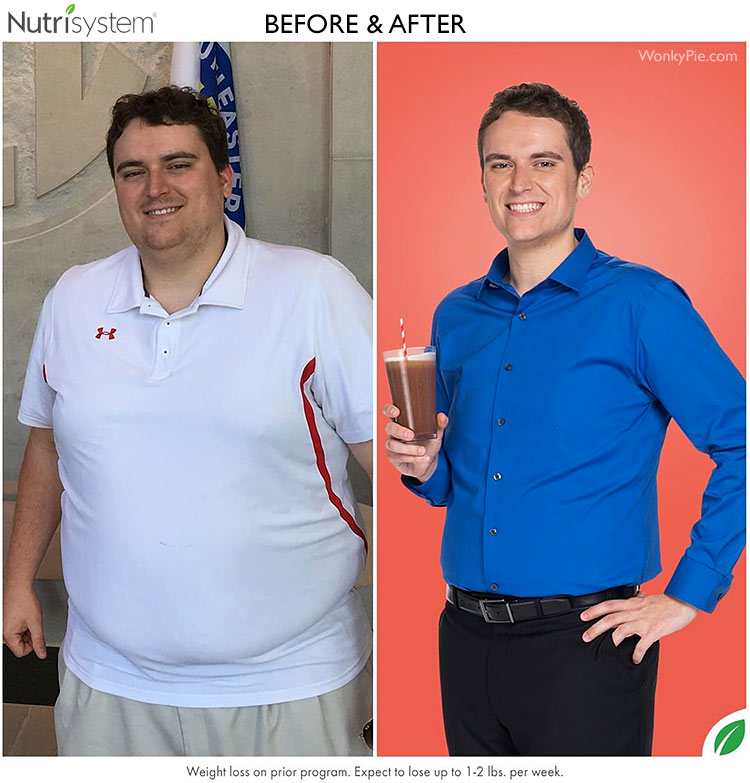 ---
Before & After Photos of Joy: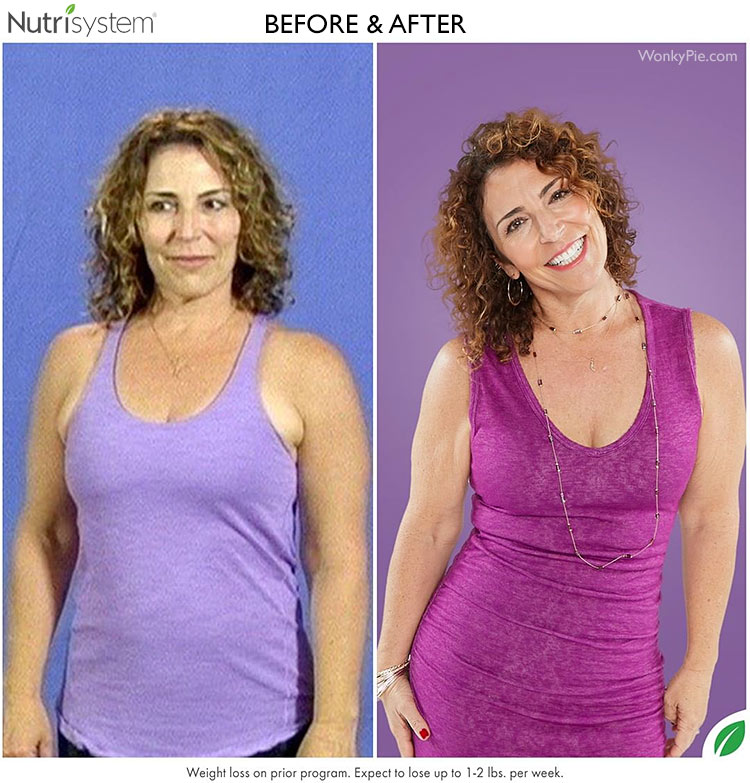 *Related: Jenny Craig Before & After Pics
---
Julie's Results After 3 Months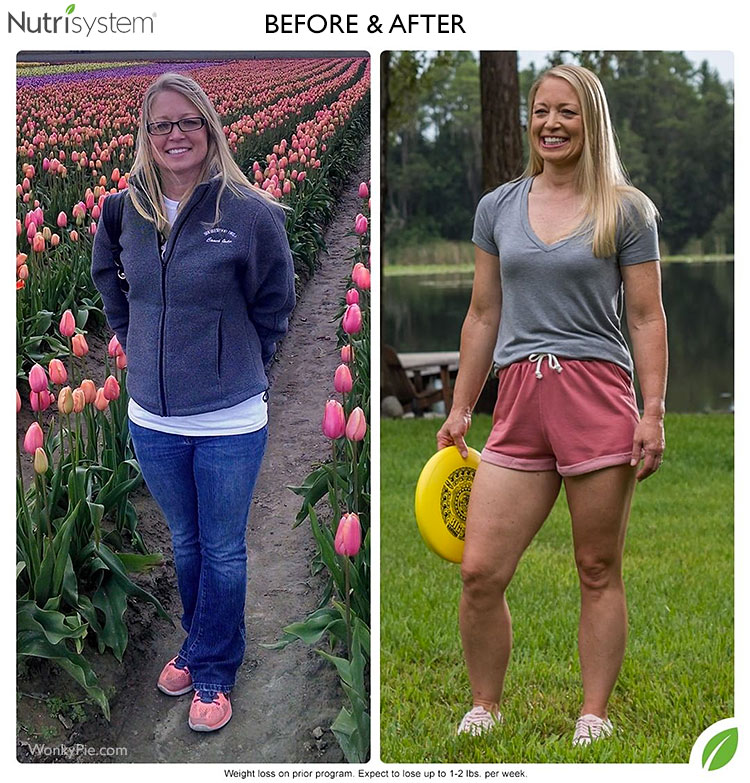 ---
Nutrisystem Before & After Photos from Steve
Why does everyone always look more tan and happy in the after photo? When asked for some weight loss advice, Steve said:
Let yourself live but don't over-indulge while you're working to reach your goals.
Stay active in a way that works for you!
Spend time on activities that don't involve food.
---
Nutrisystem Previous & After: Samantha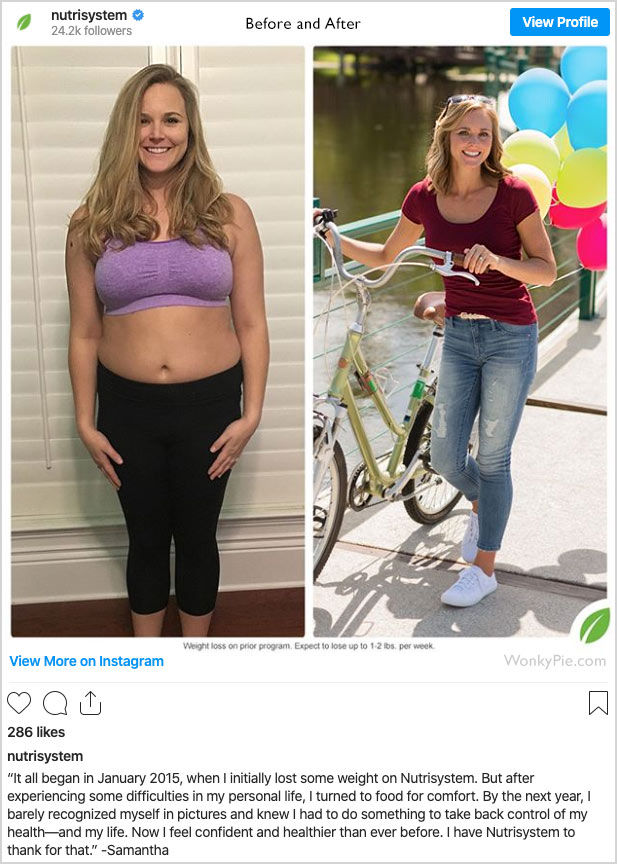 ---
Nutrisystem Before & After Pics: Erin
What do you do after you lose 110 pounds with Nutrisystem? You go to Disneyland of course! There's always time to celebrate Nutrisystem success.
*Related: Nutrisystem weight loss results after one month?
---
Before & After: Alexis Lost 140 Pounds With Nutrisystem! (Featured In People Magazine)
SURPRISE! Guess who's in People Magazine? That's right, Me! I was blessed to be chosen to share my weight loss journey, along with some other beautiful and inspirational women, who all share the same experience. We lost half our size!! Never in my wildest dreams would I have thought I would get such an amazing opportunity to share my story!
Thank you to @nutrisystem for getting me healthy and thanks to every single person that was part of this unbelievably amazing and unforgettable experience! I feel so incredibly grateful to be a part of such a wonderful way to show others what we are capable of if we just take that first step! Dreams do come true!
"By changing nothing, nothing changes." – Tony Robbins
---
Before & After: Drew Lost 35 Pounds on Nutrisystem
---
Nutrisystem Before & After Photos: Teresa
10 weight loss tips from Teresa, who lost 100+ pounds
Set a long-term goal.
Set short-term attainable goals.
Get started on an exercise routine.
Add a measure of weight lifting.
Use the Nutrisystem support system.
Get rid of old clothes that don't fit.
Surround yourself with a great support system.
Get rid of the toxic people in your life.
Embrace the new you.
Believe in yourself.
---
Nutrisystem Before & After: Angie
---
Nutrisystem Before & After:
Michelle shares 8 weight loss tips:
Compromise.
Have a bank of grab-and-go snacks.
Prep for the week.
Try to do some type of physical activity every day, and try to make it something you love!
Try to push yourself a little harder with each workout.
Control what you can.
Don't be too hard on yourself.
NEVER EVER GIVE UP!
"The beautiful journey of today can only begin when we learn to let go of yesterday." – Steve Maraboli
---
Before & After Nutrisystem: Krissy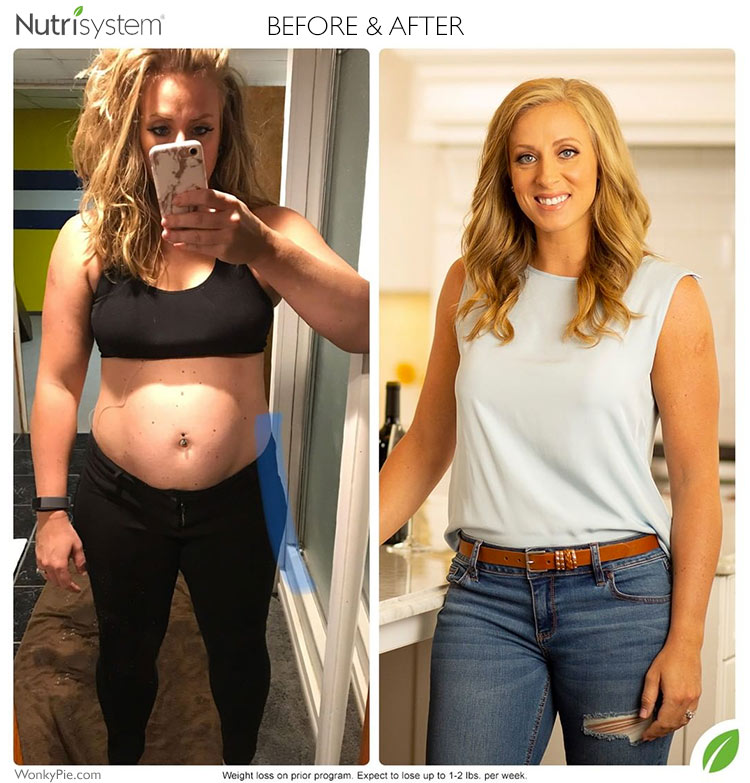 After two pregnancies, Krissy turned to Nutrisystem to lose the baby weight
---
Nutrisystem Before & After Pics from Erin
---
Before & After: 30-Pound Weight Loss
"I have always struggled with my weight. As a child, I was always one of the non-athletic "chubby" girls. As I grew older, despite my efforts to be more active, I continued to struggle. As an adult, I tried every diet you can imagine—low fat, low carb, low calorie, low-anything-you-can-think-of, weight watchers, keto, etc. During a visit with my doctor. She mentioned that she did Nutrisystem.
Seeing how it had worked for her first hand, I decided to try it myself. For the first time ever, I did not feel hungry or deprived on a diet. I was eating enough and the food was delicious. It was so easy to follow the plan and to stay on Nutrisystem because it worked. I lost 30 lbs. with Nutrisystem. Nutrisystem is the only thing that has ever worked for me because it takes the guesswork out of eating healthy.
With all of the news today on what foods are good for you and which are not, and what is super and what should be avoided at all costs, eating healthy is more confusing than it should be. With Nutrisystem, I am confident that I am eating the right foods in the right amounts, and I am making healthy choices."
---
Nutrisystem Prior & Afterward: 79 Pound Weight Loss
---
Before & After: Cheryl's 20-Pound Weight Loss
Cheryl is a former athlete and swimmer who became paralyzed after a diving accident at age 14. Not letting her injury slow her down, Cheryl continued to compete and became a medalist in the Paralympic Games, as well as a World Record holder in 2014. After retiring from swimming, she gained 20 pounds and wanted to drop the weight. That is when she turned to Nutrisystem. Today, she is a competitive wheelchair ballroom dancer.
"After retirement, the 20 pounds I gained took a toll on my body and made it more difficult to do everyday tasks from a wheelchair. Once I tried Nutrisystem, I fell in love with how easy the program was, not to mention the quick results!"
"It is not the mountain we conquer, but ourselves." – Sir Edmund Hillary
---
Before vs. After: 75-Pound Weight Loss!
Feeling so good now that my exam is out of the way! I feel like for the last couple of months, I've been barely getting by day by day and pretty much running on caffeine and prayers. Today, I took my exam, and instantly a huge weight was lifted off of my shoulders. I even had enough spark to get dressed up, put on some makeup, have a glass of wine, and took the hubby out to a new spot for dinner to celebrate!
75 pounds down between these pictures! Ready to kick my fitness game into high gear now that my exam is done! Also huge non-scale victory—I saw this shirt at a boutique and fell in love, but they only had a size small and a size large. Decided to try the small and it fits great!
---
Nutrisystem: How Long Does It Take to Lose Weight?
There are a number of variables including your starting weight, activity level, age, and metabolism, but Nutrisystem does give some guidelines as to how much weight you can expect to lose.
The first week of their program is called, "Body Reboot," a fast weight loss phase in which women can lose 13 pounds while men lose up to 18. After that first month, expect to lose a sustainable 1-2 pounds per week.
Please read our article about how, and if Nutrisystem works to decide if it's a diet worth considering.
---
Transformation Photos Are Inspiring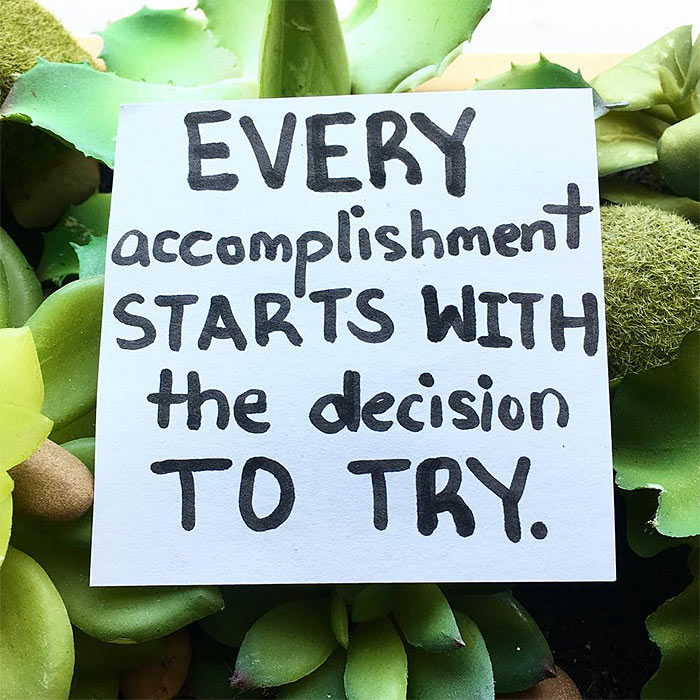 If you're considering joining Nutrisystem or any other diet, it's good to do your homework. No single diet will work for everyone's needs, and you should evaluate each one on much more than just popularity and monthly cost. Even though you just saw some inspiring before and after weight loss transformations, really think about whether Nutrisystem will fit your lifestyle and personality.
*Related: Noom Coach Before & After Pics | Byte Invisible Aligners: Before & After Pics
Transformation or "before and after" photos online are notorious for being faked or Photoshopped. So, we ensured that all of these photos were linked to a legitimate Instagram account, or were verified by Nutrisystem before including.

If you have a Nutrisystem before and after photo on Instagram, please send us a link! Thanks for stopping by Wonky Pie.