Did you know that Costco (and Costco.com) sells Nutrisystem gift cards at a big discount? It's true!
Costco members can buy $100 Nutrisystem gift cards for $79 every day, and get up to an extra $20 discount on each when they go on sale! If you're thinking of joining Nutrisystem, this is a great way to save big money. You can even use a promo code to save even more when you sign up at nutrisystem.com. Here's how it works:
Nutrisystem Costco: How to Buy | Cost? | How to Use | Gift Card Sale?
---
1. How to Buy Nutrisystem Gift Cards at Costco:
How do you buy Nutrisystem gift cards at Costco?
If you are a Costco member, you can buy Nutrisystem gift cards in-store or online. The price is often better online, so here's how to buy them at costco.com:
First, log in to your account at costco.com.
Then, you'll find the Nutrisystem gift cards in the "gift cards/ gyms & weight management" section of the website. Here's what they look like: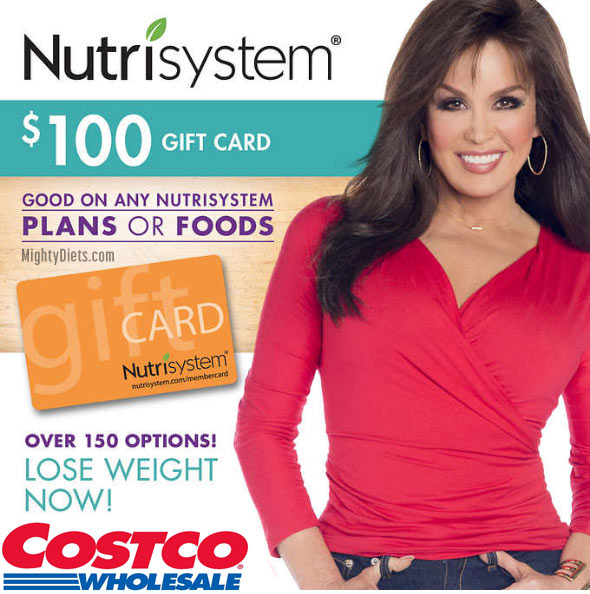 As you can see, gift cards are available as physical gift cards, or as e-gift cards that can be emailed to you or sent as a gift. While gift cards take 5-7 days via snail mail, the eGfit cards are sent almost instantly to your inbox.
Here's more about the cost of discount Nutrisystem gift cards at Costco:
---
2. How Much Do They Cost?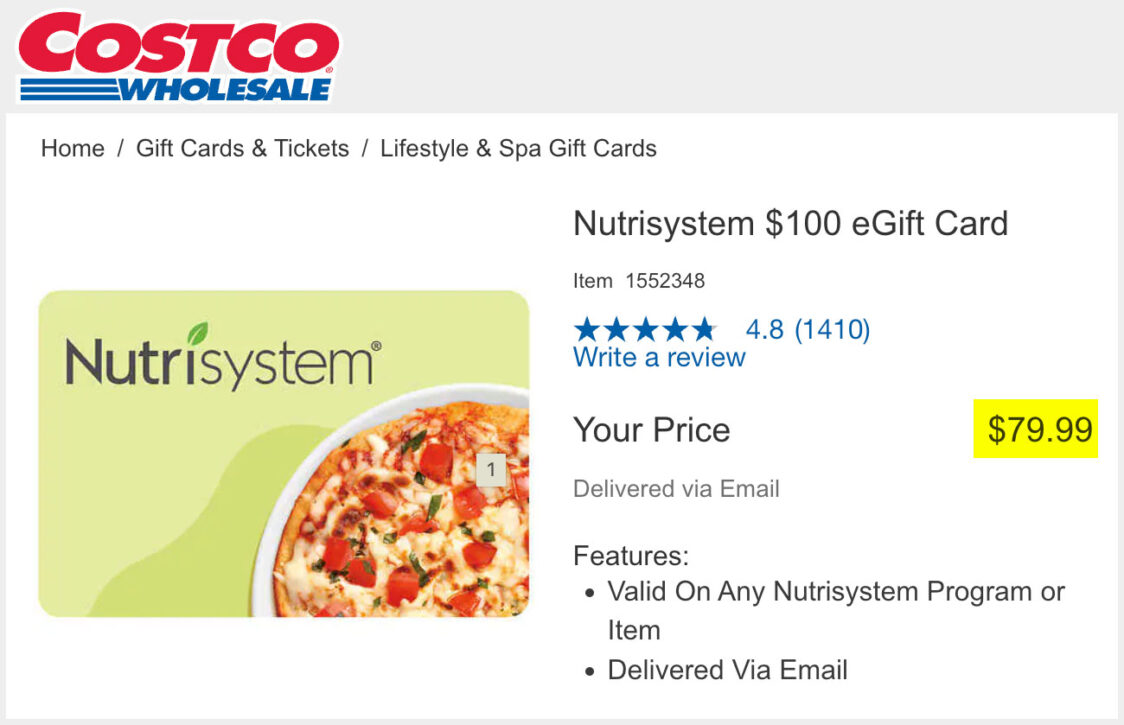 How Much Does Nutrisystem Cost at Costco? Costco sells $100 Nutrisystem gift cards for $79.99 or less every day. However, when they are on sale, these gift cards can be discounted up to an extra $20 each. That means Costco members can buy $100 gift cards for as low as $59.99!

---
3. How to Use Them (at Nutrisystem.com):
Using Costco gift cards for Nutrisystem? Here's how to get the best deal when using them:
Login to your Costco.com account
Buy $100 Nutrisystem gift cards
Specify "digital delivery" (eGift cards are delivered via email within one hour)
Use a gift card on top of today's best promotion at nutrisystem.com
Stack 2+ Nutrisystem promo codes at checkout for free food
That means Costco discount + Nutrisystem discount + promo code = a pretty sweet deal!
Tip: You can buy more than one gift card to use when you signup at Nutrisystem.com. Since your first month will cost about $350, consider buying 3 eGift cards.
• Where to Enter Gift Card at Nutrisystem.com:
Although the Nutrisystem deals at Costco are pretty straightforward, it's a little hard to find where to enter the actual gift card code at nutrisystem.com.
You can enter the gift card code on the "payment" screen at checkout like this: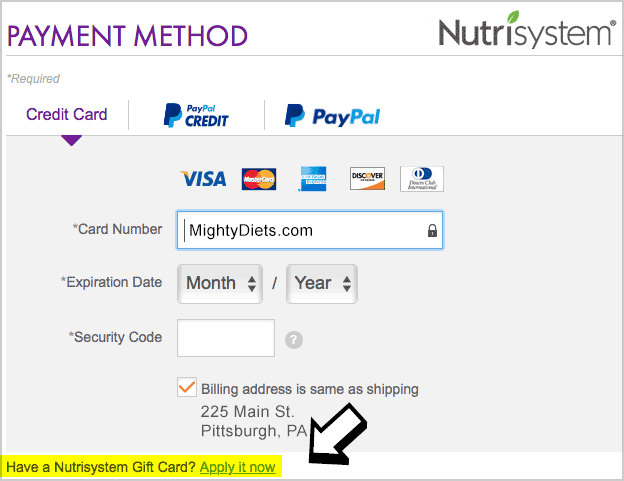 Just click that link and it will open a field to type in the gift card number and PIN like this: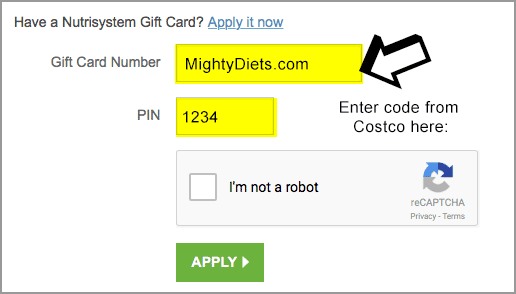 Once you click "apply," the Costco Nutrisystem gift card should be applied toward your order total.
Unused balance? If you use a gift card and have money left over, it's no problem. Just re-enter the gift card number on your second order to apply the balance of the gift card.
Example: So, imagine that your First order total was $350, and you used four $100 gift cards. You'll have a $50 balance that you can use towards your second order. Just re-enter the gift card number at checkout towards any purchase at nutrisystem.com.
*Related: How Much Does TurboTax Cost at Costco?
---
4. Costco Nutrisystem Gift Card Sale:
When Do the Nutrisystem Gift Cards Go On Sale at Costco? You can get $100 gift cards for Nutrisystem for $79.99 each every day, but sometimes they go on sale for as little as $59 each! Look for a sale around January 1st for all those people with New Year's resolutions, and several other sales throughout the year.
Are they on sale now? You must log in to your account at costco.com to view the "member price." Then, be sure to check out today's featured Nutrisystem deals!
---
5. In Conclusion…
If you are looking to save extra money on the cost of Nutrisystem, Costco might have the answer.
You can save $20+ on each $100 Nutrisystem gift card purchased at Costco.com. These gift / eGift cards can be used towards signup for a 28-day plan, or a la carte food at nutrisystem.com. That makes each of these Costco Nutrisystem gift cards as good as a $20 coupon!
To get started, you can apply Nutrisystem's featured deal below:

Related:
We have more diet and wellness coupons including WW and the hot Noom App! Looking for a straighter smile? We also have coupons for Byte aligners.