Exclusive Nutrisystem signup deals & specials: For over 40 years, Nutrisystem has helped millions of women and men lose weight and live a healthier lifestyle through monthly delivery of their nutritious prepared meals.
However, meal-delivery isn't cheap!
Are there any promo codes for Nutrisystem? Yes, there are currently several available. We highly recommend the 50% off deal, which gives you your second month free and then locks in a 50% discount on the cost for future months. You can even stack a couple of promo codes at checkout for free food! Here are today's best deals:
Nutrisystem: Top Coupons | Best Deal? | Stack Promo Codes! | More Discounts
---
Best Nutrisystem Coupon Codes, October Sale • 2020:

Should combine with 50% off deal! Get promo code: 

Best sale! Locks-in 50% discount every month + 50% off shakes:

50% Off + Extra $40 off Uniquely Yours Ultimate. (Still working for me!) Get code: 

*With signup. Discount + free food! Get code:

You can stack w/ other codes. Sweet! Get promo code:

Stack promo code with any other discount. 

All Men's plans. Lock-in a 50% discount! View sale: 

*Not as good as the Nutrisystem 50% off deal above! 

Sale includes all Diabetic plans. View promotion:
Here are 5 things you should know when signing up for Nutrisystem to get the best deal:
---
1. The "40-50% Off" Sale Is the Best Deal:
*Update: This week, the 50% off sale is actually best. Not only do you get a free month when you pay for 1, but then it locks in a 50% discount on future months. Wow!
You probably know that people pay different prices for the same flights and hotel rooms depending on when and where they booked their reservation. That's also true with diets like Nutrisystem, as the price you pay depends on which promotion you sign up with.
So, which is the best signup deal?
Skip the $50 off, Uniquely Yours $249, and $300 off coupons! As you can see, these discounts only apply to the first month or two of Nutrisystem: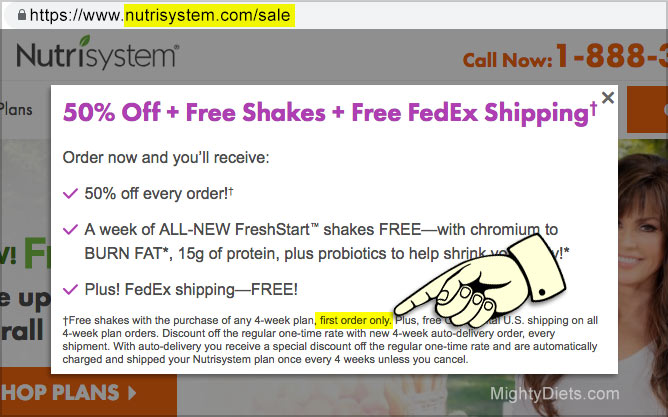 "First order only" means that the price will go up starting with the second month! So, what's a better deal?
Unlike the other promotions, the 40% off sale, locks-in the promotional price. This means that your monthly bill won't expectedly go up as much as $50 per month in the future.
Getting the best deal is more than just the cost of the first month!
To illustrate this point, consider this:
Tip: After the third month, the 40% off deal is $18 cheaper per month than the "$100 off coupon" per month. That means if you stay with Nutrisystem for 6+ months, you'll save an extra $50+ with the 40% off promo!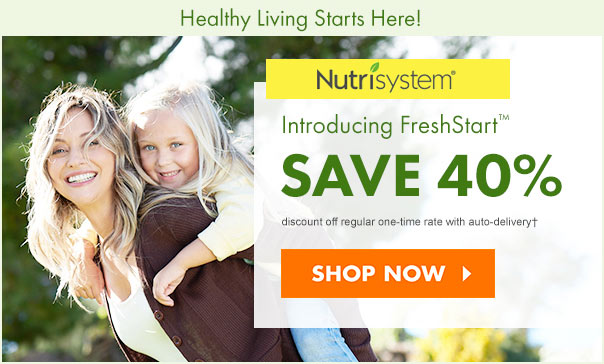 Want to know how to save even more when you sign up? Wait until you learn about how to stack promo codes!
---
2. You Can Stack 2+ Promo Codes (for Free Food!)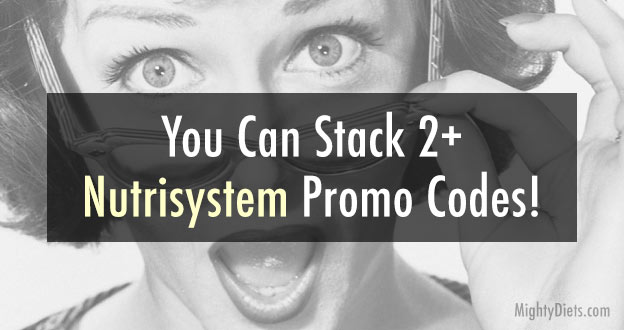 Did you know that you can enter more than one code at checkout?
The discount you get from the Nutrisystem 40% off promotion is great, but don't stop there! You should always use 2+ promotional codes on your first order including codes for free food like cookies and shakes.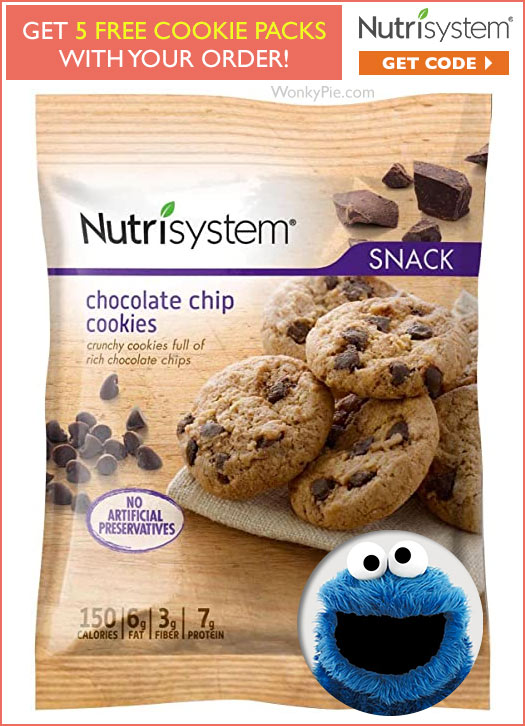 Here's what stacking multiple promotion codes on top of 40% off looks like.
On the payment info page of the checkout, you'll see that it says, "Have a promo code?" under your "Order Summary."
Click the link that says, "apply promo code," and then enter codes one at a time: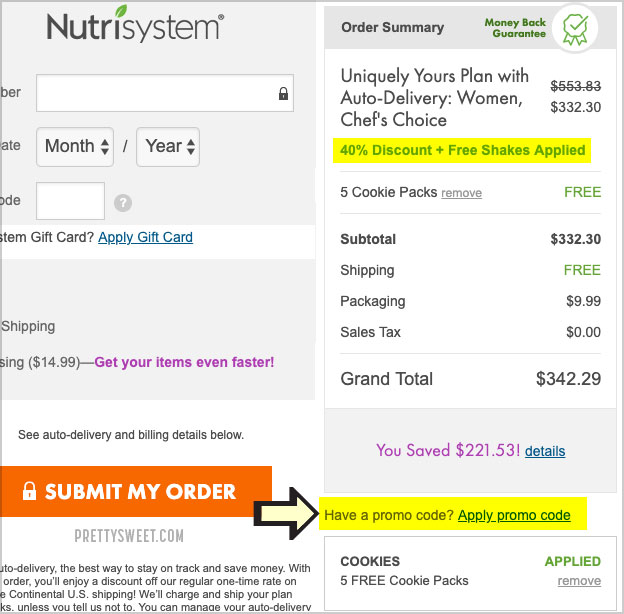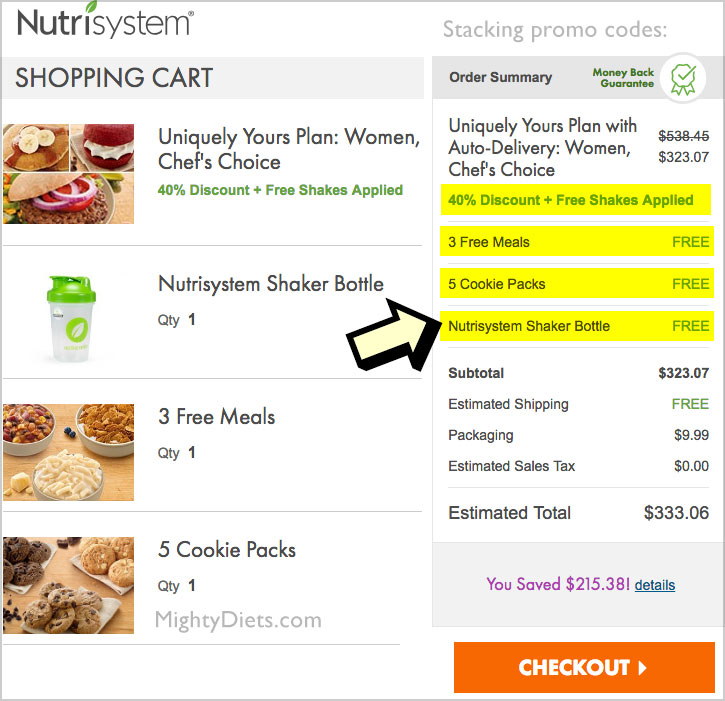 You'll get the monthly discount from the Nutrisystem 40% off special, (nutrisystem/save40) plus by free food on your first order from the promo codes!
---
4. Coupon or Promo Code Not Working?
Having trouble entering a promo code at nutrisystem.com?
That's a common problem. If your promo code has not been accepted, you'll get a message like this: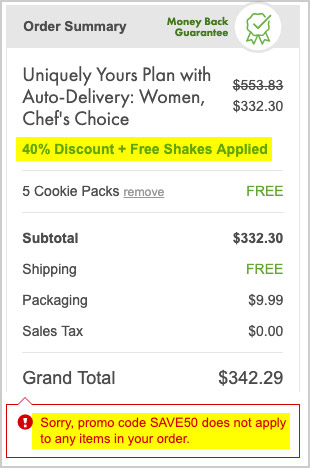 So, why do promo codes not work?
The most common reason is that you can't usually use a "dollar-off" Nutrisystem promo code on top of sale-pricing. In other words, those tasty promo codes for up to $50 off your order only work when you are signing up at the regular, non-discount prices.
So, what should you do?
Most of the time the sale pricing from a promotion like "40 off" is better than any promo code because you get the discount every month that you're on the program.
Promo codes are only one-time savings, so in the long run, it's better to get the sale prices than a $20-50 discount on your first order.
*Tip: Their $50 off promo code (SAVE50) doesn't work with the 40% off special. That's OK, because over 3+ months the 40 off sale will save you a lot more than $50!
---
5. Nutrisystem Offers Coupons for Men, Too!
When you click on a deal, it usually applies site-wide at Nutrisystem.com. Here's their best coupon for Men: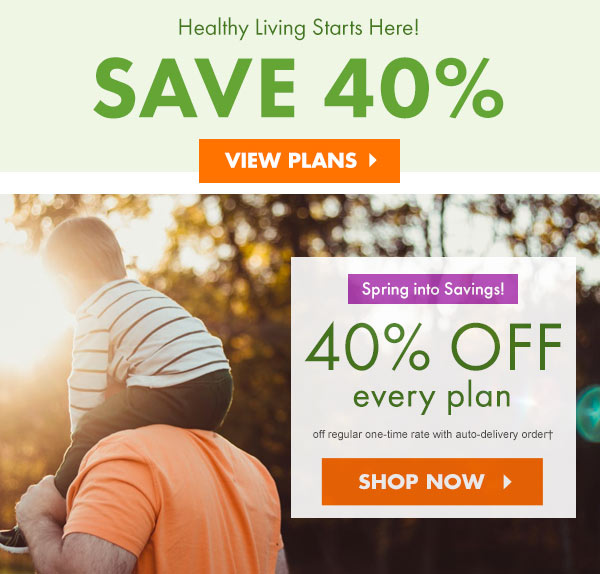 OK, now as a bonus, let's talk about one more way to get a Nutrisystem discount:
---
More Ways to Get a Discount: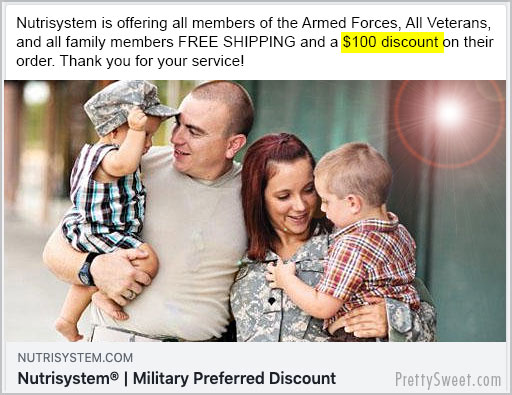 While combining their 40% off sale with a couple of discount codes results in the best deal, it's possible to save even more. Here are a few more ways to lower the final price:
Costco Members can purchase Nutrisystem gift cards at a 25-40% discount online or in-store. Learn more
Military Discount: Nutrisystem ran a promotion some time ago giving Veterans an extra 12% discount on any plan. This link doesn't seem to be active, but we'll keep checking
Insurance Discount: You can check with your insurance company to see if they will reimburse part or all of the cost of Nutrisystem
Humana Discount: As a Humana member you are entitled to a 40% discount on any Nutrisystem plan, which is the same as our discount
Radio Codes: Sometimes Nutrisystem advertises on the radio and podcasts, so they may announce a special radio promo code to listeners
Discount for Couples? Nutrisystem doesn't offer a specific family plan discount for two people, but their seasonal BOGO deal is pretty good! (If available)
Tax season? Save $20 on TurboTax with a coupon from Mighty Taxes!
OK, let's review how to get the best deal on Nutrisystem:
---
FAQs:
What is the best Nutrisystem sign up deal?
The 50% off sale is best because it locks-in that discount every month. Plus get an extra $25 off with promo code SUN25
Can you use 2+ promo codes at once?
Yes! You can stack up to 3 promo codes at checkout for discounts and free food. Show me!
Are there coupons for Nutrisystem for Men?
Yes, our featured coupons also work towards men's plans
---
Conclusion:
Here are the three steps for getting the best deal on Nutrisystem when you join:
Use the Nutrisystem 50% Off special
Use 2+ promo codes for free food and a free blender bottle
Pay online with a couple of discounted Nutrisystem gift cards from Costco
Well, that's it! Regardless of whether you decide to join, at least now you know the cheapest way to signup!
Tip: If you aren't sold on Nutrisystem, we also have coupons for WW and Medifast, plus a free trial of Noom Coach!
Thanks for visiting prettysweet.com, your source for reviews, tips, and coupons for some of the most popular diets online. We make every effort to stay on top of the specials and update these Nutrisystem promo codes every day.
*This coupon page was created in 2017, then updated through 2018, 2019, and 2020