All About Nutrisystem Diabetes Plan: A shocking 100+ million Americans now have diabetes or pre-diabetes according to the CDC. As you probably know, the most important thing as a diabetic is to control your blood glucose and to get to a healthy weight. This is easier said than done, and many times it requires the help of a structured program.
Nutrisystem now offers a plan specifically for the needs of diabetics called, "Nutrisystem D."
But, how does "D" work, how is it different, and is it really the best diet for your needs? To answer that question, let's take a closer look at Nutrisystem for diabetics including how it's different, meals, a sample menu, and what user reviews say.

Nutrisystem for Diabetics: How "D" works | What's Different? | Sample Menu | Reviews | Tips | Coupons
---
1. How Nutrisystem for Diabetics Works:
Nutrisystem D is a meal-delivery diet plan based on the monthly delivery of prepared, "perfectly portioned" meals that are high in protein and fiber and low in "bad" carbs. With Nutrisystem D, you'll eat 6 smaller meals each day which helps to stabilize blood sugar levels and reduce food cravings.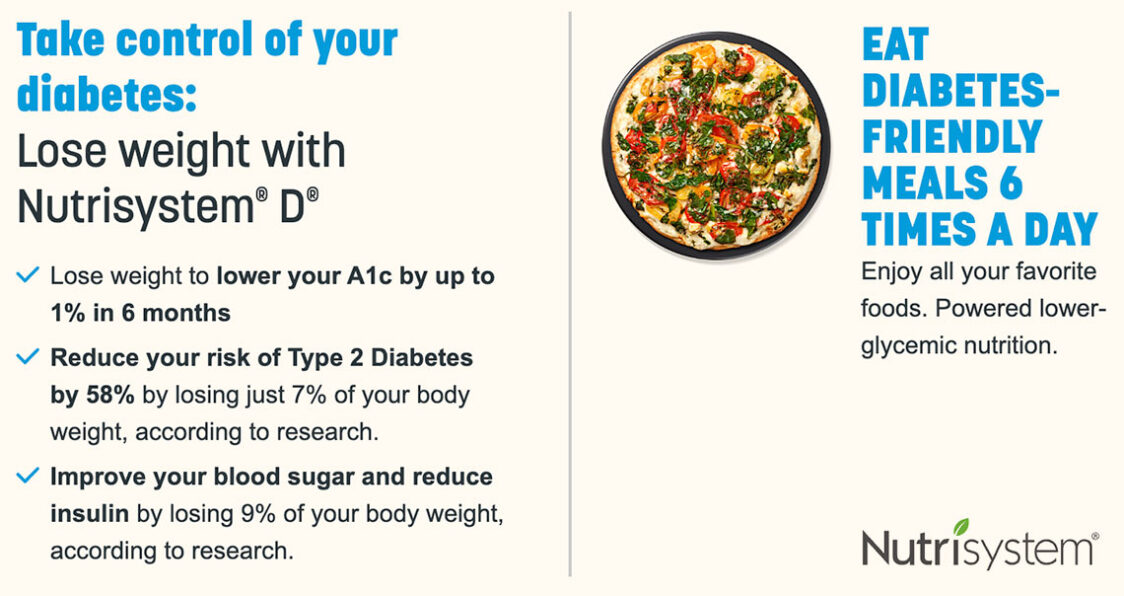 The goal with Nutrisystem D, like their other plans, is to achieve a sustainable weight loss of about 10 pounds per month with more possible if you add in exercise.
Nutrisystem D is a favorite of busy diabetics because it provides most of your monthly meals with the exception of a few weekly "flex" meals which you use to eat out or cook on your own. They basically tell you what to eat and when which means that while your dining options are limited, there's no counting calories or a point system.
---
2. Nutrisystem Diabetic vs. Regular:
The Nutrisystem Diabetes plan is specifically designed to cater to individuals with diabetes. Here are six key differences between the Nutrisystem Diabetes plan and their regular plans:
The Diabetes plan pays special attention to carbohydrate intake, considering its impact on blood sugar levels.
The plan offers a higher amount of non-starchy vegetables and whole grains to help manage blood sugar spikes.
Meal selections with less sodium, aiming for the lower end of the 1800-2300 range
The plan considers the glycemic index of foods, which measures how quickly they raise blood sugar. Foods with a lower glycemic index are favored to help prevent rapid spikes in blood sugar levels.
Lose weight to reduce A1c levels
Support for Diabetes Management: The plan is designed in collaboration with registered dietitians and healthcare professionals to ensure that it aligns with diabetes management guidelines.
In summary, Nutrisystem D is the same as the "regular" Nutrisystem plans except "D" includes a few modifications including lower sugar and sodium foods and extra support for diabetes management
---
2. Diabetes Plan Options: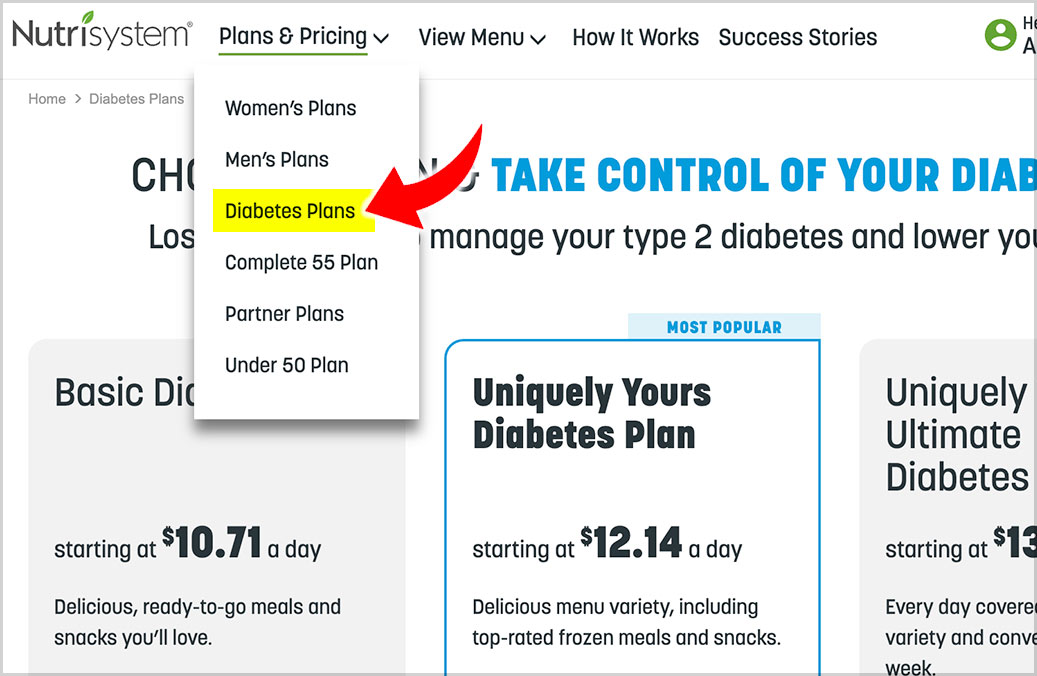 Like their regular diet program, Nutrisystem offers three plan levels for diabetics. All Nutrisystem D plans include:
Monthly delivery of meals including breakfast, lunch, dinner, and snacks
Online tracking tools and Nutrisystem app
Unlimited access to Certified Diabetes Educators and expert counselors
Free (FedEx) shipping
The main difference in plan levels is that you'll pay more for increased food variety. Here are the three plans for diabetics: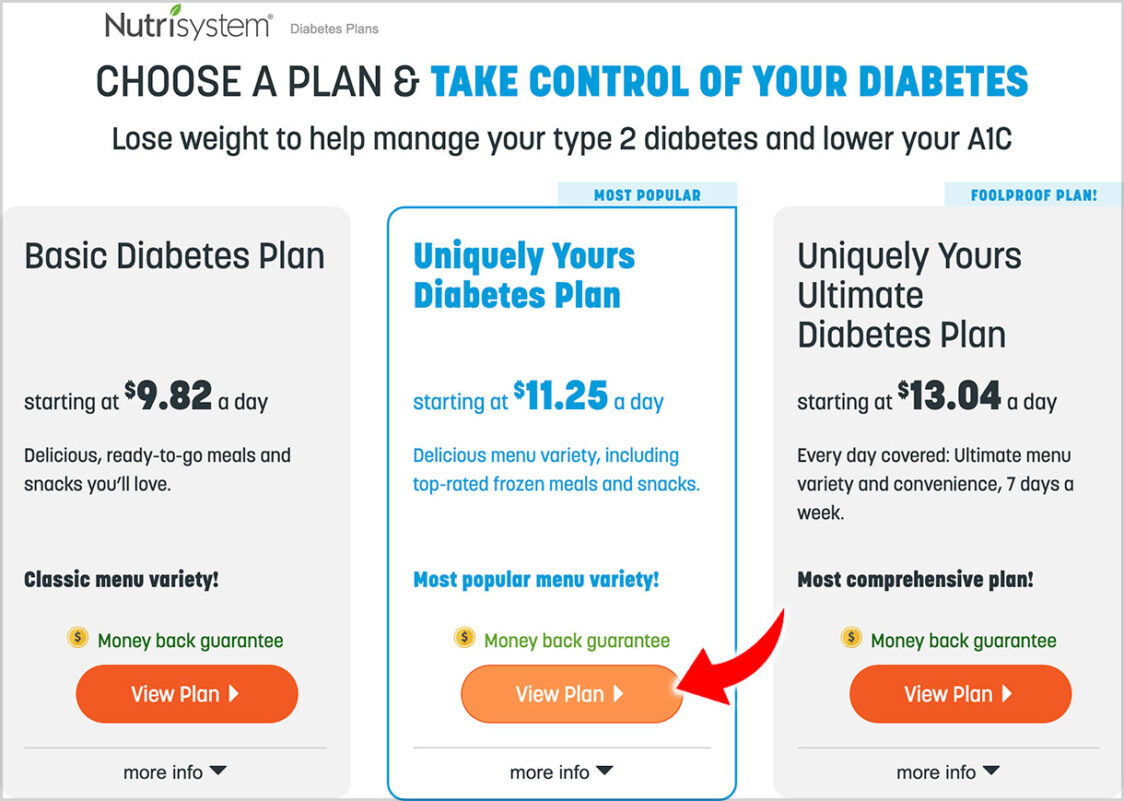 Diabetes BASIC Plan: The least expensive plan, but you won't have the ability to customize your menu
Uniquely Yours Diabetes Plan: The most popular plan, CORE adds the ability to choose your own meals which is great if you find menu items that you want to switch
Uniquely Yours Ultimate Diabetes Plan: All of the features of the other plans plus more menu variety and popular frozen foods
---
3. Meals for Diabetics:
If you have diabetes, you're probably used to reading food labels. The good news is that every meal and snack option on nutrisystem.com has detailed nutritional info including sugar, carbs, sodium, and ingredients plus helpful customer reviews for each meal.
Foods that are "Diabetes Friendly" are denoted "D Diabetes Friendly" under the nutritional content like this: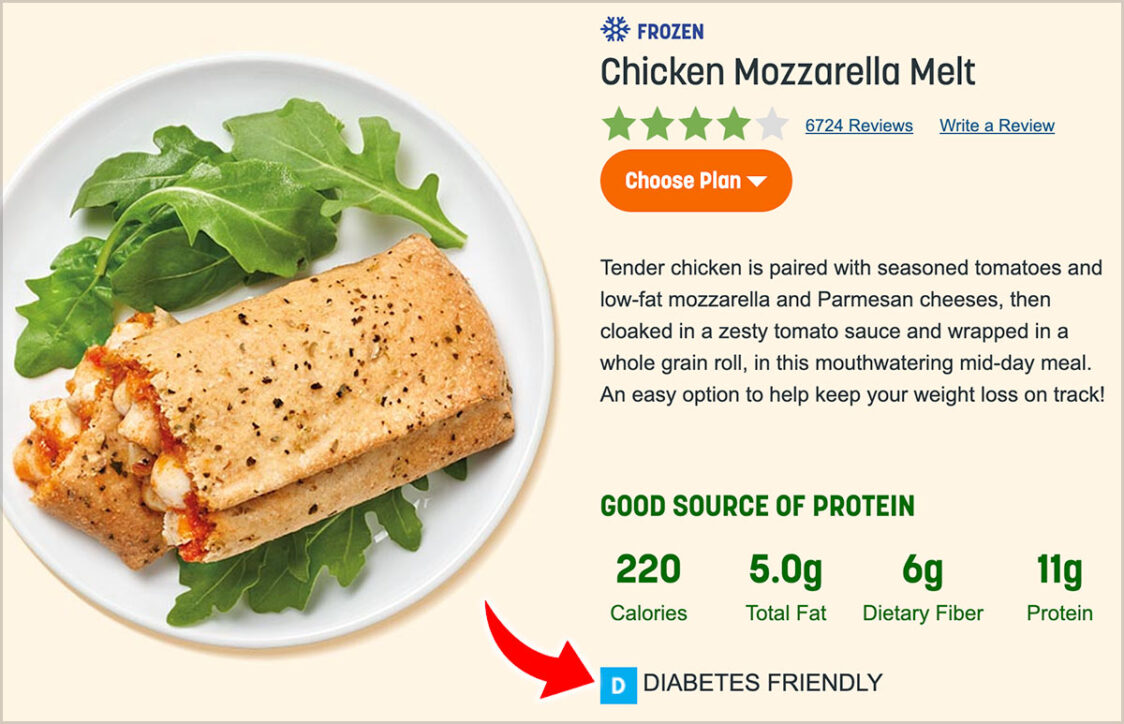 Want to sort food by Diabetes-friendly?
Here's how to filter meals by "Diabetes Friendly."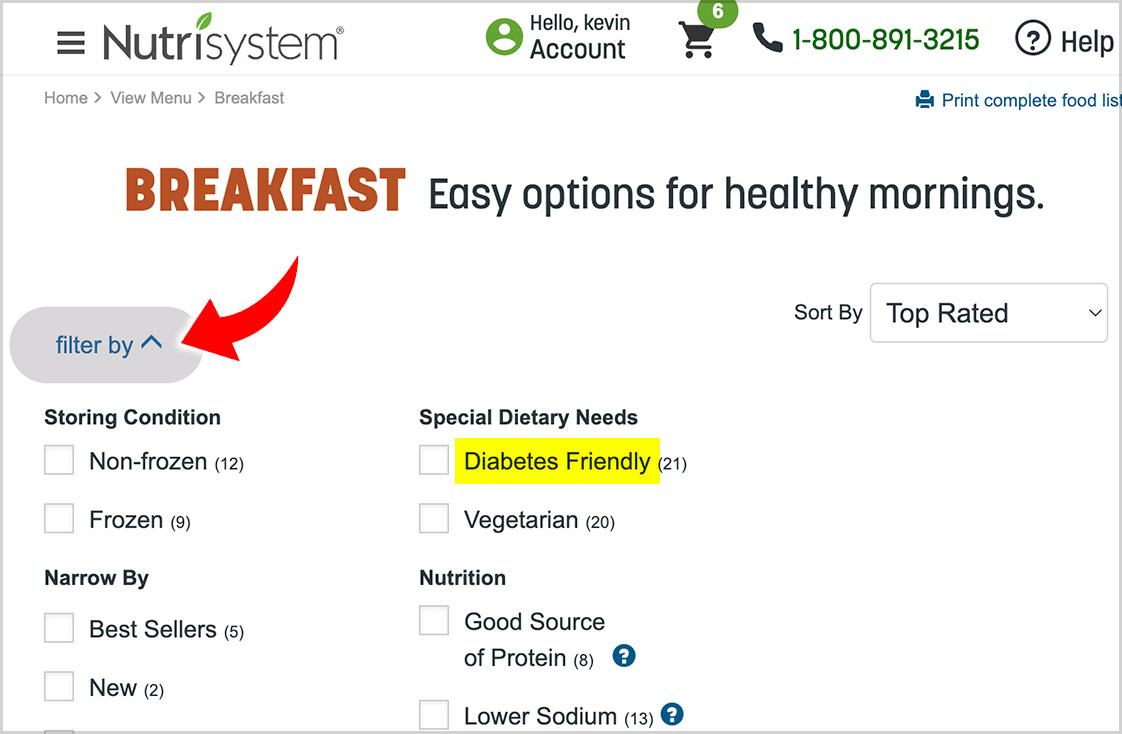 On the top nav click View Menu
Click Breakfast, Lunch, Dinner, or Snacks
Click "filter by"
Under Special Dietary Needs choose "Diabetes Friendly"
*Related: Is Nutrisystem Healthy?
---
4. Diabetic Sample Menu:
A sample menu for Nutrisystem D is quite similar to a sample menu for their regular plans, except they exclude foods that are higher in sugar and sodium. Here's a sample Nutrisystem diabetic menu with 6 meals and snacks: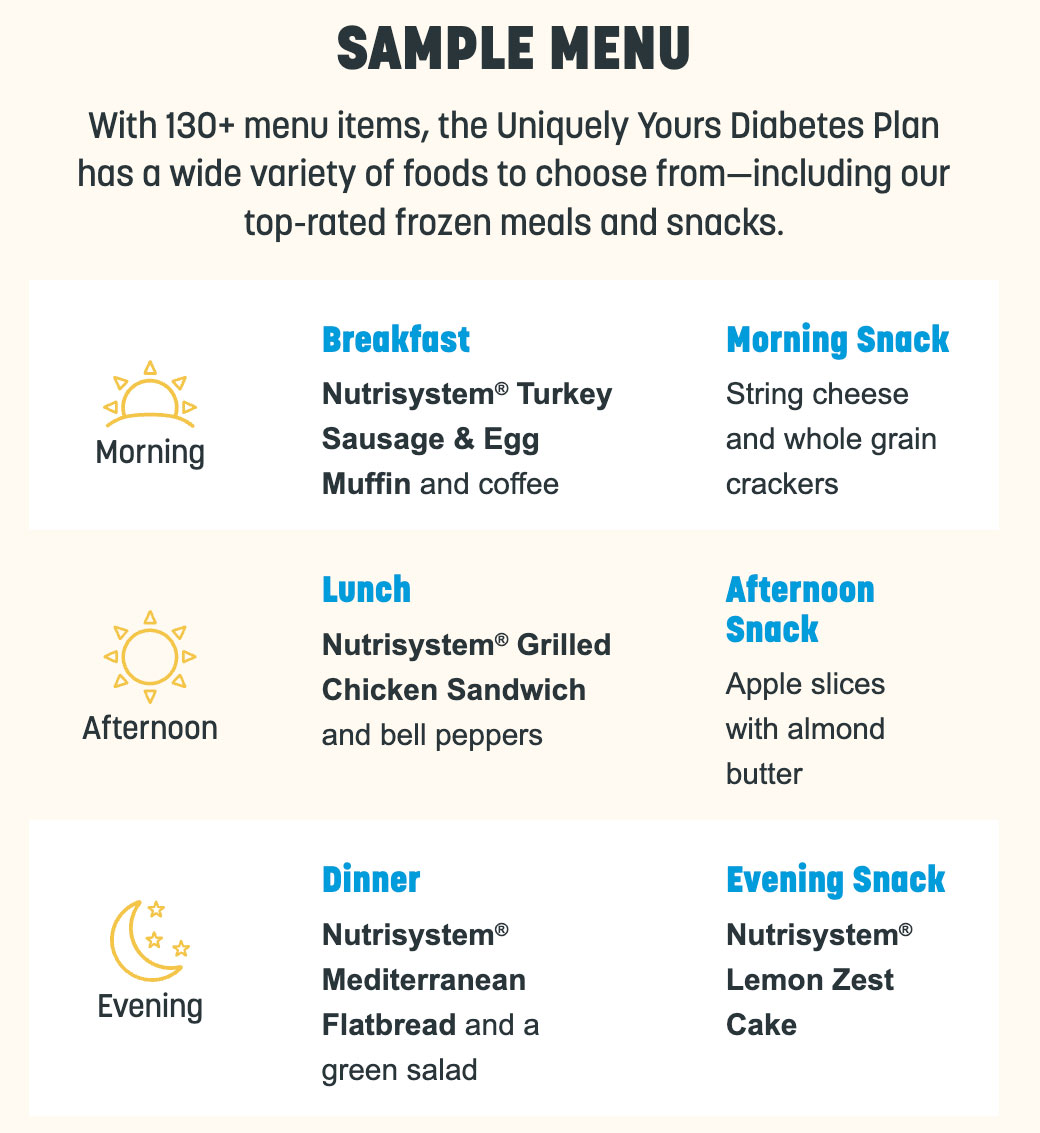 Breakfast: Nutrisystem® Turkey Sausage & Egg Muffin and coffee
Morning Snack: String cheese and whole grain crackers
Lunch: Nutrisystem® Grilled Chicken Sandwich
Afternoon snack: Apple slices with almond butter
Dinner: Nutrisystem® Mediterranean Flatbread and a green salad
Evening Snack: Nutrisystem Lemon Zest Cake
You can view the Nutrisystem D menu on their site, and then sort foods: breakfast, lunch, dinner, or snack.
---
5. Reviews: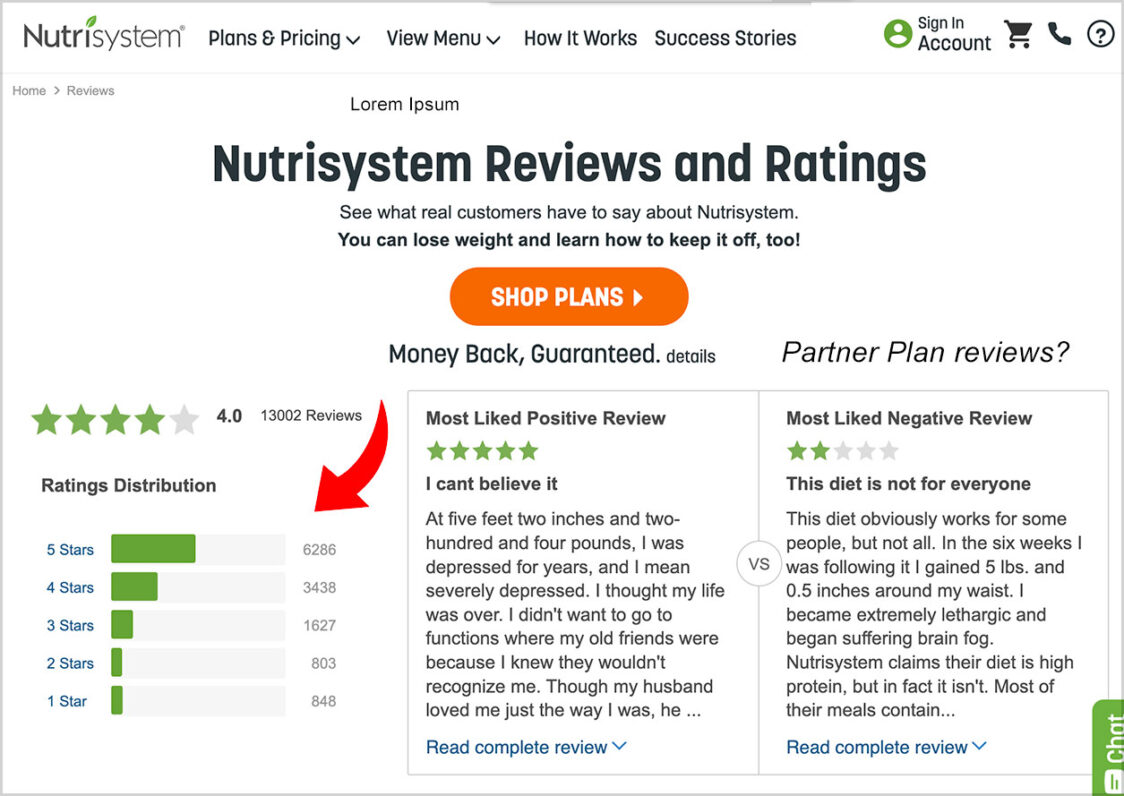 The best place to read verified customer reviews is actually on nutrisystem.com where the program gets an average rating of 4/5 stars for over 10k customers.
While you can sort reviews by a number of criteria, you can't isolate reviews for only the diabetes plan. However, a number of customer reviews do mention diabetes or being diabetic, so simply scanning both good and bad reviews is very helpful.
No single diet works for everyone, and many customers provide helpful details as to why the plan did or did not work for them.
If you do consider signing up, we can help you save a lot of money.
---
6. Best Signup Promotion for Diabetics:
Thinking of signing up for Nutrisystem? Here's how to get the best deal on Nutrisystem for diabetics:

Use the featured offer above
Choose to pay for 2+ months upfront to lock in a lower monthly cost
Stack up to 5 promo codes for free food and extra discounts. We list them all here
That's a pretty sweet deal that's still diabetes-friendly!
---
7. Tips for Losing Weight w/ Type 2 Diabetes:
Sustainable weight loss with Nutrisystem for Diabetics requires a balanced approach to managing blood sugar levels.
Here are five tips to help you on your weight loss journey with Nutrisystem:
Balanced Diet: Choose whole, nutrient-dense foods with a focus on fiber-rich vegetables, lean proteins, whole grains, and healthy fats to help control blood sugar levels and promote weight loss.
Portion Control: Monitor portion sizes of your non-Nutrisystem meals to prevent overeating. Use smaller plates and bowls to help control calorie intake while maintaining steady blood sugar levels.
Regular Physical Activity: Engage in regular exercise, such as walking, swimming, or strength training, to improve insulin sensitivity and aid in weight loss.
Blood Sugar Monitoring: Monitor blood sugar levels to understand how different foods and activities affect you. This knowledge can help you make informed choices to manage both weight and diabetes.
Medical Guidance: Consult your healthcare provider or a registered dietitian before joining Nutrisystem or making significant changes to your diet or exercise routine. They can provide personalized guidance based on your diabetes management needs.
---
Conclusion
Nutrisystem for Diabetics (aka "Nutrisystem D") is very similar to their regular program. However, the menu is tailored specifically for the dietary needs of diabetics.
Are you diabetic and have tried Nutrisystem D? Let us know by leaving your own review or comments below:
Related: Healthy eating – diabetes.org