A lot of men find that DIY diet apps offer a lot of freedom, but that is actually a problem for men who need structure. That's exactly why meal-delivery diets like Nutrisystem can be appealing to many men. If you don't like to cook, count carbs and calories, or measure portions, then the structure and guidance of a meal-delivery diet might work well for your weight loss goals.
Nutrisystem for Men claims that you can lose up to 18 pounds in the first 2 months and 1-2 pounds per week thereafter with a 14-day money-back guarantee. However, is it really the best diet for YOU? (If you think it might be, check out our coupons here!)
Here's how Nutrisystem for Men works, plus what men say in reviews and ratings, and what a sample menu looks like for a man. Interested? Save 50% at nutrisystem for men/50.
Nutrisystem for Men: How It Works | Manly Reviews | Men's Menu | 50% Off Sale
---
Nutrisystem for Men/50 (50% Off Sale!)

Nutrisystem currently has a sale on all plans including their plan for men at nutrisystem for men/50. If you pay for 2-3 months upfront you can save even more by locking in a lower monthly rate.
Learn more at nutrisystem for men/50 now!
---
How Nutrisystem for Men Works:
Nutrisystem for Men is a 4-week program scientifically designed for men's weight loss that costs an average of about $300 per month. They have 3 plan options, and the foundation of the program is their "perfectly portioned" nutritious meals that are intended to be a healthier version of popular foods like pizza, pasta, and burgers. The most important week in the program for men is the first week, so here's how it works:
• Men: Week 1:
The first week of Nutrisystem for Men is a special reboot week of more-restrictive eating that is intended to break bad eating habits and kickstart your weight loss. During these 7 days, you'll choose Nutrisystem breakfasts, lunches, and dinners that total about 1500 calories each day.
Tip: Nutrisystem for Men includes one more snack than the lady's plan. This gives you more calories each day but also costs men about $1 per day more than the ladies.
Each day you'll add a Nutrisystem snack and NutriCrush™ probiotic shake to the menu. Like many Nutrisystem foods, these bars and shakes are high in vitamins, protein, and fiber to help keep you feeling full throughout the day.
You'll also be asked to drink 64 oz. of water and supplement Nutrisystem food with 4 servings of non-starchy vegetables every day of week 1 on the men's program.
Your first delivery also includes a Week 1 Guide, and you'll be asked to track all of your meals and progress on the Nutrisystem NUMi app. every day on the program.
• Men: Weeks 2+
After the first week, men get an extra snack and now eat 6 times per day for a total of about 1700 calories per day. There's also more flexibility and menu variety, as men now add:
PowerFuels – Lean proteins, low-fat dairy, and nuts of your choice to help you feel full all-day
SmartCarbs – Add good carbs from whole grains, starchy vegetables, beans, and legumes
Flex Meals – After the first week you'll enjoy more menu variety with snacks and meals. These can be your own cooking or dining out and include 2 breakfasts, lunches, and dinners every week of your own healthy choice.
Want to know what men actually eat on Nutrisystem? Let's see what's cooking on the manly menu.
---
Nutrisystem for Men Menu:
The menu for men is the same as woman but includes an extra daily snack. The food is designed to be healthy and low on the glycemic index, which measures a food's affect on blood glucose.
Here's the breakdown of where men's calories come from on Nutrisystem: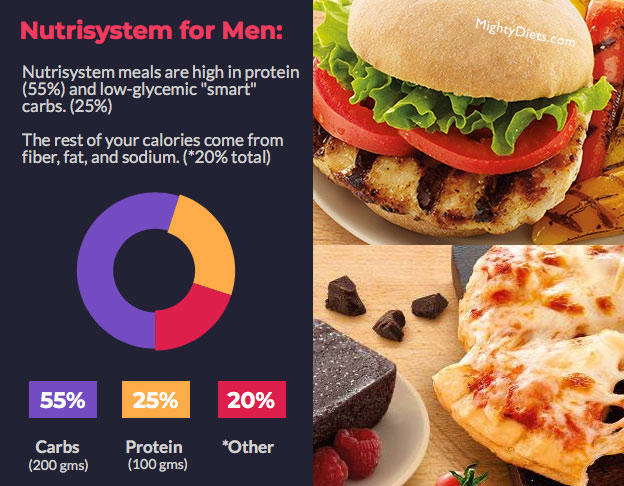 The menu changes a little bit each season, and now includes more foods like bowls and flatbreads. Check out all the meals and snacks on by clicking "View Menu" at Nutrisystem.com:
The Nutrisystem for Men menu can be customized, so be sure to read food reviews to avoid meals and snacks that are poorly rated or don't sound appetizing. You can also sort meals by a number of criteria including being diabetes-friendly or low-sodium.
So, what does a day of Nutrisystem food look like for men? Here's what you might eat on a typical day:
---
Nutrisystem for Men Sample Menu:
Nutrisystem provides men with 4 weeks of breakfasts, lunches, dinners, and snacks that can be mixed and matched. Here's what a typical day's menu looks like for men: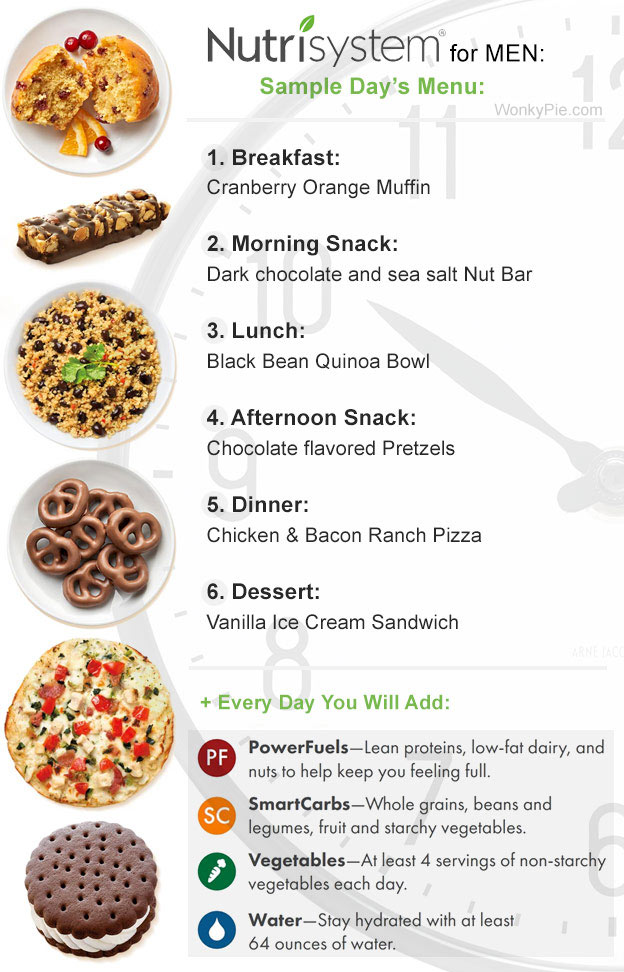 When you add in the SmartCarbs, PowerFuels, and vegetables (with optional help from their grocery guide) here's what the menu looks like: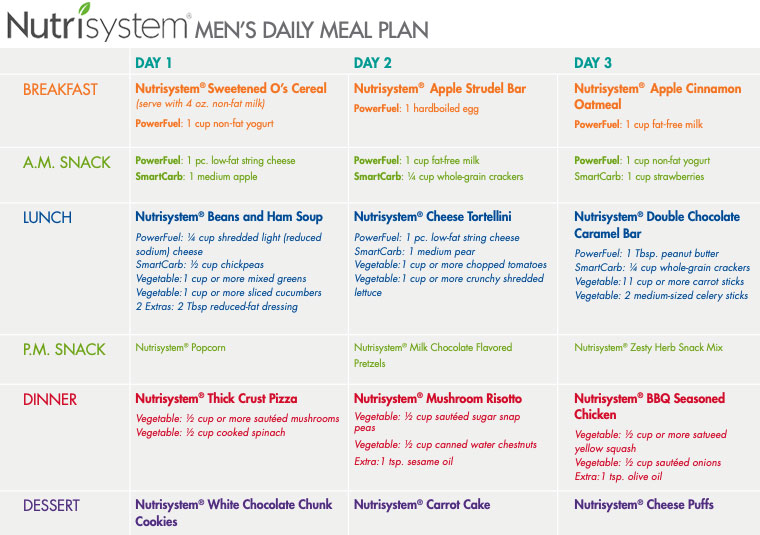 *View entire menu on Nutrisystem.com
Remember, you'll be able to mix in flex meals of your own for menu variety. So, what do men think of the program? Let's look at customer reviews next.
---
Nutrisystem for Men Reviews:
There are a number of sites with reviews for the Nutrisystem program, but none of them allow you to sort by gender to see only reviews by men. I've found that the best place to read reviews is actually on Nutrisystem.com, as all of the positive and negative reviews are from verified customers.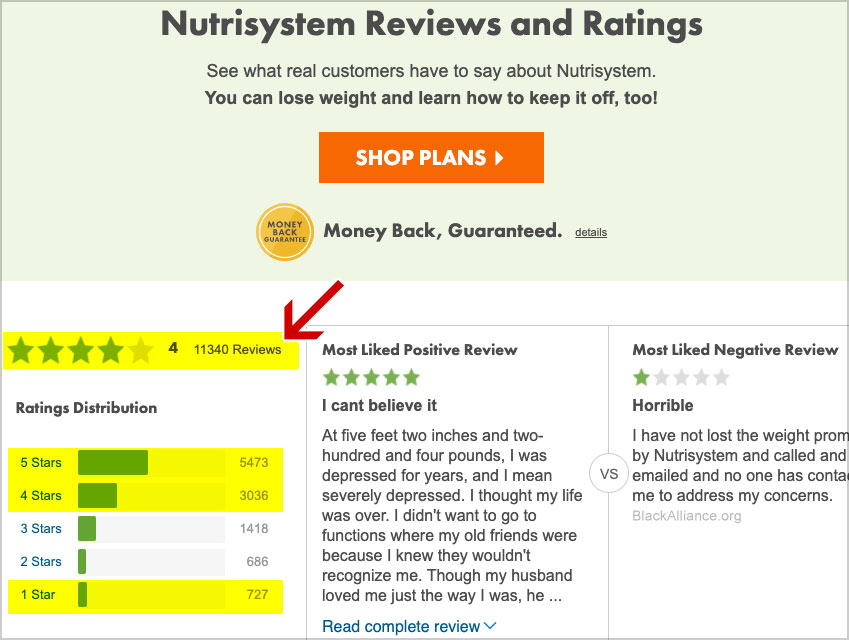 As you can see, Nutrisystem gets an average of 4/5 stars in user ratings. However, by sorting the reviews by star rating you can see that Nutrisystem for Men didn't work out for a number of customers.
Men's Biggest Complaint? Some people just don't like having most of their menu be "heat and eat." However, the biggest complaint might be due to the seemingly unexpected cancellation fee. Essentially, if you cancel after the 14-day money-back guarantee but before paying for your second order, you're on the hook for a $70 cancellation fee! Make sure you understand this before joining Nutrisystem for Men!
We've heard from male customers, but what do experts think of Nutrisystem for Men?
---
• Expert Reviews (Men):
I believe the best place for men to read expert reviews of Nutrisystem is from U.S. News. Each year they ask a panel of health and diet experts to review and rank the top 35 diets. Here's how they rated the Nutrisystem program (including men's plans):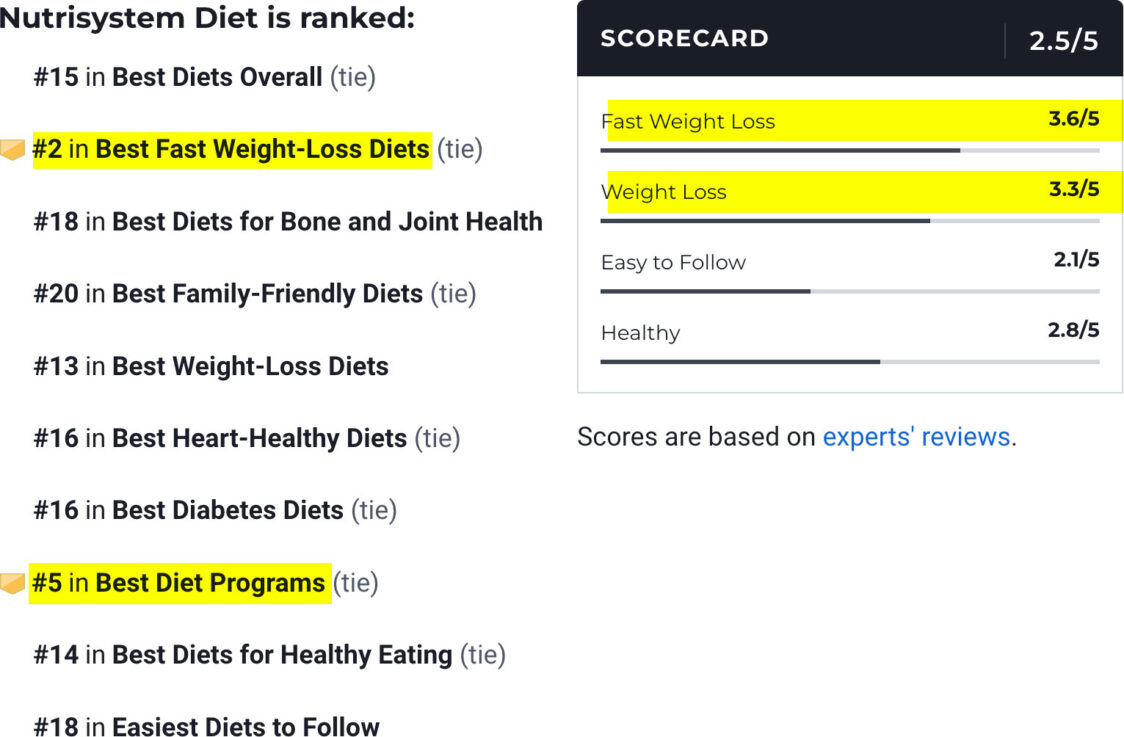 As you can see, the diet is rated highly for "short-term weight loss" but lower for "long-term weight loss." I believe this is because not all men are happy after making the switch to mostly packaged food, and end up quitting the program early.
Tip: If you have tried DIY diets without success and prioritize structure and guidance, I believe that Nutrisystem for Men is more likely to work for you. Conversely, if you're a man who likes to cook and you prioritize menu freedom, then the program might not be a good fit.
---
Nutrisystem for Men/50 (50% Off!)
So, what's the best sale for men to join Nutrisystem? Currently, it's the Nutrisystem for Men/50 sale.
This promotion locks in the discounted rate every month that you stay on the program, with no surprise rate increases in the future. Use a few manly discount codes at checkout, and you've got the best possible deal!
Conclusion: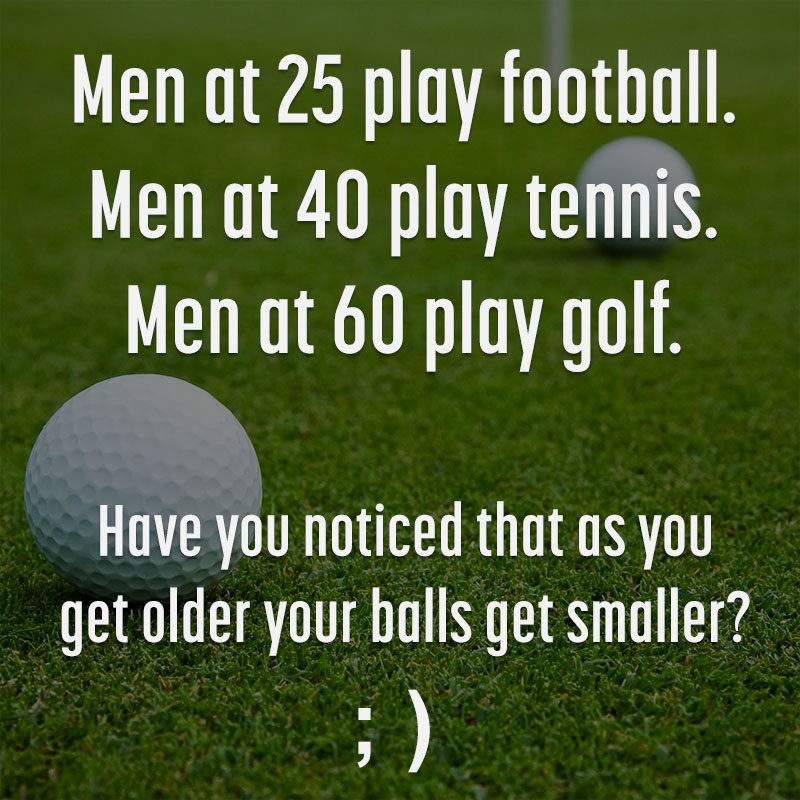 Is it healthy? Nutrisystem for Men is generally a healthy diet, and the nutritional content is within the FDA's recommendations for protein, carbs, fiber, and fats. The program delivers men about 1500-1700 calories per day, which is consistent with the number recommended for men to lose weight.
However, remember that no single diet is best for all men. The most important thing to consider is whether you think the prepared meals and structure of Nutrisystem for Men are compatible with your personality and lifestyle.
By understanding how Nutrisystem for Men works and reading reviews and ratings, I hope you have a better idea of whether Nutrisystem for Men might work for you.
Fun Fact: Did you know that adult men's brains are about 10% larger than women's? "It's science" as Ron Burgundy would say!
Men can get 50% off at nutrisystem for men/50
Not sold on Nutrisystem for Men? We are happy to also recommend Noom and WW for Men as good alternatives.
Thanks for stopping by Wonky Pie!