Review of Nutrisystem for Men: Thinking about taking the plunge and signing up for Nutrisystem for men? Starting a new diet solution can be an exciting but intimidating decision, so it's important to know exactly what you're signing up for.
Nutrisystem for Men is a version of their popular meal-delivery diet specifically catered to men's needs. In their TV commercials, they claim that a man can lose up to 18+ pounds in the first month, but is this the right diet for you?
Here are 6 things you must know about Nutrisystem for Men in order to decide if it's a good option for your unique personality and (manly) weight loss goals.
Nutrisystem: How It Works | Healthy? | Men's Reviews | Cost | Coupons
---
1. Nutrisystem for Men Explained: (In 90 Seconds)
Ok, sorry the stock music in that video is annoying, but you get the point. (Hopefully?!)
Anyway, all Nutrisystem plans are based on pre-packaged, "perfectly portioned" meals delivered to your door every month. The big strength of this diet is convenience, as there are no calories or points to measure.
You'll know what to eat and when, and it's basically just heat and eat from there, with the exception of supplementing their meals with fresh fruits and vegetables.
With Nutrisystem for Men you will:
Eat 6 smaller meals a day
Supplement meals with fresh fruits and vegetables
Have your meals & snacks delivered every month; up to 150 to choose from
Enjoy 4 flex meals a week, including healthy restaurant meals, or your own cooking from their online recipes
Hit the ground running your first week, and lose up to 18 pounds + 8 inches in your first month!
Expect to lose an average of 1-2 pounds per week thereafter* (source)
Plan options for Men: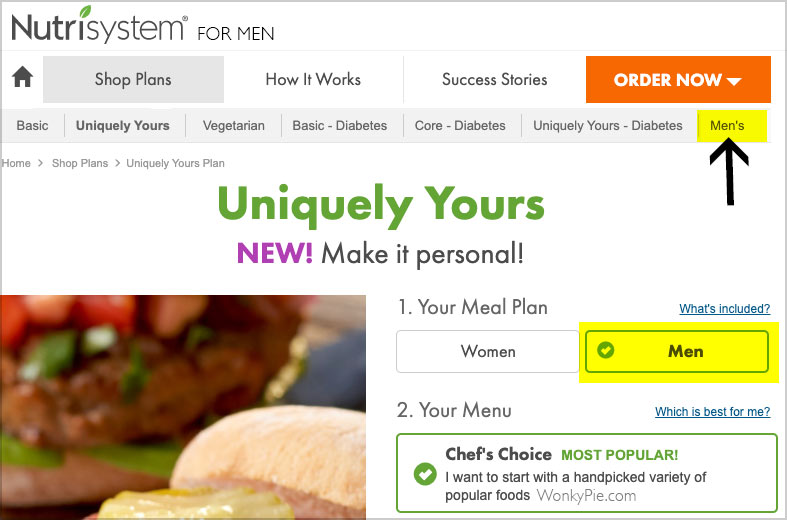 When you signup, you'll have the choice between the Basic, Uniquely Yours, and Uniquely Yours Plus plans. All of these plan levels, except Dinners My Way®, include unlimited support such as access to counselors, professional dietitians, and online tools and trackers. However, men should expect to pay more for increased menu variety and frozen foods.
Tip: The Uniquely Yours plan is rated highest because it offers "total menu freedom," (didn't Braveheart die for that!?). This means that you can mix and match between all of their 150 meal and snack options, including a variety of frozen foods.
All plans are based on "perfectly portioned" foods that are high in protein and fiber, and low in bad carbs with an emphasis on the glycemic index. (blood sugar levels) The meals are delivered for "free" via FedEx automatically every month, and you can customize your menu online anytime before it ships.
---
2. Is Nutrisystem for Men Healthy?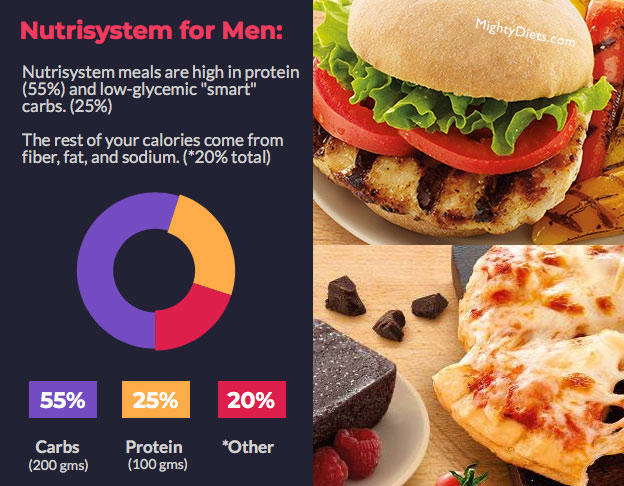 Nutrisystem for Men is high in protein and low-glycemic (good) carbs. It also adds a healthy amount of fiber so that you stay full longer.
Losing weight is one thing, but is Nutrisystem food good for you? To answer that question, let's look at the daily amounts of calories, protein, carbs, sodium, and fiber.
Here's how Nutrisystem for Men's nutrition compares to the daily FDA recommendations for men:
Daily Nutrition: FDA Recommended vs. Nutrisystem for Men
| | Daily Recommended: | Nutrisystem (Men): |
| --- | --- | --- |
| Calories: | 2200 | 1500-1700 |
| Carbs (% kcal): | 45-65% (130g) | 50% (120g) |
| Protein (% kcal): | 10-35% | 25-30% |
| Fiber: | 34g | 30g |
| Sodium: | 2300 mg* | 2100-2200 mg |
| Total Fat (% kcal): | 20-35% | 25-30% |
| Sat. Fat (% kcal): | <10% (10g) | 8-9% (6-9g) |
Source: FDA dietary 2019 guidelines for men age 31-50
*Based on FDA recommendations for daily sodium intake (source)
Is it a healthy diet? As you can see, Nutrisystem for Men compares favorably to the recommended daily allowances for macro nutrients including carbs, fats, and protein. For this reason, I believe that you could say that it can be considered a healthy diet.
If you'd like more detail about the health of their food, you can find detailed nutritional information for every food on nutrisystem.com in the "menu" section:
---
It's also healthier than the average American man's unhealthy diet which averages 3000 calories per day, while being high in fat and sodium.
Tip: Men should also consider taking daily supplements like fish oil, vitamin D, calcium, and fiber. Don't hesitate to ask your doctor for recommendations!
3. Food: Sample Menu for Men:
Wondering what kinds of food you'll actually eat on this diet? Here's what a day of meals on Nutrisystem for Men might look like:
Day 1: (sample)
Breakfast: Nutrisystem® Sweetened O's Cereal A.M. Snack + 1 cup non-fat yogurt
A.M. Snack: 1 low-fat string cheese + an apple
Lunch: Nutrisystem Beans & Ham soup w/ cheese + a salad
P.M. Snack: Nutrisystem popcorn
Dinner: Nutrisystem Thick Crust Pizza w/ mushrooms
Dessert: Nutrisystem White chocolate chunk cookies
Day 2: (sample)
Breakfast: Apple strudel bar + 1 hardboiled egg
A.M. Snack: Whole grain crackers + 1 cup low-fat milk
Lunch: Nutrisystem cheese tortellini + 1 pear + 1 low-fat string cheese
P.M. Snack: Nutrisystem milk chocolate flavored pretzels
Dinner: Nutrisystem Mushroom risotto + fresh asparagus (Makes your pee smell!)
Dessert Nutrisystem carrot cake
Want to see more sample daily menus? Nutrisystem posted a week's sample menu on their site to give men an idea of what a sample menu looks like
---
4. Does It Work?
While we can't say that Nutrisystem for Men will work for you, we can look at reviews from male customers plus expert ratings to decide if the odds of success are in your favor.
• Reviews from Male Users:
The best place to find honest reviews for Nutrisystem for Men is actually on nutrisystem.com where verified customers post new reviews every day. This is a great resource, as reading both praise and complaints can help you decide whether this diet might work for you.
Although user ratings are not sortable by gender, the result is that about 80% of men and women report being "satisfied" (4 stars) or "very satisfied" (5 stars) when asked to rate the diet for overall satisfaction: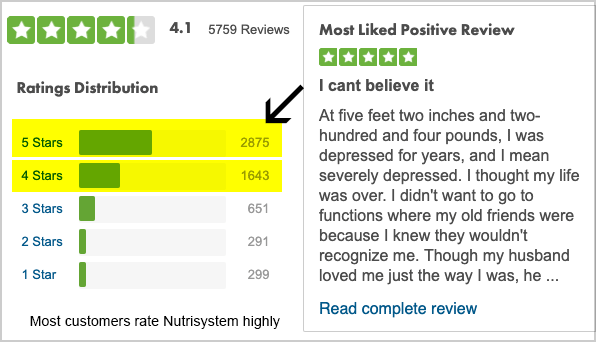 While it's difficult to assign Nutrisystem for Men a specific success rate, these mostly positive reviews are a good indication that most men feel that Nutrisystem for Men works. Having read through hundreds of reviews from men, here are the pro's and cons:
PROS: Common Praise from Men:
So, what do men seem to like most about Nutrisystem in reviews?
Convenience: When most of your meals are already prepared and pre-portioned, you save a lot of time and effort. That's why Nutrisystem is a popular diet for busy men
Short-term weight loss: The goal of Nutrisystem for Men is to see results fast, and a lot of reviews are happy to boast of positive weight loss results after one month
Structure: Most DIY diets don't work because people have too much freedom, and also eat portions that are too large. The Nutrisystem for Men program basically tells you what to eat and when
No single diet will work for every man, so let's look at common complaints to see what men don't like about Nutrisystem:
CONS: Top Complaints from Men:
Did we mention that we read through Nutrisystem for Men reviews until our eyes watered!? Here's what men complain about:
The cancellation policy: All men should understand Nutrisystem's cancellation policy before signing up. To avoid the $125 cancellation fee, you must cancel in the first 30 days, or else you are required to accept and pay for 2 months of Nutrisystem for Men. (Learn more)
Menu Limitations: A number of men report growing tired of limited menu options, and seem to crave more "real" meals. In fact, I think a few bad reviews have been written by teary-eyed men sitting at Buffalo Wild Wings, trying to resist forbidden food!
Food Taste: In some biting criticism, one man described Nutrisystem as, "return of the tv dinner." I don't think anyone would say that their food is as good as a home-cooked meal or dining out. Even so, every Nutrisystem meal includes user reviews on their site so that you can customize your menu with higher-rated foods
Anyway, as with all meal-delivery diets, you're committing to eating the meals and snacks they send you. This approach requires discipline, and is the source of most failure and bad reviews. That means "long-term weight loss" could be the Achilles heel of Nutrisystem for Men, as you may tire of their prepared food.
Now, let's see how the experts rate Nutrisystem for Men:
• Expert Ratings:
User reviews and ratings from male customers are important, but let's look at how a panel of experts rated the diet: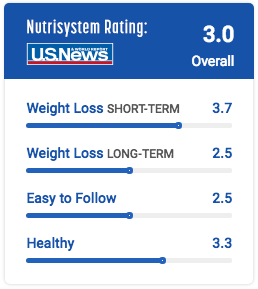 As you can see, Nutrisystem for Men is rated highly for short-term weight loss, but gets a low score for long-term weight loss. This seems to be consistent with how male users rated the diet in their reviews.
It seems that convenience is a two-sided coin, and the "heat and eat" approach to weight loss can get tedious, causing some men to quit the diet.
---
Weight Loss Results?
OK, expert ratings are important, but just how much weight does the average man lose?
Nutrisystem claims that you can "lose up to 18 lbs and 10 inches" in your first two months. They then support this claim with a study that found the average weight loss during the first two months was 15.4 pounds and 9.8 inches.
The study consisted of 84 adults, 27 of which were men.
---
Best Signup Deal: Nutrisystem for Men 50% Off

*Update: (2020) For a short period of time, Nutrisystem is offering their 50% off deal, which locks-in a 50% discount. That makes it the best offer for men, if still available!
As we mentioned, the best long-term deal is their 40% off promotion. Other offers and coupons may give you a lower price the first month, but then go up by as much as $50 per month after the first 1-3 months! Here's the offer:
To make sure you aren't overpaying for Nutrisystem for Men, be sure to use our featured promotion at signup.
*Related: Weight Watchers for Men Review
---
FAQs:
How much does Nutrisystem for Men Cost?
Their most popular plan, Uniquely Yours, costs $10.89 per day with coupon
What's the best sign-up deal for MEN? 🕺
The 50% off sale is best as it locks-in a 50% discount every month.
Does Nutrisystem work?
Over 80% of customers give the program 4+ stars (Based on 9k+ reviews!)
Conclusion:
Mens Nutrisystem is a very convenient dieting option. Like the popular South Beach Diet (review / cost) they tell you what to eat, and when, and send you the "perfectly portioned" snacks and meals that are high in protein and fiber every month. You just have to supplement their food with fresh fruits and vegetables of your own from the grocery store.
Whether or not Nutrisystem for Men is the right diet for your needs and lifestyle is a personal choice. If you don't like to cook, and the idea of a structured diet focused on short term weight loss is appealing, Nutrisystem for Men might be a good option.
Be sure to talk to your doctor before starting any diet. If you do consider joining, use the offer below for the best monthly price:
Tip: If you prefer to do your own cooking and don't mind counting points, maybe meal-delivery isn't for you. For a more DIY approach, consider Weight Watchers or Noom instead. (Nutrisystem vs Weight Watchers)