Nutrisystem kits, shakes, boxes, food from Walmart: Nutrisystem is the most popular meal delivery diet in America, but the cost and idea of commitment can be intimidating. These 5-7 day kits at Walmart.com are a great obligation-free way to dip your toe into the program without obligation.
All kits come with both food and unlimited weight-loss counseling from representatives. Walmart also sells shakes, bars, and frozen food a la carte at a pretty good price. (Did you know Costco sells discounted Nutrisystem gift cards?) 
Here's more about Nutrisystem at Walmart:
---
How Nutrisystem Weight Loss Kits Work: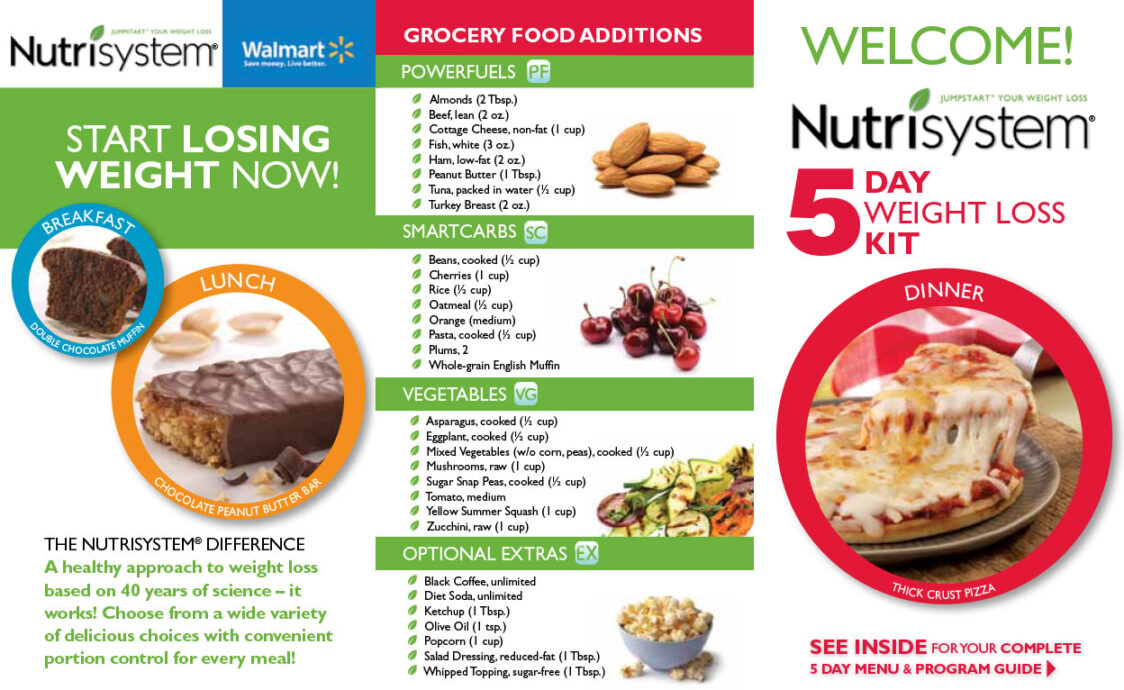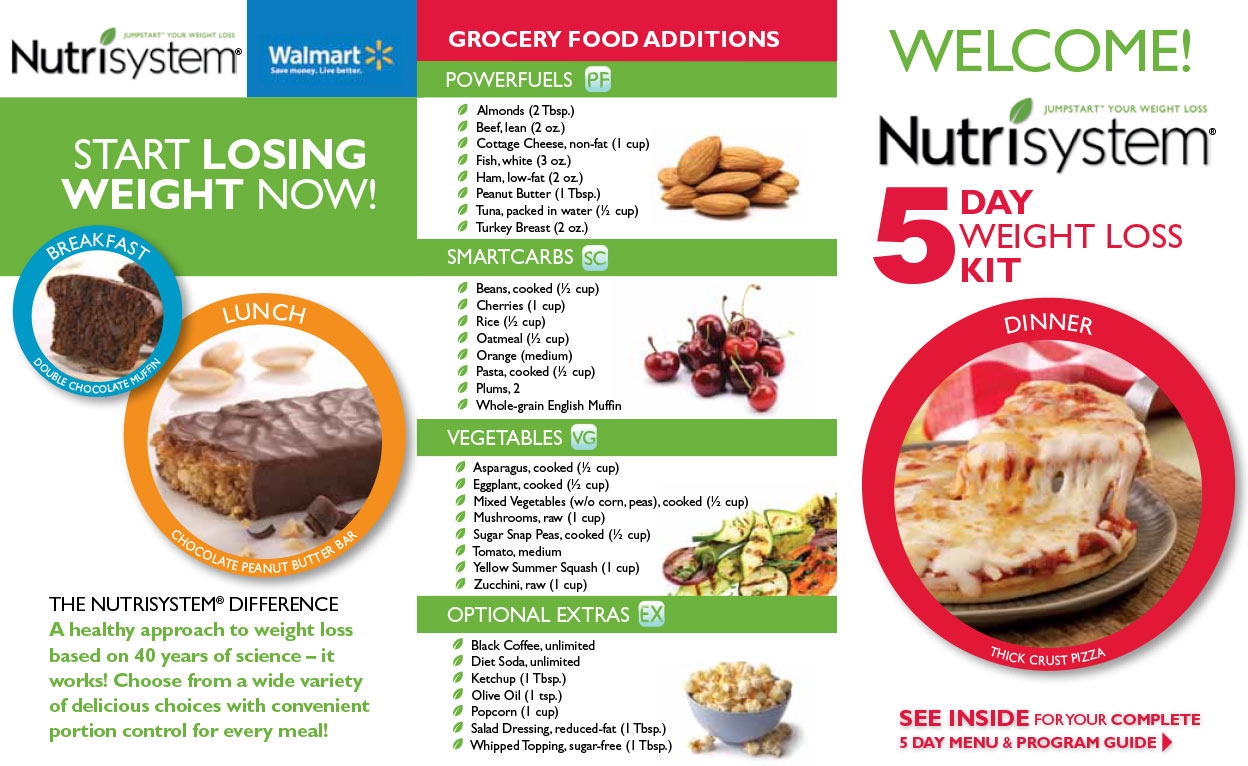 Familiarize yourself with your Nutrisystem food: In your box, you'll find 5 breakfasts, 5 lunches, 5 dinners, and 5 desserts, all color-coded by meal occasion: breakfast (blue), lunch (orange), dinner (red) and dessert (purple). Sort your meals accordingly for easy access during the week.
Follow your 5-day meal plan: You'll be eating Nutrisystem® every day for breakfast, lunch, dinner, and dessert. In addition, you will also complement your Nutrisystem® food with fresh grocery items, which we group as PowerFuels, SmartCarbs, Vegetables, and Extras. See Grocery Food Additions for more information about these food groups.
Add in favorite groceries: Make sure to plan ahead by purchasing some fresh grocery items to go with Nutrisystem® meals. With your 5-Day program, you already know which Nutrisystem® foods you will be eating for 5 days. However, you have the freedom to choose which grocery additions you can have each day
---
Sample 5-Day Kit Menu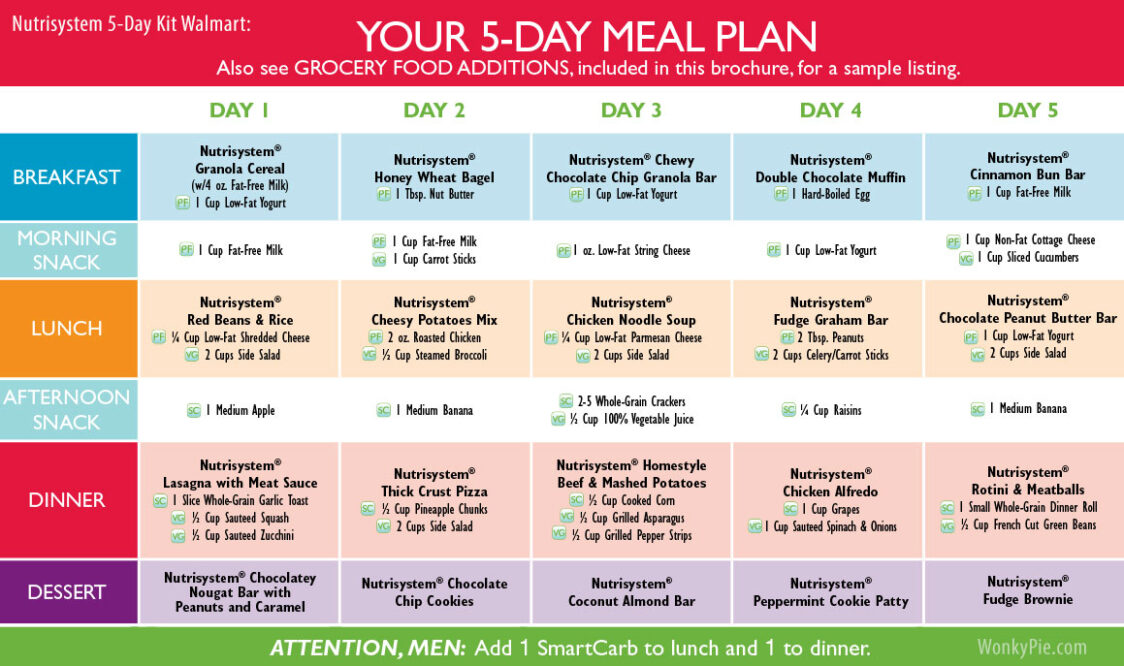 What's In a Nutrisystem 5-Day Kit?
If you've been thinking about joining Nutrisystem but are still on the fence, you can get the gist of the program by trying their popular 5-day meal kit. Nutrisystem claims that while using these kits you can lose "up to 7 pounds in two weeks."
Walmart carries three Nutrisystem 5-Day Kits including:
"Members Favorites" 5-day Frozen Weight Loss Kit (Popular)
"Turbo Protein Powered Homestyle" 5-Day Weight Loss Kit
"Protein Powered Jumpstart" 5-Day Weight Loss Kit
Nutrisystem D "Everyday Favorites" Kit (7-Days)
Each kit comes in a cardboard box complete with its own little handle. That means you can carry the box and still have a free hand to point out all of the weird Walmart people to your husband. Here's more about each of the kits:
---
Nutrisystem Frozen Weight Loss 5-Day Kit: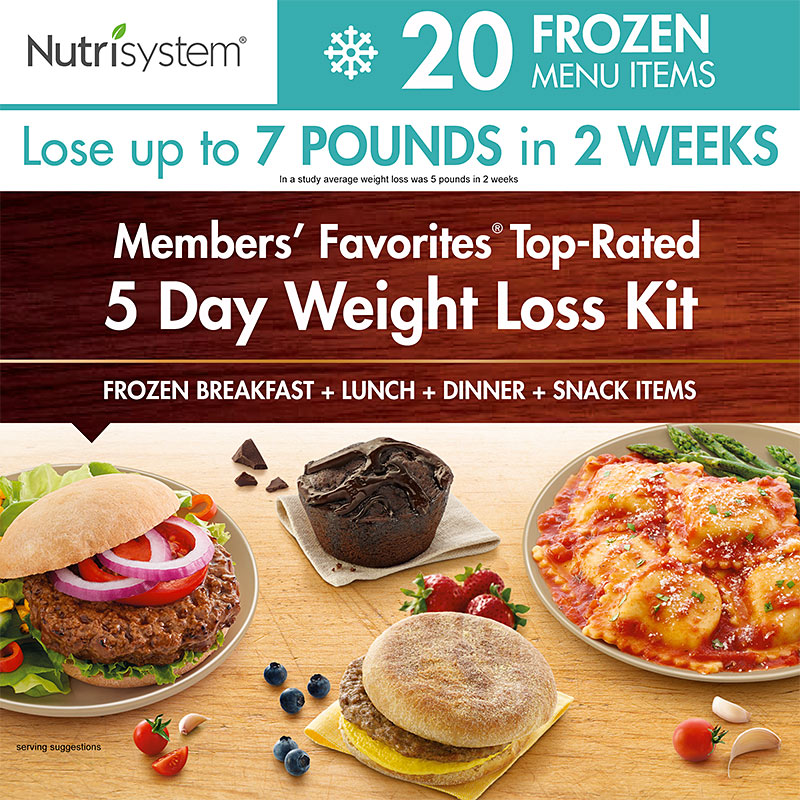 As the name implies, this 5-day box features some of the top frozen food from the Nutrisystem menu plus unlimited weight loss counselling. It's also the most popular 5-day kit option at Walmart. Here's what each kit contains:
Each Members Favorites 5-day Kit includes 15 entrees and 5 desserts & snacks including:
Breakfast: Buttermilk Waffles, Cinnamon Roll, Homestyle Pancakes, Thick-sliced French Toast, Turkey Ham & Cheese Omelet
Lunch: Four Cheese Melt, Grilled Chicken Sandwich, Hamburger, Pepperoni Pizza Melt, Southwest Fiesta Melt
Dinner: Roasted Turkey Medallions, Broccoli & Cheese Stuffed Chicken Breast, Meatloaf Sandwich, Mushroom Stuffed Chicken Breast, Ravioli Formaggio
Desserts & Snacks: Chocolate Brownie Sundae, Chocolate Cupcake, Ice Cream Sandwich, Orange Cream Bar, Whole Grain Soft Pretzel
Cost: $66.37 + free shipping or free pickup at any Walmart store
All prepared meals and snacks are "perfectly portioned" so there's no need to count calories or points. However, although the meals are pre-made, you are expected to supplement them with fresh fruits and non-starchy vegetables.
Nutrisystem claims you can lose 7 pounds in 2 weeks with these 5-day kits, but to do so you'd obviously have to buy 4 kits. If you do, consider getting a variety of 5-day kits, and not several of the same kit! (Maybe just try one first?)
If you are interested in buying multiple kits, it might be worth considering joining their program (2-month commitment) with the current promotion:
---
Nutrisystem "Protein Powered" Weight 5-Day Loss Kit: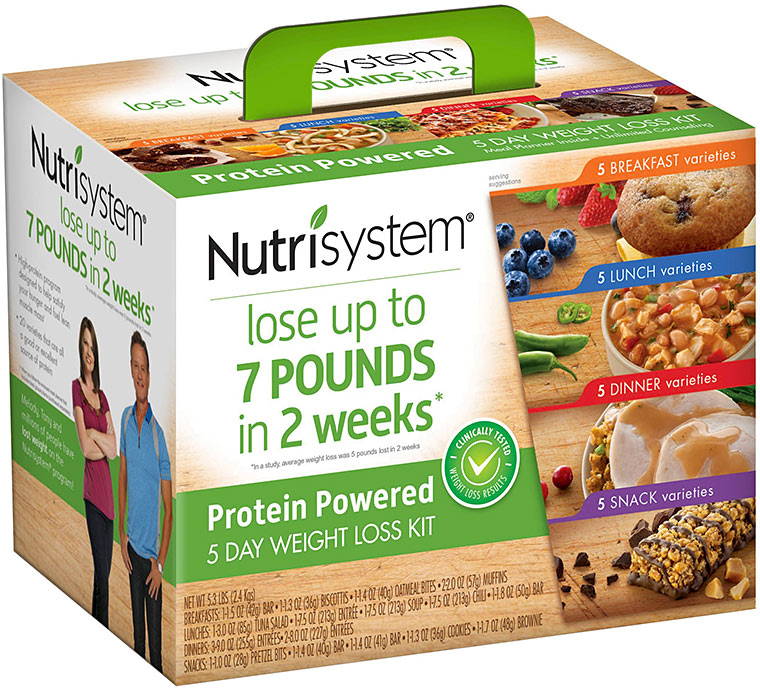 The Nutrisystem Protein Powered Homestyle 5-day Weight Loss Kit is a great way to sample food from the Nutrisystem program without commitment. Each 5-day kit includes 5 breakfasts, 5 lunches, and 5 dinners and unlimited weight loss counseling via phone or chat from their trained representatives.
Here's what each 5-Day Protein Powered Weight Loss Kit includes:
Breakfast: Blueberry Lemon Baked Bar, Oatmeal Cranberry Bites, Cinnamon Bun Bar, Harvest Nut Bar, Granola Cereal
Lunch: Beans & Ham Soup, Creamy Beef Alfredo, Fudge Graham Bar, Three Cheese Chicken, Homestyle Chicken
Dinner: BBQ Seasoned Chicken, Chicken Pot Pie, Chili w/ Beans, Mac & Cheese w/ Turkey Sausage
Turbo Shake Mixes: These 5 shakes are a key to the success of Nutrisystem's program and are high in protein, probiotics, and fiber to keep you feeling full longer
Cost: $44.98 + Free Shipping, or free pickup at your local Walmart
While Nutrisystem claims that you can lose 10 pounds in 3 weeks, you should know that each kit only includes 5 days of food. Therefore, if you really do want to get 3 weeks worth of food, you'll have to buy 4 of these kits. However, I'd recommend not getting 4 of the same 5-day kits, as you'll get tired of the food fast!
---
Nutrisystem 5-Day "KickStart" Weight Loss Kit: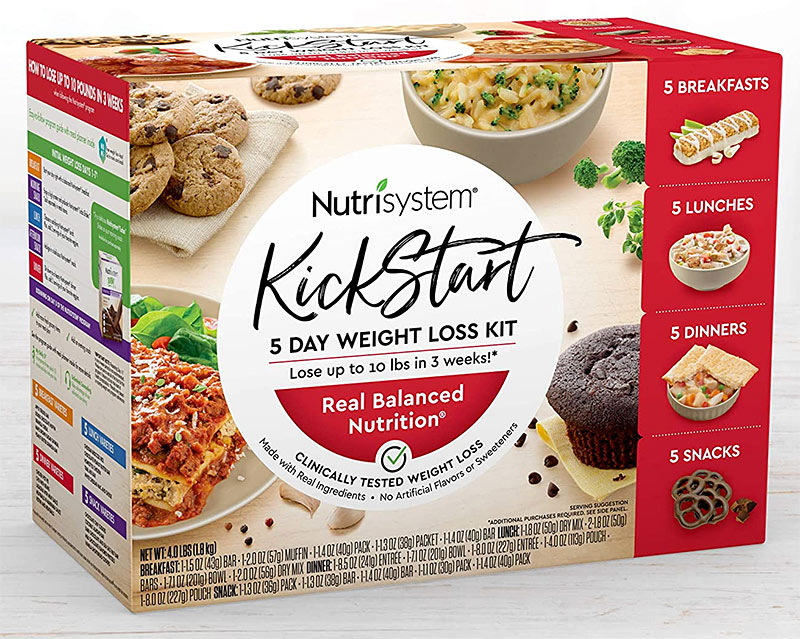 Also a good way to try out Nutrisystem without joining, the "Protein Powered Jumpstart" box includes days of breakfasts, lunches, dinners, and snacks as well as access to unlimited weight loss counceling.
Here's what each "Protein Powered Jumpstart" kit includes:
Breakfasts: Cinnamon Bun Bar, Cinnamon Raisin Baked Bar, Harvest Nut Bar, Oatmeal Cranberry Bites, Sweetened O's (like Cheerios)
Lunch: Black beans & Rice, Cheddar Broccoli Rice, Chocolate Covered Cherry Bar, Chicken Alfredo, Trail Mix Bar
Dinner: Chicken Pasta Parmesan, Hearty Beef Stew, Meatballs in Marinara Sauce, Rotini & Meatballs, Vegetarian Chili
Snacks: Chocolate Caramel Bar, Chocolatey Pretzel Bar, Milk Chocolate Flavored Pretzels, Toffee Crunch Cookies, White Chocolate Chunk Cookies
Cost: $44.98 plus free shipping or free in-store pickup at Walmart
---
Nutrisystem D (Diabetes) 5-Day Kit:
If you are diabetic, Nutrisystem offers "Nutrisystem D," a special plan that emphasizes healthy blood sugar levels and foods with lower sugar and sodium content. Not ready to take the plunge and signup? This 5-day kit is sold at Walmart and comes in a smart little box with a handle. It's a good way to get acquainted with the program without signing up.
Here's what the 5-day Nutrisystem D Kit includes:
Breakfast: Apple Cinnamon Oatmeal, Granola Cereal, Maple Brown Sugar Oatmeal, Nutriflakes Cereal (like Cornflakes), Peanut Butter Granola Bar, Sweetened O's Cereal (like Cheerios)
Lunch: Arroz con Pollo, Beans & Ham Soup, Cheese Tortellini, Red Beans & Rice, Tortilla Soup, Three Cheese Chicken
Snacks: Apple Pecan Bites, Coconut Almond Bar, Double-Chocolate Caramel Bar, Dark Chocolate & Sea Salt Bar
*Why no dinners? Nutrisystem now includes snacks instead of dinners in the "D" meal box, which has a lot of customers angry. Actually, it's the #1 complaint in customer reviews!
---
Nutrisystem at Walmart: Shakes, Bars, A La Carte Food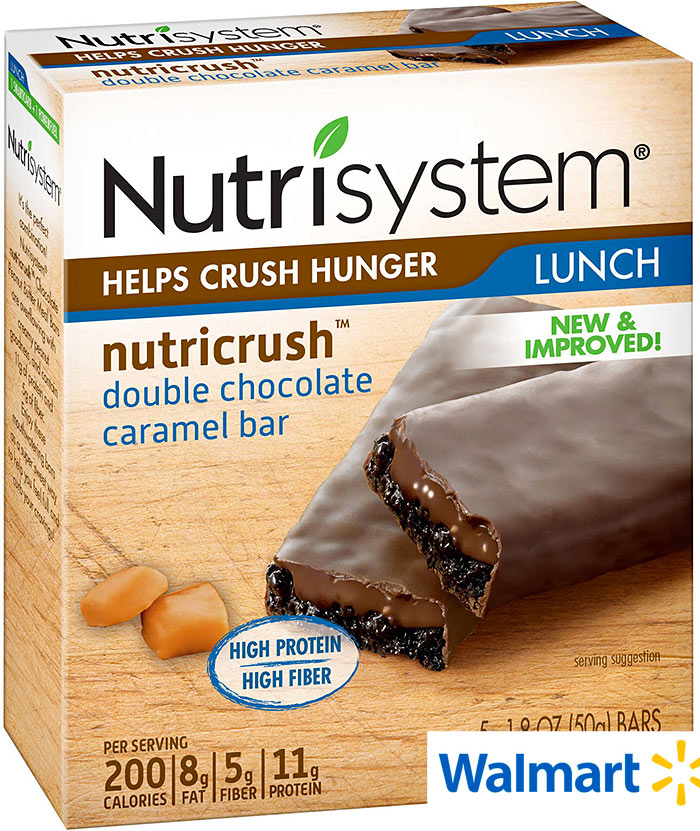 Besides the popular 5 & 7-day kits, you can also buy food like bars and shakes a la carte at Walmart and Walmart.com. Their best-sellers include:
NutriCrush Bars (Chocolate Peanut Butter)
Nutrisystem D Blueberry Muffins
NutriCrush Shakes (Vanilla)
NutriCrush Bars (Double-Chocolate Caramel)
NutriCrush Bars (Fudge Graham)
Breakfast on the Go Variety Bundle
Nutrisystem D Chocolate Chip Cookies
Nutrisystem Movie Night Snack Pack (Popcorn, Chocolate Pretzels)
NutriCrush Shakes (Chocolate)
Chocolate Chip Cookies
*Related: Are there coupons for Nutrisystem at Walmart?
---
Walmart: Where to Buy Nutrisystem Kits, (Boxes) Shakes, Bars, and Frozen Food
You already knew Walmart sells everything, right? Well, I'm not a fan of how they have gutted Main Street America, but if you're looking to try out Nutrisystems without signing up for a membership, it's a good option. *Need to find a local store? Here's their store-finder.
If you end up liking Nutrisystem and want to consider signing up for their program, we have the best deals!

*Check out this month's free trial offer for Noom Coach!
Thanks for stopping by Wonky Pie!