Nutrisystem's official tracking app is called, Numi, which you'll start using immediately in Body Reboot, the first week of the program. NuMi syncs with your Nutrisystem plan to seamlessly track your food, flex meals, activity, measurements, and more.
Here's everything you need to know about Nutrisystem's Numi App:
How Numi Works:
NuMi describes themselves as, "the only app customized to your Nutrisystem® plan. Stay on track and help increase your weight loss."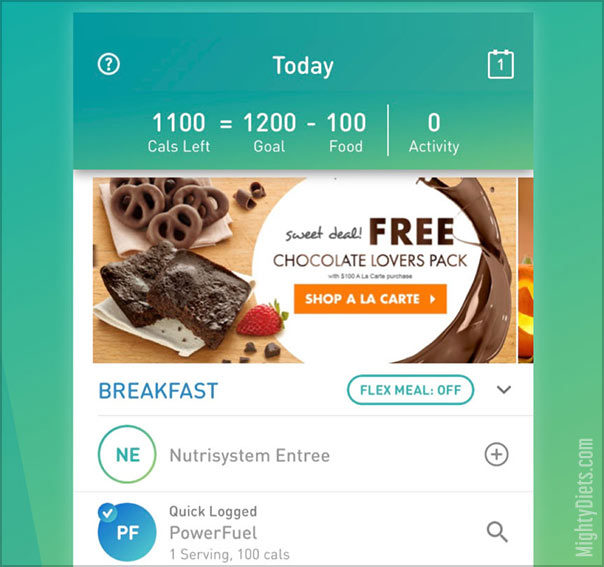 So, NuMi is kind of like the GPS of the Nutrisystem plan, helping you track your food and activity while guiding you along on your journey.
The NuMi app offers:
Easy tracking of food including Nutrisystem and non-Nutrisystem meals, snacks, and drinks
Smart reminders help you track your meals, water intake, and activity
Daily health-related articles, tips, and recipes relevant to where you are on your weight loss journey
NuMi resources provide daily motivation and accountability which are both keys to the success of any diet
NuMi users can participate in contests, and win prizes and milestone badges, plus get exclusive special offers
NuMi doesn't make restrictions or promote any specific foods but instead focuses on daily calorie goals and macronutrient intake to help you meet your weight loss goals with healthy choices and activity.
Before we talk about the best features of Numi, it's important to understand the concept of "responsive dieting."
---
NuMi is "Responsive Dieting"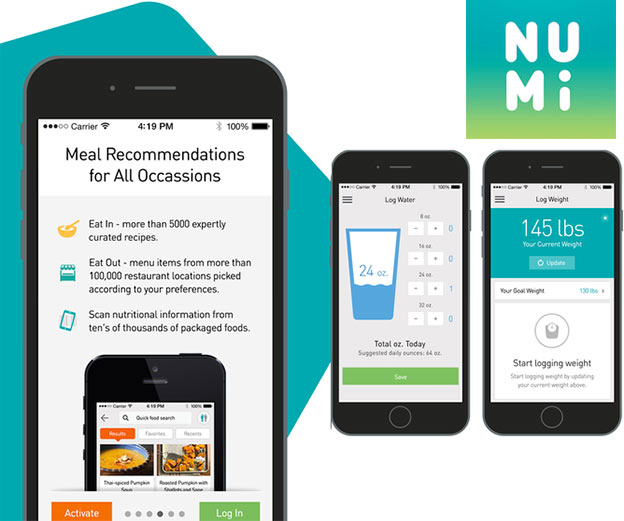 Everyone is different, so why expect the same version of a product to work for everyone?
It's been said that while the Starbucks menu itself minimal, there are 87,000 ways to order a drink. Starbucks understood the concept of mass customization a long time ago, (tall vanilla latte, skim milk, 2-pumps, please!) You can think of the NuMi app in the same way. Even though there are only a few Nutrisystem plan options, using the app results in a myriad of ways to experience the program.
That concept is called "responsive dieting;" meaning that the program adapts to the needs of the individual.
How does NuMi do this?
The Numi app considers factors like lifestyle, food preferences, activity level and metabolism. Unlike most weight loss apps, Numi also addresses the psychological components of successful long-term weight loss.
The app goes as far as helping you eat what's already in your fridge. It will combine these items to create meals within your calorie restrictions.
Oops, did you overeat at dinner last night? No problem, NuMi can keep you on track by adjusting its calorie recommendations for you so that you stay on track. In other words, you won't completely blow your diet if you eat that piece of chocolate cake or indulge in a glass of wine!
---
NuMi User Reviews
All of these features sound great, but does NuMi work? Generally, users rate the app highly in more than 1700+ reviews on the App Store: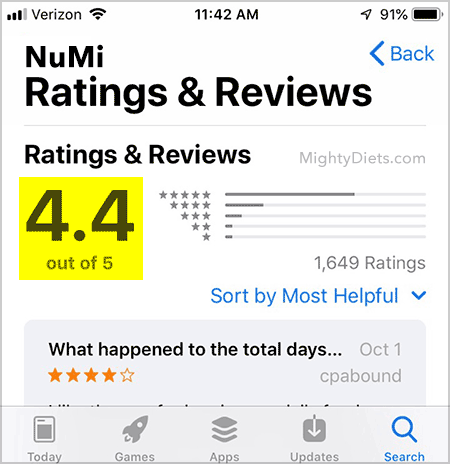 You can easily sort NuMi reviews by "most recent," or "most helpful" to get an idea of what's good and bad about the app's features.
Nutrisystem has recently improved NuMi to be, "faster, easier to use, and better than ever," and customer reviews seem to confirm these improvements. Now let's take a look at the app's best features.

*Related: Why Nutrisystem's BOGO Sale Is Their Best Sign-Up Promotion
---
Top 7 NuMi App Features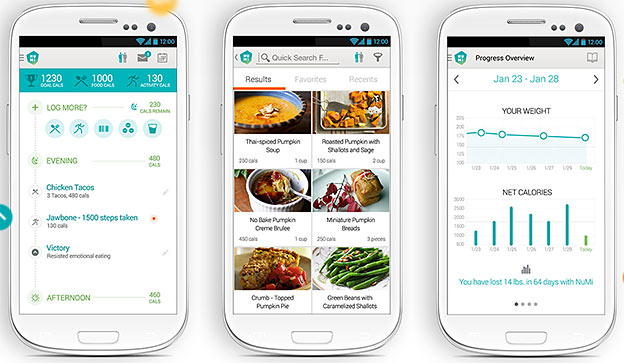 "Let NuMi guide you to a healthier lifestyle."
Think of NuMi as the Sherpa on your weight loss journey with Nutrisystem. It's included with all of their plans, (cost per month?) and is a significant evolution in the Nutrisystem program. If you are thinking of joining Nutrisystem, you should familiarize yourself with the NuMi app, which is central to the experience and ultimate success of the program.
Here are 7 of the best features of NuMi Nutrisystem:
---
1. NuMi Eats Out With You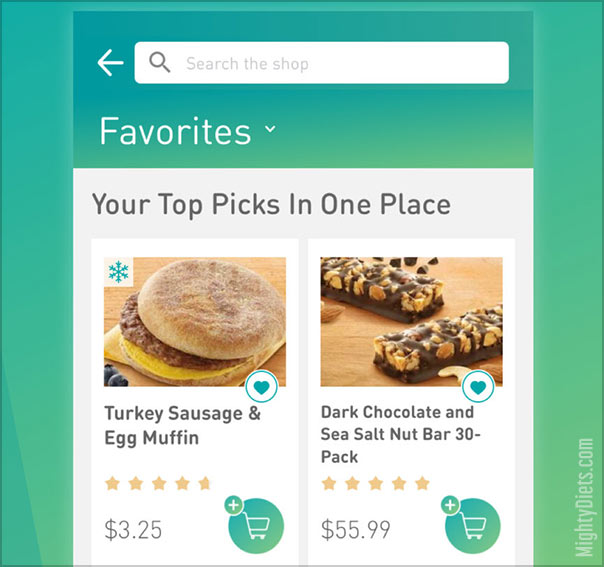 Like we mentioned earlier, the NuMi calorie and goal tracking features are dynamic. If you slip-up, the app adjusts your goals for you.
The good people at Nutrisystem also know you're not going to be eating out of the fridge all the time. This is why they've included a handy feature that helps you pick menu items from over 300 chain restaurants. If you stick to the app's recommendations, you'll always be within your diet and hit your goals.
---
2. Behavior Modification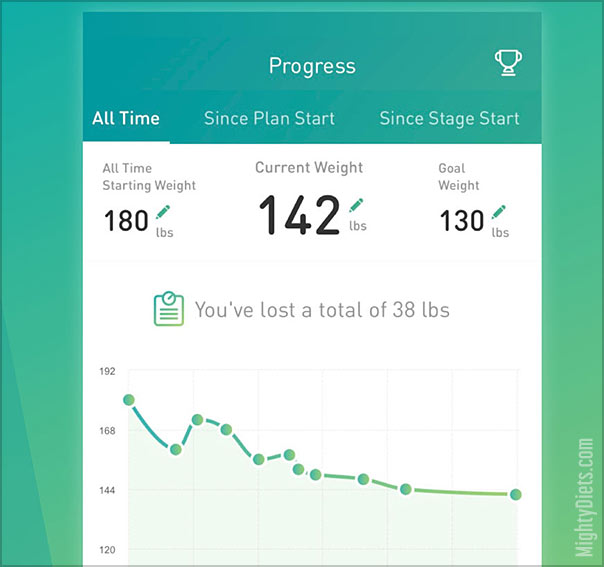 Creating healthy habits starts with daily decision-making. You have to intentionally do things different every day to re-wire your brain. NuMi allows you to see the decisions you're making every day and helps you adjust them appropriately.
Self-monitoring is a proven way to improve your chances of dieting success. Not only will it help you keep track of your slip-ups and adjust for them, but it will also track your positive progress. You receive real-time guidance throughout your weight loss journey to keep you on track.
*Related: Noom Reviews: Hot New App Based on Behavior Change
---
3. Syncs With Fitness Trackers

Easily access NuMi from your phone or iPad. Your calorie needs won't be the same every single day. If you exercise, your calorie needs will be higher on training days than recovery days. This is why NuMi is compatible with various activity trackers like FitBit.
If you own a smart-scale, you should be able to connect it to the app via wifi. Again, in the age of the smartphone, NuMi makes weight loss tracking even easier.
---
4. Quick Log Features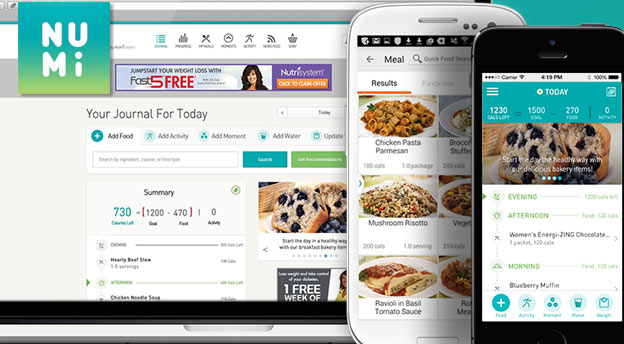 One incredible way NuMi is flexible: it won't make you find your exact meal ingredients for logging. If a particular type of meal is "close enough" to the calories consumed, you can just pick a category.
For example, if you ate an average Nutrisystem entree, you just log the "Nutrisystem Entrees" category. You won't need to go searching for a Nutrisystem hamburger with exact ingredients.
Of course, if you're a type A person, you might not be able to handle this kind of fudging on your calorie count. In that case, you're more than welcome to be as exacting in your food log as you like.
To use the Quick Log feature, tap the circular food icon in your Journal. If you want to be more specific, you can always go back and change it to a specific food at a later time. Just tap the icon once more and remove the "Quick Log," and add the specific food.
---
5. A Food Scanner and Recipes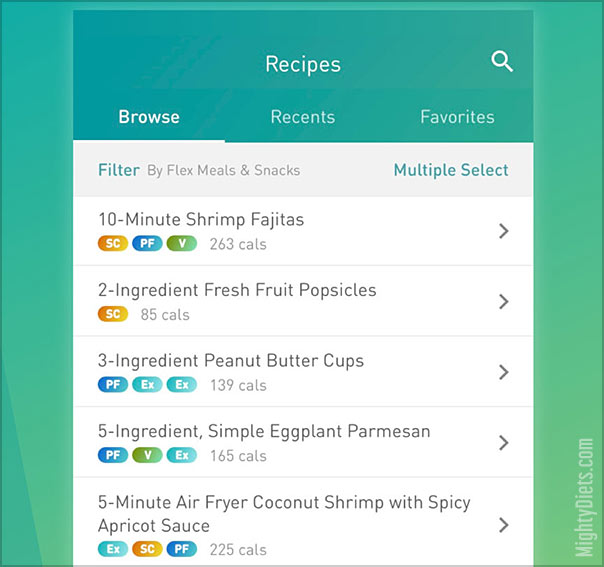 If you've ever wished you could just scan the label on your food instead of searching through a database, you're in luck. Most food tracking apps now include some sort of barcode scanner.
Nutrisystem's NuMi app includes a database of over half a million foods. And the barcode scanner will automatically find and log any of those foods.
If you're an aspiring chef, there are plenty of recipes in the database as well. It's simple to search for a recipe, make it, and then log what you eat.
6. NuMi Meal Recommendations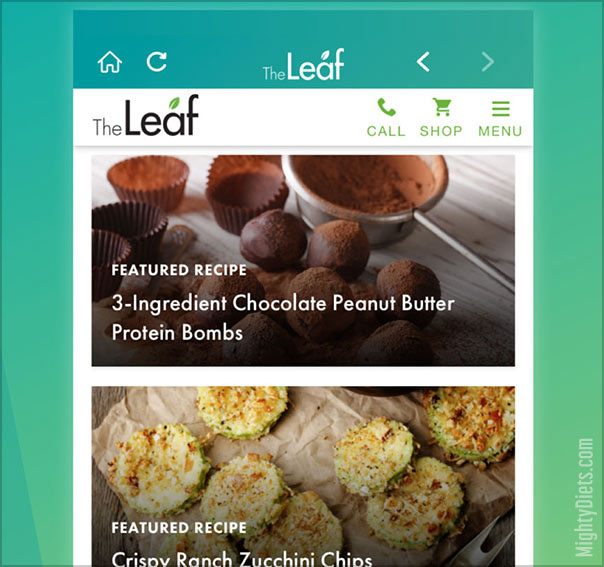 The NuMi app uses the food database and your personalized profile to give you food recommendations. All you need to do is push the orange plus sign at the bottom of the screen and hit "Food." You will then have the option of either getting food recommendations or creating your own meals.
7. Complete Challenges, Earn Rewards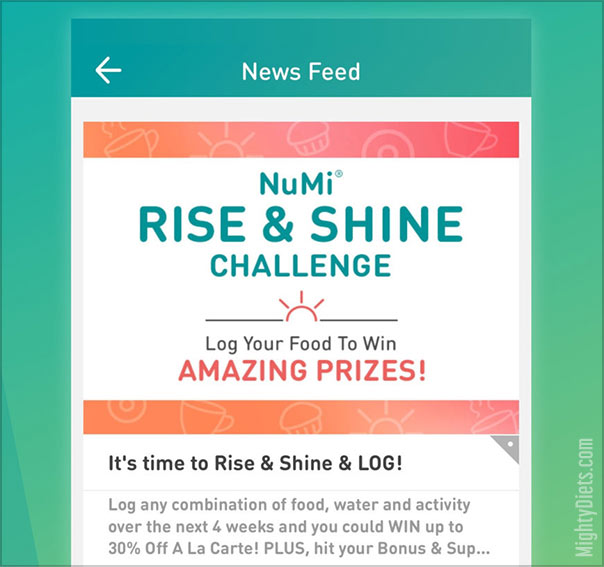 One of the unique aspects of the NuMi app is its reward system. Nutrisystem creates in-app offers and track-to-win challenges and motivational tasks throughout the year for its NuMi members.
You can even capture your journey with snapshots of your progress.
Rewards include free gifts, exclusive recipes, discounts, and awesome weight loss milestone badges that you can share with others. You can even earn credit towards a la carte food at the Nutrisystem store!
---
See the Numi App In Action
Hopefully, our review has given you a pretty good idea of how Numi works. We also came across this helpful video which gives you real-time footage of how to navigate the NuMi app. It's actually quite simple and user-friendly:
Want to read more reviews?
Compatibility: NuMi requires iOS 10.0 or later. Compatible with iPhone, iPad, and iPod touch.
You can find the NuMi app on both Google Play and the Apple App Store. You can even try it out by downloading it for free, even if you haven't joined Nutrisystem yet.
Thinking of joining Nutrisystem? Their best special is below, plus you can save even more when you check out our Nutrisystem coupons:
Before joining Nutrisystem, you can also consider the South Beach Diet, which is a similar meal-delivery-based diet. It costs a little more, and generally isn't quite as highly rated though.
Meal-delivery coupons: Factor75, Home Chef, Purple Carrot