No doubt you've seen a number of celebrity spokespeople promoting the Nutrisystem 28-day diet on TV. They've been a heavyweight (or lightweight?) in the commercial diet space for decades, and millions of women and men have tried it.
So, there's no doubt that it's a popular diet plan, but does Nutrisystem really work?
First, let's look at how Nutrisystem works, and then examine customer and expert ratings as well as studies to see if it actually works. Then, let's look at the pros and cons of the diet from both good and bad user reviews.
After doing so, I think you'll have a better idea of whether or not Nutrisystem will work for you, and if the cost is in your budget.
Nutrisystem: How it Works | Getting Started | Does It Work? | Pros & Cons | Food Reviews
---
1. How Does Nutrisystem Work?

Nutrisystem has evolved over the years, but they have always maintained that weight loss is easier when you don't have to cook, count points, or spend a lot of time planning, preparing and portioning meals.
The foundation of Nutrisystem's program is the nutritious, pre-portioned, prepared meals delivered to your door each month. These chef-created meals are designed to be high in lean protein, fiber, and low-glycemic (good) carbs, and low in saturated fat and bad carbs.
The Nutrisystem program offers plans for both women and men, including plans with menus specially tailored for diabetics, and vegetarians. While these plans are similar, you'll pay more for variety, including optional frozen foods. (View plans)
All plans start with a week of fast weight loss to reboot your body.
---
Getting Started w/ Nutrisystem:
Here are some tips for starting Nutrisystem: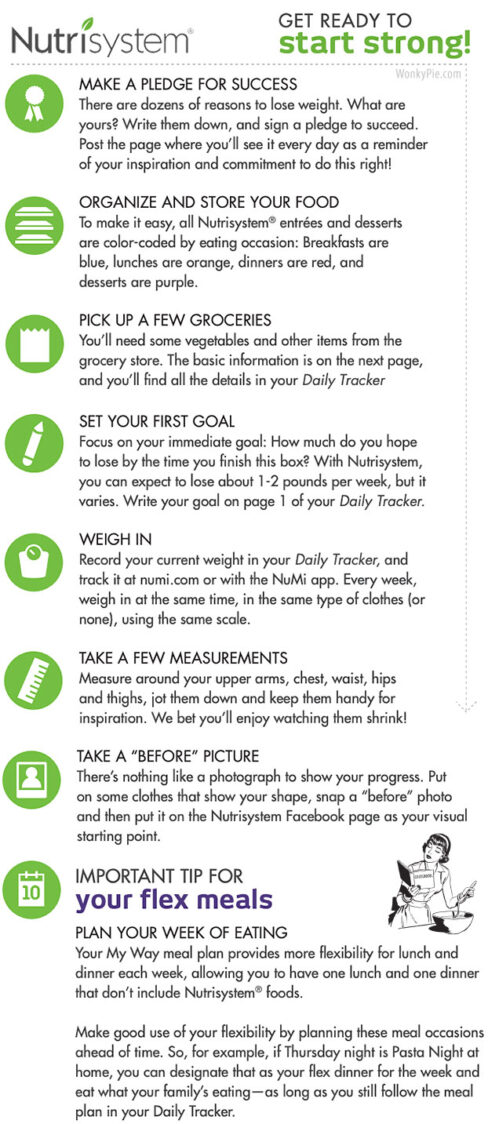 All of this starts with your first week called, Body Reboot.
• Week 1 Explained:
Research shows that fast initial weight loss is highly motivating, and makes the long-term success of a diet more likely. That's why all plans begin with 7 full days of Nutrisystem meals and probiotic shakes to reboot your body and activate your fat-burning mode.
The first week is like a wake-up call for your body. The program's nutritional balance and significant calorie restriction cause you to switch from burning carbs to burning fat as a fuel source. This also helps to break the unhealthy eating habits and cravings that you might be accustomed to.
---
• Week 2 and Beyond
After the initial week of FreshStart, you'll enjoy a greater menu variety.
You'll eat 6 times a day on the program, including a Nutrisystem breakfast, lunch, dinner, and snacks. They ask that you supplement these meals with some fresh groceries including:
Lean protein and dairy called, "PowerFuels"
Good carbs that are high in fiber called, "SmartCarbs"
Your weekly menu also includes several Flex meals, which can be your own healthy cooking or dining out.
Research suggests that people who log their meals are twice as likely to lose weight, so you'll do so on the Numi app, which is like your wellness GPS on the program.
Nutrisystem also encourages you to drink at least 64 oz. of water per day, as well as 30 minutes of daily exercise.
Tip: How much weight can you lose? Nutrisystem claims that if you follow the program you can, "Lose up to 13 lbs. and 7 inches overall in your first month," and 1-2 pounds per week thereafter.
OK, sounds great, but does Nutrisystem really work?
---
Does Nutrisystem Work?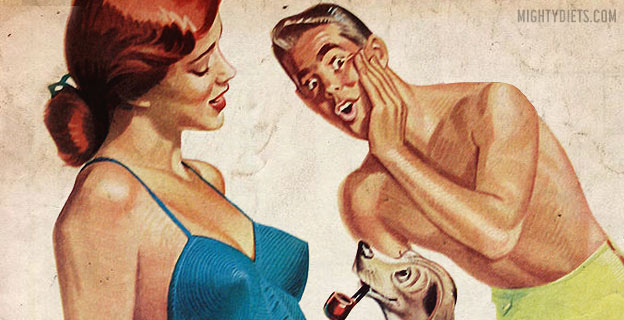 In order to determine whether Nutrisystem is actually an effective weight loss program, let's look at both customer and expert ratings, plus clinical studies.
• Customer Ratings:
By looking at the customer satisfaction ratings from Nutrisystem user reviews, we can get a good idea of whether the diet worked for specific users, and then estimate an overall success rate.
Surprisingly, Nutrisystem's own web site seems to be the best place to read honest reviews from verified customers.
In fact, over the past several years 6200+ Nutrisystem users have rated the program for "customer satisfaction," and most ratings are positive: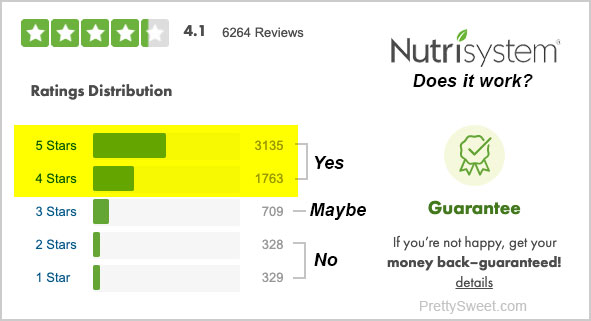 As you can see, over 75% of users give the program a 4+ star rating, inferring that Nutrisystem does indeed work most of the time.
Tip: It's worth sorting the good and bad reviews on Nutrisystem.com to read about side effects and why the program did, or did not work for individual customers.
Ok, the masses have spoken, now let's see how the experts rate the Nutrisystem diet:
---
• Expert Ratings:
So, do the experts think that Nutrisystem works?
U.S. News asked a panel of health and diet experts to rate Nutrisystem on several important criteria including weight loss results and healthiness.
Here's how Nutrisystem scored: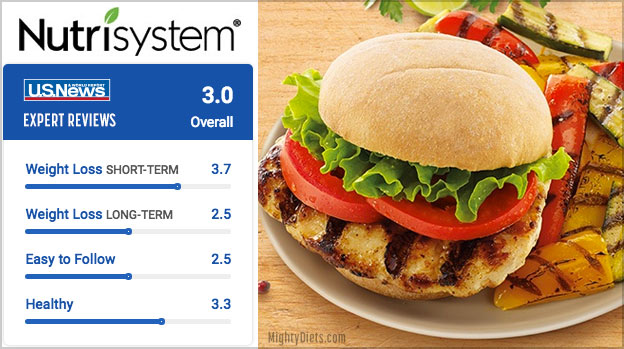 Short-term Weight Loss: (3.7/5) Nutrisystem ranked best in this area, as experts agreed that portion control and calorie restriction should result in fast weight loss
Long-term weight loss: (2.5/5) Nutrisystem scored low in this area. This is probably because the diet depends on users eating and tracking mostly Nutrisystem foods. A number of customers seem to have tired of their food and wanted to return to menu freedom
Easy to Follow: (2.5/5) Convenience is the biggest plus of Nutrisystem, and it's a favorite of busy people. Prepared, pre-portioned food is delivered each month to users' doors with clear instructions. However, adjusting to menu limitations can be hard, and can cause users to quit.
Healthy: (3.3/5) Nutrisystem scored well in this area as their high-protein foods are low in saturated fat and meet or exceed FDA recommendations. Their food is also much healthier than the average American's diet (view comparison)
Tip: Experts seem to conclude that Nutrisystem works well for short-term weight loss, but is not as effective long-term.
This conclusion also seems to be supported by independent studies of the diet.
---
• Studies & Clinical Trials:
A number of independent studies have been conducted to the study weight loss results of women and men on Nutrisystem. Although they don't publish success rates, consider the following studies that support the claim that Nutrisystem does work:

Also, consider the 2019 article in the New England Journal of Medicine (NEJM) which concluded that meal-delivery diets appear to promote more weight loss than DIY diets. The article states:
"Provision of meals and meal-replacement products promote greater weight loss than seemingly holistic programs based on balance, variety and moderation."
In other words, the added structure and convenience of meal-delivery diets like Nutrisystem and South Beach Diet seem to encourage more weight loss.
OK, let's move on to look at why Nutrisystem' should work if you follow the program.
---
WHY Does Nutrisystem Work?
So, why does being on Nutrisystem encourage steady weight loss? We asked Nutrisystem why their program works, and they responded with this short video, "8 Science-Backed Reasons Nutrisystem Why Works."
You get nutritious, portion-controlled meals. With fewer calories and better nutrition, the science infers you'll effectively lose weight
They offer weight loss counseling and support by phone
The convenience of pre-portioned meals that arrive monthly at your door encourages weight loss and slashes your grocery bill
Studies have found that diet tracking is key to successful weight loss. It's easy to keep track of your food and exercise on the Numi app
Nutrisystem is not restrictive. Studies have found that diets with too much deprivation are likely to fail
They teach you life-long habits so that you can ween yourself off their diet and make your own healthy choices
They have plans for numerous budgets and special needs including those with type 2 diabetes
Decades of mostly-positive user reviews and weight loss results show that Nutrisystem should work if you follow the program.
OK, of course Nutrisystem is going to say that their program works, but let's talk about why it might not work.
---
Why Nutrisystem May NOT Work: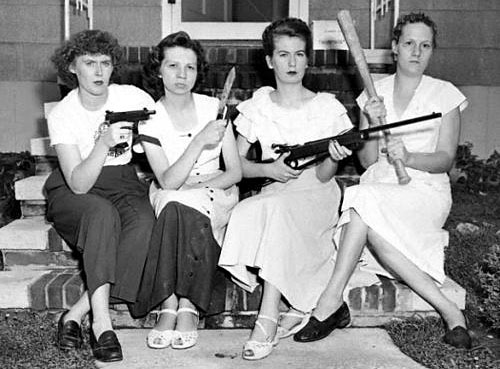 User reviews infer a success rate of about 75%, which means that Nutrisystem does not work for 25% of users. That's a lot of bad reviews, but why?
Nutrisystem scores well for short-term weight loss, but relatively low long-term. That means the program usually works for the first month or two, but users are less motivated to follow the program long-term.
So, why do some users quit?
Bad reviews reveal that users are likely to quit if they tire of the limited menu variety, or have trouble adjusting to a highly-structured meal plan.
Consider that a diet should be much more than just the food you eat.
Tip: Sustainable weight loss programs should address the psychological component of weight loss, and facilitate long-term behavioral changes for improved health. Most don't, which is why they often fail.
So, will you meet your unique weight loss goals on Nutrisystem?
---
Will Nutrisystem Work for YOU?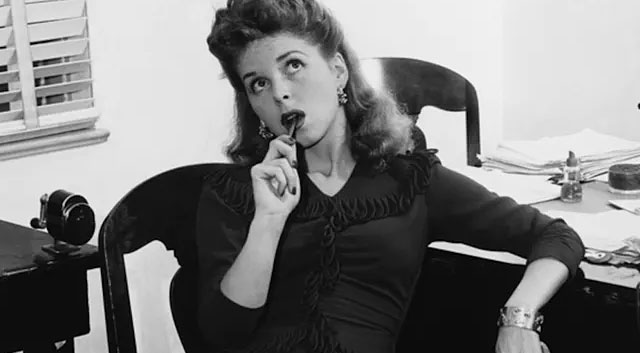 To determine whether Nutrisystem works, we've looked at customer reviews, expert ratings, and clinical research. We can conclude that Nutrisystem usually works, but that doesn't mean that it will work for you.
Before signing up for Nutrisystem, ask yourself these questions:
Why are you overweight? If you don't address the psychological component of obesity, your initial weight loss may be unsustainable
Do you like to cook? The foundation of the Nutrisystem program is the prepared meals. If you enjoy cooking or expect a variety of gourmet food, you may be disappointed by the "heat and eat" approach
Are you going to be disciplined? If you follow the program, the math says that you'll lose weight. If you cheat, tire of the food, or don't adjust to the eating schedule, this diet will probably fail you
People all have very different personalities and lifestyles, so no single diet will work for everyone. For example, while some people may flourish with Nutrisystem's structured approach and menu limitations, while others may bristle at the idea of such a compromise.
In that spirit, let's look at the pros and cons of Nutrisystem, based on good and bad reviews.
---
Customer Reviews: PROS and CONS
We read hundreds of good and bad Nutrisystem reviews which included some common praise and complaints.
Every diet has strengths and weaknesses, so let's consider the pros and cons of Nutrisystem:
• PROS: Common Praise
OK, we've learned about why customers complain in negative reviews, but now let's see what they like best about the program:
Convenience: About 90% of people say that they don't like to cook. Nutrisystem tells you what to eat and when making it a favorite of busy people and a popular choice for people who have tried the DIY diets and apps without success
Fast weight loss: Nutrisystem is rated highly for "fast weight loss," and customers seem to agree, as the first month of the program is designed for just that.
Structure: Do you find that DIY diets give you a bit too much freedom? This is a common problem, and can inhibit weight loss results. If you follow the Nutrisystem program and log your meals, the math says you'll lose the weight.
Nutrisystem's strength is convenience, and it seems to be a good diet option for busy people who need structure. Have the DIY diets failed you? If you are willing to sacrifice menu freedom for weight loss results, consider Nutrisystem.
Now, let's look at common complaints from bad Nutrisystem reviews:
• CONS: Top Complaints
No single diet is right for everyone, so let's learn from bad reviews and stories of failure. Here's what users complain most about in bad reviews:
Cancellation fee: Customers venting anger about Nutrisystem's cancellation fee is the biggest complaint in user reviews. If you don't like the program cancel in the first 14 days. If you cancel after 14 days but before your second shipment, you will be charged $125. Learn more about their cancellation policy here.
Food taste & variety: Switching from complete menu freedom to a structured diet of pre-packaged meals is not easy for some people. One bad Nutrisystem review criticized their menu as being, "the return of the tv dinner." Other users complained that there isn't enough variety of foods, especially if you choose their lower-end plans that don't include frozen foods.
Price Increase: Here's an important one. Some promotions, including their "$100 off" seasonal promotion do not lock-in the promotional rate. These coupons only apply to your first 3 months, and by month 4 you may be surprised by a price increase. For the best deal, signup with the "40% off" promotion which does lock in the price. For an even lower price, check out our coupons here!
Nutrisystem scores low for long-term weight loss. This is probably a result of their prepared food and menu restrictions which can be hard to adjust to. They also focus more on weight loss than behavioral change and healthy life-long habits, so you may gain the weight back if you quit the program.
So, if the idea of a highly-structured diet is not appealing, perhaps more of a DIY, app-based weight loss program like WW or Noom might be a better option?
---
FOOD Reviews: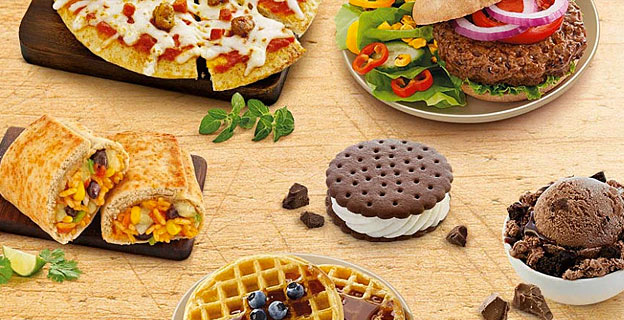 It seems like there's some disagreement over how the food tastes, so let's look closer at Nutrisystem food reviews.
Nutrisystem offers over 160 menu choices, but how do can you tell if specific foods are good?
Actually Nutrisystem.com/menu is a great place to read food reviews, and they don't hide the bad reviews!
Want to read reviews for specific foods? Just visit their site and click, "View Menu" at the top: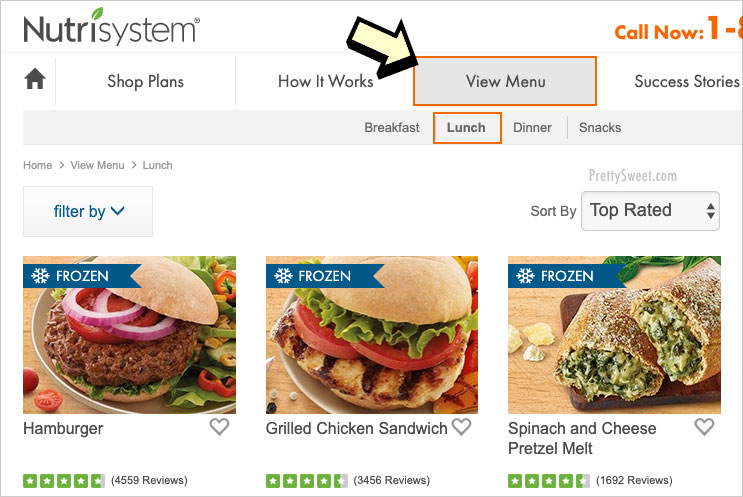 Then, select a meal (breakfast, lunch, etc) and you'll get a sortable list of foods. By default you'll see them listed by "top-rated," but you can change that: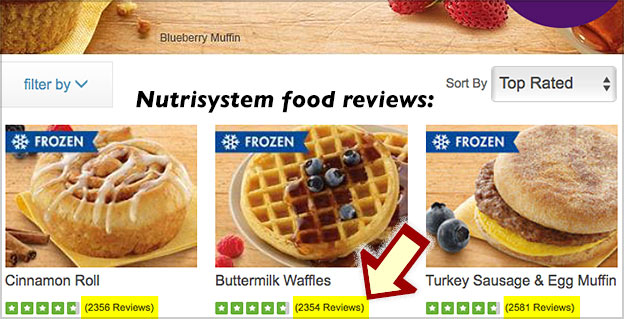 Click on any food and you can read all customer reviews for that specific food, including the bad ones.
Best food? The hamburger is highly rated at 4.6 stars (out of 6000+ ratings), and the Italian Turkey Sausage and Pepperoni Pizza at 4.5+ stars
Worst Food? Reviews say you should avoid the Fiesta Mac & Cheese and Mushroom Risotto, which usually disappoint customers at 2.5 stars.
Tip: Whether you're a Nutrisystem customer or not, I recommend reading food reviews before ordering. All of their plans, except BASIC, give you the ability to customize your menu choices. So, if there are foods that don't look or taste good, drop them from your menu!
*Related: Is Nutrisystem Food Healthy?
---
Top Nutrisystem FAQs
Hopefully, we've given you a good idea of how Nutrisystem works. If you'd like to learn more, it might be worth watching this short video with answers to frequently asked questions.
---
Conclusion:
Will Nutrisystem Work for You? That really depends on your personality and specific weight loss goals.
Many women and men who find success with Nutrisystem have failed with the do-it-yourself diets and apps, and are now willing to make compromises to reach their weight loss goals.
If you think Nutrisystem is worth trying, talk to your doctor, and don't forget to use a coupon to get the best price. Here's their best promotion now:

*This review originally posted in 2017, then updated in 2018, 2019, and 2020