Choosing which weight loss or wellness program to follow is a big choice and not cheap, so there's a lot to consider before taking the plunge. Nutrisystem is one of the top names in the industry, and its program is built on a foundation of nutritious pre-portioned meals delivered to your door every month.
However, no single diet is best for everyone, so it's important to really understand how diets like Nutrisystem work before signing up. Then, you can make a better-informed decision about whether Nutrisystem might work with your lifestyle and unique personality.
So, will Nutrisystem work for you? There are pros and cons to every diet, so only if it's compatible with your lifestyle and personality. Here's more about how Nutrisystem works in 2021, plus what we learned from customer reviews, food reviews, and expert ratings. Thinking of joining? Check out today's best coupons here!

Nutrisystem: How it Works | User Reviews | Food Reviews | Expert Ratings | Is It Healthy? | Pros and Cons
---
Best Promotion Now:
If you're thinking of joining Nutrisystem we can save you money! Here's today's best sign-up deal:

---
How Does Nutrisystem Work?
Nutrisystem is an easy-to-follow weight loss program that delivers nutritious, portioned, pre-packaged food to your door for about $300 per month. The Nutrisystem menu includes healthier versions of your favorite foods like pizza and burgers that are usually off-limits in other diets. This food is generally high in protein and fiber delivering about 1500 calories per day to coax your body into fat-burning mode.
In fact, Nutrisystem restricts your food to about 1200 calories per day during the first week of the program in an effort to "reboot" your metabolism. This encourages your body to start burning fat instead of carbs which should result in weight loss.
Nutrisystem has 3 plan options: Basic, Uniquely Yours, and Uniquely Yours Ultimate. The plans are similar with the main difference being the amount of food and menu variety. They also have modified plans specifically for diabetics and vegetarians.
By providing most of your "perfectly portioned" food and telling you what to eat and when Nutrisystem puts order to your eating and takes the guesswork out of weight loss.
How much weight do you lose? Nutrisystem says that in the first 2 months, you can lose up to 18 pounds, after which you should lose a sustainable 1-2 pounds per week on the program. In a Nutrisystem-funded study, the average weight loss was 15.4 lbs during the first 2 months.
The goal during the Nutrisystem program isn't just to reach a goal weight, it's to learn healthy habits and eating that should help keep the weight off even after you cancel the program.
---
How the First Month Works
Your first order includes everything you need to be successful during the first month on Nutrisystem including breakfasts, lunches, dinners, snacks, and shakes in color-coded packaging.
The first week of Nutrisystem kicks off with 7-days of specially selected Nutrisystem meals and shakes. Week one is more restrictive but designed to break you of bad eating habits and cravings while preparing you for an extended period of gradual weight loss.
Here's how the first month of Nutrisystem works:
• Week 1: "Body Reboot" Week
The first week is designed to reboot your body for fast weight loss. The first week is most restrictive, but the goal here is results that you can see and feel. That should provide some real motivation to continue with the program!
The Week 1 box includes 7-days of probiotic shakes and meals including:
Nutrisystem Breakfast
Morning Protein & Probiotic Shake
Nutrisystem Lunch
Afternoon snack
Nutrisystem Dinner
You'll also be asked to drink 64 oz of water and add 4 servings of non-starchy vegetables each day.
Tip: You can eat unlimited non-starchy vegetables while on the program. Stay full by eating veggie snacks and Nutrisystem shakes between meals.
• Weeks 2-4
After the first week, you'll have more flexibility and practice good eating habits by adding in Flex Meals. These are meals when you cook for yourself or dine out, and a great way to add variety to your menu.
Your Flex Meals include 2 breakfasts, 2 lunches, 2 dinners, and 2-4 snacks each week.
Tip: Prefer more structure? You can skip Flex Meals and have Nutrisystem provide additional food by choosing the Uniquely Yours Ultimate Plan
Starting in week 2 you'll also supplement meals with lean proteins called, "PowerFuels," and good carbs that are high in fiber called, "SmartCarbs."
You're asked to track all of your meals and weight on the free NUMi app to chart your progress.
---
NUMi: Nutrisystem's Tracking App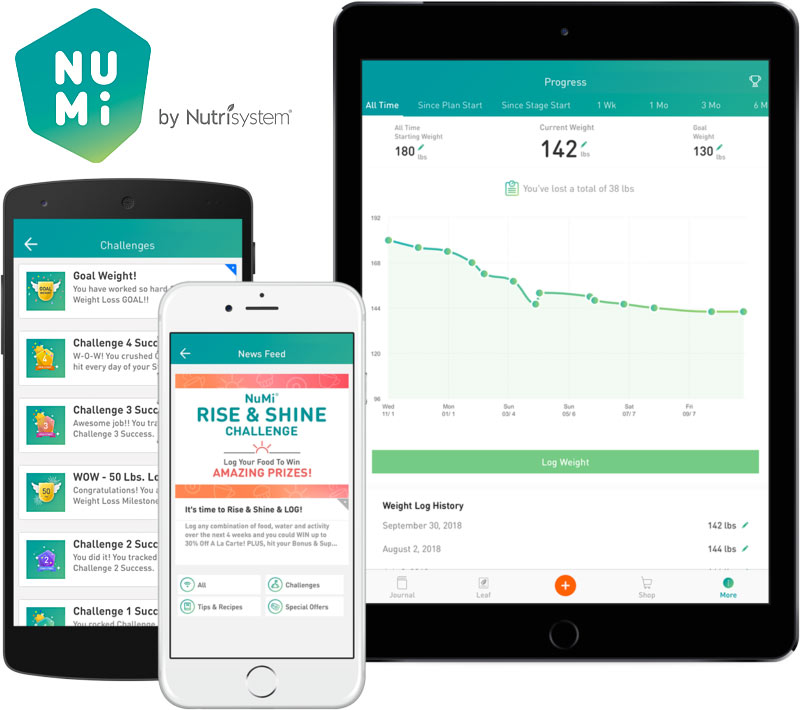 The NUMi app is an integral part of the Nutrisystem program. You'll use NUMi to log your food, water, and weight. Plus, it has a grocery guide and resources like tips and tricks for getting the most out of the program.
If you have questions, you can reference the Quick Start Guides included in your first order. Nutrisystem's blog, The Leaf, is also a great resource for Flex Meal recipes and inspiration.
This all sounds great, but let's look at both good and bad reviews to see what customers think of Nutrisystem, including what they complain about.
---
Which Plan Is Best?
The best Nutrisystem plan is their Uniquely Yours max+ plan because it's rated highest by customers and has the most menu choices including premium frozen meals.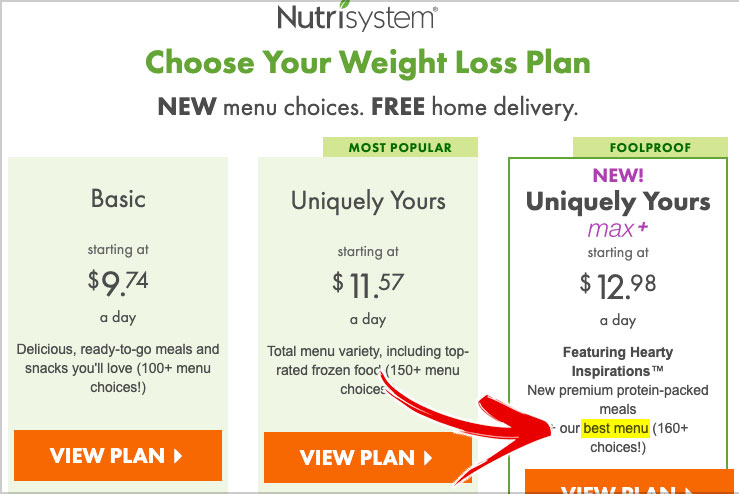 However, even though Uniquely Yours Max+ is their top-of-the-line plan, it's only best for you if you don't mind paying more than other plans. You can compare plans here.
---
Honest User Reviews: (Does Nutrisystem Work?)
So, what do actual customers say about Nutrisystem? Surprisingly the best place to read honest Nutrisystem reviews doesn't seem to be BBB (Better Business Bureau) or Consumer Reports. You'll actually find the most verified customer reviews and ratings on Nutrisystem.com: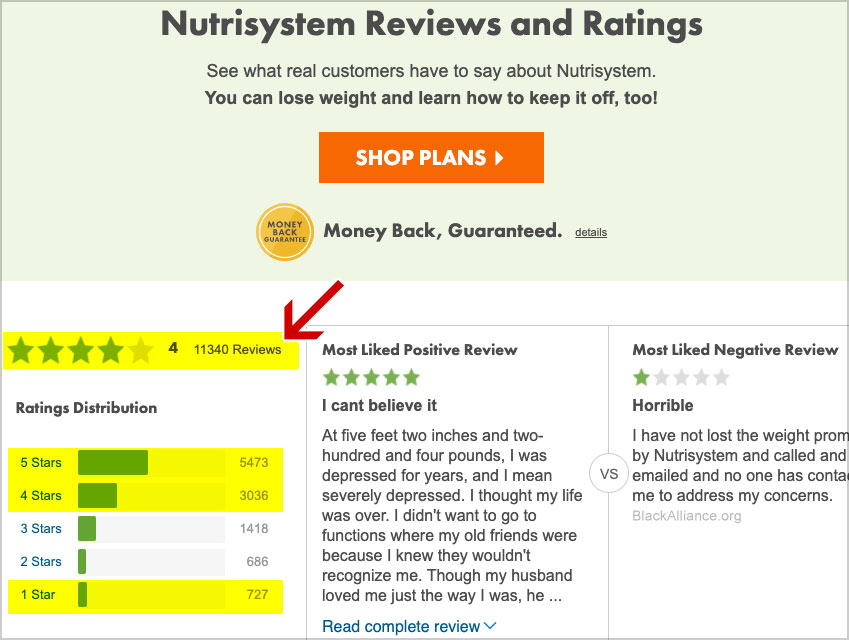 Not only are all of the reviews and ratings from verified customers, but they don't delete the bad reviews, which are very helpful to read.
Nutrisystem Rating: OK, but does it really work? There are currently over 11k reviews on Nutrisystem.com with an average rating of 4.0 out of 5 stars. 75% of users give the program at least 4 stars, inferring that it works for most people.
I recommend that you scroll through Nutrisystem reviews, which can be sorted by highest, and lowest rating. It's a good way to see what people like and dislike about the program to imagine whether you think it's compatible with your lifestyle and needs.
• Biggest Complaint?
After reading through hundreds of reviews from women and men on Nutrisystem.com and sites like BBB, it looks like the biggest complaint in bad reviews of Nutrisystem is the cancellation fee. So, before you sign up, PLEASE understand the cancellation policy:
Cancellation fee: If you cancel Nutrisystem auto-delivery after the 14-day money-back guarantee but before paying for your second shipment you will be charged a $125 cancellation fee. More
There are literally scores of negative reviews online that probably could have been avoided if the customers had understood the cancellation policy!
Other common complaints are from people who didn't like being limited to mostly Nutrisystem packaged food. In other words, the transition from unstructured eating of "anything" people wanted to a more strict, limited menu apparently didn't go well.
If you can't see yourself adapting to Nutrisystem's structured menu of mostly "heat and eat" food, it may not be the best diet for you!
---
Food Reviews & Taste:
Some bad reviews mention that some Nutrisystem food doesn't taste good. You can view their menu and see how every one of their breakfasts, lunches, dinners, and snacks are rated under the Menu section: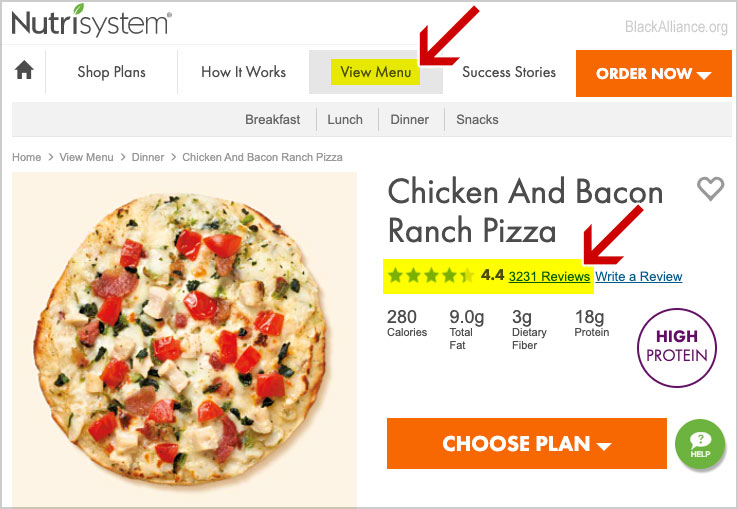 You can sort food reviews by rating, and also see nutrition facts that include carbs, calories, and protein content. Foods that are diabetes-friendly have a "D" icon, and foods that are frozen have a snowflake symbol.
Tip: Don't bother with meals or snacks that you don't like or have a low rating in food reviews! The Uniquely Yours Plans are more flexible and allow you to customize your menu.
OK, we've heard from users, now let's see how experts rate Nutrisystem.
---
Expert Ratings 2021:
In my opinion, the best and most credible expert rating of the Nutrisystem program comes from U.S. News. They asked a panel of health and diet experts to rank 35 diets including Nutrisystem. Here's how they rated it: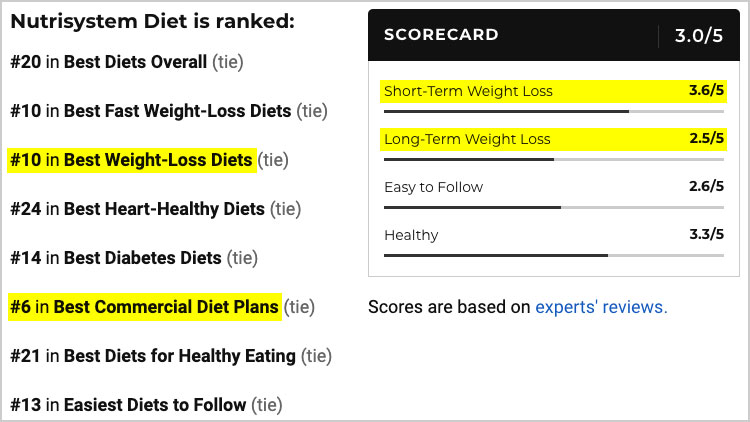 As you can see, Nutrisystem ranked as the #6 commercial diet. It ranked highly for short-term weight loss, but not great for long-term weight loss. It also was also given an average rating for being easy to follow.
A 2018 study in the Annals of Internal Medicine found that Nutrisystem participants lost 3.8% more weight than those on a DIY diet based only on counseling.
These ratings once again speak to the idea that Nutrisystem doesn't fit all lifestyles, and the transition to prepared foods doesn't work for some people.
I notice that these same experts rate WW as the #1 weight loss diet, but consider that diet is mostly DIY, app-based, and doesn't include any food. So, it's not really a question of what the best diet is, but more of a question of which diet is best for you!
---
Is Nutrisystem Healthy?
Nutrisystem is much healthier than the average American's diet which consists of up to 3600 calories per day including high levels of saturated fats, sodium, sugars, and refined grains! (Source)
In contrast, the Nutrisystem program delivers about 1300-1500+ calories per day, which is consistent with recommendations for weight loss in women and men. The program is also on the high end of the USDA recommended amount of protein and fiber while being under the recommended limits for carbs, sodium, and saturated fat. (Source)
While packaged food is usually not as healthy as freshly prepared food, the panel of experts at U.S. News gives Nutrisystem a decent 3.3/5 rating for being healthy.
For these reasons, I'd conclude that Nutrisystem is generally a healthy diet.
---
Conclusion: Nutrisystem Pros and Cons
No single diet is best for everyone, so let's conclude by looking at the pros and cons:
Pros: Nutrisystem is convenient and structured making the diet is popular with busy people who don't like cooking, counting calories, or the guesswork of portioning. If you follow the diet you should learn healthy habits to keep the weight off long-term
Cons: The foundation of the program is packaged food which doesn't appeal to some people. You are also expected to track your meals and weight, so there is commitment and sacrifice involved which causes some people to quit
Many people who try Nutrisystem have already tried DIY and app-based diets without success. If you value results and guidance over freedom and food variety, then Nutrisystem is worth considering.

If you do think of joining, we have some great promo codes to get you the best deal plus free food at signup.
Thanks for stopping by Wonky Pie!