Review: Nutrisystem for vegetarians – Going vegetarian has undeniable health benefits. However, when some people switch to a vegetarian diet, they may find that they aren't losing enough weight. For this reason, a number of vegetarians seek out the help of a structured diet plan.
If you're looking for a convenient and effective vegetarian meal-delivery diet, then it might be worth considering Nutrisystem's Vegetarian Plan. So, is Nutrisystem Vegetarian a good fit for your weight loss goals? Let's look at how it works.
---
How it Works:
Here's how you get started with all Nutrisystem plans, including their Vegetarian option:

The foundation of all Nutrisystem plans is the monthly shipment of high-protein low-carb meals. These prepared meals are "perfectly portioned" for your dietary needs and are high in protein and low in (bad) carbs. Essentially the food is "healthier versions of the foods you love," and is prepared to be "heat and eat."
With Nutrisystem plans for women and men, and diabetics, you'll eat 6 smaller meals a day (every 2-3 hours) which helps to regulate your blood sugar and boost your metabolism.
You'll start out with an initial body reboot week to help break you of bad eating habits and switch your body to burning fat instead of carbs.
Then, each week you'll supplement their meals with fresh fruits and vegetables from the grocery store, and you can enjoy a "flex" meal at a restaurant or your own cooking each week. All Nutrisystem plans cost about $10-12 a day, although you'll pay more for an increased menu variety including frozen food.
---
Going Vegetarian?
If you are interested in the Nutrisystem Vegetarian Plan, just click "Shop Plans" and then select the "Vegetarian" tab at the top of their site like this: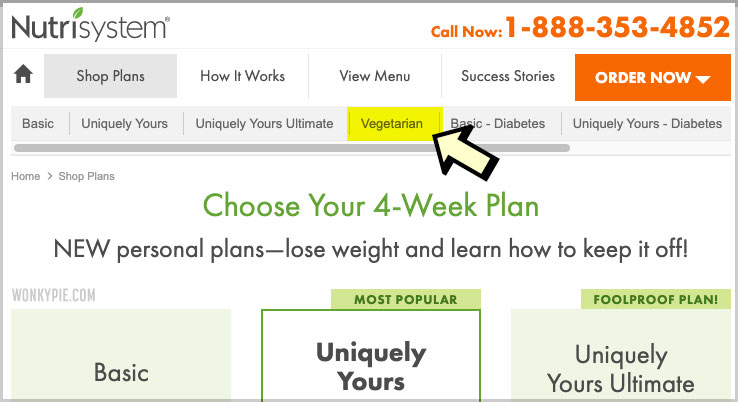 You can then read all about the Vegetarian Plan: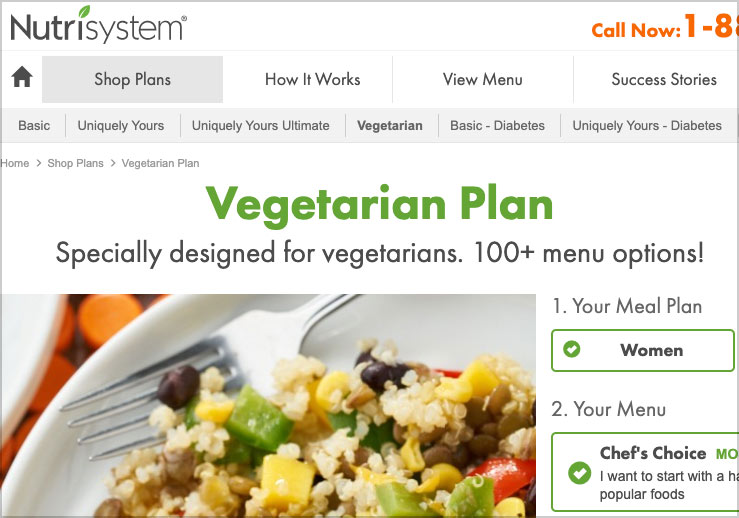 So, what's the difference between the Vegetarian plan and the regular plans? It's really just different menu selections and a slightly different price; costing about the same as the Uniquely Yours® Plan. Vegetarians will get similar daily nutrition, protein, and calories as the regular plan, but it will come from other plant-based sources.
Speaking of food, let's look at the Nutrisystem for vegetarians menu:
---
Nutrisystem Vegetarian Menu:
It's easy to see the foods that are included on the vegetarian menu. To do so follow these easy steps: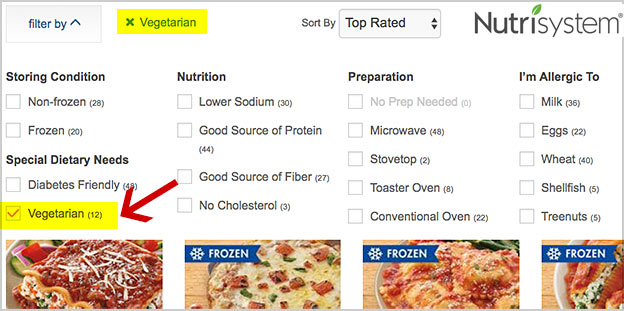 Click, "View Menu" on the top nav at Nutrisystem.com
Then choose a meal such as breakfast, lunch, or dinner
Click the "filter by" tab, and choose "vegetarian"
You can further refine your choices within the vegetarian category if you wish
You can also click on any specific meal or food to see detailed nutritional info and ingredients.
Tip: Nutrisystem is a high-protein diet, and many of their regular meal options include meat. This means that going vegetarian will reduce your number of menu options
---
Want to know what vegetarians eat on Nutrisystem? Here's a list of most of their vegetarian menu items:
Vegetarian Food List:

BREAKFAST foods: Buttermilk Waffles, Cinnamon Roll, Double Chocolate Muffin, Biscotti Bites, Homestyle Pancakes, Cinnamon Streusel Muffin, Honey Wheat Bagel, Thick Sliced French Toast, Maple Brown Sugar Oatmeal, Apple Cinnamon Oatmeal, Harvest Nut Bar, Cinnamon Bun Bar, Granola Cereal, Cinnamon Raisin Baked Bar, Peanut Butter Granola Bar, NutriFlakes Cereal, Strawberry Cheese Crepe, Banana Nut Muffin, (7 more)
LUNCH foods: Spinach And Cheese Pretzel Melt, Southwest Fiesta Melt, White Cheddar Mac And Cheese, Broccoli & Cheese Melt, Tortilla Soup, Black Beans & Rice, Double Chocolate Caramel Bar, Chocolate Peanut Butter Bar, Four Cheese Melt, Cheddar Broccoli Rice, Spicy Kung Pao Noodles, Cheese Tortellini (5 more)
DINNER foods: Vegetable Lasagna, Margherita Pizza, Ravioli Formaggio, Stuffed Shells, Italian Herb Flatbread Pizza, Whole Wheat Ricotta Crepes, Vegetarian Chili, Pasta Fagioli, Bean Bolognese, Mushroom Risotto, Fiesta Macaroni And Cheese
SNACKS: (and desserts) Dark Chocolate And Sea Salt Nut Bar, Ice Cream Sandwich, Orange Cream Bar, Chocolate Brownie Sundae, Milk Chocolate Flavored Pretzels, White Cheddar Popcorn, Toffee Crunch Cookies, Sweet And Salty Snack Mix (nuts), Chocolate Chip Cookies, Cheese Puffs, Sweet Jalapeno Chips, (17 more)
*You can also view our WW food list or Noom food list to compare!
---
Vegetarian User Reviews:
Nutrisystem reviews can't be sorted to view only those from vegetarian customers. However, by skimming through hundreds of them, I was able to learn a few things. First, only a small minority of women and men who join Nutrisystem choose the Vegetarian Plan. Secondly, less variety in the Vegetarian menu seems to be the biggest complaint even though Nutrisystem claims to offer, "100+ menu items" for vegetarians.
In other words, you sacrifice menu freedom for weight loss results. So, if you enjoy cooking and menu-variety, this might not be the best diet for you. If that's the case, consider doing a vegetarian version of WW or Noom, which is basically DIY but has no menu restrictions.
Because of the lack of menu variety, I would not recommend staying on Nutrisystem's Vegetarian Plan for more than a few months.
---
Nutrisystem for Vegans?
Nope! While Nutrisystem does put together a decent vegetarian plan, that's not the case with vegan. In fact, there is no separate "Vegan" plan because there are not enough vegan menu items to create a proper vegan menu.
For example, sorting their dinner options by both "vegetarian" and "no eggs," yields only 5 meal options! Breakfast, lunch, and snacks offer more variety, but I can't recommend Nutrisystem for vegans unless you are content with having most of your meals be bars, melts, and rice.
---
Why Would a Vegetarian Consider Nutrisystem?
OK, I've already mentioned that the weakness of the Vegetarian Plan is that it doesn't have enough menu variety. However, if you are more interested in fast weight loss results than food taste and variety, here are some reasons why vegetarians could consider the diet:
Convenience: Meal planning and preparation takes a lot of time and energy. Nutrisystem provides you with most of your food, making it a popular diet for busy people.
Structure: Eating vegetarian is a great choice, but are you eating a healthy number of meals at the right time? Nutrisystem puts order to your daily menu with 6 small meals each day
Truly "vegetarian": Was that soup you ordered made with beef stock? Maybe that healthy vegetable burrito was cooked in lard? If you aren't making your own meals, there is always the question of whether they are actually vegetarian. There are no meaty surprises with Nutrisystem's meals!
Portion size is also an important consideration in any healthy diet, and much of our weight issues come from the growing portion sizes that we are served. All of your meals with Nutrisystem are "perfectly portioned" so that you get just the right amount of food
Protein: In giving up meat, many vegetarians don't eat enough protein in their diet. Nutrisystem proves over 70g of protein a day, which exceeds the recommended amount!
---
Conclusion:
If you have adopted a vegetarian lifestyle but aren't losing your desired amount of weight, Nutrisystem for Vegetarians might be worth considering. It's high in protein, "smart" carbs, and fiber, and the prepared or packaged meals are perfectly portioned with optimal nutrition.
By eating small healthy meals more frequently, you'll take control of your blood sugar while feeling fuller longer. While food selection is limited, Nutrisystem does give vegetarians a convenient meal-delivery option for losing stubborn pounds and living a healthier lifestyle.
If you want to learn more, check out their best offer below, plus our Nutrisystem coupon page!

Other popular meal delivery diets include Factor 75 and the Mayo Clinic Diet.
Thanks for stopping by Wonky Pie!