Which is better, Jenny Craig or Nutrisystem? If you're looking for the best meal-delivery diet to meet your weight loss goals, then Jenny Craig and Nutrisystem are probably at the top of your list. Both of these diets are structured, convenient, low-calorie programs that are popular with busy people, but relatively expensive.
But, which diet is better? Although neither one of these diets is truly "best" for everyone, we did some research to help you decide which might be best for you. Let's compare these two heavyweight (or, lightweight?) meal-delivery diets, and see which one wins in a head-to-head battle. (Updated for 2020)
Nutrisystem vs. Jenny Craig: About Nutrisystem | About Jenny Craig | Ratings & Reviews | Food | Weight Loss | Convenience | Compare Cost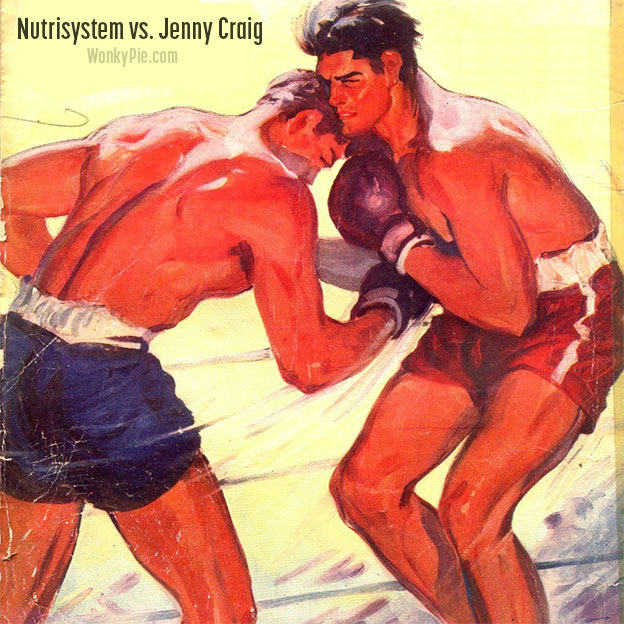 ---
About Nutrisystem:

Nutrisystem was recently ranked as the #6 commercial diet behind Jenny Craig and the South Beach Diet, but the diets actually have a lot in common. Like Jenny Craig, Nutrisystem is also a monthly meal delivery diet of prepared, pre-portioned, healthy meals that are formulated to be nutritious, low in bad carbs, but high in protein and fiber to keep you feeling full.
Nutrisystem starts with a more-restrictive initial "body reboot" week, intended to break you of bad eating habits, and switch your body from burning carbs to burning fat for weight loss. After the first week, the menu is more flexible and incorporates more fresh groceries and "flex meals" of your own cooking or restaurant food.
You'll be asked to log your meals and exercise on the Numi app to chart your progress. Nutrisystem's Leaf blog is filled with tips, recipes, and support to help keep you on track.
Nutrisystem is based on the total consumption of 1200-1500 calories per day. This is less than the recommended daily amount of 2000, so the math implies that you will lose weight if you stick to their structured meal plan of 5-6 small meals per day.
By following the program, Nutrisystem claims that you can lose up to 18 pounds in the first two months, and 1-2 pounds per week thereafter.
To learn more about how Nutrisystem works, you can read our review, or visit their site.
---
About Jenny Craig
"The weight loss consultant is 50% of the equation"
Jenny Craig was recently ranked an impressive #2 in "Best Commercial Diets" by U.S. News. Their program combines chef-crafted meals with the one-on-one support of a weight-loss consultant to get real, sustainable results. That's what makes Jenny Craig unique, although the personal attention comes at a price.
The weight-loss consultant helps you plan for your upcoming week and is there for motivation and encouragement. There's no counting calories or points, and there's no need to measure portions.
This structured, healthy, portion-controlled menu is the foundation of their diet and helps members to learn better eating habits for life. The diet lasts as long as you need it to, whether that be 3 months or over a year.
You can also find support from the Jenny Craig Community, as well as their Healthy Habits blog which offers free weight loss and wellness tips.
Once you reach your goal weight, you'll transition back to making your own food and ween yourself off of their prepared meals. At this point, you can cook for yourself and take advantage of the low-fat recipes on JennyCraig.com.
While the actual monthly membership to Jenny Craig is low, the real cost of the diet is in the prepared food that can be quite expensive. In fact, the expensive price is the biggest complaint in customer reviews for Jenny Craig.
By following Jenny Craig, you can expect to lose up to 2 pounds a week.
To learn more about Jenny Craig, check out today's featured promotion at jennycraig.com/promo!
---
1. Ratings & Reviews:
U.S. News asked a panel of diet and health experts to rate Nutrisystem and Jenny Craig on a number of important factors. Here how the two diets compare head to head:
As you can see, U.S. News ranked Jenny Craig better than Nutrisystem. While the two diets got similar marks in "short-term weight loss," Jenny Craig ranked better for long-term weight loss.
• Consumer Reports:
In 2011, Consumer Reports conducted a clinical trial comparing 6 top commercial diets and ranked Jenny Craig #1 overall on the list that also included names like Nutrisystem, Weight Watchers, the Zone diet, and Atkins.
Jenny Craig scored higher with the experts than Nutrisystem, but the one big difference here is that Jenny Craig costs twice as much as Nutrisystem! (What!?) That's a significant difference, but no one diet is best for everyone. Here's more about each of these popular weight loss plans:
Nutrisystem: 3.2 stars (528 customer ratings)
Jenny Craig: 4.1 stars (249 customer ratings)
While U.S. News, ConsumerReports, and Consumer Affairs rated Jenny Craig better than Nutrisystem, these ratings do not factor in the cost, which is a significant consideration.
However, when it comes to expert ratings and customer reviews, Jenny Craig wins the round over Nutrisystem.
Scorecard: Nutrisystem: 0, Jenny Craig 1
---
2. Food:
Nutrisystem and Jenny Craig both rely on pre-portioned nutritious food delivered to your door each month. If you enjoy cooking and don't like the idea of heating up prepared food, then neither of these diets are for you.
Both diets also ask you to supplement this prepared food with groceries, but Nutrisystem seems to be a bit more flexible when it comes to cooking your own meals occasionally.
Jenny Craig's food is rated higher than Nutrisystem, but will cost you more. Because customer reviews rate the taste of Jenny Craig's food higher than Nutrisystem, we'll give them the round.
Scorecard: Nutrisystem: 0, Jenny Craig 2
---
3. Weight Loss Results:
If you are comparing any two diets, look beyond short-term weight loss results. That's because long-term results and sustainability are more important. If you aren't changing your behavior, you're probably going to gain the weight back. Diets like Noom also stress that you must also address the psychological component of weight loss.
In this case, both Nutrisystem and Jenny Craig perform pretty well short-term, stating that you'll lose 1-2 pounds per week, but Jenny Craig is better than Nutrisystem for long-term weight loss.
Why is that? It seems that Jenny's food is rated a bit higher, and their weight loss consultants seem to keep customers on track and motivated.
A 2017 study compared weight loss results of Jenny Craig, Nutrisystem, and several other commercial diets, finding that Jenny Craig performed best with participants losing the most weight over 12 months
A study by The Center for Applied Health Sciences found that Nutrisystem users lost an average of 15.4 pounds in the first 2 months
While both diets performed well over the first two months, when it comes to long-term weight loss results, Jenny Craig wins the round.
Scorecard: Nutrisystem: 0, Jenny Craig 3
---
4. Convenience / Easy to Follow:
Both Jenny Craig and Nutrisystem are popular with busy women and men who don't like to cook. Both diets impose menu restrictions and ask you to limit alcohol and restaurant food. This structure may discourage people who don't like being told when and what to eat and the idea that certain foods are forbidden.
However, when it comes to staying on-track, Jenny's weight-loss consultants seem to be a valuable asset for menu-planning and support. The result is that Jenny Craig scores higher for long-term weight loss results, as fewer people get discouraged and quit.
When it comes to being easy to follow, Jenny Craig wins the round over Nutrisystem.
Scorecard: Nutrisystem: 0, Jenny Craig 4
---
5. Cost Comparison:
I really like my Honda, but it would be nice to have a new Cadillac. Think of Nutrisystem as the Honday, and Jenny Craig as the "Cadillac" of meal-delivery diets. Here's a comparison of the costs:
Jenny Craig: You pay a one-time $99 enrollment fee, get matched with a weight-loss consultant, and then put together a menu. The total cost is $450-700 per month plus supplemental groceries!
Nutrisystem: Most of the cost of being on Nutrisystem is in the plan you choose, with menu-variety like frozen foods costing more. The cost of Nutrisystem is $300-400 per month plus groceries.
As you can see, Jenny Craig may boast better ratings, but it's almost twice the price of Nutrisystem!
If you are familiar with boxing, you'll know that a one-sided round results in 2+ points for the victor. In this case, Jenny Craig was cruising along to victory, but got caught by an uppercut from Nutrisystem, and dropped to the canvas.
While Jenny Craig got up before the referee stopped the fight, Nutrisystem got a much-needed 2-point round on the judges' scorecards.
Scorecard: Nutrisystem: 2, Jenny Craig 4
---
Conclusion: And the Winner Is…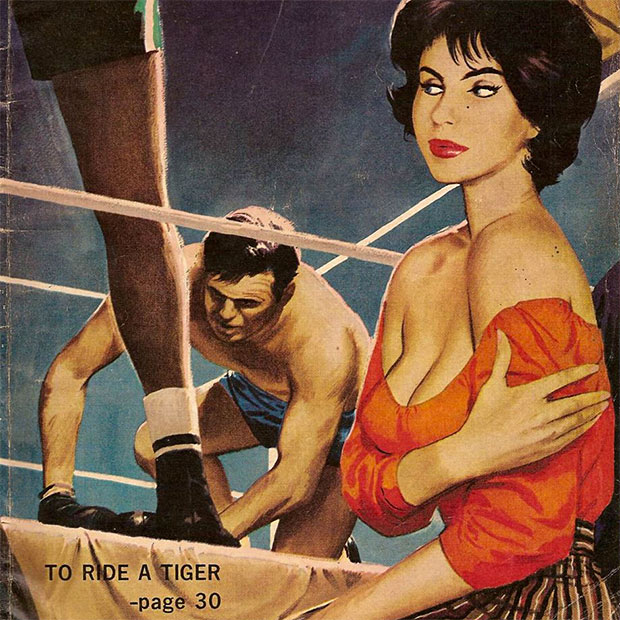 Ding, ding, ding! In the head-to-head battle between Jenny Craig and Nutrisystem, Jenny Craig wins on the judges' scorecards. However, because of the cost-difference, we see this as a split-decision.
The biggest difference between these diets is that Jenny Craig includes a weight-loss consultant. So, you'll have to ask yourself how highly you value that support.
If you believe that you would benefit from this extra support and don't mind paying for the luxury of having it, then we would recommend Jenny Craig over Nutrisystem.
However, if you don't like the idea of touching-base with a weight-loss consultant on a weekly basis or if the significant expense of Jenny Craig is not in your budget, then we recommend Nutrisystem (or similar South Beach Diet).
Regardless of which diet you prefer, here are some great promotions to ensure that you get the best deal at signup:
If you think that a meal-delivery diet isn't right for your lifestyle and personality, then we can recommend two highly rated and popular app-based diets: Weight Watchers (coupons) and Noom (free trial).
Good luck with whichever diet you choose. Remember to talk to your doctor or healthcare provider before making any drastic changes in your diet or fitness routine.
Thanks for stopping by Wonky Pie!