Another Caprese recipe! Maybe you think I'm crazy, but I honestly love Caprese anything, don't you? I'm pretty sure it's the fresh mozzarella that does it!
I'm sure you have all tried Caprese Salad at least once. But I wanted to try making this Quinoa Caprese Salad. I love quinoa because of its high protein. As someone who can't eat eggs, I rely a lot on plant-based proteins. Some other benefits of quinoa:
contains 9 essential amino acids
has a ton of fiber per serving
helps to lower cholesterol and blood pressure
is gluten-free
Mix this amazing grain with some baby tomatoes, mozzarella cheese, and balsamic vinegar, and you've got a protein-packed, nutrient-dense salad.
I know you are going to love this Quinoa Caprese Salad! Here's the recipe: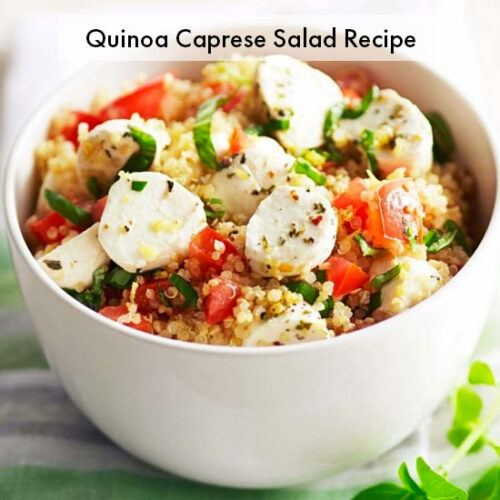 Quinoa Caprese Salad
Ingredients
1/2

cup

quinoa

(uncooked)

1

cup

cherry tomatoes

(halved)

1

cup

fresh mozzarella balls

(halved)

2

Tbsp

shallot

(minced)

1

Tbsp

balsamic vinegar

1

Tbsp

olive oil

(extra virgin)

1/4

tsp

sea salt

pinch

black pepper

(freshly ground)
Instructions
Cook quinoa according to package directions

Once cooked, scrape into a serving bowl. Add tomatoes, basil, and mozzarella

In a separate small bowl, whisk together minced red onion, balsamic vinegar, olive oil, and salt

Pour over quinoa and toss to coat. Sprinkle with some fresh ground black pepper

Best served at room temperature
Notes
Calories: 175 – Protein: 10g – Carbs: 15g – Fat: 8g – Fiber: 2g – Sodium: 56mg
Weight Watchers Points+: 4 – WW Smart Points: 3
---
Quinoa Caprese Salad Serving Suggestions:
This salad is so simple yet so delicious. And your whole family will like it because it doesn't have a strong flavor… and what kid doesn't like cheese?! I paired this salad with some grilled chicken and green beans.
This would be a perfect salad for a backyard BBQ party, just double or triple the recipe depending on how many people you are serving.  Now that herb growing season is in full effect, try growing your own fresh basil. It's a must for this salad, but also makes a great Lemon-Basil Pesto for many other dishes.