Royal Canin dog and cat food is popular and recommended by vets because it offers specialized nutrition, quality ingredients, and digestibility. However, as you know, premium dog and cat food is pretty expensive! We're here to help you get the best price online for Royal Canin.
Here are today's best Royal Canin coupons for up to 35% off and free shipping plus how to get the best price online:
Royal Canin: Coupons | Best Price | Coupon Exclusions
---
Royal Canin Coupons, Promo Codes:
Here are today's best working coupons for Royal Canin from top pet stores like Chewy and PetSmart:
We didn't post a couple of other Royal Canin coupons because the best price is at chewy.com.
---
Royal Canin Best Price Is At Chewy:
Chewy is known for its incredibly fast shipping and unparalleled customer service. In an effort to attract new customers and encourage repeat orders, they offer a 35% discount on your first Autoship order. That's on top of discount pricing plus any savings you get by using a coupon. Here's how to get the best deal.
---
How to Get the Best Deal on Royal Canin: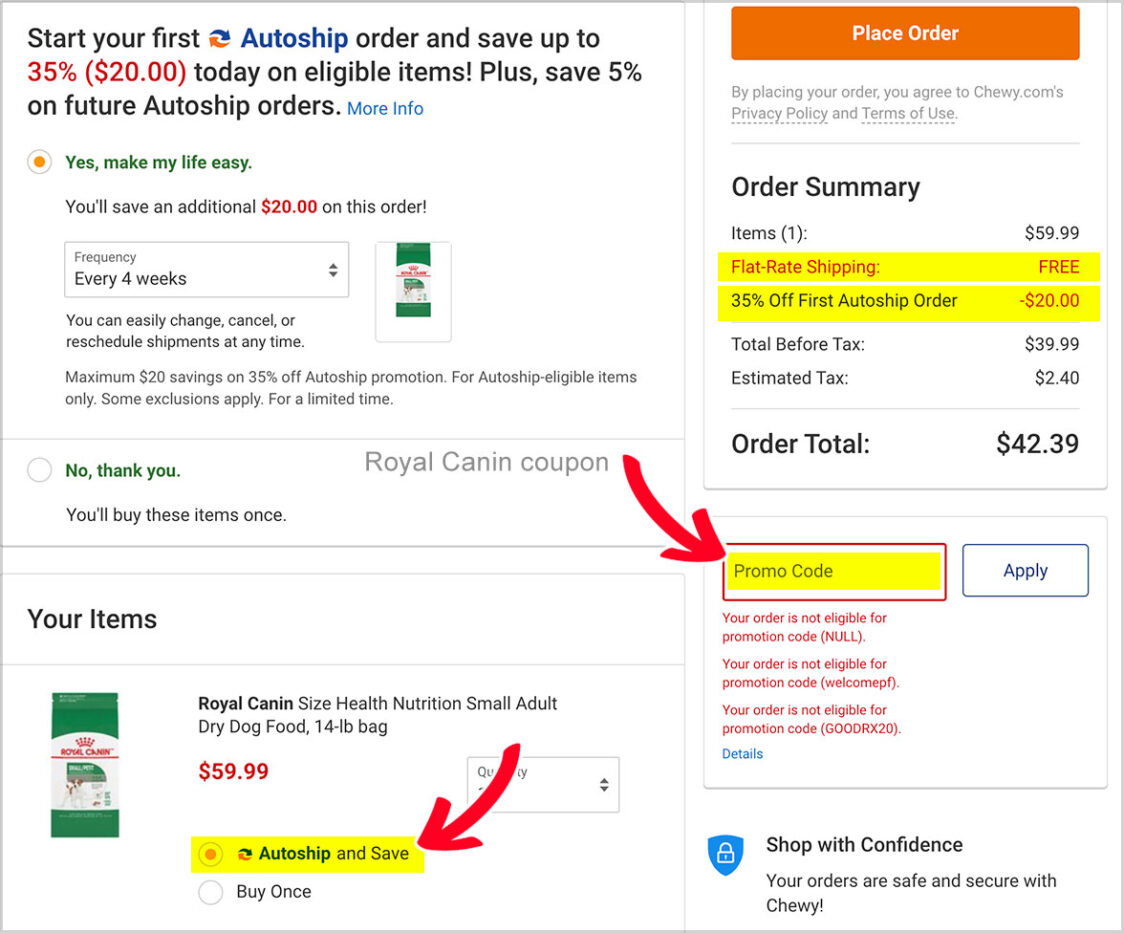 Follow these steps to get the best price on Royal Canin dog or cat food:
View Royal Canin dog and cat food at chewy.com
Add item(s) to your cart and begin checkout
Select Autoship to save 35% on your first order
Enter our featured promo code for up to an extra $20 off
Consider buying extra food for free shipping on $49+ orders
If you follow the steps above you'll get a total discount up to 50% or more on Royal Canin!
*Related: Does Chewy have a military discount?
---
Royal Canin Coupon Exclusions:
Royal Canin is excluded from most coupons on sites like PetSmart and PetcareRx as it's considered to be a premium brand like Seresto and Taste of Wild. The most dependable Royal Canin coupon I've found is the Autoship discount at chewy.com. It's free to opt-in, and you can cancel your shipments at any time!
Top 3 Royal Canin Coupon Codes:
Get a 35% discount on Royal Canin with Autoship at Chewy.com
Take $20 off $50+ plus free shipping on Royal Canin at Chewy
New customers: $10 off Royal Canin coupon at PetSmart (exp)
---
Get a "Royal" Discount on Royal Canin for Your Royal Canine:
Is Royal Canin worth it? Premium dog and cat food is relatively expensive, but it's an investment in your royal canine's health and future.
Royal Canin offers specialized nutrition for different dog breeds, sizes, life stages, and health conditions. Their food formulas are developed with input from veterinarians, breeders, and nutritionists to meet the unique needs of different dogs.
Royal Canin uses high-quality ingredients in its dog food formulas, including proteins, carbohydrates, and fiber. They also use specific vitamins, minerals, and antioxidants that are essential for good health.
Royal Canin has been around for over 50 years and is a trusted brand among pet owners and veterinarians. They are committed to providing high-quality nutrition for dogs and have a team of experts who work to continuously improve their products.
I hope you were able to use our featured Royal Canin coupon for up to an extra $20 off your order with free shipping.
Thanks for stopping by Wonky Pie!