So, you're searching for a gift for a family member that's both personal and practical. Maybe you want to spend less than $20? Photo mugs from Shutterfly are a great gift option. We ordered a couple of them, and they are great. We also saved $8 by using a free shipping code! Here's our Shutterfly mugs review: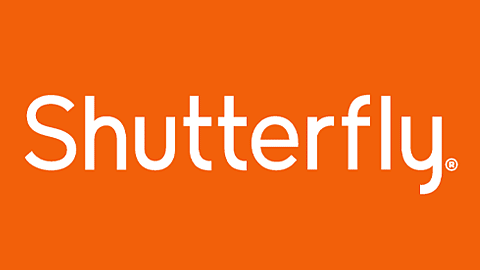 Shutterfly mugs: Features | How to Design | Review | Cost | Free mug? | Coupon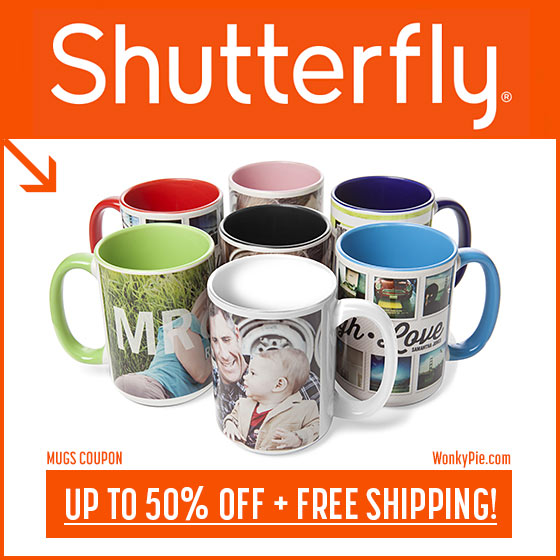 Shutterfly Mugs Features:
Before we get into our review, here are a few things you should know about Shutterfly mugs:
Mugs are Dishwasher & Microwave safe
3 size options: Choose 11, 15, or 25 oz. (large latte) sizes – view mugs
6 color options for the interior and handle of the mug, or all black or white
Photos: Choose from 1-9 photos. The fewer you have, the larger they can be
Occasions: There are a lot of design template options, sortable by occasion, plus some Disney designs
---
How to Design a Mug at Shutterfly.com:
Shutterfly has a simple design process. I always design mugs from my laptop, but it's so easy that you can do it from your phone. They just walk you through the steps, and it's easy to choose photos from your phone or pics that are already uploaded in your Shutterfly account.
Tip: I'm a fan of simplicity, too. That's why I like simple designs with 1-3 photos. If you choose more than that, the photos are pretty small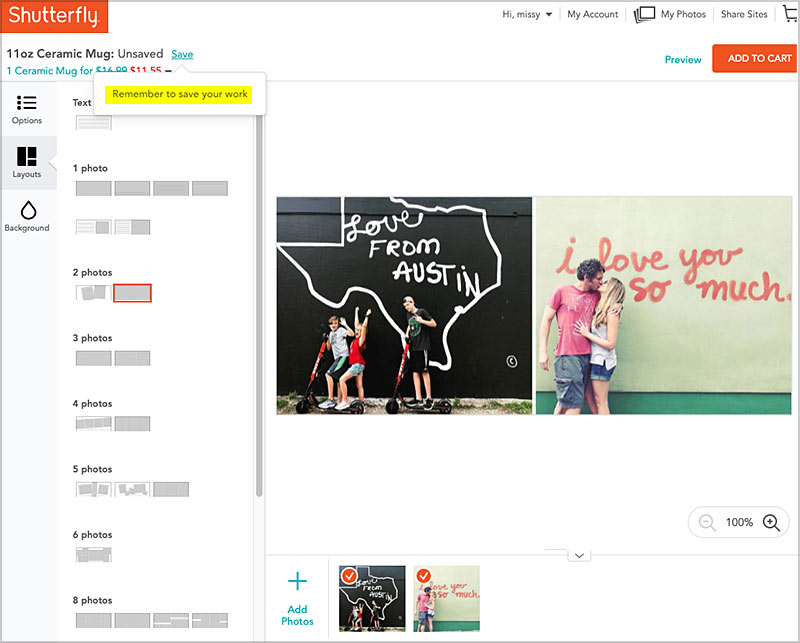 Ok, the design process is complete, now it's time to find a coupon and place our order!
*You can add Ghirardelli chocolates or hot chocolate mix to your mug at checkout if you'd like. Personally, I didn't.
Tip: If you are planning to order a mug from Shutterfly, know that shipping is expensive! It's a good idea to get several items at once to average down the cost of shipping. Also consider their free shipping coupon if available.
So, what do the mugs look like? Here are some pics of the latest mug we ordered:
---
Our Review:
It took about 6 business days to deliver, but our Shutterfly mug arrived today! Here is a photo of it: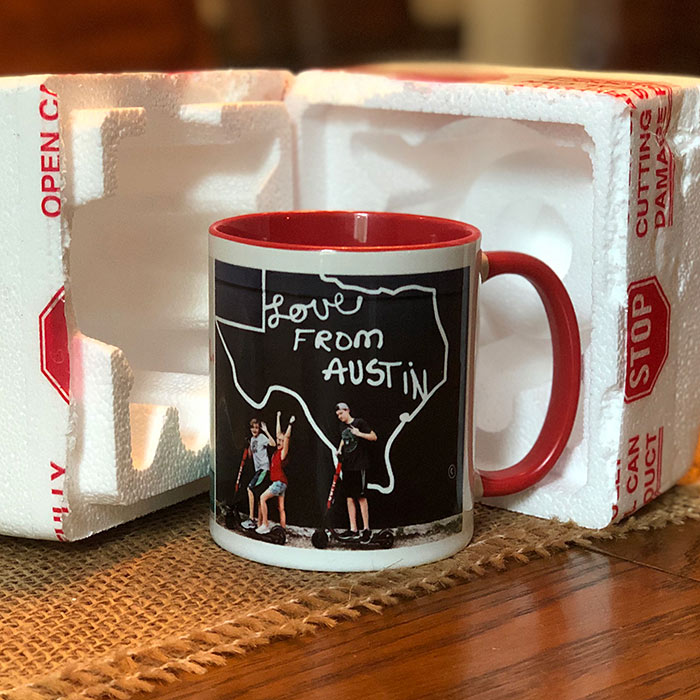 As you can see, the mugs are well-packaged in Styrofoam containers. That's not environmentally friendly, but it does get you your mug safely! Besides, the Doomsday clock is at, like 2-minutes to midnight, so who cares about the environment anyway, right?
Here's another photo of the mug:
As you can see, the photos are really sharp! I especially like how the interior and handle are colored. Personally, I think the all-white ones look cheap, so the color adds a lot.
I got the 11-ounce mug which is the standard "coffee mug" size. I'm not a fan of the larger mugs because your coffee or tea is likely to get cold by the time you get to the bottom; especially the 25 oz. size!
*Our Review of Vistaprint Business Cards | Vistaprint custom face masks review
---
Customer Reviews:
You can find customer reviews under any mug design like this: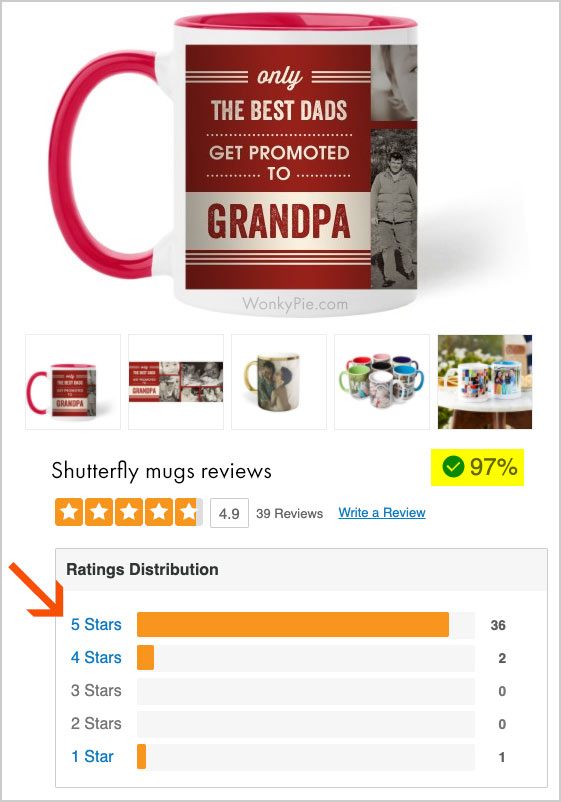 As you can see, the reviews are very positive!
---
Shutterfly Mugs Cost: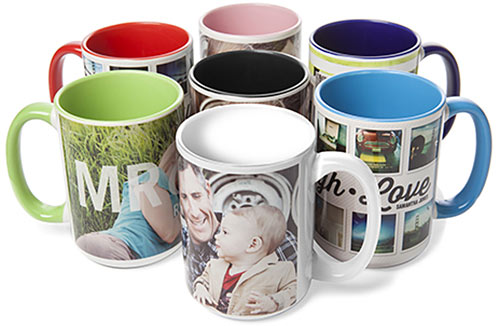 Here are the retail prices for Shutterfly mugs. However, don't ever pay full-price, as there's always a coupon available!
11 oz. mug: $16.99
15 oz. mug: $18.99
Latte mug: (25oz.) $29.99
*To view today's sale price, visit: Shutterfly.com/photo-gifts/mugs
---
Free Shutterfly Mugs!?
When I ordered my mug I did so from their occasional "free mug" promotion. They often list at least one product as "free" on their promotions page, which can be a good deal. However, nothing in life is free, and you still have to pay for shipping, which can be pretty salty. In fact, for this "Free photo mug" I had to pay $8 for shipping!
I took the opportunity to order a second mug, which only raised the ridiculous shipping price by $2, therefore averaging the cost per mug down.
---
Coupon: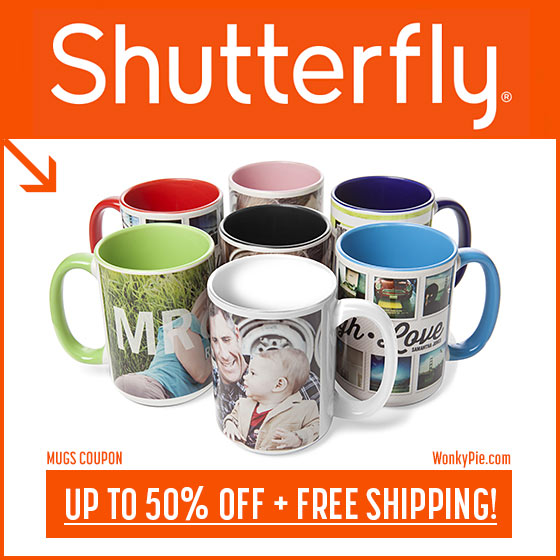 ---
FAQs:
Are Shutterfly mugs dishwasher safe? ☕
Yes, their mugs are both dishwasher and microwave safe.
How much do Shutterfly mugs cost?
The smaller 11 oz. mugs cost $16.99 and the large 15 oz. mugs cost $18.99 before coupon
What's the best coupon to use?
Shutterfly promotions change every few days, but look for up to 50% off and free shipping!
---
Conclusion:
We love Shutterfly mugs, and I think they are the best custom photo mugs online. (Better than Snapfish!) They are a great way to remember a fun trip or vacation and are an amazing gift idea. However, don't pay the retail prices! Definitely wait for a good deal if you have the time.
Update: It's 9+ months later, and I use this Shutterfly mug all the time! In fact, I drink tea out of it almost every night. I love it, and the colors still look great!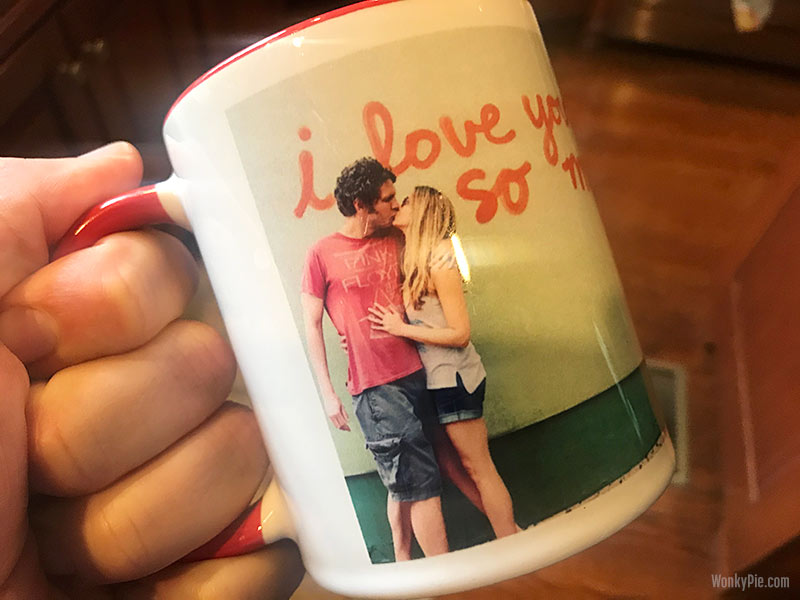 Need a beautiful canvas print at an incredible price? Check out our coupons for Easy Canvas Prints. We also have wellness coupons for Noom, WW sale, and Byte aligners.
*Related: Our Zazzle Face Masks Review