SmileDirectClub price: Smile Direct Club sells clear aligners that can safely straighten your teeth in 4-6 months or less at a 60% savings compared to Invisalign®. However, the actual cost will vary significantly depending on how you choose to pay, and if you use a coupon. Here's exactly how much Smile Direct Club costs, plus how to get the best price when you sign up.
Smile Direct Club: Pricing | Payment Plan | How to Save | Insurance | Worth It?
---
Smile Direct Club Pricing:
What is the total cost of Smile Direct? Club The total expense depends on how you choose to pay. In short, if you pay up-front the cost is much less, totaling $1795 (after $29 rebate and $100 coupon). If you choose the payment plan, the total cost will be $2290 including a deposit and 24 monthly payments. Here's more about Smile Direct Club's pricing:
When you first sign up, you'll need to get your teeth evaluated. To do so, you have 2 options: Book an appointment for a 3D scan (in-person), or order an impression kit.
The 30-minute in-person 3D optical scan is free, and a good option if you have a Smile Shop location nearby.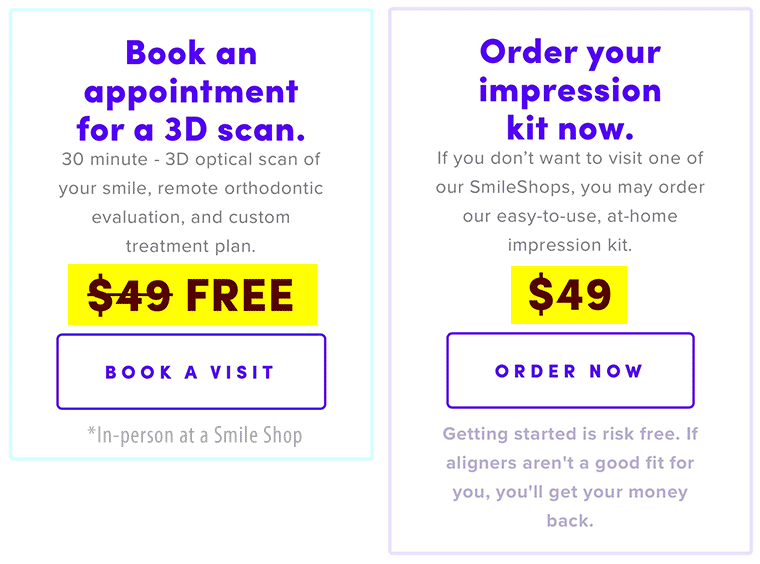 The impression kit is $49 $29 after coupon and comes with a $29 rebate, essentially making it free. After receiving the kit, you'll be asked to create impressions of your teeth and then send them back with the pre-paid shipping label.
Upon receipt, one of their professionals will review your impressions and if you are deemed to be a good candidate for their aligners. You'll then have 2 options for how to pay:
Single Pay: A one-time payment of $1895
SmilePay™ Their payment plan requires a $250 deposit and 24 monthly payments of $85 each for a total cost of $2290
Both payment options include premium teeth whitening. However, only Single Pay allows for the use of a $100 coupon. The coupon drops the total price down to $1785 and means that you'll save $505 choosing a one-time payment instead of the payment plan!
---
Why the Payment Plan Is NOT a Good Deal: (Crooked?)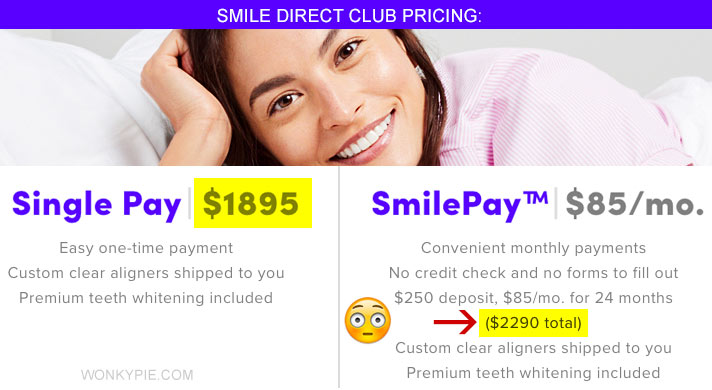 As you can see, convenience has a price. In this case, choosing monthly payments will cost you $495 more over the course of 24 months. Many people can't afford a $1795 charge to their credit card and don't have a choice to pay-in-full upfront. However, if you can manage it, it's worth doing.
Tip: Try to pay-in-full with Single Pay if possible, as the payment plan equates to nearly an 18% interest rate compared to a on-time payment! With interest rates near 0%, you are better off using money from a savings account or borrowing from a parent than agreeing to such a high interest rate!
Retailers have learned that big purchases are much more manageable with payment plans, and even $40k cars can be broken down into seemingly manageable monthly payments. However, before agreeing to pay for anything in monthly installments, estimate the interest rate to see if you're getting a good deal. If it is much higher than the prime rate, then financing isn't a good deal.
---
Smile Direct Club: How to Save
There are three ways to reduce the price of SmileDirectClub:
Choose Single Pay and skip the payment plan
Use the $29 rebate for the impression kit and $100 coupon for aligners (All coupons)
Refer a friend to earn a $100 Amazon gift card
By doing so, you can reduce the net cost of Smile Direct Club to $1695. That's a $495 savings compared to the average payment plan cost, which should bring a smile directly to your face!
Tip: You may be able to pay with FSA and also find that your dental plan will reimburse you for part of the cost. This could reduce what you actually pay to under $1000!
---
Does Insurance Cover the Cost?
Does insurance cover SmileDirectClub? If your insurance plan includes dental, they may reimburse the policyholder and dependents for orthodontics including Smile Direct Club. In fact, SmileDirectClub is in-network with Aetna and United Health Care and they can help request reimbursement from Cigna, BlueCross, BlueShield, Delta Dental, and more. Here's an example of average savings with insurance:

Smile Direct Club also accepts HSA, FSA, (flexible spending account) and CareCredit payments. To use FSA dollars to pay, just process your FSA/HSA debit card as you would any credit or debit card.
---
Is Smile Direct Club Worth It?
The total cost of Smile Direct Club is about 60% less than the price of Invisalign®. This is almost exactly the same average price as rival Byte. However, when you get clear aligners or retainers through your orthodontist or dentist you are also paying for in-person attention. The one thing that at-home teeth aligners and retainers can't replicate is the personal attention that you get with office visits.
When you eliminate seeing a doctor or professional from the teeth-straightening process, you are forfeiting the attention and safeguards that come with making sure the treatment is going well.
Tip: Unlike its competitors, Smile Club Direct does have 250+ SmileShop locations for in-person attention!
If you have more than just moderately crowded teeth or spacing issues you would probably benefit more from that personal attention and oversight. Conversely, if you don't have major issues then at-home teeth alignment with brands like Smile Direct Club or byte might be a very good option that saves you thousands of dollars, even with the payment plan.
So, is Smile Direct Club worth it? I would summarize by saying that all direct to-to-consumer clear aligners are "buyer beware" by nature. Though it saves you money and the 3d-printing technology continues to impress, it can never fully replicate seeing an orthodontist in-person.
Having said that, I believe that SmileDirectClub is the best of the direct-to-consumer clear aligners, and their SmileShops add value by allowing you to see a professional in-person for more supervision.
If you do consider Smile Direct, click here to learn more and apply a $100 coupon.

Thanks for stopping by Wonky Pie!
*Related: Byte Cost? | How much does Nutrisystem cost? | Is Noom Coach Really Worth It?