Wondering how long your Snapfish order will take to ship? Snapfish has 4 shipping options, and you'll pay more for faster delivery. Here are Snapfish's current shipping times, where they ship from, and shipping costs:
Snapfish Shipping Speeds: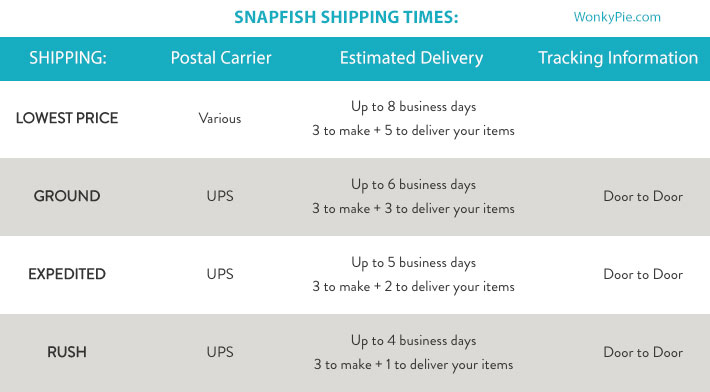 Economy or free shipping: 6-8 business days
Ground: 5-6 business days
Expedited: 4-5 business days
Rush: 4 business days
Canada: 8-16+ business days
Alaska & Hawaii: Extra 4 business days
International: Varies widely depending on country
*Free shipping is sent "Economy" speed.
*There is no Saturday or Sunday delivery for Expedited and Rush shipping
---
Most Snapfish Shipping is Trackable
As you can see, all shipping methods except Economy are trackable. However, if you don't need your order in a rush, you'll save significant money by choosing that speed. Personally, I don't mind waiting another 2 days if it's going to save me $5, but there are times when you can't afford to wait or cut it too close.
---
Where Does Snapfish Ship From?
Snapfish has several regional production facilities located throughout the United States including locations in Maryland (Northeast) and California (West). The facility that your order is routed to depends on your shipping address.
Snapfish corporate headquarters are located in San Francisco California, although no actual orders are printed and processed there.
---
Shipping Cost:
Snapfish shipping cost depends on the specific products that you have ordered. For example, shipping for 4×6 prints costs 9¢ each, while shipping an 8×11″ photo book starts at $7.99.
While the easiest way to get an exact shipping quote might be to check your shopping cart, Snapfish also itemizes the cost of shipping each item (like Holiday Cards) on their product pricing page. Just click under any item for shipping prices like this: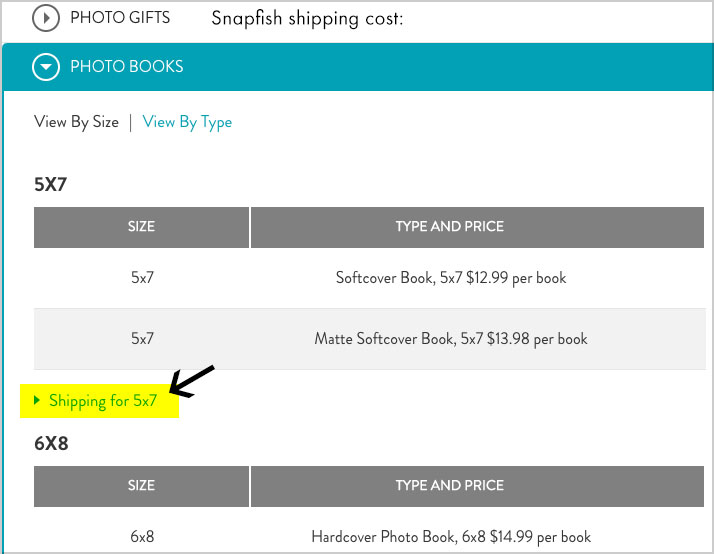 ---
More About Snapfish Shipping
The type of product that you are ordering affects the shipping time. For example, photo books generally take longer to produce than prints, mugs, or canvas.
During holiday periods there may be additional delays due to max order volume or inclement weather.
For all shipping methods except Economy you'll receive an email with a tracking number after it has shipped.
All four shipping methods are not available in every area. Also, there is no 1-day or 2-day shipping available because orders take up to 3 days to process. For that reason, check your calendar before placing any order at Snapfish.com and try not to cut delivery times too close if you need a gift by a specific date.
Photo coupons: We have some awesome coupons for both Snapfish and Shutterfly!
We also have exclusive coupons for WSJ subscriptions, Weight Watchers, and Byte Aligners.
Thanks for stopping by Wonky Pie!