The meal-kit industry is super-hot but also very competitive. So, how has Sun Basket risen to the front of the pack to become one of the most popular meal delivery companies?
By offering personalized, healthy, fresh, organic meal plans for any lifestyle including Paleo, vegetarian, diabetes-friendly, gluten-free, and several more. Well, you probably know that you pay more for organic, but how exactly how much?
While it's easy to learn about their plans, finding Sun Basket's pricing takes a little digging around. We did our homework, so here's how much Sun Basket costs now, Sun Basket compared to grocery costs, and how to get the best deal (all coupons) if you join!

---
Sun Basket Cost:
All Sun Basket plans currently cost $10.99-12.99 per meal. Here's what that pricing amounts to for the cost per week:
| | 2 Meals per Week: | 3 Meals per Week: | 4 Meals per Week: |
| --- | --- | --- | --- |
| 2 PEOPLE: | $51.96/wk. | $71.94/wk. | $87.92/wk. |
| 4 PEOPLE: | $103.92/wk. | $143.88/wk. | $175.84/wk. |
Cost per month, year? Sun Basket bills weekly and the price depends on how many weekly servings you choose. At a cost of $10.99-12.99 per serving this averages the price of a Sun Basket subscription out to $225-763 per month and $2700-9156 per full year!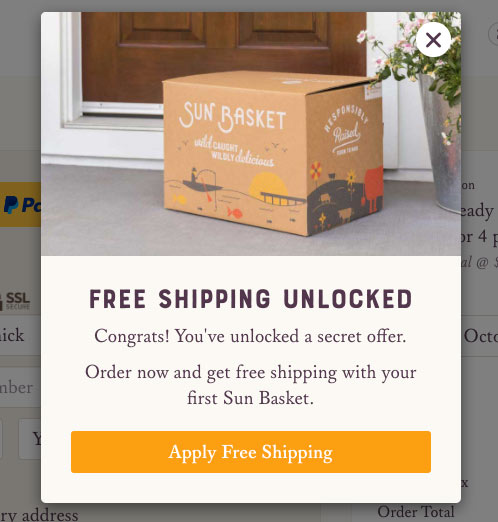 Do you have to pay for shipping? Shipping is free on your first order with most promotions. (see above) However, you will be charged $7.99 for subsequent weekly orders.
Do you have to pay taxes? You don't have to pay tax unless your shipping address is in the same state as one of the Sun Basket distribution centers in NJ, CA, and MO; in which case the applicable state tax will be added to your order.
Is Sun Basket expensive? Because all of their food is fresh and organic, it costs a bit more than an average meal delivery service. So, I would say that Sun Basket is comparable to services like Home Chef (cost, coupons) and you are paying more for their high quality and freshness.
Tip: If you are looking to save money, consider skipping a week whenever you want under "Schedule" in your account! You can skip or cancel before 3 pm EST on the Wednesday before your delivery
---
How Sun Basket Pricing Works:
After registering you will choose your subscription preferences on the "set up" page which determine your cost per week like this: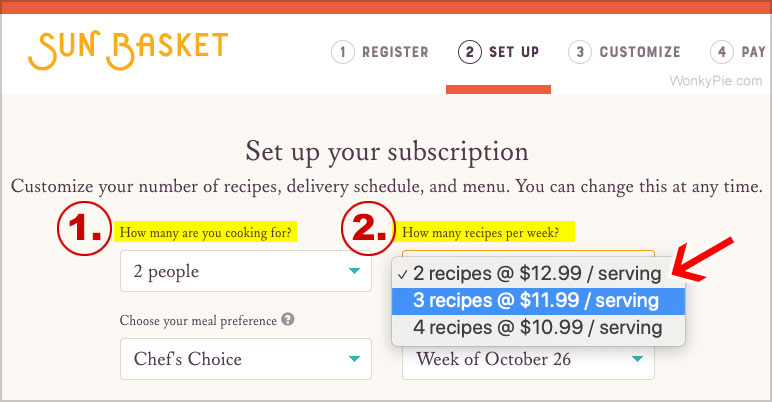 As you can see, all Sun Basket plans cost $10.99-12.99 per meal (per person). Before we list the prices, there are a couple of helpful things to know:
Price per Serving: What you pay depends on how many servings you get each week. At signup, you'll choose the number of meals per week (2-4) and how many servings per meal (2 or 4).
All plans cost the same: Whether you decide to go with their Pescatarian Plan or Paleo plan, the pricing is the same per serving
"Less" costs more: While buying fewer meals or portions is "cheaper," it costs more per serving
First Week is Cheaper: Sun Basket has various promotions running concurrently. The best ones include a $30+ discount with free shipping
Billed Weekly: Unless you cancel you are billed every week on the same day. If you want to skip a week or cancel, do so before 3pm EST on the Wednesday before your next order or you will be billed
So, how much are you billed each week after the promotion ends? That depends on how much food you choose to get. Here is the cost of Sun Basket:
*Featured diet coupons: Nutrisystem $25 off, WW 50% off code, Factor75 $120 off
---
How to Get the Best Price:
While everyone pays the same rate depending on the total number of meals per week, you can save on your first order. Sun Basket has a couple of coupons out there including this one for $35 + 4 free gifts + free shipping ($60 total savings) which is the best deal out there.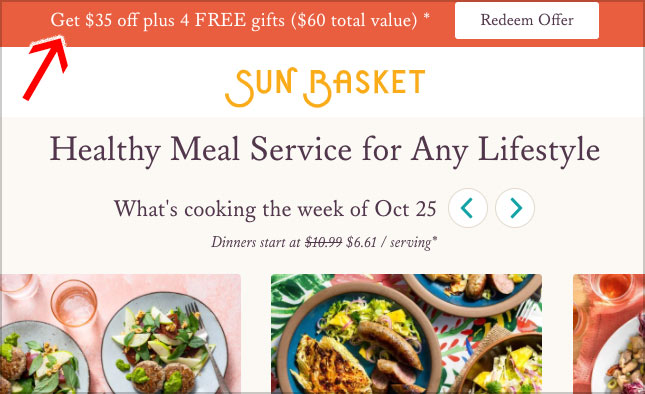 *Related: Noom Cost Per Day and Month?
---
Cost: Sun Basket vs. Grocery Store:
While meal kits sound expensive, they actually save you a lot of time, planning, waste, and even money. Here's a cost-comparison of a Sun Basket meal and a home-cooked grocery store meal:
Is that a fair comparison? Of course, no one drives to the grocery store to buy the ingredients for one meal, but you get the idea!
---
Conclusion:
Sun Basket is highly-rated, (ranked #1 by epicurious) and we've tried it and really liked it! If you are looking to find the best meal delivery at a fair price, I'd recommend Sun Basket along with other top-rated brands like Home Chef, Purple Carrot (cost?) and EveryPlate.
Just be sure to use a good coupon or promotion at checkout to get the best deal, and consider skipping some deliveries to save money.
Thanks for stopping by Wonky Pie!