You've probably seen commercials on TV for Total Gym. Don't order by phone, though because I'll show you how to get the best price on Total Gym XLS, FIT, and GTS!
I was recently looking into getting a Total Gym XLS home gym, so I started searching for a coupon. After clicking around the coupon sites I found a few supposed promo codes, but quickly saw that there was a problem; there's nowhere to enter a coupon code at TotalGymDirect.com!
Long story made short, I figured out how to get an extra discount on top of the 10% discount you can find online and on their site. Use this hack to get an extra 10-15% discount on a Total Gym:
---
1. Apply the Coupon for 10% Off:
The first thing you need to do is click to apply the first discount:
After you click, you'll go to TotalGymDirect.com and see the discount applied: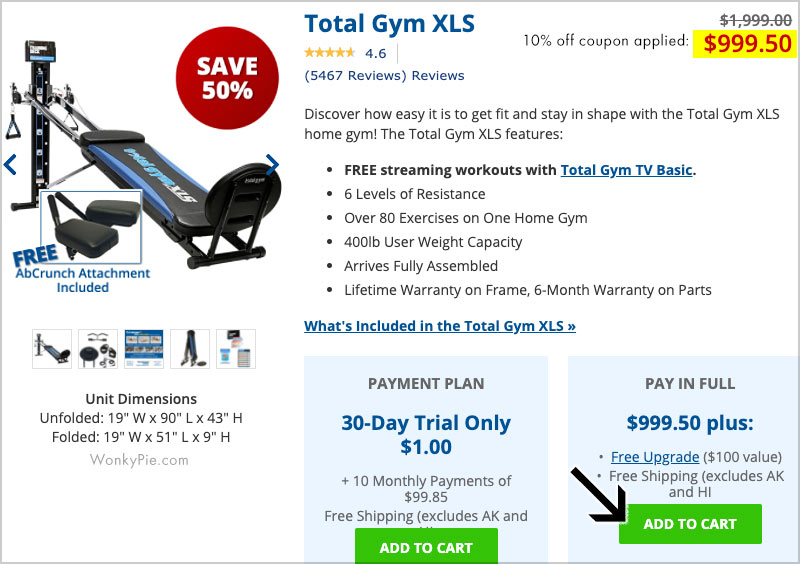 Add one of the Total Gym products to your cart. Choose from XLS, GTS, or FIT. Once you have it in your cart, we can apply the second discount.
---
2. Apply the Second Discount:
OK, so you have one discount applied. Now, let's apply the second coupon. I had to chat with customer service for a while to get this one, but you don't have to! Just click on the link below, and the second coupon will be applied to your shopping cart.
Now, click to view your shopping cart: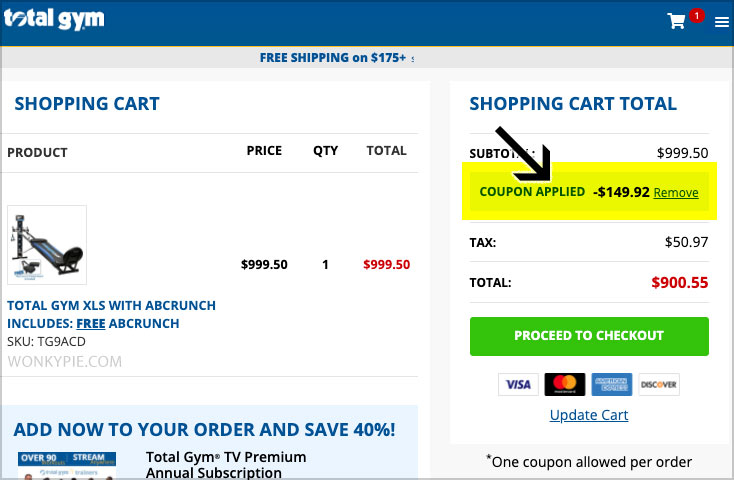 After applying this discount you'll see the price in your cart drop again! After using both coupons the price of my Total Gym XLS dropped from $1099 to $850! That's a big savings!
---
Coupons Work for: Total Gym XLS, GTS, FIT

Using this hack to apply 2 coupons results in the lowest price for Total Gym XLS, GTS, and FIT from TotalGymDirect.com!
Where do you enter a total Gym Promo Code? Total Gym discontinued the use of promo codes, so there is no longer an area at checkout to enter one. Instead, you must click on a promotional link to apply a discount(s).
More coupons: We have some great wellness and fitness coupons like these: Noom Discount Codes | WW (Weight Watchers) 50% Off | Nutrisystem: 50% Off