Weight Watchers Weigh-In: I sort of love the fact that today was my weigh-in day, because it means I have more time to bounce back if Thanksgiving doesn't go well. I am planning on tracking and have a host of ideas on how to get through the day within my points (plus weeklies). All in all, I think I will be able to manage this.
I am more confident because I had a strong week. I earned a few activity points, I used my weeklies, but didn't go over those. I enjoyed myself, had a few treats and lots of veggies. I didn't drink enough water. That is a real challenge for me lately as I am more and more looking to coffee (or tea) to keep me going with E2 still struggling for a good nights sleep (She has an ear infection now, and a lingering cold). I need to up the water intact, which I will try to work on while off for a few days.
Still, it was a good week.
-5.0 Pounds
95.6 lbs Lost on WW to Date
It is fun to be so close to 100 lbs on Weight Watchers. Before I got pregnant with E2 I was plateaued and had gained a few lbs back so I was hovering between 70-75lbs lost. There is still a ways to go, but it is really amazing to be here so far. I really hope to make it to 100lbs lost before my 1 year WW-iversary. If I stay strong through the holidays that shouldn't be a problem.
95 lbs is tough to put into perspective, but it is 19 5lb sugar bags. I am tempted to go put 19 bags of sugar in a cart just to see it all in one place.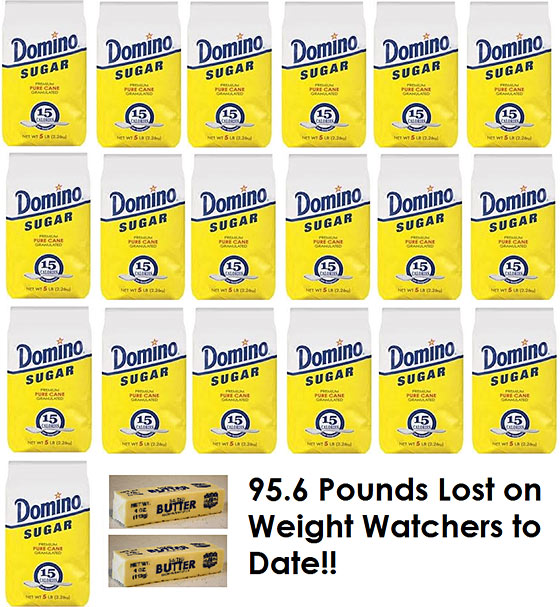 I am going to try to be better about showing full body pictures. Some days it is really easy for me to see, today I couldn't tell quite so much, despite the loss. But progress is progress and I know that my own perspective on my looks is not always accurate.
By now it is past Midnight and officially Thanksgiving. So I am wishing everyone a very Happy Thanksgiving. Make good choices, but more importantly enjoy your family and friends. There is so much to be thankful for.