Winc is a popular wine club, but it can be confusing to know exactly how much it costs. Here's everything you need to know about Winc's pricing, plus a couple of sweet coupons if you do join:
Winc Cost:
How much does Winc cost? The monthly cost of a Winc subscription is determined by the sum of the 4 wines that you choose for your order. wines start at $13 and shipping is free on any order of 4 or more bottles, so the minimum cost of Winc is $52 per month plus state tax. Most people elect to start at this minimum cost while using their best coupon for $25 off to reduce the price to $27 for the first month!
Here's more about Winc pricing:
Every month Winc selects 4 wines for you, By default, these wines cost about $13 each: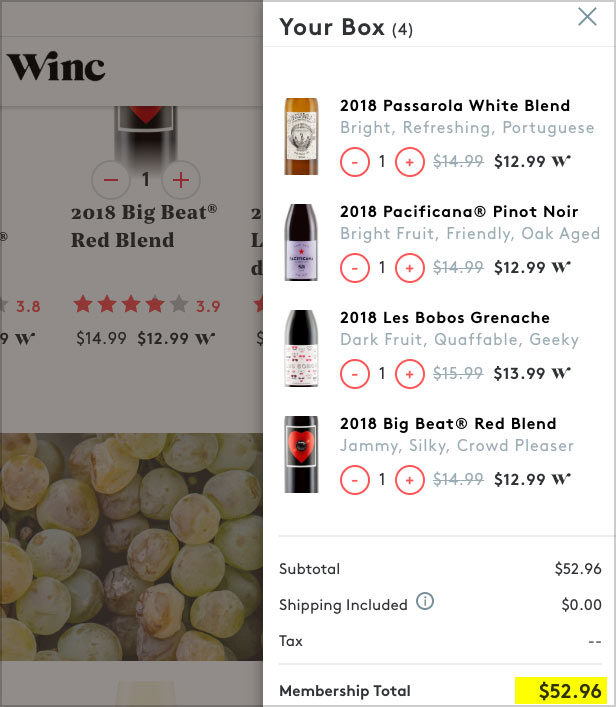 You can upgrade to more expensive selections at any time, or opt to be enrolled in "Winc Select," which includes at least one premium wine starting at $20 per bottle per month. Shipping costs $9, but orders of 4 or more bottles always ship free!
Here's what Winc monthly pricing looks like:
3 Bottles: from $39 + $9 shipping = $48 per month
4 Bottles: from $52 per month
5 Bottles: from $65 per month
As you can imagine, few people elect to order 3 bottles per month because of the shipping cost. I mean come on… you can just add a fourth bottle of wine for only $13!
If you choose to upgrade to Winc Select, you can choose from highly-rated, more expensive bottles of wine. Also, Winc will automatically apply a 10% discount to any orders of 12 or more bottles.
*Tip: The first-month price is discounted by $25+ when you use a coupon.
*Related: How Much Does Noom Coach App Cost?
---
Is Winc Worth the Expense?
Missy Elliot once wisely asked, "Is it worth it? Let me work it, I put my thing down flip it and reverse it."
In order to decide whether Winc is worth the cost, let's look at the pros and cons of membership.
Pros: Getting 4 bottles per month of unique wine from small winemakers is really fun. Actually, I happen to like monthly clubs in general, because getting a box on my porch is a little bit like Christmas morning. The wines I got were good, and the notes that came with them helped me to learn more about wine, and appreciate it more as I drank it. However, there's no cheap way to ship 4 bottles of wine, so $52 per month can seem expensive
Cons: If you live near a wine store, you could, in theory, go pick out 4 bottles of wine for under $40. However, the quality may be hit-or-miss, and there isn't a lot of fun or learning in the process.
So, Is Winc really a good deal? You could say that Winc is a good deal because you are able to try several new wines from small vineyards each month from $13 per bottle with free shipping on 4+ bottles.
However, because of the small size of these vineyards and the expense of shipping it, it's not possible to match the low prices of wine from huge vineyards like Sutter Home and Franzia found in your local liquor store.
So, I'd say it's worth it if you value trying new brands of wine and appreciate the experience of learning about them and mindfully drinking them with a friend. Plus, it's fun to get a big box of wine on your doorstep and look forward to enjoying it!
*Related: How much Does Home Chef Cost?
If you do consider joining, here's the best price: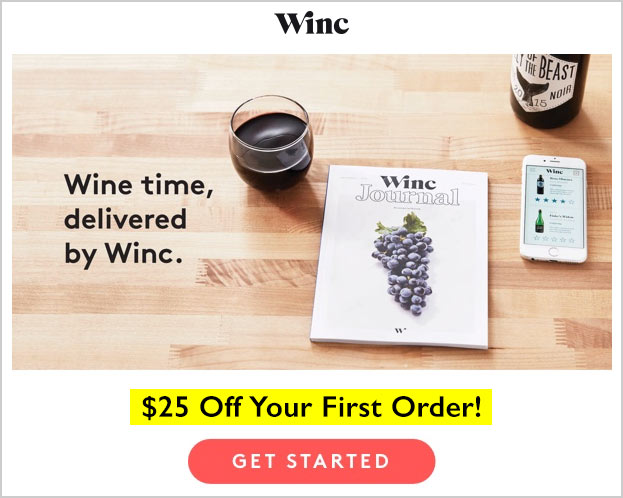 FAQs:
How much does Winc cost per month? ?
The most popular subscription option is for 4 bottles per month starting at $52. You can use their $25 off coupon to reduce the price of your first order to $27!
Does Winc charge a shipping fee?
All orders of 4 or more bottles include free shipping. If you choose to only buy 3 bottles of wine Winc charges a $9 shipping fee.
Does Winc charge sales tax?
Yes, Winc charges state sales tax of at least 5.5%. The exact percentage is determined by your state sales tax.
We also have great coupons for meal-delivery services including Home Chef, Purple Carrot, and Diet-to-Go (cost?). Thanks for stopping by Wonky Pie!