Our review of Winc – Is it worth it? A few years ago a company called, "Club W" set out to be the "Netflix of Wine." Apparently they did something right, as they reached $1 million in revenue in their first 12 weeks! cos
Well, that company is now called, "Winc," and they have become hugely popular with wine lovers, as is evident with their half-million Facebook fans.
So, being a wine lover myself, I figured I'd use their $25 off coupon (view all) to save on the price and try Winc out to see how it works. Here's my review for their monthly wine club, including what you should know before joining:
Winc Wine Club Review: How it Works | Our Review | User Reviews
---
1. First, How Does Winc Work?
Some years ago companies started to realize that simplicity is king. Restaurants like Chipotle reduced their menu down to a minimalist's dream, (sorry, diners!) and other sites like Netflix Easy Canvas Prints and Home Chef stripped their sites down to the studs to make ordering a streamlined process of a few clicks.
Simplicity is what Winc is going for, too. Here's how it works:
Winc delivers 4 bottles of wine to your door each month, shipping is included
Pick your own bottles or let them make recommendations to match your taste. Wines start at $13 per bottle and come with pairing recommendations & recipes
There is no membership fee, and you can cancel anytime
Ok, we signed up and tried it, so let's get started on our review of Winc!
---
2. How Sign-up Works:
As a new user you'll just want to click to activate the "4 bottles for $27" promotion, then click the "Get Started" button on the top of their site.
You'll then be prompted with a few questions so that they can better understand your palette. These questions include a few multiple choice prompts like, "How do you like your coffee?", and "Do you like citrus?"
Then, you can choose red, white, or a mix of both for your 4 bottles of wine delivered each month: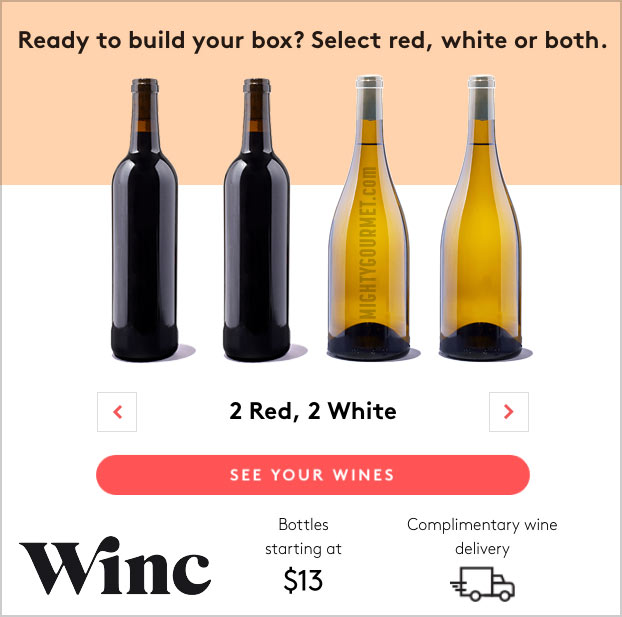 Now, click, "see your wines," and voila! They have created a selection of 4 wines based on your tastes: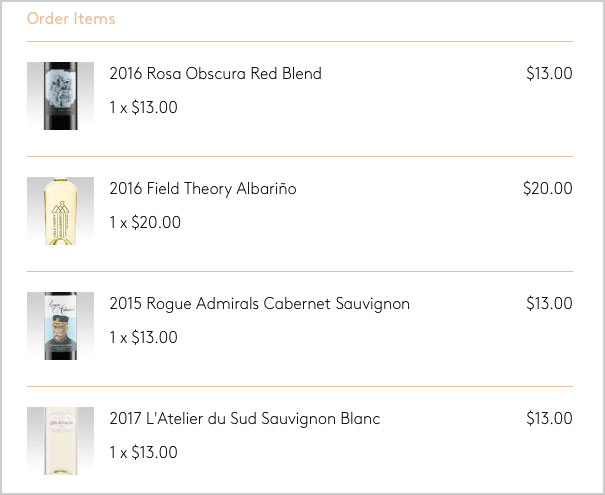 You can now click on any of the selected wines to read about them in more detail. Feel free to substitute other wines if you'd like: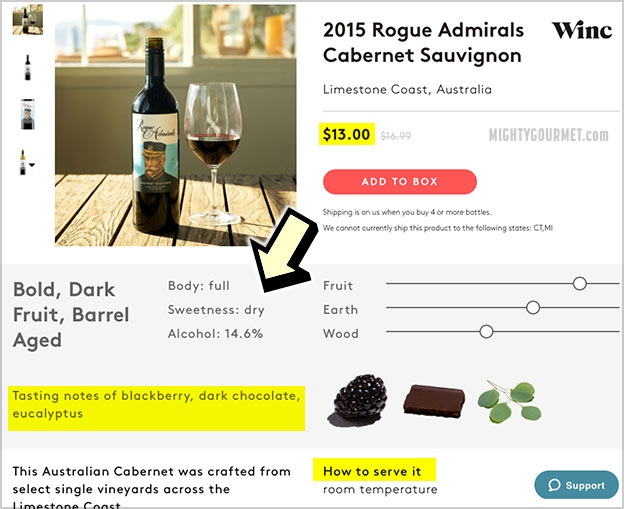 Winc gives you a plethora of well-presented and helpful info on each wine selection including:
Price: ($13 and up)
Body: (Full, medium, etc)
Alcohol Content
Balance (Fruit, earth, wood)
How to serve: (chilled or room temp?)
What it pairs-well with (fish, red meat, pasta, sushi, etc)
Wine description with the origin and interesting history
I then double-checked my wine selections and googled each bottle for customer reviews. For the 2015 Rogue Admirals Cabernet Sauvignon, I saw that it got an impressive 3.7-star review. One of the "red blends" that was recommended didn't get a great review, so I easily substituted it.
If you want to make a substitution, just click on any wine bottle and choose from a wide variety of replacements that are sortable by several filters including price.
Tip: Want even better wines? You can click "upgrade" and your wine bottles will come from the more expensive, highly-rated "Winc Select" selections. You can switch back and forth any time.
OK, I'm happy with my 4 wines, time to complete my order.
---
If you choose to upgrade to Winc Select, you can choose from highly-rated, more expensive bottles of wine.
Tip: If you rate 10 wines, you'll receive a $10 credit on your account. If you refer a friend, you get a $26 credit. Orders of 12+ bottles get a 10% discount.
---
3. Placing Your Order (Use a coupon!)
At this time you just enter your shipping and billing info, and enter a promo code on the payment screen like this: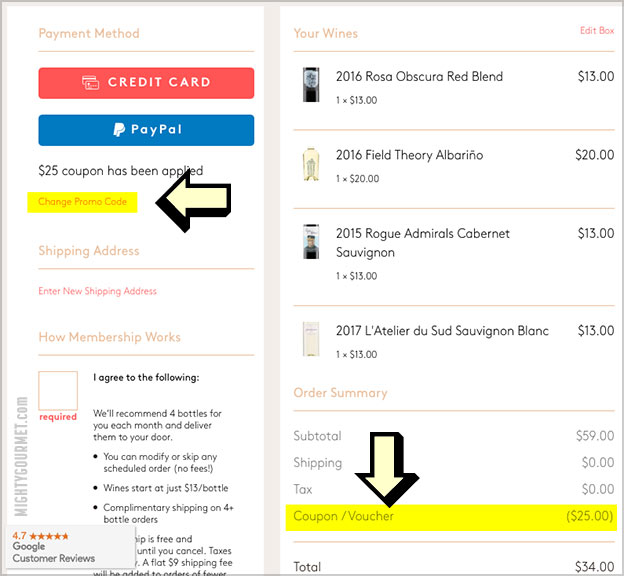 As you can see, for my first order I'm only paying $34 for 4 good bottles of wine including delivery. Sweet! Now I'll place the order and impatiently wait for my wine to arrive.
---
4. Unboxing Winc:
My Winc package arrived in only 3 business days. That's fast! Here's what my wines look like: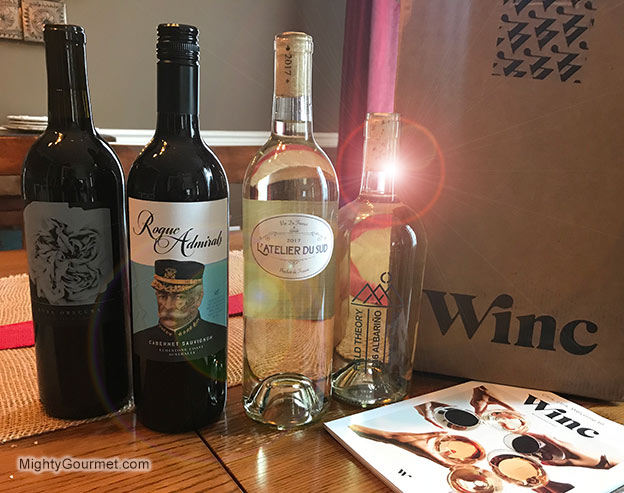 The wines were very well-packaged, and came with a booklet that includes "the A-Z of Wines," to help you appreciate all of the aspects of wine that you may not have given much thought like, acidity, body, minerality, and descriptions of varietals like "Pinot Noir" or "Cabernet Franc." Interesting and fun!
So far we've only tried the Rosa Obscura Red Blend, but it was really good! Tastes like a $10-15 bottle of wine to me, but the experience of trying something new, learning new things, and being mindful about the wine I was drinking was what I liked best.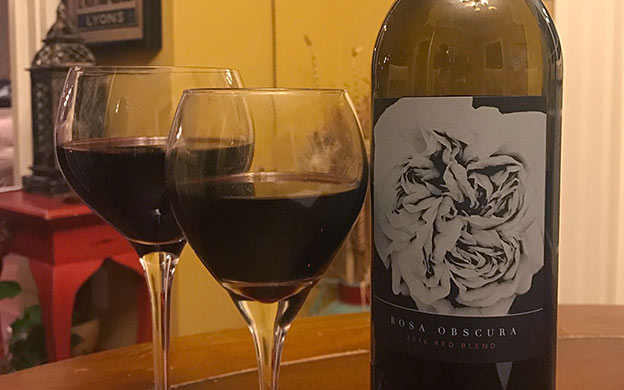 Rosa Obscura from Winc. Mmm….
"Lush with jammy California goodness, full body and an ultra-smooth texture, this 2016 blend is what we call a Big Red. Zinfandel is blended with Cabernet Sauvignon and Merlot for juicy notes of cherry, strawberry, cassis, cocoa and violet. Drink this versatile red with a steak dinner…" – Winc description
I did have it with steak, and it was great! I actually have never bought a "red blend" before, but I certainly will now, and that's the beauty of Winc. While I don't expect any $13-20 bottle of wine to blow my socks off, I really look forward to trying them. I also look forward to learning about these vineyards and trying to be more mindful while I enjoy them.
"Winc isn't the cheapest way to get wine"
Buying wine through Winc isn't a "deal." You could probably find similar wines from better-known brands at your local liquor store at a cheaper price. But then again, that's not the point of Winc. Part of what you pay for is the experience. Its really educational, fun, and kind of like having a friend who is a sommelier (wine guy) picking out bottles for you.
Personally, I think choosing wine at the store is an intimidating experience, and I end up making my choices based on the labels and price. (Duh!?) Winc gives you well-researched recommendations from sustainable sources and even provides recipes for meals to pair with the wines.
Getting 4 new bottles of wine each month also means that my wife and I will choose one night each week to enjoy a new bottle, drink it, read and talk about it, and then make sweet love by moonlight. (not sure about the last one!) I really like knowing that a new selection of wines is arriving each month, and it's exciting like a Christmas gift to open!
*Related: Our review of Tasting Room Wine Club
---
5. Get wine-pairing recipes + rate your wines
Go into your account and you can also find free recipes that pair well with each of your wine selections: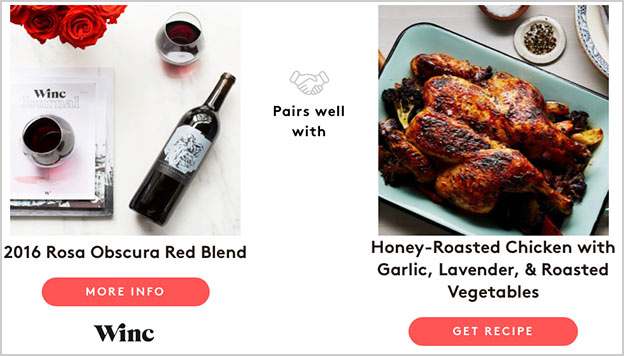 Your wine pairs well with…. free recipes!
Did you enjoy the wine? Winc lets you rate and review each bottle that you ordered to learn more about your palette and refine future recommendations.
---
6. Winc Customer Reviews:
Here's what people like about their Winc subscription, as well as the biggest complaints common in negative customer reviews:
• GOOD reviews:
I'm not the only person to think this is a fun experience. Winc generally does a great job, and you can tell that they care immensely about their business. That's why most reviews for Winc are stellar.
"WINC has amazing wines and top-notch customer service! They recommend wines based on your palate profile you complete and send you wines every month. You can cancel or skip a month anytime. Joining Winc has allowed me to appreciate wine more, expand my palate, and try new wines and flavors. I highly recommend Winc to everyone!" – Jamie B
Common themes in good reviews include:
The monthly club format enables you to try new wines and learn about them and about wines in general. It's fun!
FedEx Shipping is "free" and very fast + great packaging
Great customer service and well-run company
Focus on sustainability, not cheap wine from big brands
The more wines you review, the better the future recommendations to your taste
Monthly clubs are fun!
• BAD reviews & complaints:
No monthly wine club has a 100% rating. Here's what people don't like about Winc:
"You can probably do just as well or frankly better at Trader Joe's for the money in addition to the high shipping expense." – Ryan C via Yelp
Their $13+ bottles of wine aren't mind-blowing, some reviews describe them as "mediocre" "overpriced," or at worst "undrinkable"
It's inconvenient to cancel your subscription (you have to call or online chat during business hours)
You may have to sign for the package in some states
*Related: Nutrisystem BAD reviews | Noom Bad Reviews?
---
In Conclusion…
Tip: I'd say that it's definitely worth trying Winc for 1-2 months because of the great promotion they have for new customers that brings the price down significantly. If you aren't thrilled after the second month, just cancel, and know that you got a good deal.
Well, there you have it. Most of the reviews, including my own review for my Winc subscription, are positive. Even though some people rightly complain that you can buy similar wine at the liquor store for less money, it's really the experience that you're paying for. I mean, it's a lot cheaper to just drink a Heineken at home rather than go to a nice bar and pay $6, right? Same concept with Winc.
Like most monthly food or wine clubs, Winc is about putting something fun and educational on the calendar each month. It makes you appreciate the whole experience, and not just the wine itself.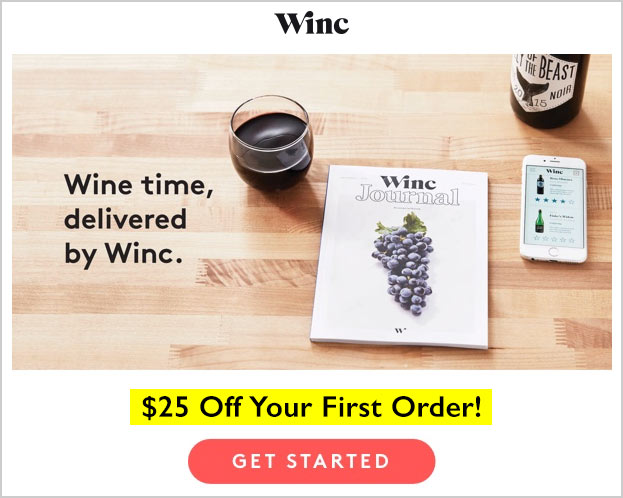 Considering trying Winc for a month? Here's a coupon for $25 off your first order, plus check out today's best Winc coupon here!
Have you tried Winc Wine Club? Leave your own rating and review below!
*Related: How Many WW Points in Wine?