If you click on a WSJ promotion there pricing can be a bit confusing. While you can enjoy the 50% off pricing for up to 12 months, you should also know how much a subscription will cost per month after that promotion ends.
Here's how to choose the best subscription and promotion for your needs, the cost per month, and how refunds work if you cancel:
---
1. WSJ Print, All Access Digital, or Both?
If you are considering signing up for a subscription to the WSJ there are a couple of things to consider. First, do you want Print delivery included or just Digital? Adding Print only costs a little more, so it's a good value if you plan to read it.
Click on a promotion and then choose your WSJ subscription like this: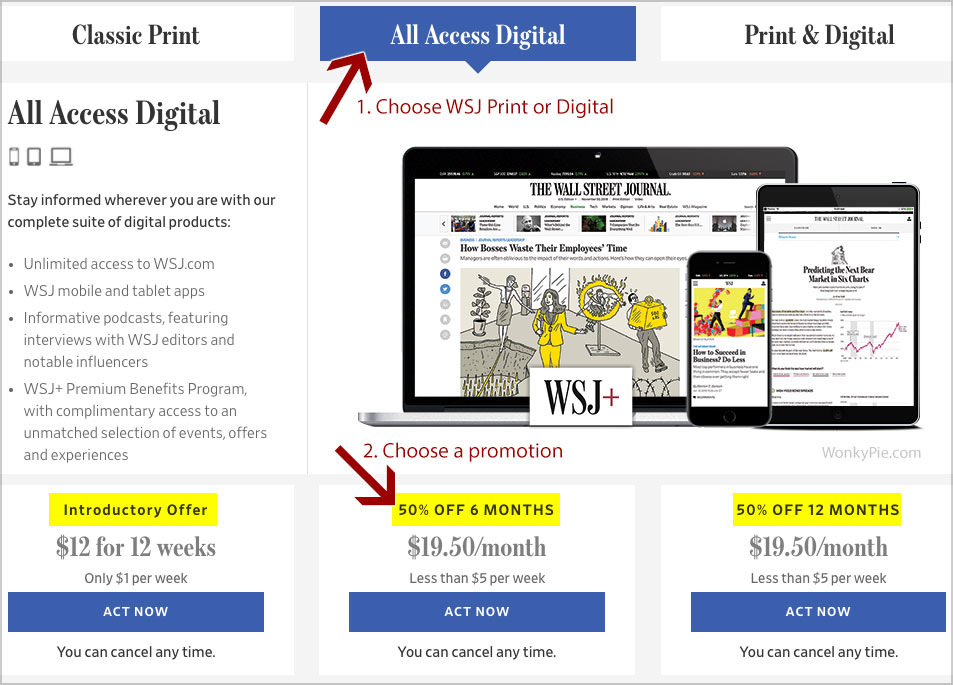 ---
2. Choose a Promotion: (Rates Differ)
Do you plan to subscribe to WSJ long-term, or are you just trying it for a couple of months? If you aren't afraid of commitment, there is currently a promotion running for 50% off all WSJ subscriptions and you can pay upfront for 6-12 months (cancel anytime) to lock-in that discount: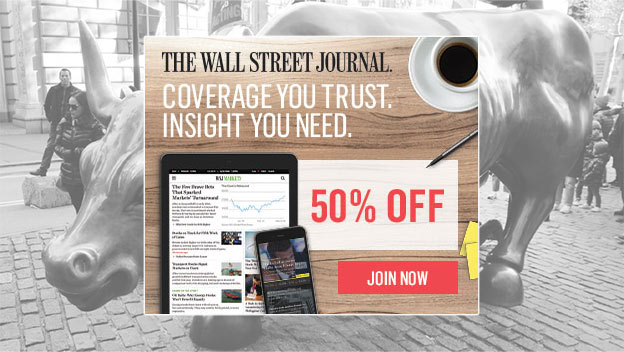 By signing up with the 50% off promotion you can get a subscription for as little as $19.50 per month during the promotional period!
If you wish to only join for 2-3 months, I recommend the $1 per week (click then scroll down) or 2 months for $1 promo. (All WSJ coupons here!)
On WSJ.com it says, "At the end of the introductory term, your subscription will automatically renew each month at the standard price for your package." Here's how much you'll pay.
---
3. WSJ Subscription Rates: (After Promotion Ends)
Wall street journal subscription pricing: After the promotional period of the first 3-12 months ends, here's how much the Wall Street Journal costs per month:
PRINT: (Mon-Sat. delivery + WSJ.com) $42.99 / mo.
DIGITAL: (All-Access) $38.99 / mo.
DIGITAL + PRINT: (All-Access + delivery) $44.99 / mo.
Tip: You can add 6 days (Mon-Sat) of print delivery to WSJ All Access Digital for only $6 per month. "Classic Print" comes with access to WSJ.com only while "Print + All Access Digital" also includes the WSJ mobile app.
All subscriptions include WSJ+ membership at no extra cost. WSJ+ includes exclusive invitations to events, special offers, and more.
WSJ Subscription Cost per year?
Choosing 50% off a 12-month subscription will save you the most money. To illustrate the savings from choosing the 12-month WSJ Print subscription, let's compare it against 6-month promotion cost for the first year:
WSJ Print: 50% off 6 months subscription costs $387 for the first year
WSJ Print: 50% off 12 months subscription costs $258 for the first year!
That means you save an extra $129 your first year by choosing the 12 month promotion!
---
4. WSJ Subscription Refunds:
If you decide to cancel, it's no problem. The Wall Street Journal cancellation policy is very fair, and you can cancel your subscription anytime. Here's how refunds work:
If you choose a 6 or 12-month promotion and choose to cancel during the promotional period, your subscription will end immediately and you will receive a prorated refund for the time remaining.
If you cancel a monthly subscription or after the promotional period, your subscription will continue through that month but all future charges will be canceled.
How do I cancel my WSJ subscription? To cancel or change a subscription, you must call WSJ customer service at 1-800-568-7625
---
Conclusion:
As you can see, the cost of a WSJ subscription is much less during the promotional period. For that reason, it makes a lot of sense to choose the 50% off 12 month promotion at signup. You can always cancel and get a refund, but if you keep your WSJ subscription for longer than 6 months, this offers the best savings!
If you only want to subscribe for 2 months, then check out the 2 Months for $1 promo!
*Related: Barron's Subscription: 50% Off
Thanks for stopping by Wonky Pie!