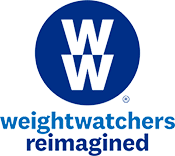 How much does WW (Weight Watchers Reimagined) cost? Whether you're on a budget or not, it's good to do your homework and read reviews before starting any diet.
Because of its low cost, simplicity, and high success rate, WW has become the most popular commercial diet for women and men looking to lose weight and keep it off. Read on to learn more about their plans, and how much WW will cost you.
Weight Watchers: Cost to Join | Online or Meetings | Payment Options | Food Cost
---
1. How Much Does WW Cost to Join?
WW (Weight Watchers) costs exactly the same for both women and men, but the monthly cost depends on which plan you sign up for.
Here are the current prices for WW plans per month, week, and day:
WW Digital: $20.95/month, $4.83/week, $0.69/day
WW Workshop (Meetings): $54.95/month, $12.68/week, $1.85/day
WW Coaching: $54.95/month, $12.68/week, $1.85/day
New customers also pay a one-time $20 starter fee at signup.
*Tip: You can also get a promotional rate of up to 50% off for 3-6 months when you join with their savings plans: (All coupons here!)

---
2. WW Plan Options: (Online and Meetings)

Before knowing what Weight Watchers will cost you, you'll want to decide on the best plan for your needs. While all plans include Freestyle and the resources of WW Digital, (formerly Weight Watchers Online Plus) you also have the option to add meetings or personal coaching. So, what does each plan offer?
Digital: (formerly, "OnlinePlus") Great for self-starters who are busy and want flexibility. Get access to thousands of recipes, online tools, and the WW Connect online community to help motivate you
Workshop (Meetings): Adding meetings to WW Digital greatly increases the chance of success in meeting your weight loss goals. Meetings are 30-40 minutes and provide in-person support as well as motivation and accountability. Here's how a WW meeting works.
Coaching (Includes Digital) Adding personal coaching gives you unlimited support via phone or text. Your coach will design an action plan to help you meet your goals that works for your lifestyle and schedule.
I'd compare these plan options to how people choose to exercise. While some people find that they can get up early every morning and jog a few miles on their own, (like WW Online only) others prefer to take group classes at the gym, (like WW Meetings) or add the motivation and support of a personal trainer. (WW Coaching)
---
3. WW (Weight Watchers): 3 Payment Options
When you join WW, you'll initially have the option to sign up for 1, 3, or 6 months like this: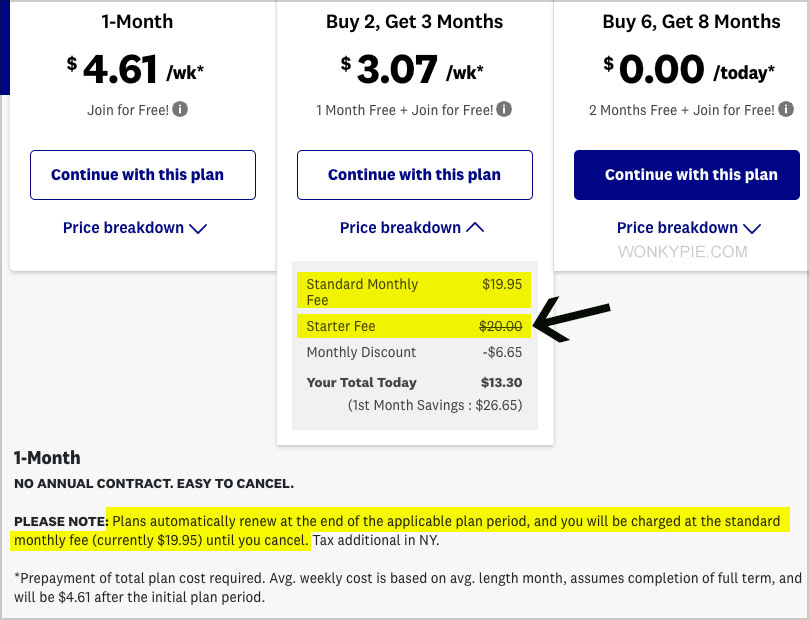 So, what's the difference? It's all about commitment. You can lock-in the initial promotion rate for up to 6 months with one of their 3 or 6 month savings plans. (View here)
When the promotional period ends, WW will bill you each month at the standard rate.
Tip: An early termination fee of $39.95 may apply if you cancel your membership before your initial commitment ends. So, it you aren't totally sold on WW, consider going with a shorter commitment, and skip the 6-month Savings Plan!
---
4. Food Cost?
If you are comparing Weight Watchers and Nutrisystem, keep in mind that the cost of WW plans do not include prepared or frozen food. This makes determining the true cost of Weight Watchers more dependent on how much you spend each month on groceries and at restaurants.
If you're on a budget, consider that the average American spends about $160 per week on food, which you should add to your weekly and monthly estimates for the total cost of Weight Watchers.
So, when calculating the total cost of being on Weight Watchers, consider that what you spend on food will be 90-95% of the cost. Also consider that buying healthier, and whole foods is generally more expensive than less-healthy, processed or fast food.
While the "bad" news is that you'll be spending a little more on your groceries, the good news is that it's a great investment in your health!
Also, omitting guilty pleasures (like those $6 coffees?) and alcohol from your diet can more than makeup for the monthly $20-50 WW membership and higher grocery bill!
---
FAQs:
How much does WW Digital cost? 💵
The monthly price is $20.95, but you can join for up to 50% off!
How much do WW meetings cost?
Weight Watchers Digital + (virtual) Workshops are $54.95 per month before coupon
How much does WW Personal Coaching cost?
Their plan with Personal Coaching costs $54.95 per month before coupon
Conclusion:
Weight Watchers is consistently rated as one of the top commercial diets, and it's strengths include being easy to follow as well as being named the best diets for weight-loss.
However, no single diet is best for every woman or man. While cost is important, I wouldn't recommend using price as the main factor when choosing a diet or weight loss program.
What good is a cheap or free diet app if it doesn't work for you? Here's today's featured WW promotion:

While we highly recommend WW, you can also consider other wellness programs like Noom (cost?), South Beach (cost), Jenny Craig (cost), and Nutrisystem (cost).
Thanks for stopping by Wonky Pie!